Happy New Year! Welcome to 2008!!!
For our first day of the year, we decided to pack it up and head to Disneyland with my wife's folks. We had a great time with a little surprise 'meeting' so I thought I'd share it with you. I hope you enjoy:
We started off with Grant watching me purchase a Turkey Leg in Fantasyland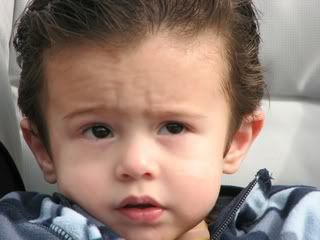 Grant and Mommy
Grant with yours truly and 'The Turkey Leg'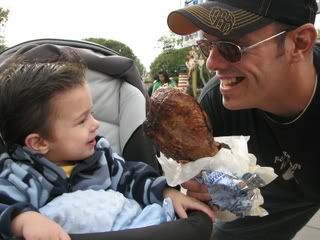 Grant taking a bite
After the Turkey leg, we decided to head to Mad Tea Party. This isn't a ride that 'mommy' likes, but Grant and I as well as Poppa decided to brave the spins of the tea cup.
While in line, Grant caught the attention of a slender blonde woman. She said "Hi cutie." Grant of course was all giddy...and I said back to her "I know you. I totally know you." She looked back at me with a little smile and then it hit me. I exclaimed "You are Carol! Ross Geller's ex-wife!" (character Ross Geller from NBC's 'Friends') She said, "Yes, I am. I'm Jane." She then extended her hand and I shook it and then she went to shake Grant's hand....she was very sweet. Here, you will see a picture my wife caught of Jane Sibbett in line for Mad Tea Party. (I'd like to add to this that Jane Sibbett played Ross' FIRST ex-wife. He had second ex-wife Emily and third ex-wife Rachael Green, over the course of th 10 year series- so the character of Carol was the FIRST ex-wife :lol
Here we are in our 'cup' - Myself, Grant and Father-In-Law, aka Poppa. Jane Sibbett was in the cup to the left of this picture.
After I got off the ride, I approached Jane Sibbett to ask if she would be too troubled if we got a picture with her. She was all too willing to oblige our request...and went to meet my wife - they exchanged names...and she met my Mother-In-Law (and was shocked at how young my Mom-in-law looks). She was so kind to take this photo with us and a very nice woman. She was definitely an extra spark in our day! Jane Sibbett is awesome. Wife and I wanted a "New Years Day Photo" - and lo and behold, we got one with an extra added gueststar! Google her - she's got some cool stuff going on.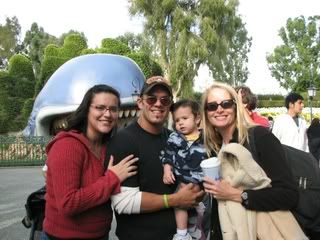 After our meeting with Jane Sibbett, we headed to Critter Country. Grant really likes the Pooh ride - and frankly, I think it's a fun ride....
Afterward, Grant get's his picture with Mommy and Gramma at the Hunny Pots.
Then we headed to Jungle Cruise.
Grant attempts interaction with the piranha (sp?). HE got splashed a bit, and thoroughly loved it.
From there, Grant started to get sleepy, so wife and I decided to hit Buzz Lightyear and let Grant hang with Gramma and Poppa. This was the second time I have ridden this......first time I hated it - but this time, I actually enjoyed it.
It was a busy day for Grant. Eating a turkey leg with Daddy, meeting a celebrity and taking in a few attractions - he was tuckered out after we got off Buzz, so we headed home.
I hope you enjoyed our little New Years Day trip report.
Happy New Year to you all!
~The Disneyland Daddy Family.