I've never posted a trip report before, mostly because I always forget to take pictures. Heck, forget trip report, I'll call it what it is - Me posting pictures I'm proud of taking. Here are two from when I went on December, 22.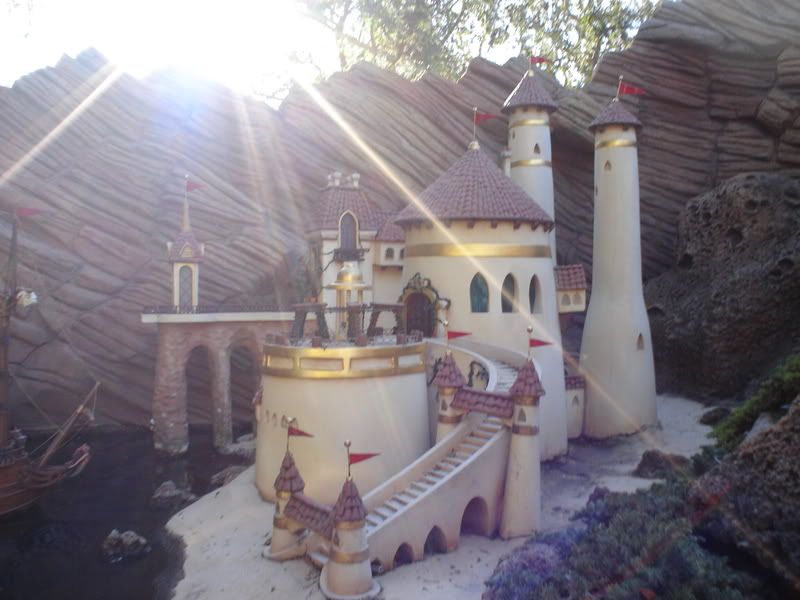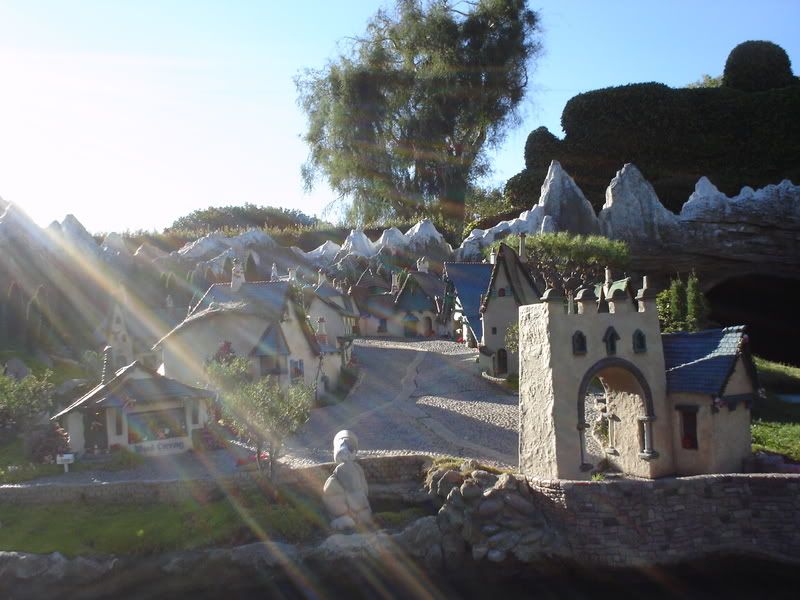 These are obviously both from Storybook Land. I really liked the way the sun hit the houses here. Ooooo. Aaaaaah!
Okay, now for things that happened on Decemeber 31, 2007. This year, my family decided to spend New Year's Eve at California Adventure. We've gone to Disneyland for this occasion several times, and wanted to try something different. Let me start off saying that we loved it. It was very relaxing and we did a couple of our favorite rides (Soarin' and Screamin') multiple times.
We arrived at the park at about 10:45am. (Late, eh? Yes. A good reason to go to DCA instead is so that you can sleep in and not worry about still getting inside.) They gave us all a hand stamp right as we entered. We never left, but I found this interesting.
Once inside, we decided we were hungry. We wandered on over to the wharf where three of our party got in line for bread bowls. My sister's fiance' and I craved something spicier and went to wait for Mexican food.
This was the only bad part of the trip. The poor gal working there had difficulty opening the register. Then, she moved over to serve the food. Ten meals were sitting out before she began to serve them. And, even though we were the first to order, we were the fourth ones served after a loooot of confusion. It wasn't pretty. I didn't report her or anything though since we did eventually get our food and though she was confused, she was polite.
By the time we finally ate, it was almost noon. We wandered over to my dad's favorite ride, Screamin'. We grabbed a fastpass for here so that we could ride later when it was dark, then got in line. Ride was great, as always.
Next, we went to ride the carousel, followed by the maliboomer. Mom and sister's fiancee' don't like that ride and decided to play carnival games. When we got off the maliboomer they greeted us with four stuffed monkies and two starfish. And that, is where my pictures will begin.
The monkies were happy to escape the midway games. The first thing they wanted to do was Soarin'. Here they are, snug in their seats -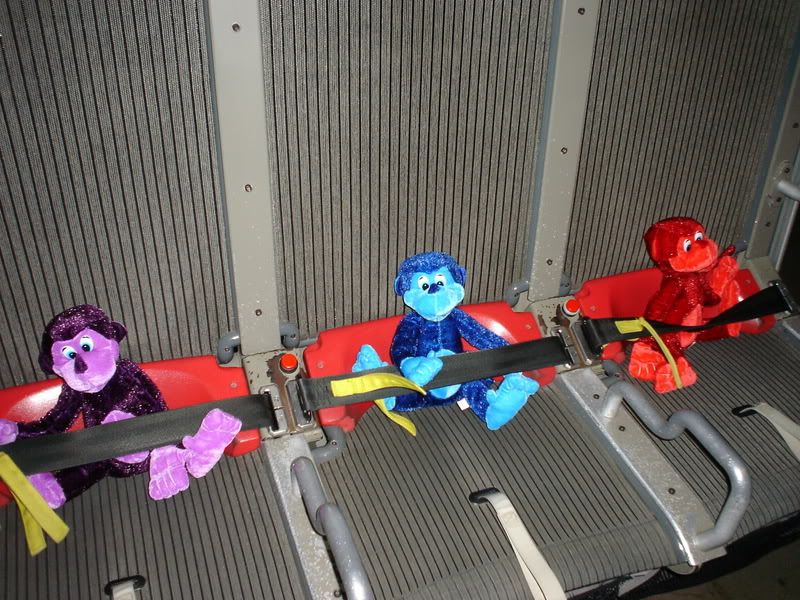 Aw, cute monkies. After that, we got in line to see Aladdin. They couldn't wait to see the show!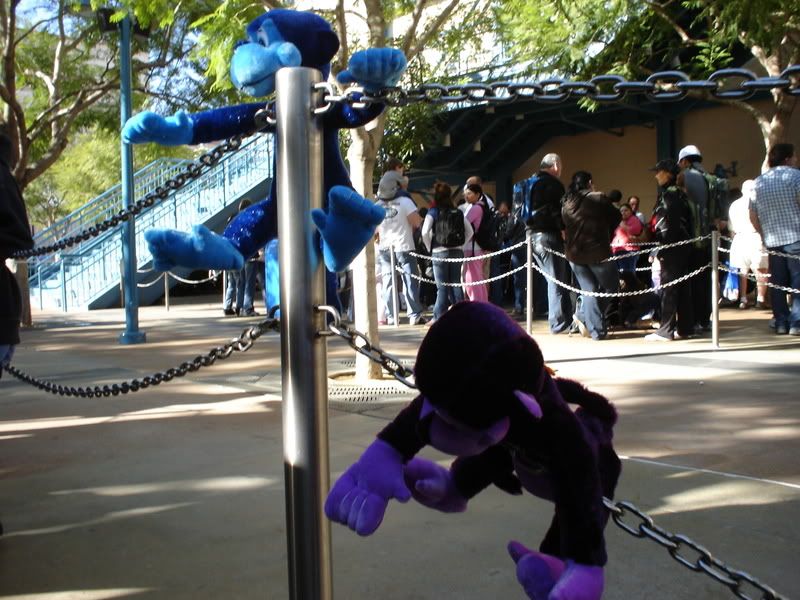 They were very disappointed though since Abu wasn't in this rendition. I was sad that the elephant was missing in the Prince Ali number.
After that, it was off to the Animation Academy to talk with crush and draw Grumpy.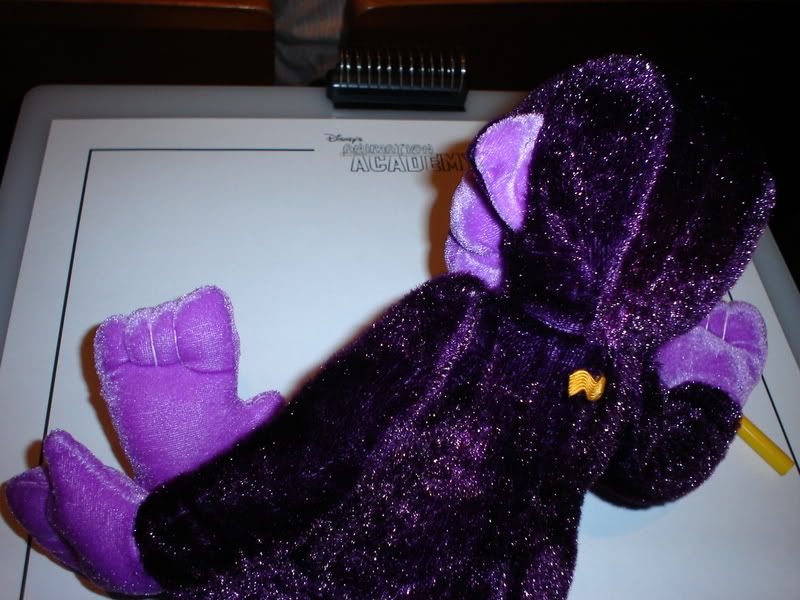 After that... I forgot to take pictures again. We did the following -
*Rode Soarin' two more times. I finally saw the hidden mickey balloon on the golf cart.
*Rode Grizzly River Run. Got wet. Got cold.
*Rode Tower of Terror
*Rode Screamin' again in the dark
*Saw It's Tough to be a Bug
*Ate in Wine Country. I had the Tuscan Salad, which was good. When we arrived they told us there was no more lasagna, but by the time we ordered they had Lasagna Rustica again. I've had that before and it is yummy.
*Rode Jumpin' Jellyfish and watched the electric parade
*Got our free hats and noisemakers! Didn't wear my hat very long though because the wind kept knockin' it off my head.
*Enjoyed the countdown. My first words of the New Year were "AAAAAH! Fire! AAAAAAAH!" We counted down from right by the Sunwheel, and dang it, the lagoon exploded! Fire! Fireworks! More fire! Very exciting.
And that's what we did. Amazing. Now, for the real purpose of this post, the pictures I took of the electric parade when I remembered I was carrying a camera. Enjoy!