I (almost) pity those people that can't enjoy a rainy day at the park. When the clouds start looking black and pendulous there's only one place I want to be.
I've been a southern Californian all my life. To me, rain is a novelty and snow is something you have to take a vacation to witness.
So after work yesterday I hopped over to the park, bringing along my camera since I knew everything was going to be damp.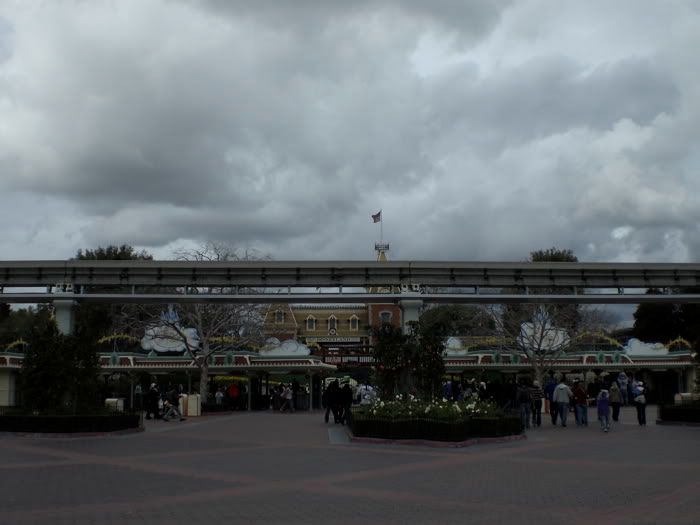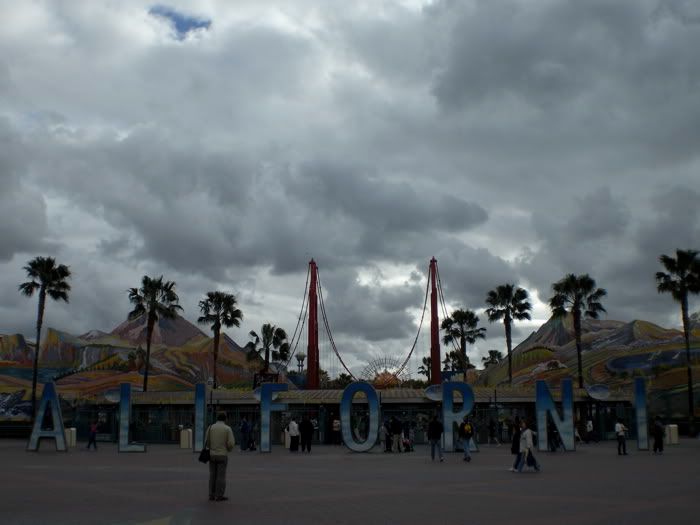 Today was a great day to exercise the "Goth / Death Rock" playlist on my Nano. The soundtrack when I entered the park was "Dawnrazor" by Fields of the Nephilim. When I didn't pass through a musical part of the resort I was listening to Switchblade Symphony, London After Midnight, The Cure, etc. I was an eyeliner-wearing teenage goth and I still attend every Bats Day. That probably has something to do with how much I enjoy the weather. On with the tour, yes?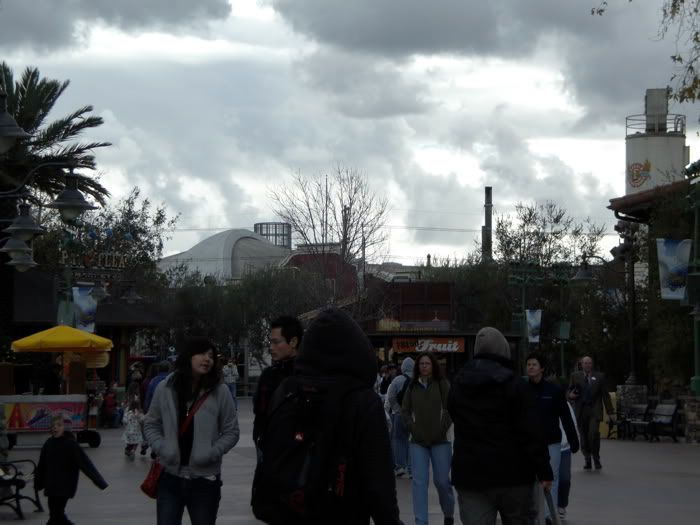 This is something about DCA that has annoyed me since day one, and I really hope they'll address this over the next decade - the lack of a controlled view. Here I am in the center of DCA staring at what? The Anaheim Convention Center. How magical.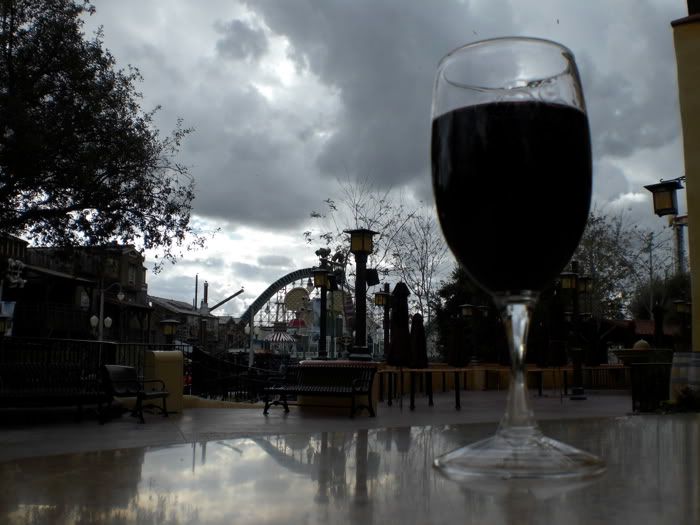 Recipe for a zen time - a glass of cabernet, a cloudy sky and a misty breeze.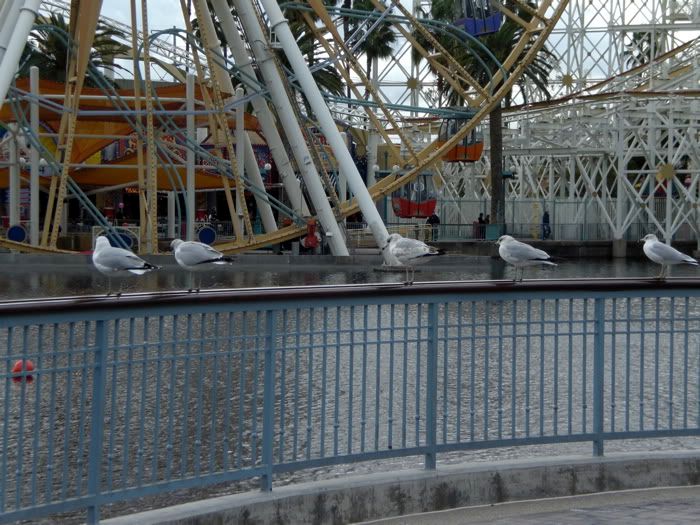 "Mine?"
"First of all, we're not sea gulls. Secondly, it's cold. Knock yourself out."
"Sorry, Fred."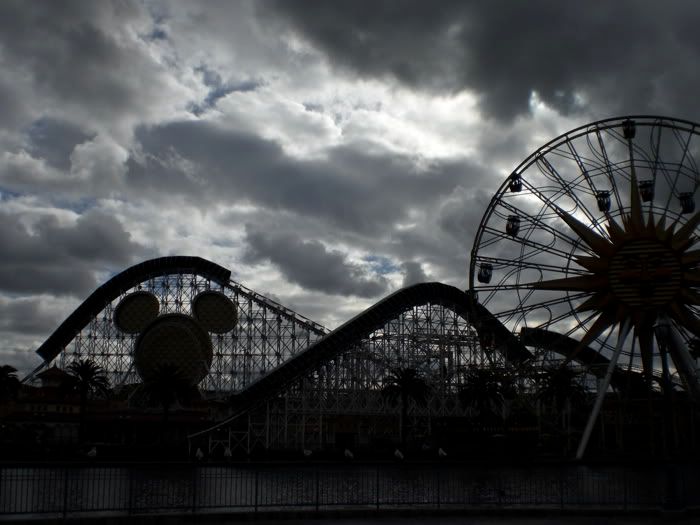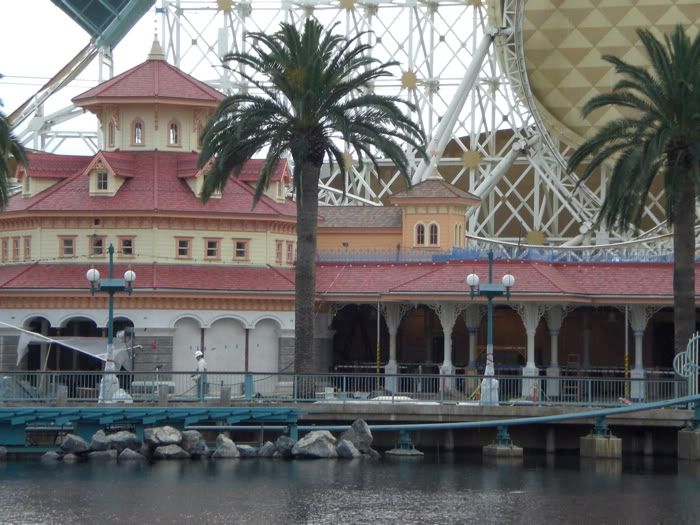 Work continues unimpeded on Midway Mania.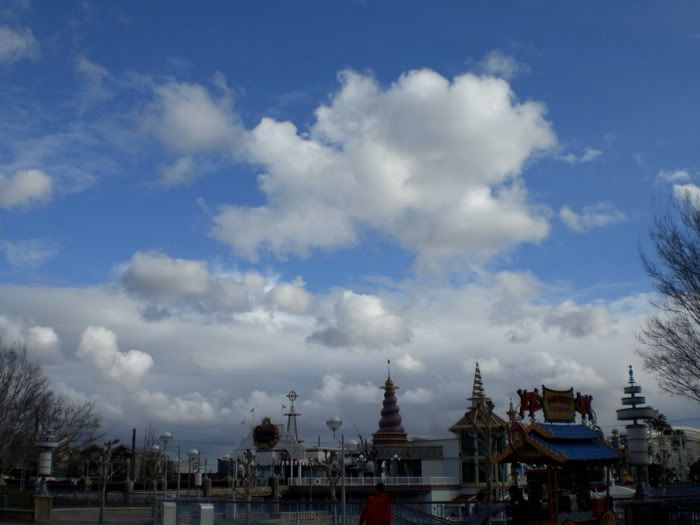 Easy come, easy go.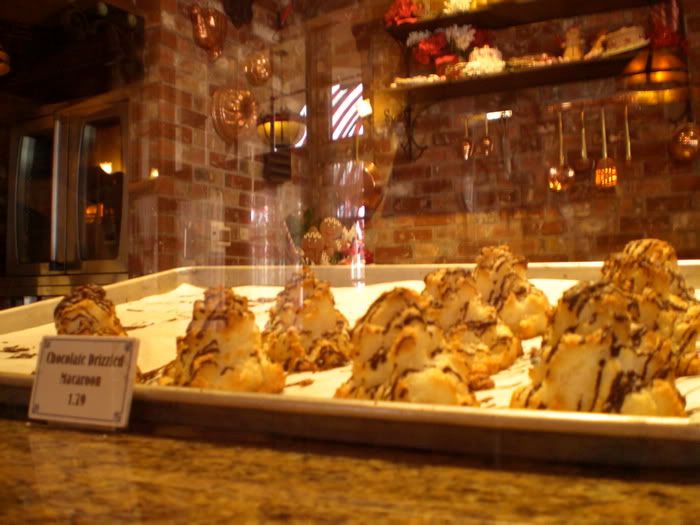 Now you've just got to have one, don't you? Me too.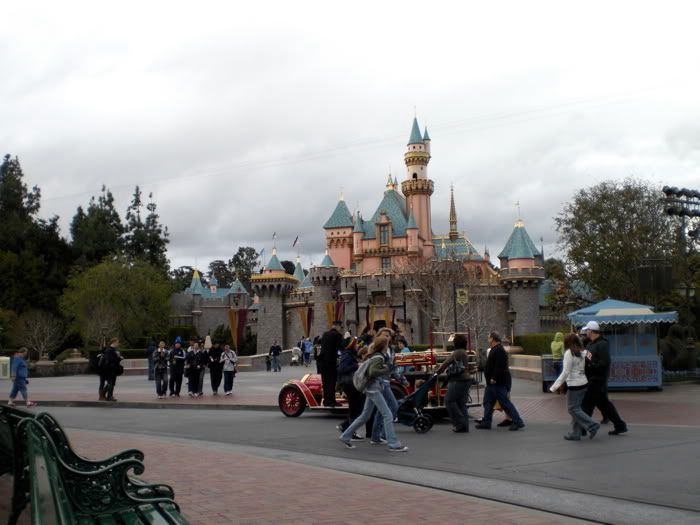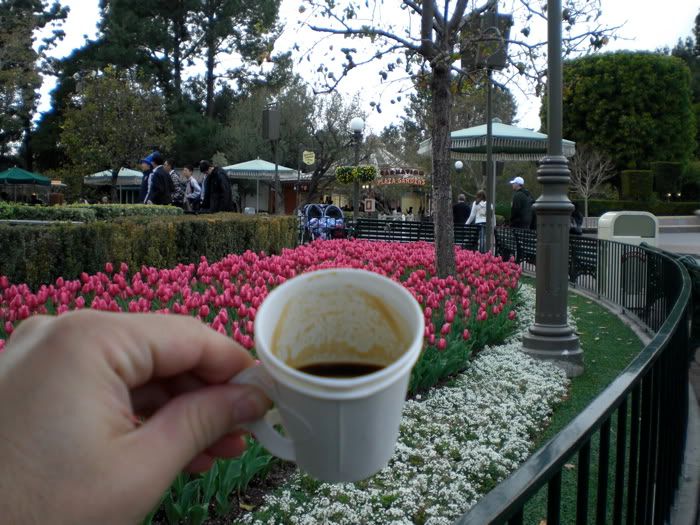 People-watching with a double-shot of espresso.
Blithe hijinks. I don't know who she is but that's my favorite Alice.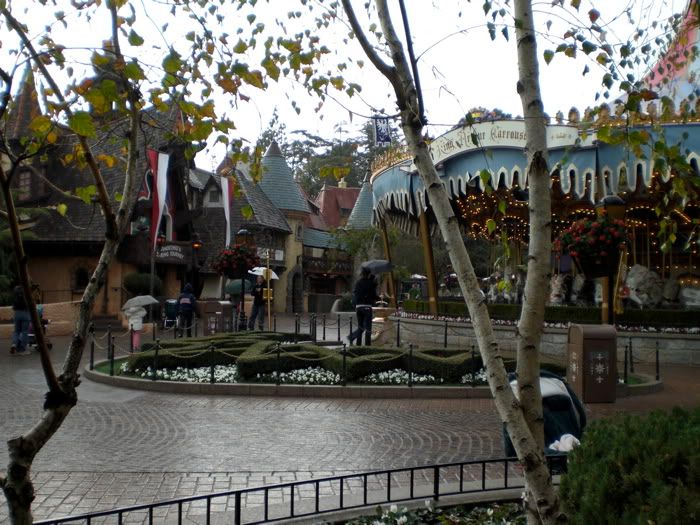 I'd never seen the line this short, so I got on Peter Pan.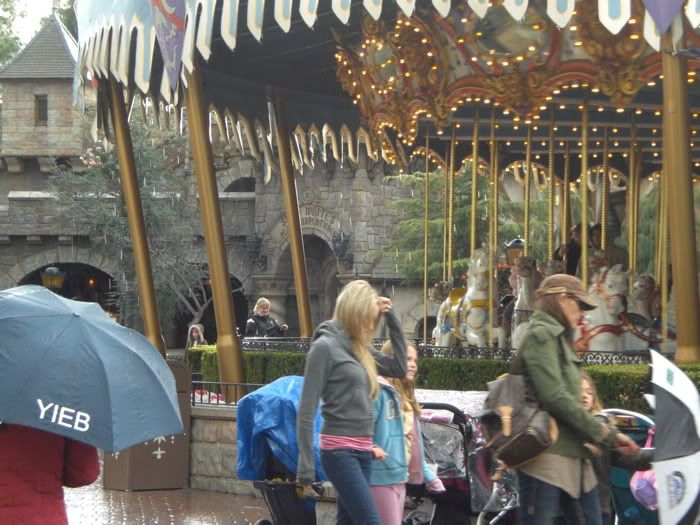 While I was in the queue it started to rain.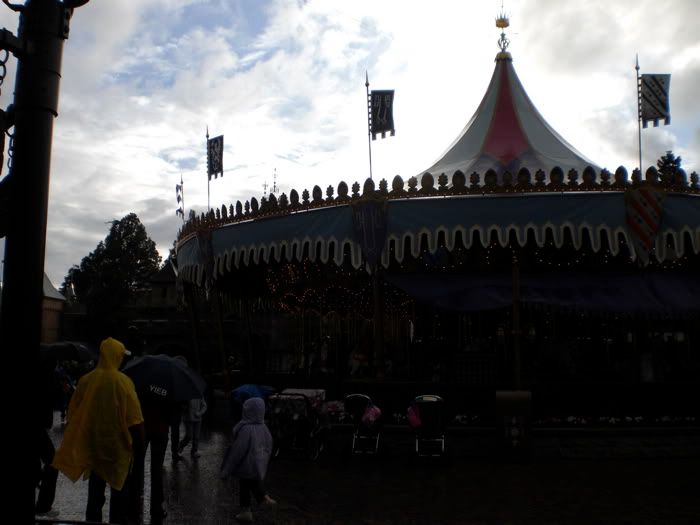 And what do you know? Once I exited the ride, the sun was shining. Which just goes to show you: in SoCal, even when it's already raining, there's only a 50/50 chance it's raining.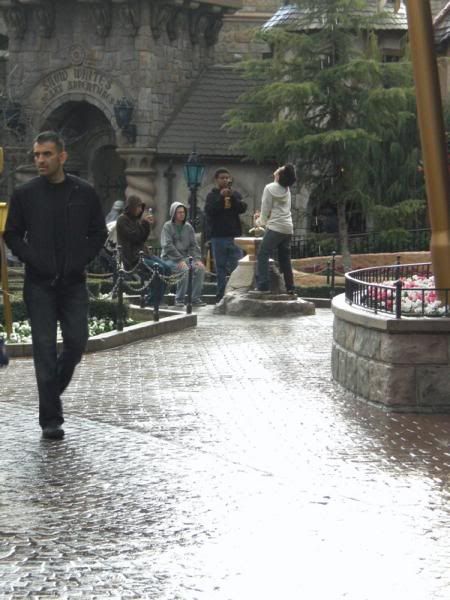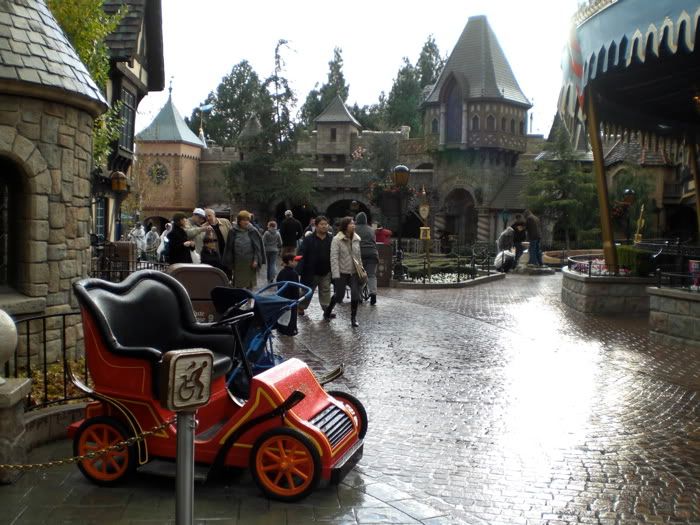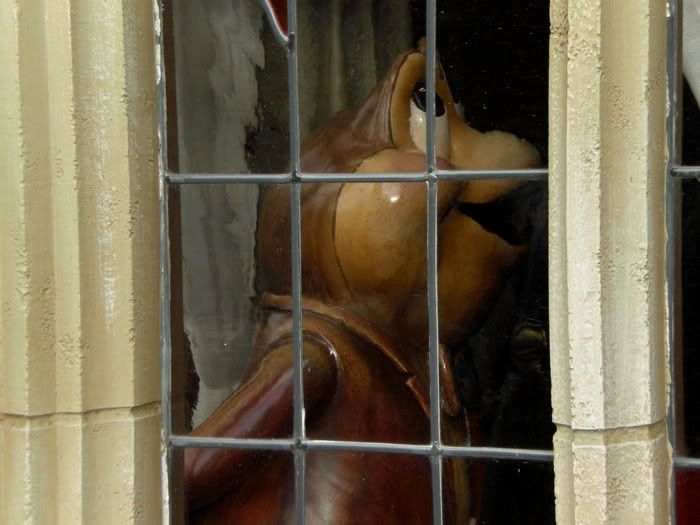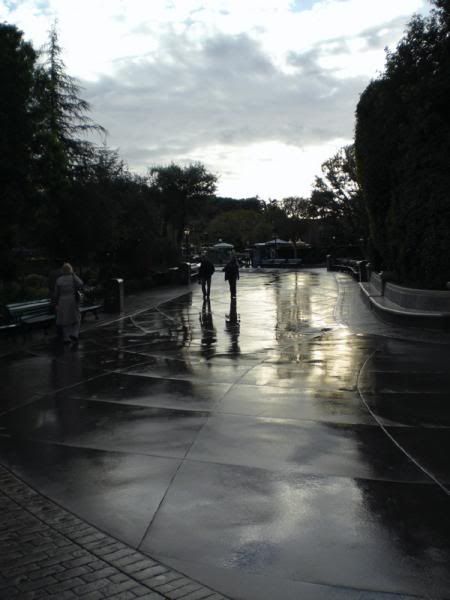 This is what they call a "wet down" in the movie biz. It means dumping a layer of water on the ground to make everything prettier. Next time a car-commercial comes on the telly, pay attention to the ground.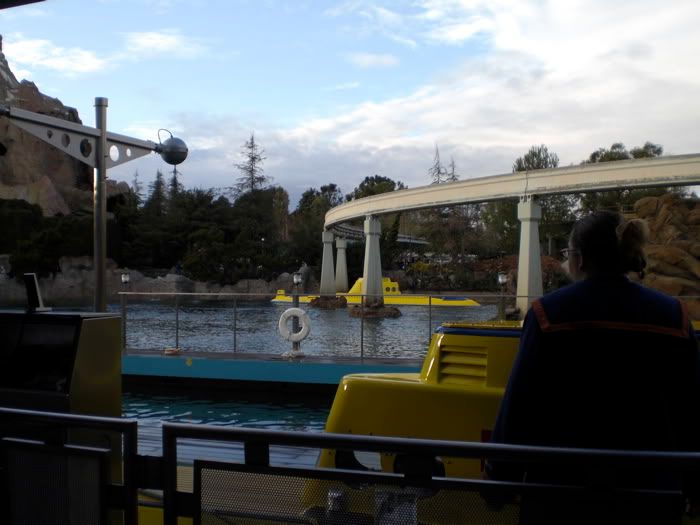 Look! Golden sunshine at last! Come out, everyone, it's okay!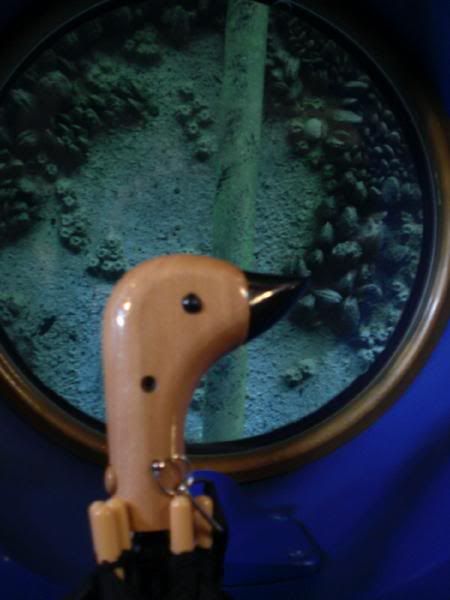 My umbrella and I took a ride on the Submarines.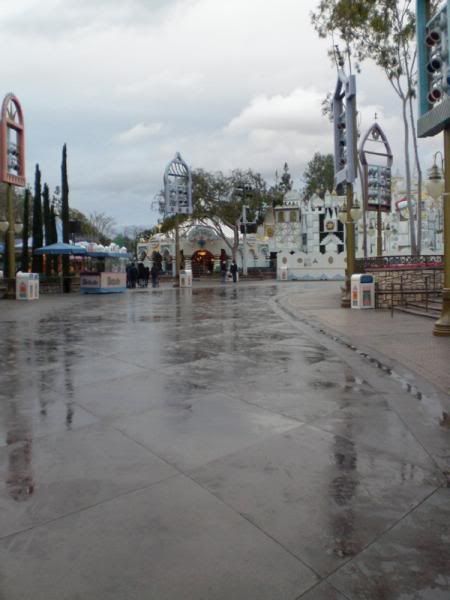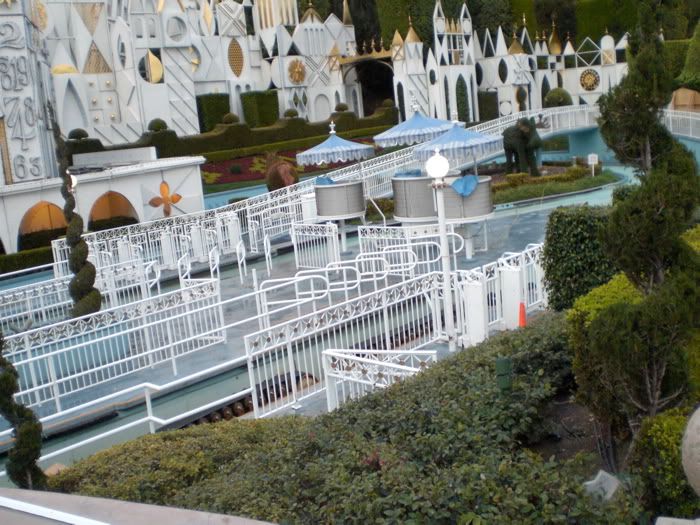 Empty canals in Small World.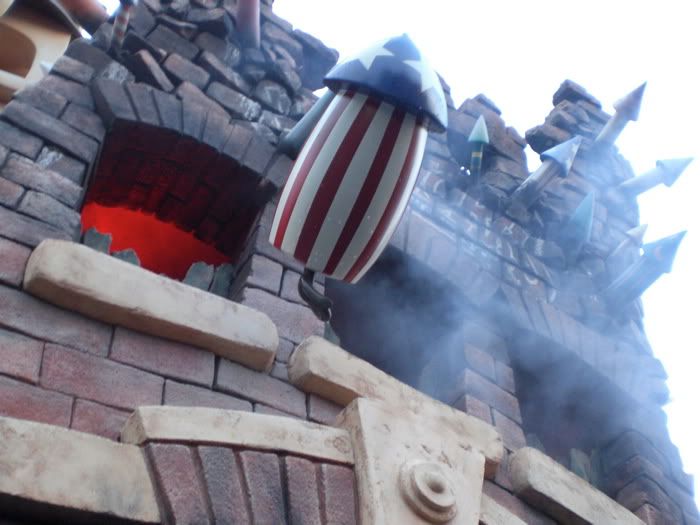 This little girl was losing her mind with excitement over the Power House. She just couldn't get enough of that sound.
Is me. Heraldry shop.
The inviting warmth of the Mercantile Shop. Even if the merchandise is all gentrified and boring. They used to sell things like bowler hats.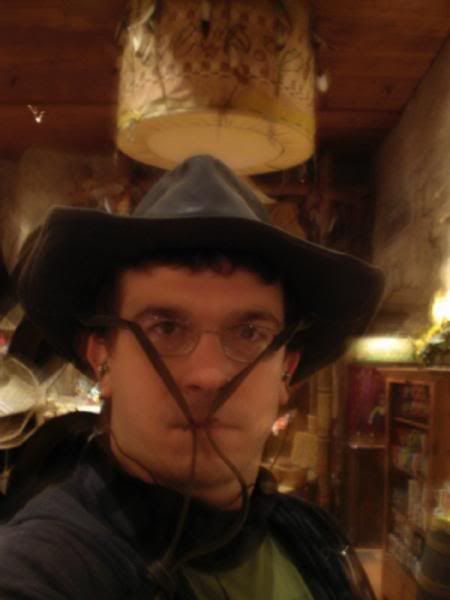 If you're one of those people who has a conniption over people snapping cameraphone pics of their ride photos or of themselves posing with a hat - this one's for you.
In case no one has yet posted a picture of these new balcony initials, here you go.
At this point my camera ran out of juice, and I didn't get any pictures of the lovely lights on Main Street reflected in the street puddles.
Oh well. I'll be looking back at these pictures whenever I need a slight pick-me-up. I hope they've been of some enjoyment to you as well.
See you at the park.