After hemming and hawing about going to the 3rd Anniversary meet, we decided to go, Duh! We were hoping to bring a surprise guest but alas Aladdin could not come with us
. The week before while out shopping I had found a gift that I knew just had to be purchased and would be the 'perfect gift' for a certain MC'er, more about that later. Saturday morning we planned to sleep in and leave Phoenix around 10:00 a.m., but of course we were on the road by 6:00 a.m. First stop in Anaheim was to the Disney Outlet Store where I found a cute top and scarf and another top for one of my favorite Zonies, Ms. Thumper. We made a quick stop at Target for some dum-dums and nuts. Next stop was the important one, I needed a weinie man from Der Wienerschnitzel as the old one appears as if he has gone through a nuclear blast. Good day for me so far I had dum-dums, nuts and weinie man.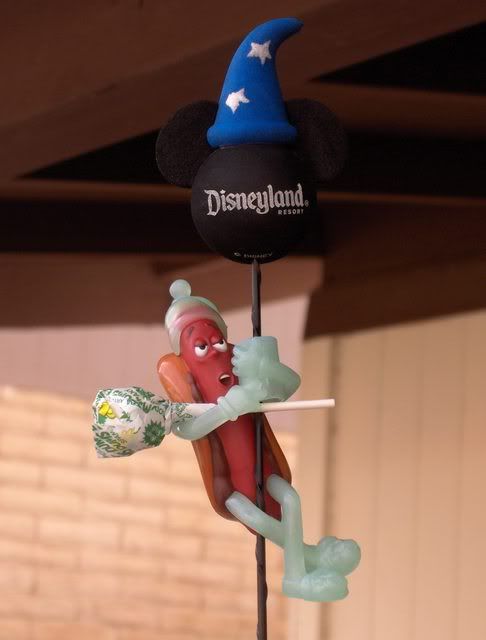 After checking into the hotel it was time to hit the park.
Tink welcomed us with a wave of her wand.
I was supposed to call DlandFansAZ (DlfAZ) when we got there but no need as I found him in front of City Hall just finishing up his duties as a Gumball Spotter. He is also the guy that made all the dog tags up for the rally.
I love tulips and the park is now filled with them, so pretty.
We decided to take a trip around the Rivers of America on the Mark Twain.
Hubby noticed his reflection in a railing ball on the Twain.
We decided to check out Haunted Mansion since it had just re-opened and I think it looked great. Love how the moving slidewalk now has the carpeting pattern on it. We took a ride on POTC and afterward saw them doing some filming of someone thanking 'you for watching this tour of the Dream Suite' . There is another thread about that here where I included our photos:
http://www.micechat.com/forums/showt...res-88801.html
As we were leaving Adventureland we ran into some of my favorite MC'ers. So of course had to stop and have a quick trash talking session. Fishbulb and Monorail Man's phone was constantly ringing as they were hard at work being spotter's.
We walked over to Fantasyland and it just started raining so we had a chance to look in some of the shops there and ride some Fantasyland rides.
Pretty picture alert.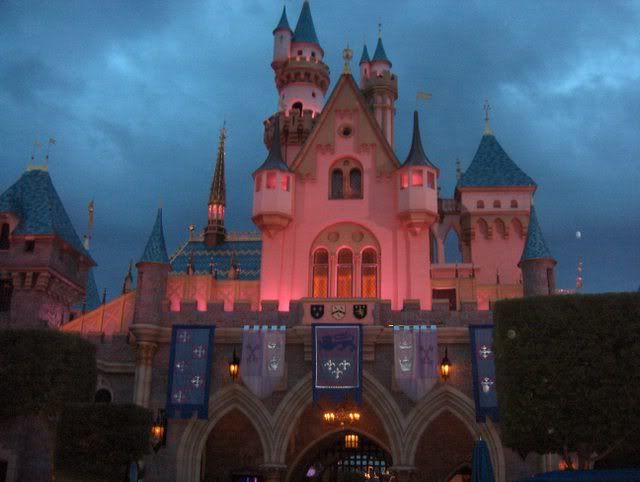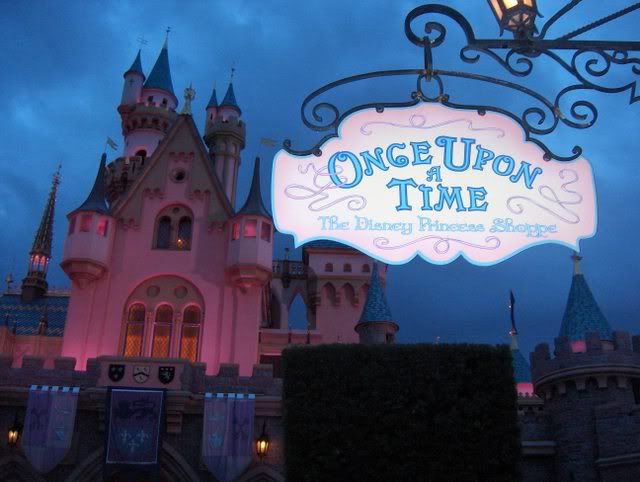 Hubby55 made a friend.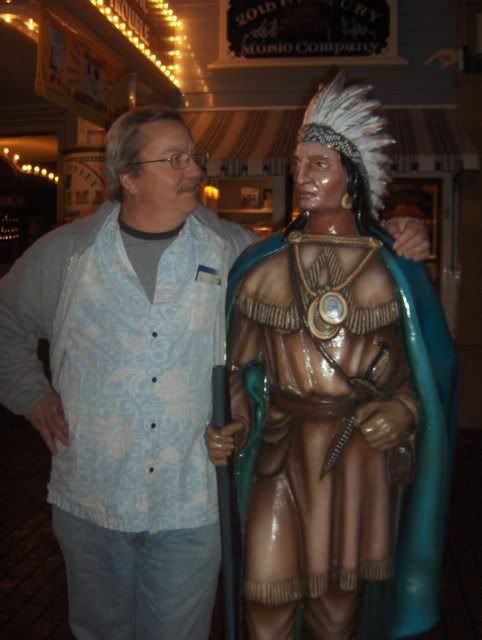 We then spotted YoYoFlamingo and team going into the Main Street Cinema so I chased them around through it. They were a team on a mission, so it was a very quick hi/by.
We had dinner at Pizza Port which was a first for us and enjoyed the chicken fusilli and spaghetti and meatballs. (sorry no food pics, food was inhaled before the camera could come out).
It was getting close to fireworks time so we headed over to New Orleans area to do some window shopping and then found a place by the river to watch the fireworks in the rain. It was pretty but I was slightly annoyed to see people on 'my' dream suite balcony in comfy chairs watching the fireworks. We decided since there was no line for Big Thunder that we would take a ride. New lesson was learned!!! Fast ride, front row, and rain do not play well together. Teeny-tiny water bullets.
We went into some shops on main street looking for a Mickey Mouse Club T-shirt for hubby but no luck. (Please PM me if you know where I can find one.) It was a little after 10:00 so I called Dustysage to see if they wanted to meet up for a drink and he said they were still finishing up at Tortilla Joe's but to come by and say Hi. We got to see some of the hard working rally people, Mamabot, Clinkerbelles, Dusty, Fishy, Monorail Man, Rixter, Mickey Maxx and a quick hello and hug to Al. We were able to show them some original pictures of the long deceased Pirate Ship Restaurant. We decided to head for the hotel to get some rest for the big meet on Sunday.
Sunday morning we were up early and arrived at the park to find out that the crowds must have been scared off by the threat of rain. Our van was lonely.
It was nice to enter the park and not have 10,000 people there already even though this was a 'magical morning'. My first stop was Market Street to get COFFEE!!! While in line TinkerMonkey appeared behind me. She gave me the 411 on how Team Dorkalicious had done during the rally.
While I was getting coffee, hubby found another friend of his.
We went over to get our Buzz FP's for later in the day and sat down to eat our croissants and have our coffee. Spotted some more favorite MC'ers, TikiRoomLiz and DisneyIPresume. Liz had brought me some of the best ever Sugar Free Lemon Cookies that I ended up sharing on the train with my other diabetic pals.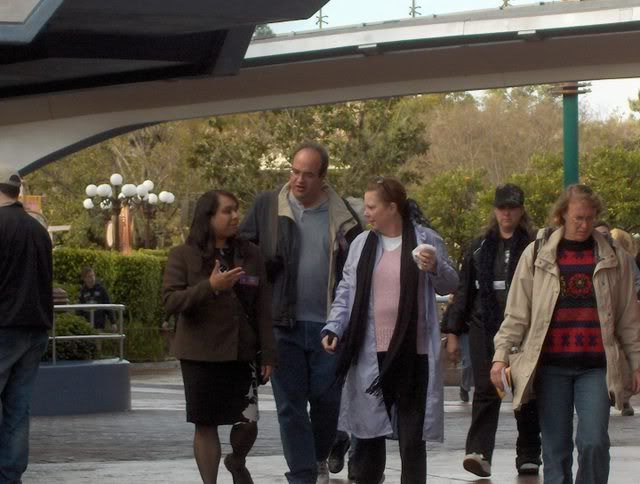 We decided to head over to the River Belle Terrace where some friends were having breakfast but noticed a lot of people coming off Big Thunder with Dream FP's so we made a beeline for the ride and saw them giving them on the exit. So once more we rode the wildest ride in the wilderness and won Dream FP's.
Time for the first meet of the day at Magnolia Gardens. Dr. Earkid and I being the silly zonies that we are.
Elly, Dustin and Tinkermonkey. Elly was telling me how pretty her Break Out Trophy is.
It was one big hugfest with Spidergrrrl, Superstacie, Yoda and Disney1978.
Wild Women on Wheels Tour
Dustysage and Penguinsoda discussing the litterbox crew?
Quiltmaker and Hamand4. Hamand4 even had their own nametag.
Cutie patootie Adam Hamand
MickeyMaxx and me, I love me some MickeyMaxx (and Rixter, too). Thank you again for the nametags, magnets and especially the yummy cookies.
Hubby can never seem to get a clear shot of the gorgeous Mary Read, maybe it's because she seems to always have the papparazi behind her, but this time he got a great shot of her.
The other person that we always seem to get the back of his head only is SirClinksalot and I am proud to say that today we got more than the back of his head, we even got blue tongue.
Time for a break, but coming up soon, pictures of the MC'ers taking a cruise around the River of America with Captain Fishbulb at the stern, and more meet pictures.