I'd like to start off by saying that this is probably going to be one of the lamest trip reports I've ever done. I was so busy Saturday morning handing out dogtags with Marc (DLandFansAZ) that I simply didn't have enough time to take any pictures.
Here's a couple of Dusty giving a speech to the Rally participants prior to "releasing the hounds".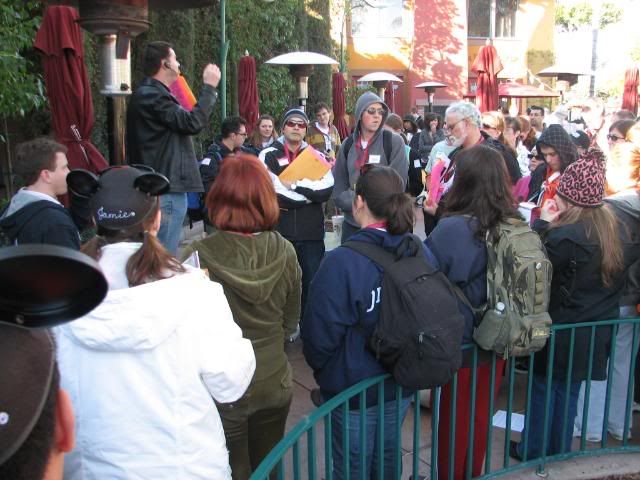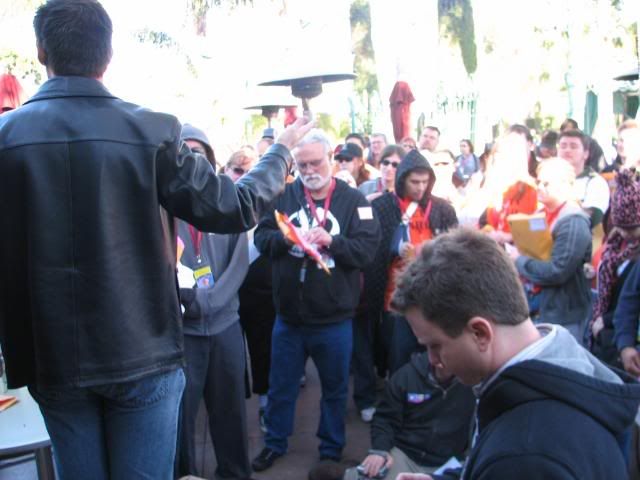 On the way to the Fantasia Gardens (aka the Motorboat Cruise dock) we stopped in Fantasyland and got some pics of Rally participants starting their day.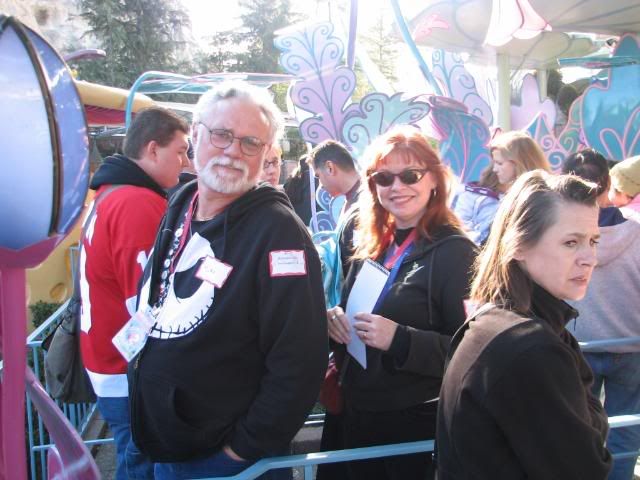 Getting ready to go on the Matterhorn (but only on the Tomorrowland side!)
I wasn't sure what the deal was with this participant... pretty sure he was praying to Circarama the Gumball Rally god for a blessing.
Whoopsie, my bad. This is the "Churro Pope" striking his papal pose.:lol: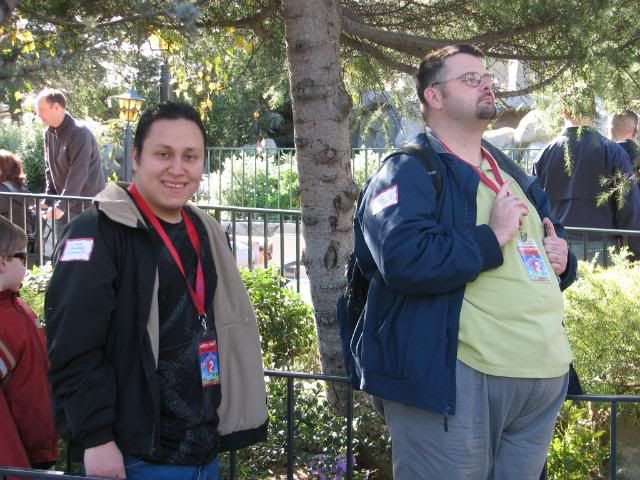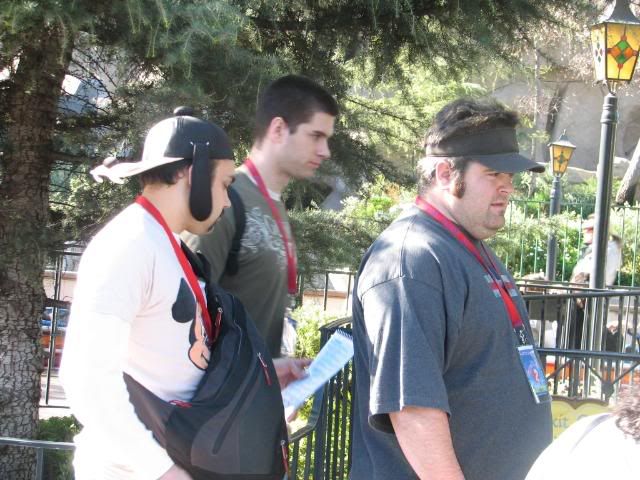 Team Blurry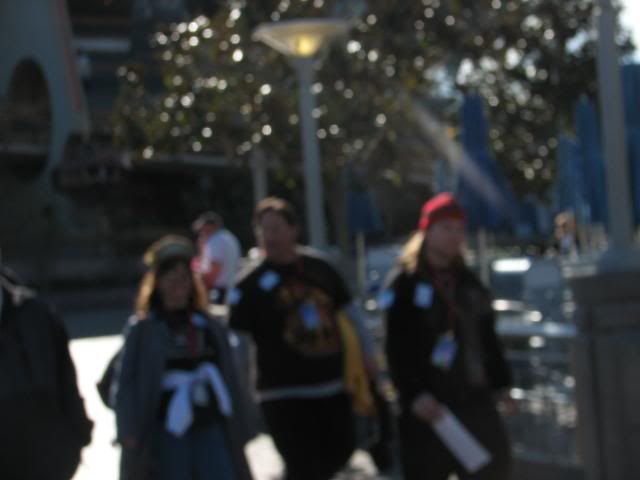 We're headin' to DCA!! (Yeah, and passing up the Opera House like everyone else. Marc and I staked that place out for 3 HOURS and nobody went in to see the show!!)
After I was done spotting, Tigerlily came by and took me to lunch at the Hungry Bear, where we ran into one of our Felinus Disneylandus friends.
In case you were wondering, cat's are carnivores... which means they eat meat. Not french fries like the teenagers next to us were trying to feed the cat.:bang:
After lunch Tigerlily and I hopped on the train and had a nice conversation with ksejr1 and her team mate before getting off at the Toontown/Fantasyland station. We walked over to Tomorrowland and saw a few more participants.
MCow1 and Mary Read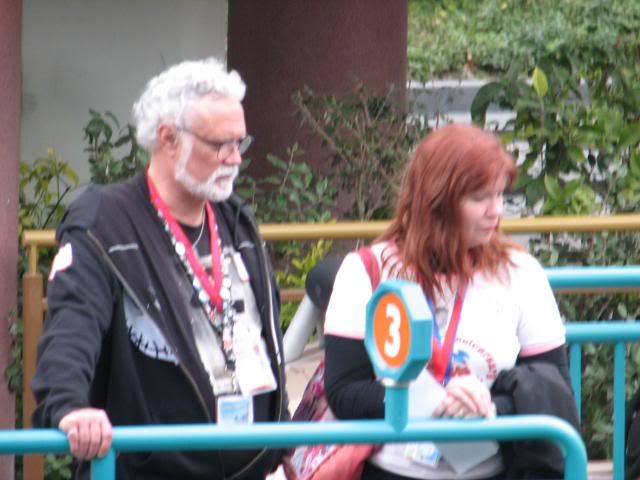 Walts SOS
Blurrgade
Brigade
After that I put away my camera and went over to the Dumbo Jets, er, the Astro Orbiter to spot for cheaters with Darlene (Tigerlily) and Marc (DLAndFansAZ). Of course nobody showed up while we were there...
... After that we headed over to HISTA to relieve Monorail MAn who was spotting that
attraction.
Once again, we got stiffed. I can't believe it... nobody wants to waste 40 minutes of their time for a whopping 2 points. What's the DEAL?! I'm starting to see why nobody stopped at the Opera House.
After that stint was over, we decided to head over to DCA for a few minutes before heading to Tortilla Joes for the awards party. We ran into SkyWayGrl, who upon seeing me commanded her brother,"DON"T TALK TO HIM!!"(WHAT did I do?) as she hurried him along towards another attraction, seconds ahead of Walt's SOS Brigade.
We checked out Flicks Fun Faire and saw a few participants finishing up. As we left that area and headed towards Paradise Pier, the rain started and we decided it was time to head to Tortilla Joes.
We got there just the other Rally organizers and volunteers did. We went upstairs and began to get things ready for the party.
I got FishBulb dialed in with that martini I owed him as he got ready to grade the Rally quiz books, and took a look out front from the balcony.
"Hey guys, they're ready to come in."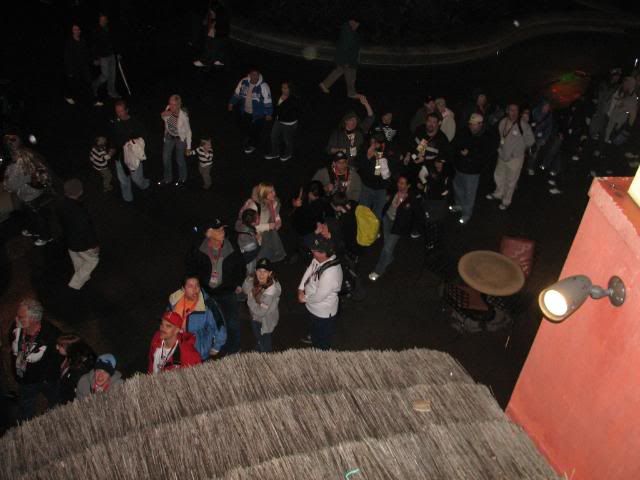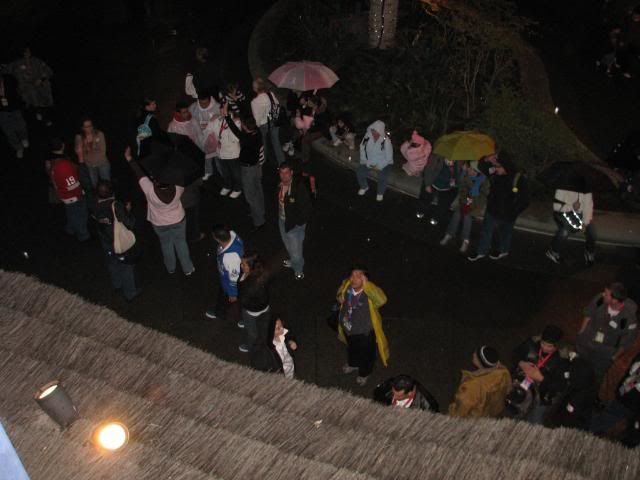 I put my camera away again, so I got nothin' from the awards ceremony...
...except this lame pic of "Dusty the Emcee" with his new best friend, "The Big Voice" portable PA system.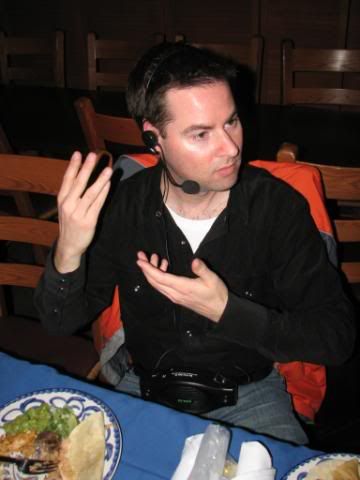 And that's all I got from Saturday!:blush:
On Sunday we got into the Park as the MC crew was leaving the dock on the Mark Twain, which gave us just enough time to ride Pirates before heading to the noon meet.
The meet was great. Got to say hello to alot of wonderful MiceChatters, and was TOTALLY taken aback when Lisa (Pratt 55) presented me with a Planters Peanuts
gumball
peanut vending machine for being "MiceChats Nuttiest Gumballer"
That was so sweet. Totally unexpected!
All in all, it was a fabulous weekend with a bunch of really great folks! My only wish was that I didn't default to putting away the camera... I really wish I had taken more pictures.
I want to thank all of the people who helped produce the Gumball Rally... Dustysage, Fishbulb, Monorail Man, Mamabot for making doing this event practically painless. You guys have all been excellant people to work with while planning this event, and I consider myself blessed to be able to work with such a great group of people!
DLandFansAZ for all the cool dogtags for the participants, and also for your company while waiting for somebody...
anybody
, to visit one of the attractions we were watching during the rally!!
Mickey Max and Rixter for all of the great nametags, magnets, cookies,
magic
gumballs, and for all of the fabulous support that you gave to the Special Events Crew. You guys went WAAAAAY over and above, and for that, I thank you!!
All of the wonderful volunteers who helped make this event a reality by simply showing up and doing what you said you would do. YOU GUYS ROCK!! SERIOUSLY... YOU REALLY DO ROCK!!:bow:
Most of all I want to thank the participants for taking a chance on this event. The Gumball Rally would not exist if you folks didn't sign up for it! Because of that we'll be just like Walt... continuing to try and "plus" the Gumball Rally each year to get you to come back and try it again! Thanks for participating, I really enjoyed talking to as many of you as I could. You guys are my hero's!:yea: