Sigh. I didn't take many photos on Sunday and now I feel just a bit lame about having captured so few memories (and souls of children) into my camera.
Yes, I took took part in the Mice Chat 3rd Anniversary, which btw, marks a year of me going to the meets! So even though I have close to no pics, I thought I had to make some sort of "hey, look at me!" thread.
Warning: if you're in here expecting to see pictures of yourself, you will be very disappointed (or happy, depending on how weird you are). But, if you came to see photos of hot dog hats and rain.. this is the place!
I got to the park on Sunday at around 11:06am and I brought my umbrella just in case. Though it didn't really look like rain was on the horizon...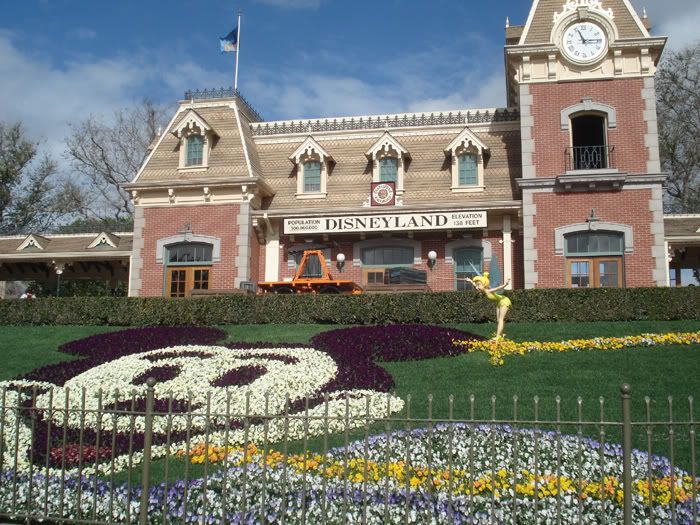 Just another Southern California day right?
HAHAHAHHAHAHHAAH yah... Walt likes weenies in his park.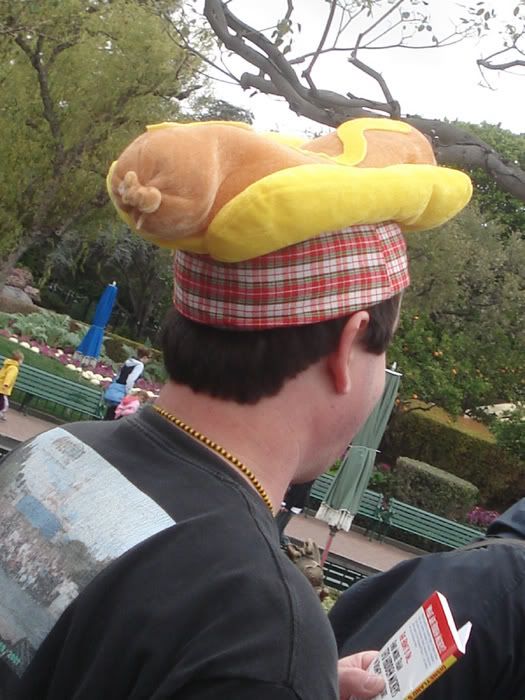 Here, the super friendly and all around great guy, Dustysage, makes a few announcements, points out a few moderators and staff, and of course raffles prizes!
There's YoyoFlamingo on the right. He gets in everyone's reports somehow!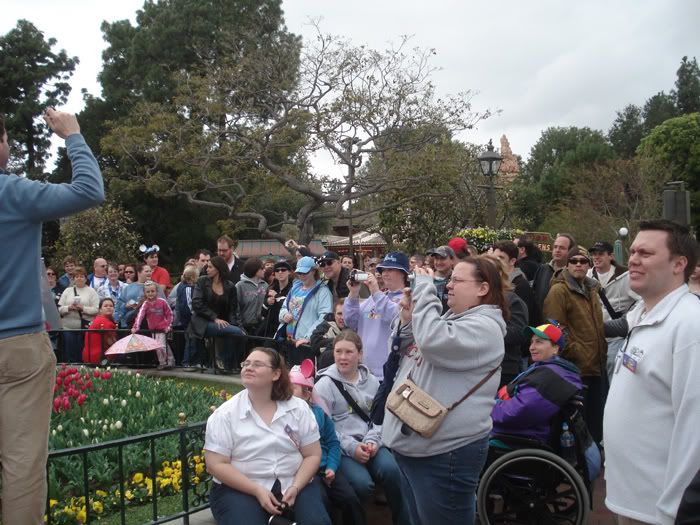 Then we all went to take our photo, blah blah, you won't see that stuff in this report, and then most of us went to eat at Pizza Port.
On the way to Pizza Port, it started to sprinkle... heavily.
Q. Why did Snoop Dog need an umbrella?
A. For drizzle.
While walking to Pizza Port, I spied a big guy with a scruffy beard, glasses, an Indiana Jones fedora.... he just looked totally familiar. He looked like Francis Ford Coppola! Nick (shocker batman) cries out in his tough guy voice "HEY, FRANCIS!" Guy doesn't flinch.
I remind Nick that people probably won't turn around if they feel like they're gonna get beat up by the guy calling their name.
We then do some stalking and follow him through some Main Street stores to get a better look. I get a better look and still can't tell. I so wanted to tell him that Captain EO is my favorite 3D movie.
I don't think it was him.
moving on.
After lunch, people split up in various ways. it's alright, it's alright... alright. people split up... in var-i-ous ways! (come on, U2 fans)
Superstacie, TarzanTrashcanMan, his bf David, and I go on Star Tours.
And then we head towards the Matterhorn where it is like... pouring rain.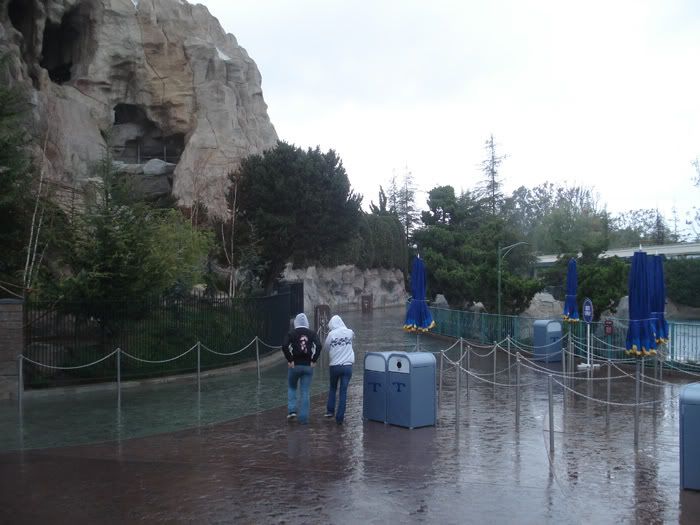 We decide to ride the Matterhorn yay! Fantasyland side.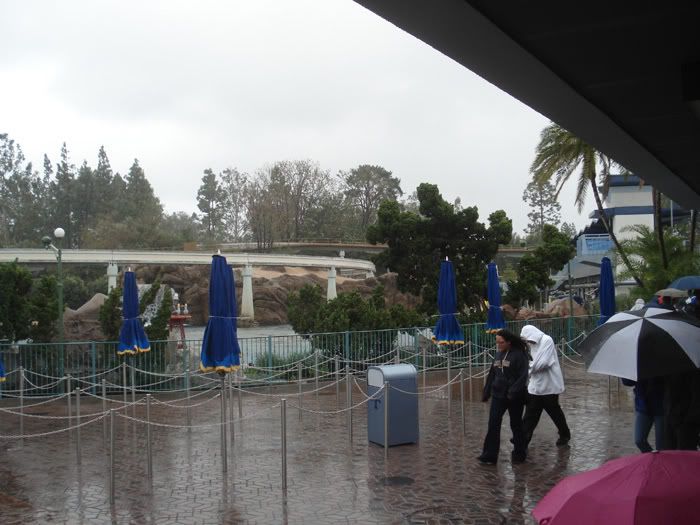 OMG i am so loving this! I want to badly ride the matterhorn in this awesome weather!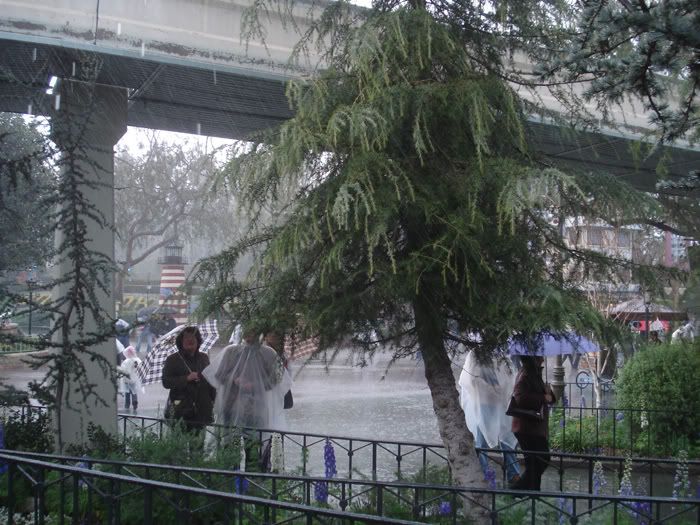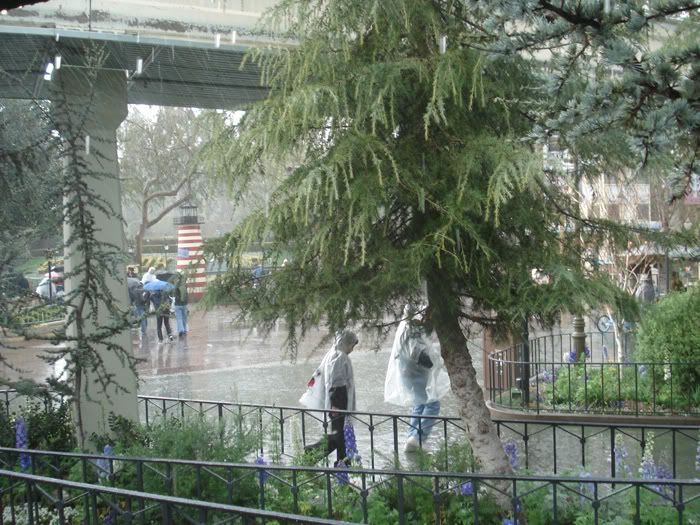 Of course by the time I get ON the ride, the rain stops. What the fudge?!
Now, it's all sunny again.
Imagine Disneyland after humans are extinct:
Fantasia Gardens was the 3pm meet and we saw some wicked Duck Tales! One duck was biting another duck's tail. They went around in circles, it was fun.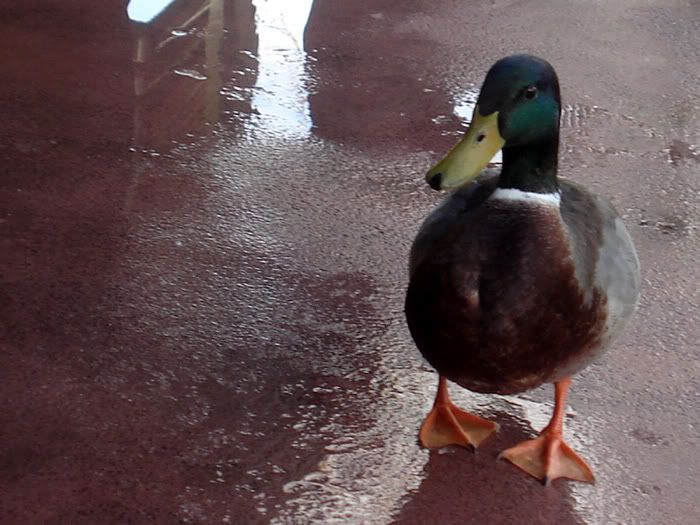 Here you can see the rain clouds that went away and the blue skies coming in.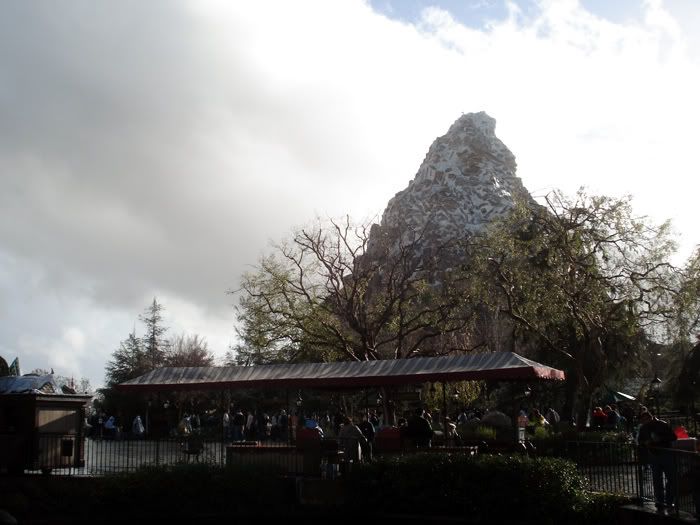 One of the many highlights was Maynard stopping by to pay a visit! I haven't seen the guy in 7 years and he remembers my name. Maybe because he's absolutely disgusted of me?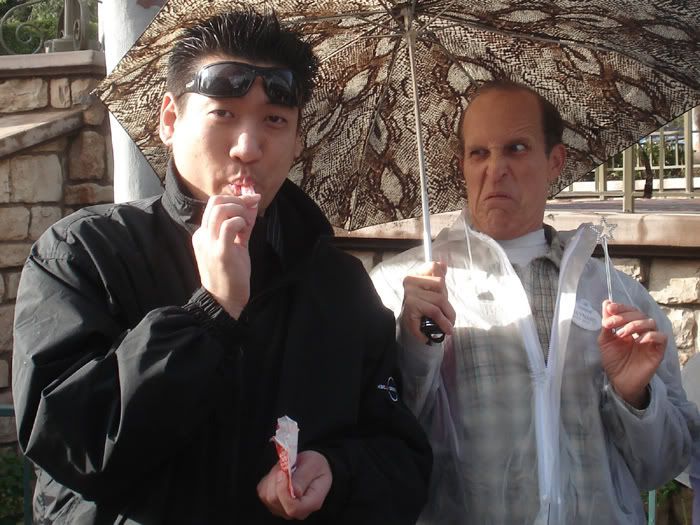 I'm eating Princess Buttercup's Fun Dip.
From there, the crew went to the TikiRoom where I learned the actual words of the tiki from Aashee (rated R). And ate some odd pear crisps from Thrax (rated G -- gross. hahah j/k).
Then the MiceChat crew filled in two entire boats on the Jungle Cruise! Here's boat 1. Oh and yes it was kinda raining right now.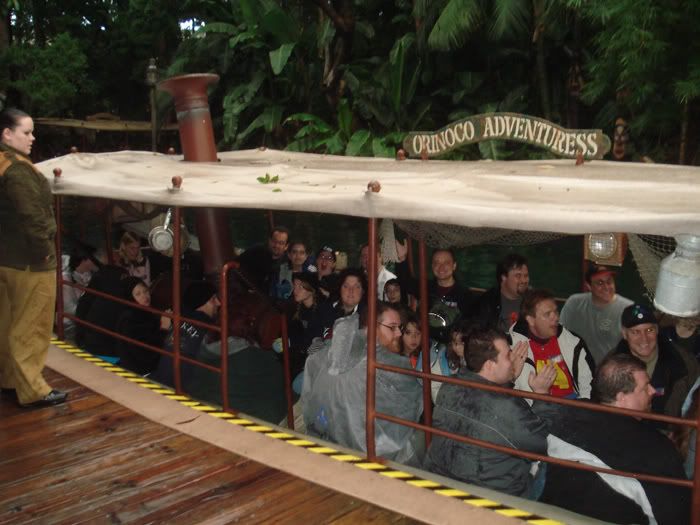 Adventureland looks very tropical, but sure don't feel like it!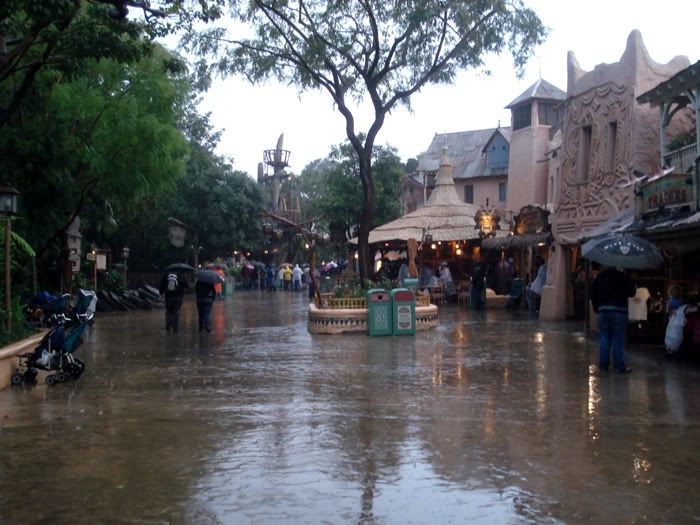 The winds were blowing, rain was pouring... it was beautiful!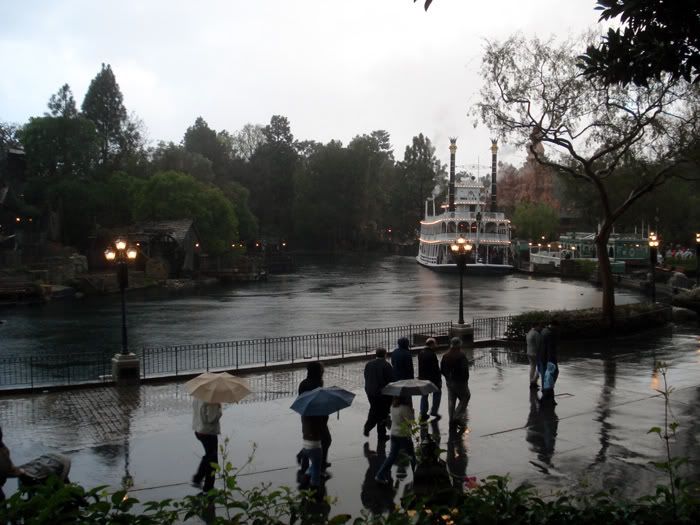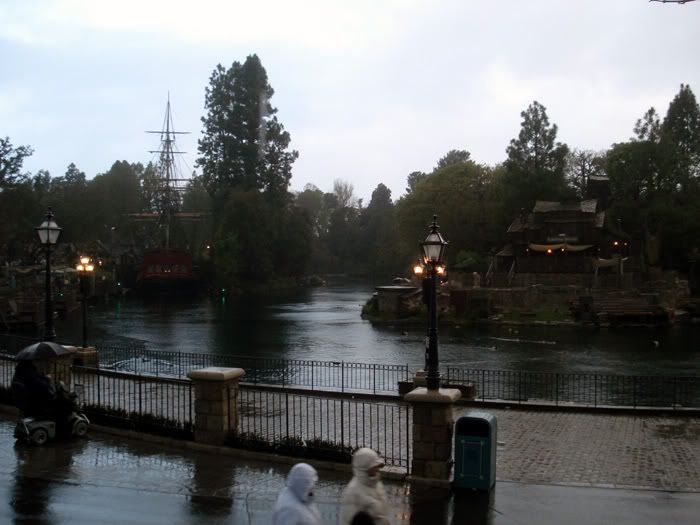 Then the group rode Pirates and Haunted Mansion. Afterwards, the crowd thinned (and it wasn't raining) and a group of 18 of us went to Storyteller's Cafe. Now, usually I love it there but the service that day was kind of off. Just wasn't as happy as it should be, a bit careless. Hostess was telling us that we all had to eat at the buffet (yah right). Server was forgetting little requests we've made. Hot Tea became Coffee. Sour Cream on the Side didn't come. Refills weren't refilled... etc. It was just an off day perhaps. No big whoop. CM Luis though deserved all the tip though really. He did a fantastic job.
Our server also didn't give us our pins. We had to ask for it. Here it is though! I think it's really cool!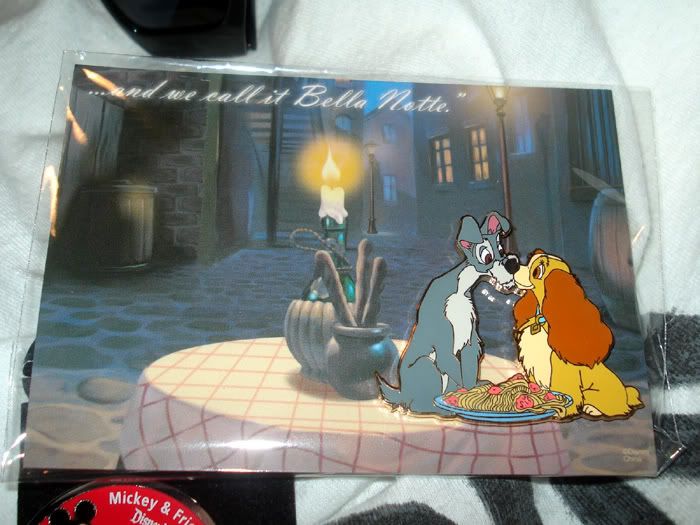 And then we went back to the park for some good fun. We did Peter Pan in 10 minutes. Love this ride, just super short. Then we went to hell and lived to tell the tale with Mr. Toad. (these two rides are SOOOOOO much more fun than Pooh and Monsters Inc could ever hope to be, sadly).
Then we did Storybookland. I'm not too fond of this ride at night. You can't really see anything. Our host was Hugh Hefner too.
Then Matterhorn -- tomorrowland side. Having done both in the same day, Tomorrowland side (left) is definitely the way to go! I always knew that, but sometimes I need a refresher.
Then it was Space Mountain fun. It was kinda scary actually. The ride was making a lot of noise. I hope it gets fixed!
This picture is here because I specifically requested a Shocker-free photo!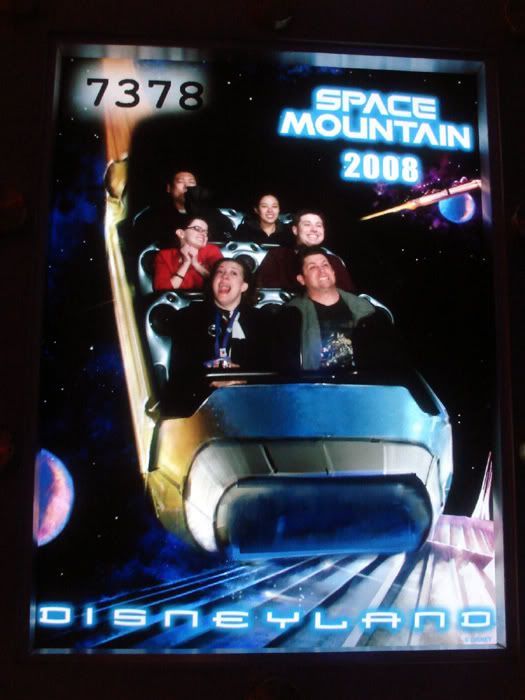 Then I picked up my art from Disneyana and went on our merry way. Some stayed for Hearthstone but I unfortunately had to rest.
So there you go. That's my unspectacular report. No "to be continued". No proof of crazines. It's as barebones as the come. Hope you enjoyed it!
Here's my art: Cohete to the Moon!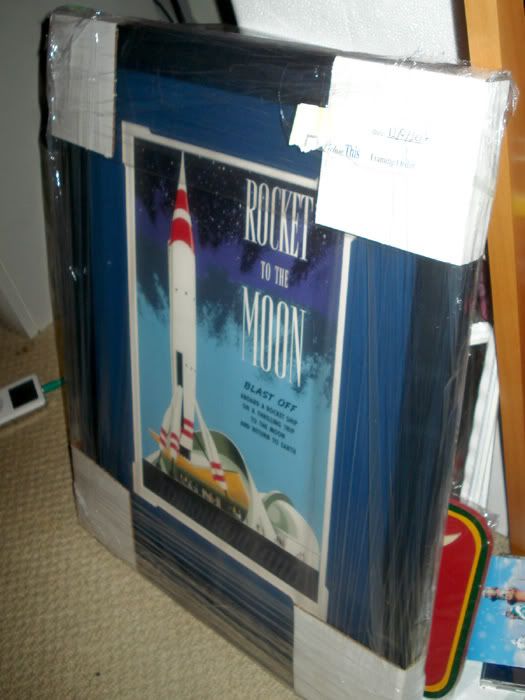 THE END