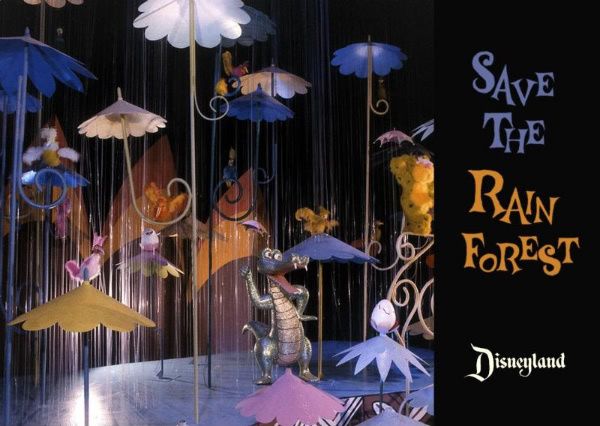 Save the
Rainforest.
The
Re-Imagineering blog
has picked up on
Al Lutz's news of "it's a small world's" changes
, and
like many of us
, the folks at Re-Imagineering are not happy.
Re-Imagineering makes strong points as to why the attraction should not be changed:
The insertion of Disney characters into this classic E-ticket is troubling enough. "It's a Small World" may be a color and design masterpiece but more importantly the show's simple message of shared humanity using children of the world and their innate innocence as the metaphor makes it a cultural touchstone and a casebook example of uncluttered visual storytelling. Cute as they may be, Belle, Mickey, Stitch or Nemo have nothing to do with selling the core values of UNICEF, the show's original partner. Their appearance not only trivializes the central theme but more disturbingly seems to emphasize global brand marketing and franchising above all else.
. . .
And when the rainforest goes, it goes for good, replaced with a group of sets never intended for American audiences from the show's very inception. In consciously excluding a large scale U.S.A.-land from It's a Small World (a lone cowboy and indian in the finale was just enough), the original show writers were asking American audiences to step away from their own national consciousness and take stock in the wider world around them. It's a Small World was never about nationalistic fervor. It was about finding our common humanity outside our own borders.
Re-Imagineering closes the article with a call to action.
So what to do? Do you treasure this iconic classic as it is? Do you value the integrity and artistic vision of the Disney Legends who created Disneyland?
It's time to write. It's time to take a stand. We've already seen Jack Sparrow take over the Frontier. We've seen Walt Disney's name exploited in favor of closing a unique-to-Disneyland attraction in for an over-glorified hotel room. We've seen the World of Tomorrow sit in the past for a decade.
As those at Re-Imagineering said:
Disneyland is your land. Don't let this happen.
C A L L
Disneyland Resort Public Relations:
(714) 781-4500
W R I T E
Walt Disney Company
Attn: Robert Iger
500 S. Buena Vista St.
Burbank, CA 91521-9722
Walt Disney Imagineering
Attn: Tony Baxter
1401 Flower Street
P.O. Box 25020
Glendale, CA 91221-502
Disneyland Resort
Attn: Ed Grier
1313 South Harbor Blvd.
Anaheim , CA 92802
E - M A I L
Disneyland Resort
-
http://www.disneyland.com/contact
D O
Write to Disney. Call them. Make t-shirts and wear them to the parks. If you see an Imagineer or a suit in the park, talk to them. Show your support online by using one of the images used in this thread. Make it known that the classics should be taken care of, not re-invented.
Avatar:
Put this code in your signature at message boards you frequent -
PHP Code:
[
URL
=
"http://micechat.com/forums/showthread.php/save_rainforest_keep_its_small-91695.html"
]
[
IMG
]
http
:
//farm3.static.flickr.com/2205/2313636927_7bc04369cb_m.jpg[/IMG]

[/
URL
]

"It's a Small World" is a work of art. Those fortunate enough to be the caretakers of a masterpiece are more than welcome to try on a new frame once in a while, to carefully restore its surface, switch out the lighting or even move the piece to another room.

But even the most fool-hardy owner knows not to paint over the original canvas.
-

RE-IMAGINEERING
New campaign web site:
savethesmallworld.com