I was reading the February 2008 National Geographic yesterday, and came across an interesting article about a small farming community in northern Israel called "Nahalal".
Originally conceived and built by pioneer Jews in the early 1920's while still considered Palestine, this community was devised by architect Richard Kauffmann. It is based on concentric circles, with the public buildings (school, administrative and cultural offices, cooperative shops and warehouses) in the center, the homesteads in the innermost circle, the farm buildings in the next, and beyond those, ever-widening circles of gardens and fields.
Fast forward 45 years to Disneyland USA: The 1964 Worlds Fair in New York is winding down and Walt Disney is making preperation to move his attractions from New York to California to be installed at Disneyland.
He decides to have a huge model built of his "Experimental Prototype City Of Tomorrow" or EPCOT, which will reside on the second floor of the soon-to-be-installed Carousel of Progess.
Walt passes away before the moving project is completed and since nobody in WED knew yet whether EPCOT would ever be built or not, they decide to go ahead and finish the model, but opt to call it "Progress City".
Notice the similarities between Nahala and Progress City...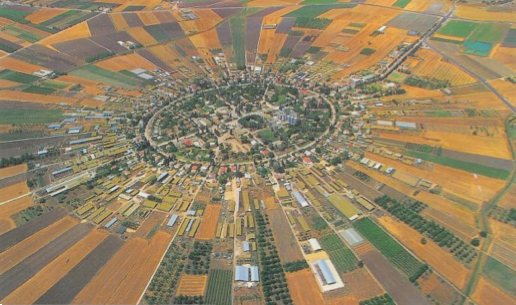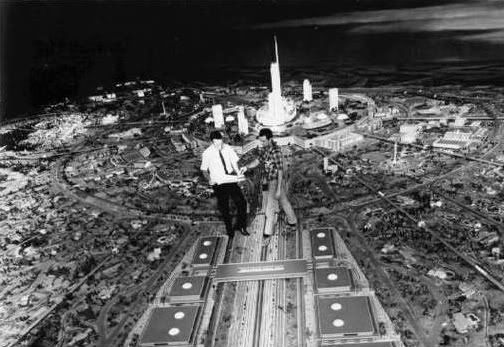 I was never aware that a community existed anywhere that so closely mirrored Walts idea for EPCOT. Which got me to wondering if Walt actually thought up the idea itself, or simpy discovered Nahalal and made the idea his own.
Regardless, one thing that did come out of actually building Nahalal that has never been discussed in the many Disney publications that I've read over the years, but was pointed out in the National Geographic article: Nahalal has "one structural kink in this design. Growth is limited. Once a rigid circle is drawn, there's little room to go forth and multiply."