So, I did this drawing of what I thought would be neat for a 3rd gate for the DLR.
One of the Lands or regions of this theme park would be "Mysterious Island" It was inspired by the land that is in Tokyo Disney Sea and is based on a secret hide-away for captian Nemo from the movie/novel "20,000 Leagues under the sea" Inside the Caldera of nemo's secret volcanic Ile are two attractions and an upscale resteraunt. These are the 20,00 leagues under the sea sub ride, and the Journey to the center of the Earth wich can both be found in TDS as I write this.
Outside of the Caldera is Discovery bay(obviously inspired by the original idea for Disneyland that never came threw) that has two attractions also the first being "Hyperion's flight"-a Soarin' type ride on a baloon but It features more of a storyline and an adventure feel(inspired by the movie"Island on top of the World") and the second attraction being Spark caps electric coaster-Since the Time period is during the 1800's It would be considered an advancement to have a magnetic roller coaster and It would loop upside down at one point(Don't worry It would be much more interesting and themed than Screamin' or the indy mine cart ride) oh! and the electric coaster thing was not my original iea either..
now good luck on finding everything
) I kid.. basicaly all you need to know that the inside of the caldera of the volcano would be the Mysterious Island area and the area looming outside the volcano is the Hyperion dock and the coaster and it's ..Interesting..architecture
(not that It's that defined in this rough drawing but if you saw the original concept you'd get it)
and BTW, here's the link's to the original art work for Discovery Bay, notice the
Hyperion in the middle and it's building
this is some new stuff:
I have another 2 drawings to show you guys. So another land in this park would be based on Fantasia, one part of the land would be based on the greek sequence from the movie and the other would be based off of the
"Night On Bald Mountian" sequence
.(this was originaly proposed for beastly Kingdom) so heres the link to the
ORIGINAL art work
for the Greek area (what gave me the inspiration). heres the scetch that is pretty much a copy of that picture in the link:blush: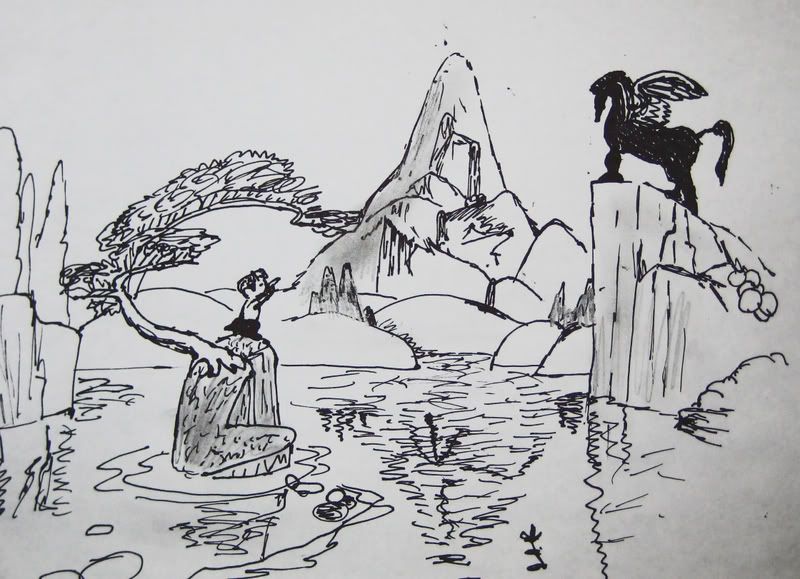 The Mountain in the middle of this picture would be Bald Mountian
on the other side
(that's right it's the same mountian but at different views it's like a different mountian) along with a Town to walk threw just like the one from the sequence in Fantasia..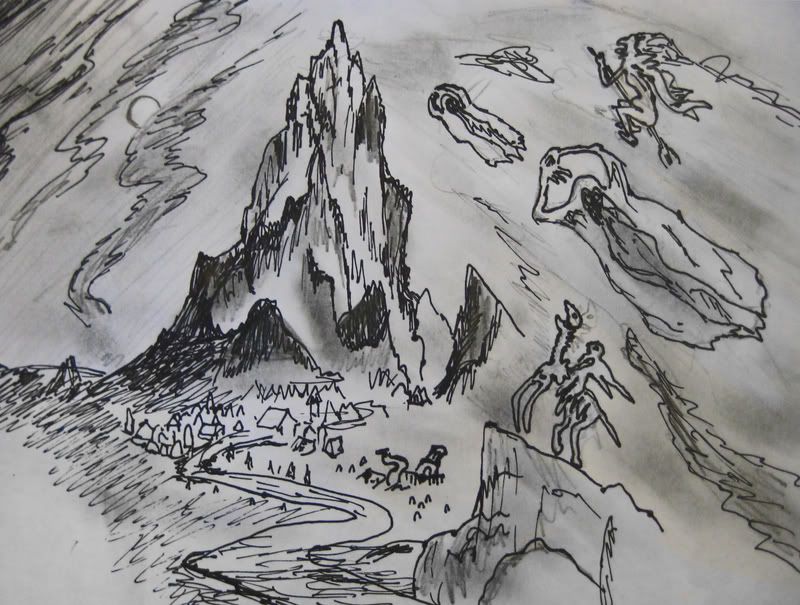 So.. I can't think of any specific attractions for this area of the park but The Mountian would certianly house some sort of attraction, preferably something with Chernabog