Tigerlily and I traveled to Anaheim this weekend for an exciting weekend of fun and frivolity at the Wally Boag/Golden Horseshoe Saloon Tribute held at the Sheraton Inn on Saturday night.
We drove down Friday, and (with the help of a good friend) stopped at Walt Disney Imagineering as we passed thru Glendale.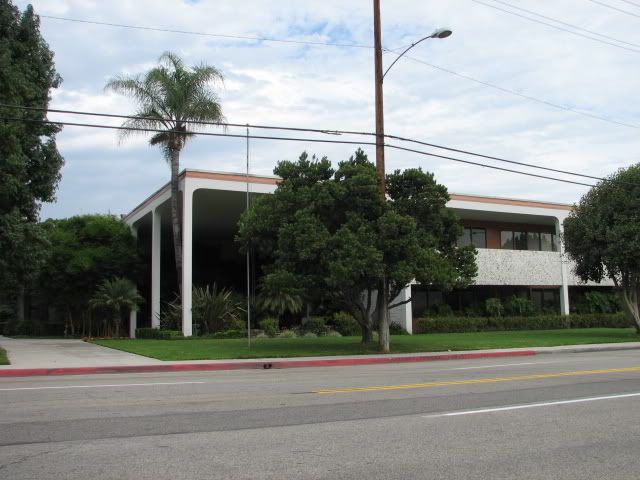 The mouse-house for Imagineers
I always go crazy when I visit "Mickeys of Glendale" at WDI and this trip was no exception. They have resurrected the old WED logo, and since I'm a big fan of the old days, I just couldn't help myself...
I also picked up this pin as a tribute to the "Mary Blairs Family Speaks Out" thread here on MiceChat.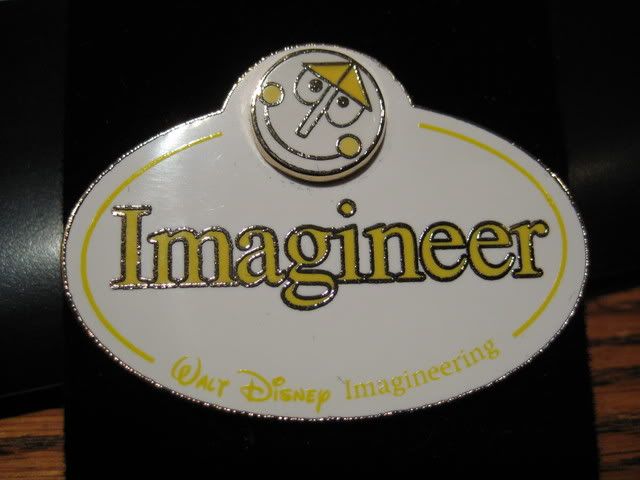 We continued on to Anaheim and went to the Park. Tigerlily and I went straight to the Haunted Mansion...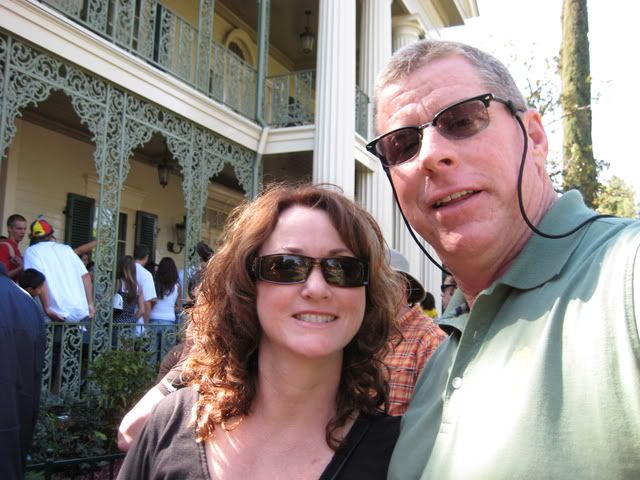 I love this woman...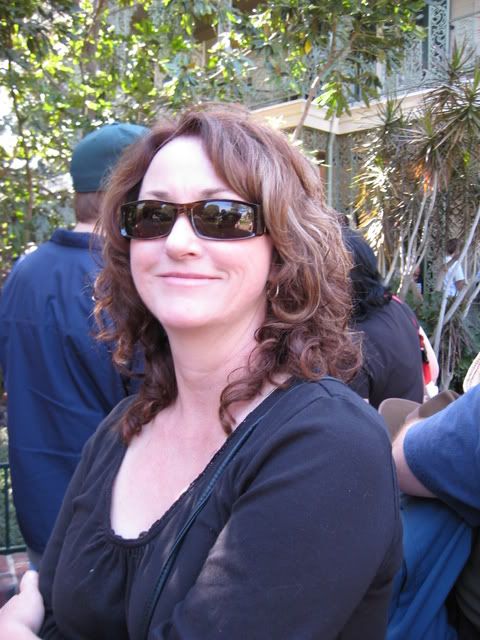 After that, we hopped the train for a full circle tour of Disneyland...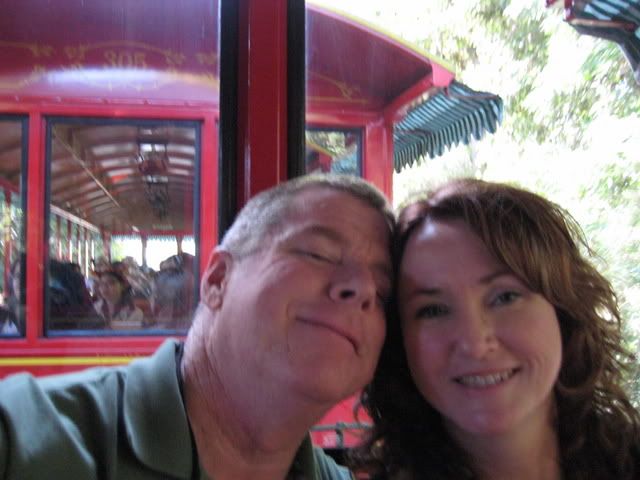 We got back off in New Oreleans Square and dropped by the jewelry store in NOS to say hello to Mickeys cousin... "Fatt Rat"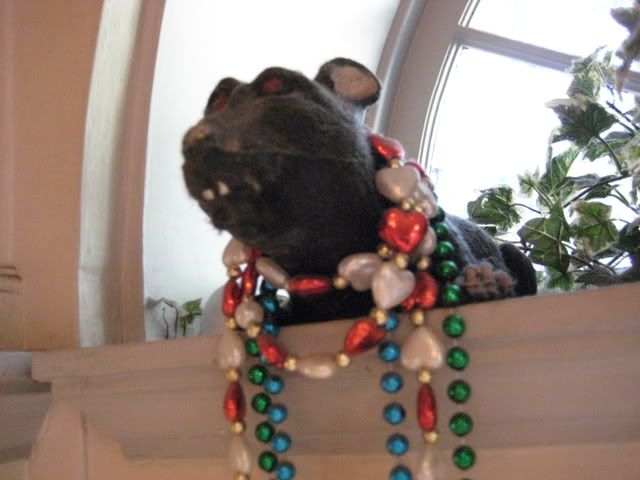 We walked back over to Main Street so I could get a good look at Bob Gurr's new window. I wanted to see it because I knew there was a possibility that I may see him Saturday at the Wally Boag/Horseshoe tribute and I wanted to see it in person...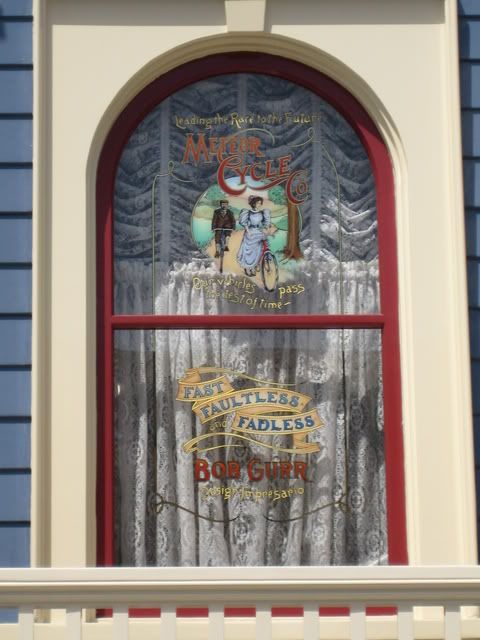 In case you weren't aware of it. Bob is the only window honoree that has gotten an
accoutrement
with the window... a bicycle!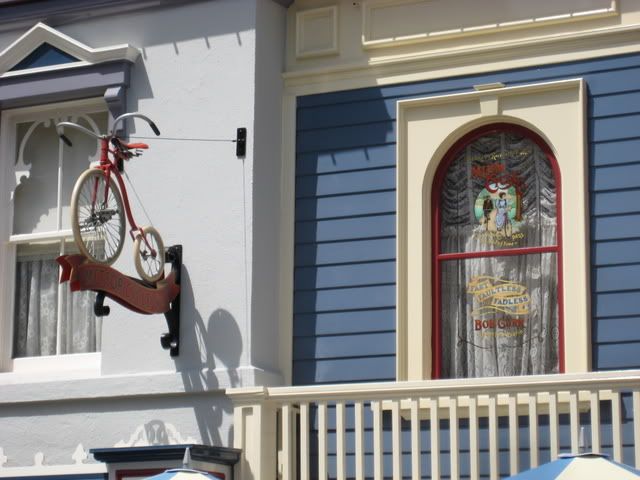 We left the Park a short time later to get ready for dinner with some friends. We got a late start Saturday morning, but we still had time for breakfast at Steakhouse 55 (awesome eggs benedict) and a few hours in the Park before leaving to get ready for the big tribute dinner.
We arrived at the Anaheim Sheraton around 5:10pm and we almost ran over Fishbulb and DustySage in the parking lot on the way in. We entered the Sheraton lobby together and met up with the other MiceChatters that were attending the event. It was so nice to see so many wonderful folks all dressed up. It was like we were all going to the prom together! I wish that I had taken more pictures of everyone, but alas, I knew that others were taking pics so I hope they turn up... either in this thread or another trip report.
We all went upstairs and made our way into the ballroom. SkywayGrl introduced me to David DeFore, son of Don DeFore, the famous actor from the 1950's who also owned and operated the only privately-owned restaurant in Disneyland history,
"The Silver Banjo Barbecue".
David had lot's of great stories to share about Disneylands old days. When he worked at Disneyland, he was the youngest employee that Disneyland had ever hired (kid talent excepted).
Dustysage, Fishbulb and David DeFore
The evening started off with tributes to Wally Boag by Marty Sklar, Bob Gurr, Charles Boyer, and Wally's son. Then the entertainment portion started and it was quite entertaining.
John Eaden, who has worked at Disneyland for 20 years (10 years as part of the Billy Hill and the Hillbillies act) was the emcee. First off he introduced Kirk Wall of "Billy Hill and the Hillbillies" fame. Kirk did an amazing Elvis impersonation that had the crowd roaring. Then Jim Adams, one of Wally Boags "Pecos Bill" stand-ins did a terrific show with his marionettes. Next up was Dana Daniels. Dana starred in the Golden "Horseshoe Variety Show from 1995-2003. He did a great comedian/magician act with his psychic parrot Luigi. He was hilarious. When Dana was done, Carlene Thie came back onstage with John Eadon and thanked Wally for his years of service to Disneyland. Wally Boag then came onstage briefly to address the crowd. Then the Can-Can girls came back onstage to help close out the show. It was a fabulous night of entertainment and nostalgia.
As is typical of me in these types of events(remember the Gumball Rally TR?), I neglected to get alot of pictures. My wife say's it's because I like talking too much.:blush:
Be that as it may...
here are most of the pictures I did manage to take along with a few by MiceChat's own PhotoMatt. Thanks Matt for so many great photos.:bow: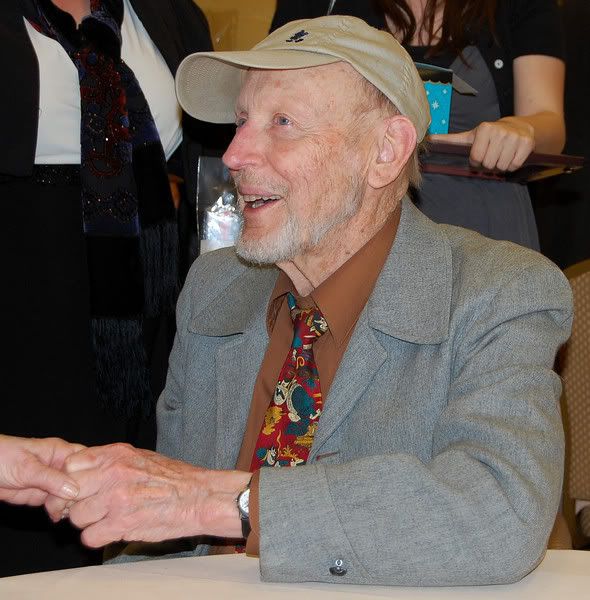 Disney Legend Wally Boag (photo courtesy of PhotoMatt)
Micechatters clean up well, don't they?
Disney Legand Charles Boyer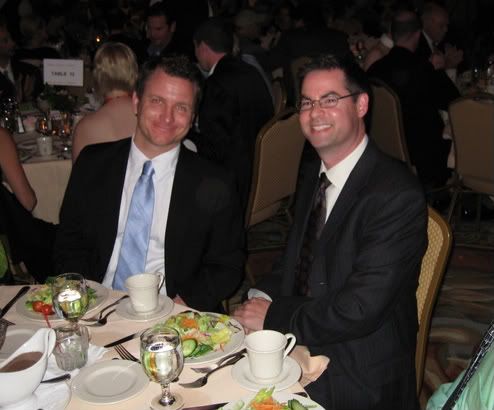 Fishbulb and Dustysage looking sharp!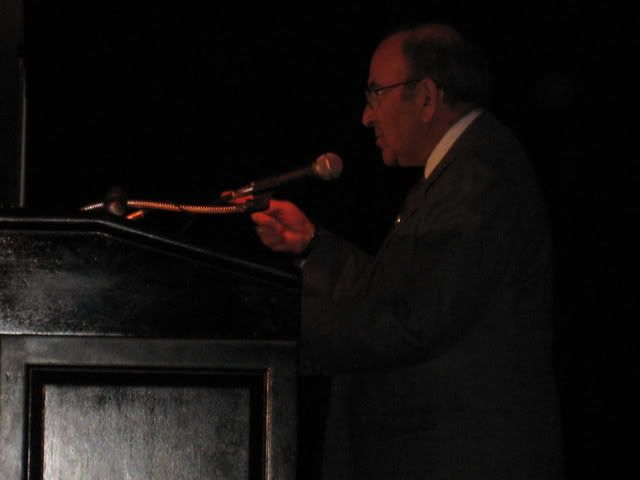 Disney Imagineering Ambassador Marty Sklar
Bob Gurr talks about Wally Boag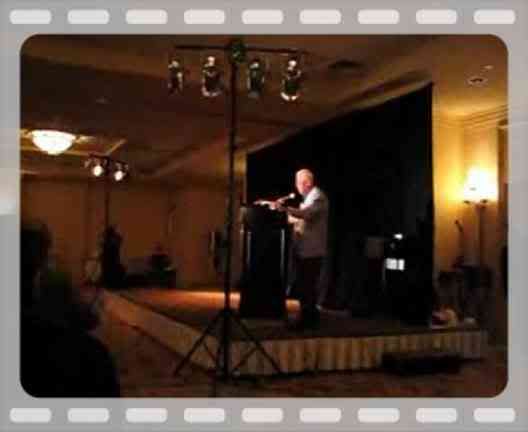 Charles Boyer addresses the crowd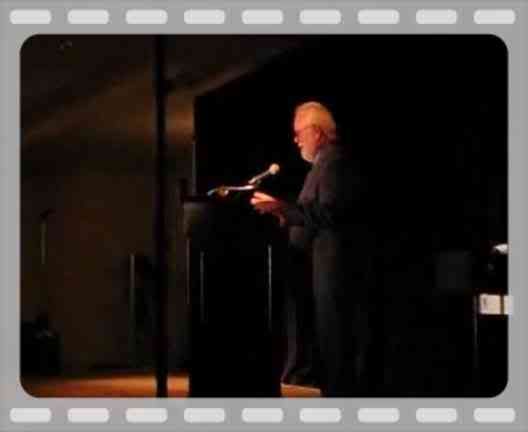 Can-Can girls tear it up on stage!
Wally Boag comes up to the stage
Wally Boag thanks the attendees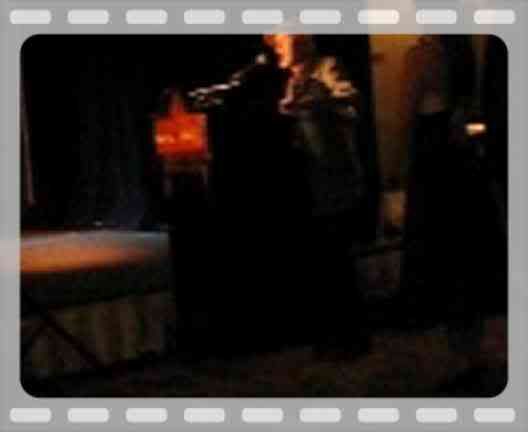 After the show, there was time for folks to mingle some more and get together for pictures, and I got a chance to catch up with Bob Gurr and congratulate him on his Main Street window.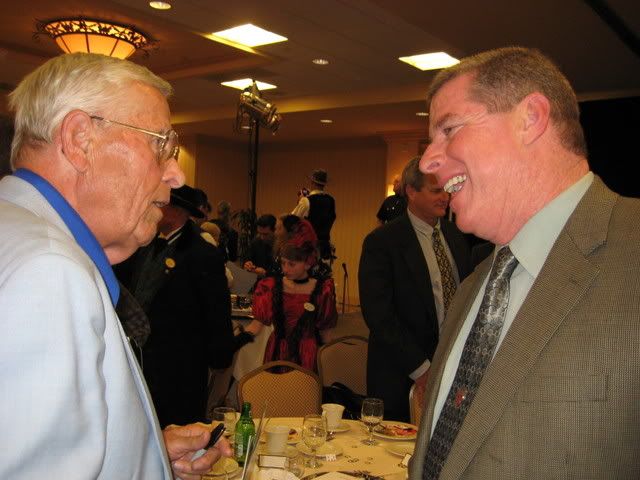 I congratulate Bob Gurr on his Main Street Window.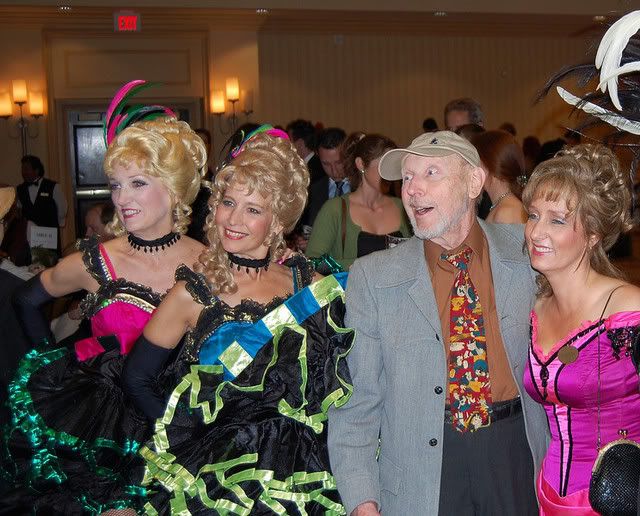 Wally Boag get's some lovin' from the can-can girls! (photo courtesy of PhotoMatt)
(l-r)Bob Gurr, Wally Boag's son, Hostess Carlene Thie, Kirk Wall(kneeling), Wally Boag and Emcee John Eden (photo courtesy of PhotoMatt)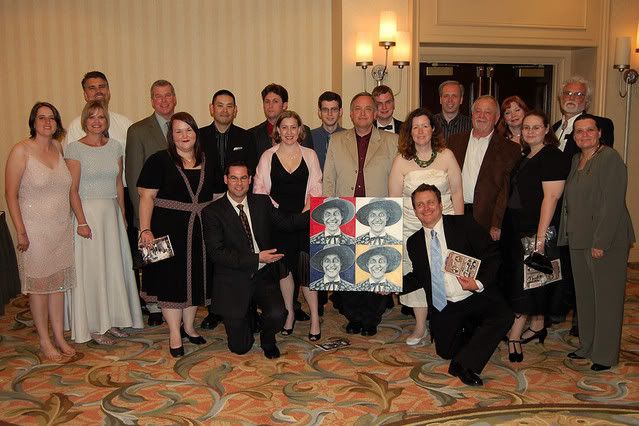 MiceChatters galore! (photo courtesy of PhotoMatt)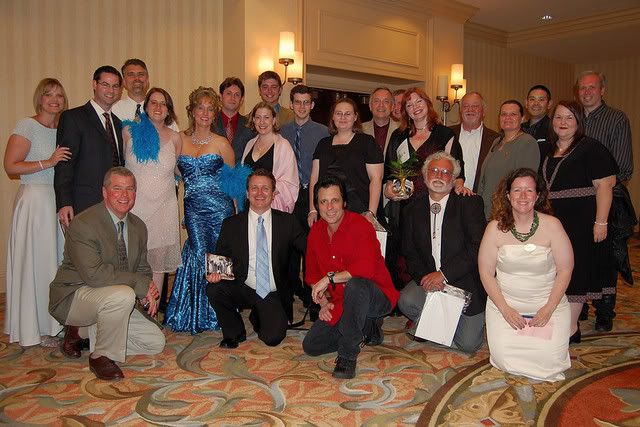 MiceChatters with Hostess Carlene Thie and "Billy Hills" Kirk Wall (photo cortesy of PhotoMatt)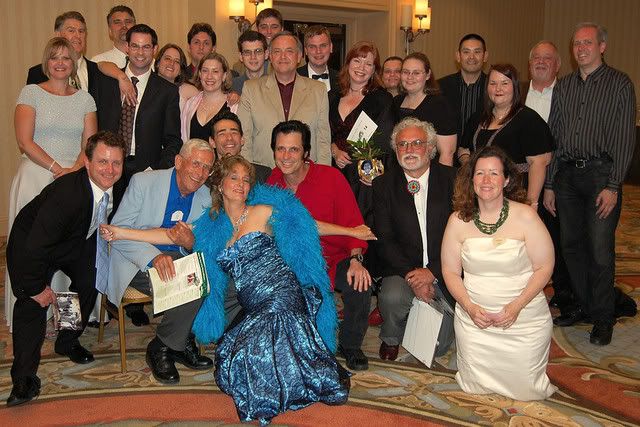 MiceChatters with Bob Gurr, Carlene Thie, John Eden and Kirk Wall. (photo courtesy of PhotoMatt)
The Golden Horseshoe Tribute was a fantastic hit with everyone in attendance. Thanks so much to Carlene Thie of
ApePen publishing
for producing this event. I know that ApePen will be selling dvd's of this show as well as other Golden Horseshoe CD's so check 'em out.
Also, a HUGE thanks to SkywayGrl for helping so many MiceChatters get tickets to this amazing show. Thanks Katrina!