This thread is now seven parts long. Please feel free to use the links below to go directly to the new batch of shots, or peruse through the thread at your leisure. Either way, thanks for checking out this thread.
CLICK HERE FOR PART II - (POTC Shots with new lens)
CLICK HERE FOR PART III - (Haunted Mansion with new lens)
CLICK HERE FOR PART IV - (DCA, Potato Skins, and Trouble at the Mill.)
(Added on 4/12/08)
CLICK HERE FOR PART V - (More panoramics and "Fun With Desaturization")
(Added on 4/13/08)
CLICK HERE FOR PART VI - (Views from Tom Sawyers Island)
(Added on 4/16/08)
CLICK HERE FOR PART VII - (A hodge podge of various shots from 3/31 - 4/15)
(Added on 4/19/08)
PART I - Carousel is Back and Shots From Around The DLR
First of all, I just picked up yet another lens....because...um... I needed it for my job. Yeah...that's it. My job. I needed to take shots in a dark theater so I just HAD to run out and buy a Nikkor 50mm 1.4 lens. It's simply a coincidence that it would also come in handy for rides at...oh....say.....Disneyland. :whistling: So I'll be posting a few from POTC and HM below.
Got the two Double Doubles and that side of animal fries with extra sauce? And that package of double stuffed oreos? Paramedics standing by for that heart attack?
Then on with the update!
After that unexpected refurb, the Carousel is indeed back in action...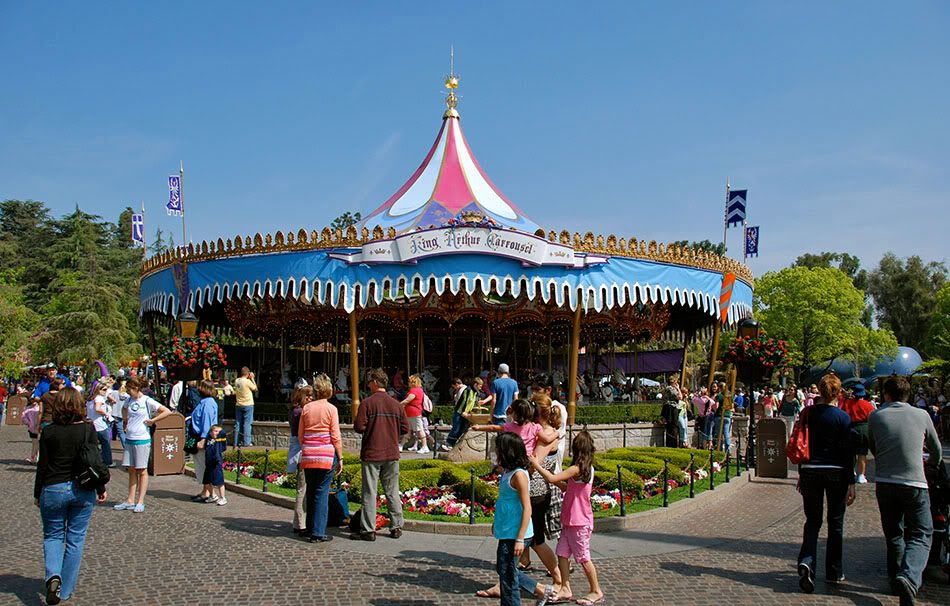 And the horses look amazing....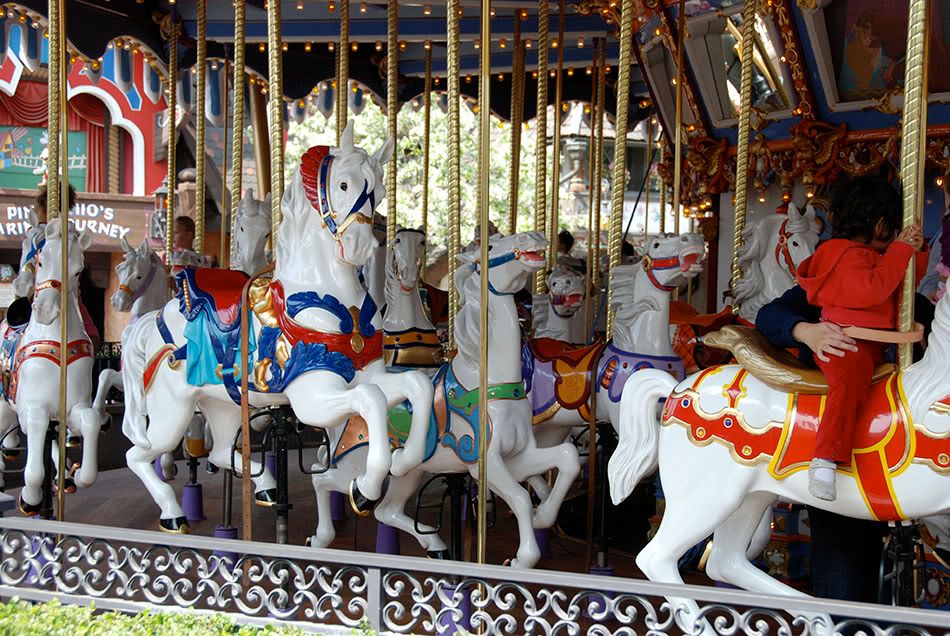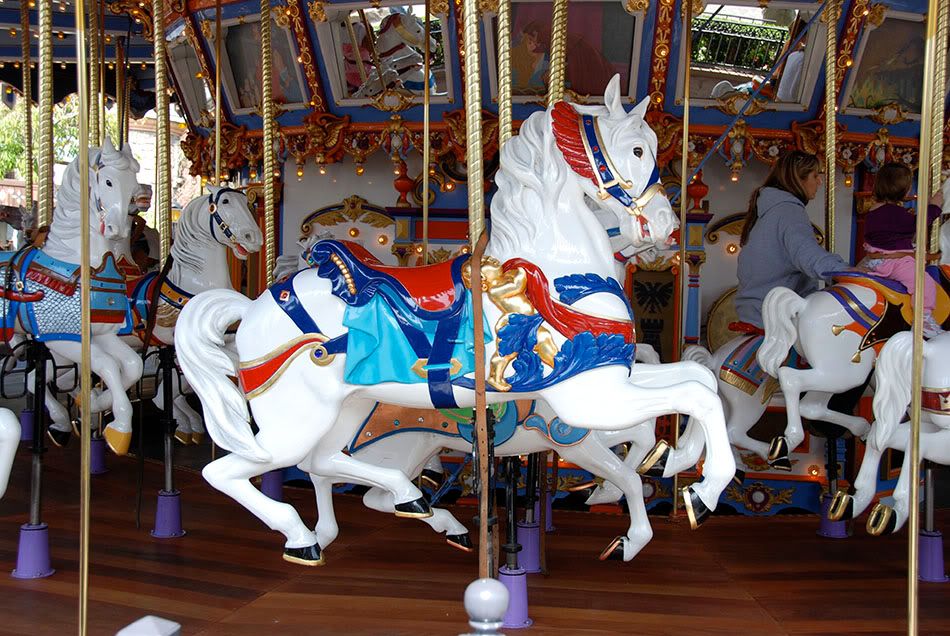 This shot was inspired by Fishbulb....
If it's a new month, the Disney landscapers will have new flowers in Disneyland. On Monday, the flowers around town square looked like this...
This morning I found these....
They haven't bloomed yet, but I was amazed that they got these in so quickly.
Here's a few more panoramas/merged shots that I took today and a couple from last Monday...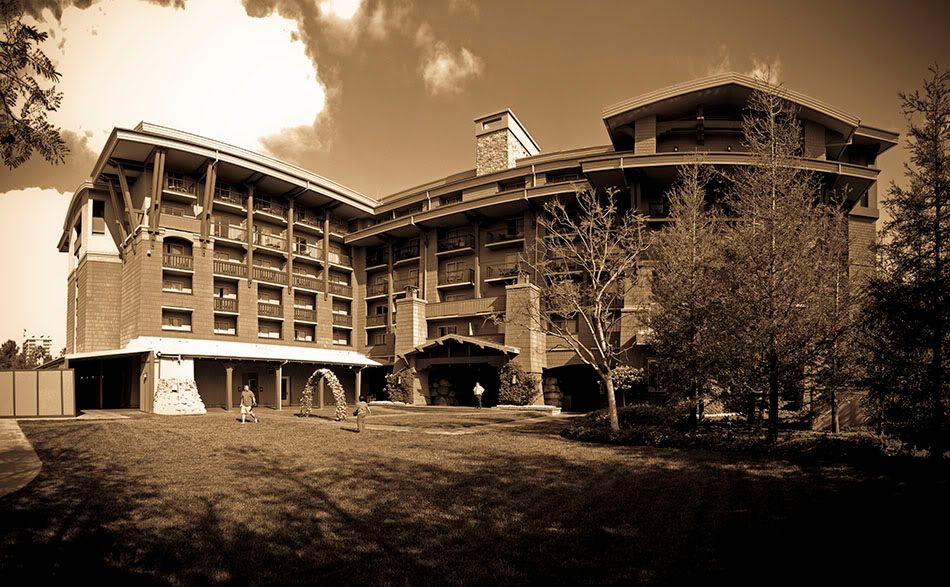 Can you find Bob Gurr's window?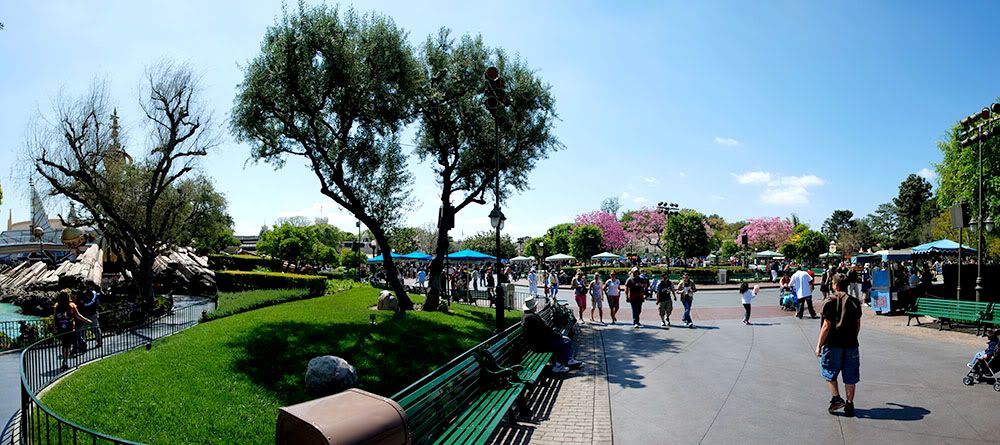 Some of my shots in this thread will also be from last Sunday when I actually took my kids with me for the first time in a couple months...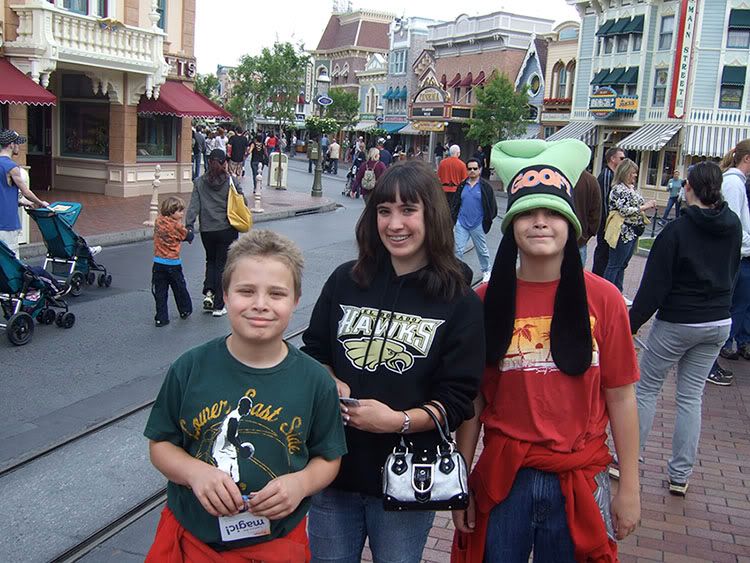 Even though they're not wild about having their picture taken...
Can you tell which one is missing the Davidson/Kansas game?
CLICK HERE FOR PART II - (POTC Shots with the new lens)
CLICK HERE FOR PART III - (Haunted Mansion)
CLICK HERE FOR PART IV - (DCA, Potato Skins, and Trouble at the Mill.)
CLICK HERE FOR PART V - (More Panoramics and Fun with Desaturization)
CLICK HERE FOR PART VI - (Views from Tom Sawyers Island)
CLICK HERE FOR PART VII - (A hodge podge of various shots from 3/31 - 4/15)