Hey Party People...
I was going through the top drawer of my dresser and found some interesting stuff: Blockbuster giftcard, Circuit City giftcard, HardRock Hotel key, mini NY licencse plate w/my name on it, a thermometer and some of my old DLR Annual Passports...
For fun I thought Id share them with you in hope that someone will be able to find their old APs and posts pics of it so we can see what they used to look like. Im sure someone has an older ones than me. So go look through all your old crap (girls get out your scrapbooks) and lets see what you got?
Whos got the oldest one? whos is the most messed up? Whos is the nicest? Whos had an AP the longest?
My first AP <tear> 8/28/00 thru 8/28/01
of the Aps that I have had this is my favorite design.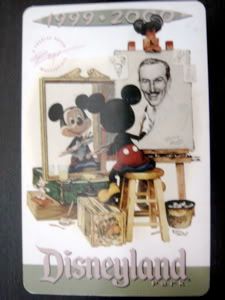 2002? the lost year! Where could it have gone?
11/15/02 thru 11/15/03
Happy Birthday to me!
11/15/03 thru 11/15/04
Happy Birthday to me again!!
Notice the change in the font of "DISNEYLAND RESORT" from this year to the next!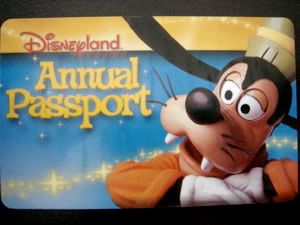 12/31/04 thru 12/31/05
I went a month and a half with out a pass for the first time in 2 years! yikes!
Happy New Year indeed! New Years is one of favorite days at Disneyland!
I know its the same picture but hey I like it.