I just want to put out a couple ideas for TL to see what you guys think
here goes..
the things you should know before getting into the more specific ideas-
A-The new TL would have all new(futuristic and detailed) architecture, meaning like completely re-doing all the facades of Star Tours and BLAB, and bulldozing Innoventions...but just know it would be ..much better, and a step up from crap color painted 1960's buildings
B- (since this is a given in any TL idea) the Rocket jets would be back were they belong atop the PM platform, and the peoplemover would return (much updated of corse) and would now have different stations to make it an actual transportation system.
and lastly C- HISTA Is SOO gone:yea: (and replaced)
ok.. so now into my special ideas that are different than the normal "this will replace this" idea thread
The new pavement of TL is embedded with lights in spots and patterns going in lines(ala Micheal Jackson-Billie Jean if you will
) All of the lines of lights in the pavement lead up to one thing..The Electrogrid, This "Electrogrid" is the fabled energy source of all of Tomorrowland, It's in a sphere shape and lights up and pulsates as it "absorbs" energy from the air and the sun. as it "absorbs" this energy, it eventualy gets to a point were it gets so bright that it releases it all out from the orb/sphere and the lights around the ball light up as it travels down the path of the embedded lights in the pavement, This effect makes it look like the lights are transfering energy to all of Tomorrowland
ok, I had a REALY hard time explaining that,
but
IN A NUTSHELL
some of the Tomorrowland pavement will light up at night like the Billie Jean Music video and it all comes out in a row from a lit up sphere in the area of the present brown ball sphere thing
Now for the next Idea
the side of Starcade entrance/building is very plain and to me looks like an office building with some blue mettalic Paint. So how to fix this? I suggest that thay make it into a more of a round street corner with a special video screen,
here's a visual of what I'm thinking..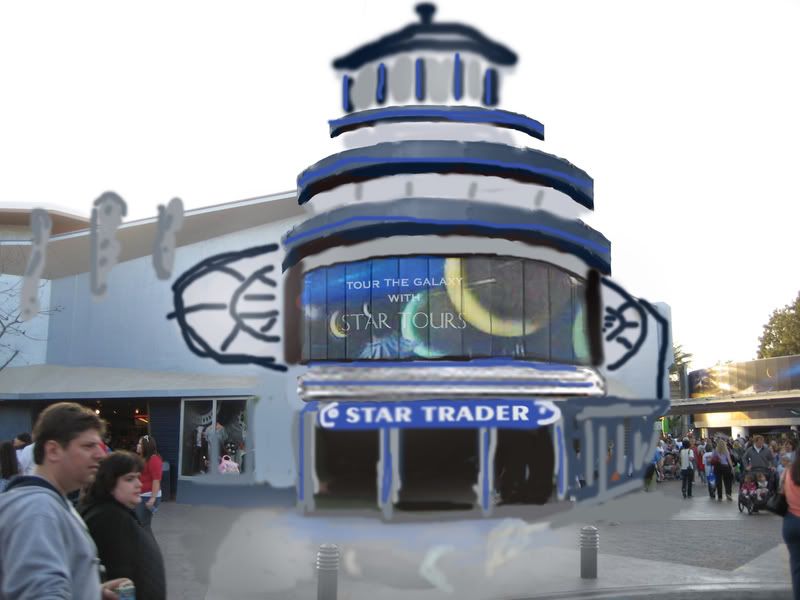 Basicaly each screen would be seperated into thin strips that all make up one big video screen, They would move about across(with individual motors) on an unseen track against the wall. It would announce 'in theme' commercials for Star Tours, like "come and tour the galaxy with Star Tours!" another good thing about these screens is that it wouldn't just be another crappy Giant TV screens but rather, with all the nice thin strips of Television, each screen would be HD
thanks for reading and if you have any questions, please feel free to ask