In an ideal Tomorrowland we have the Rocket jets back were they were, HISTA is gone and so is Innoventions, and all the pixar has been chased out, but today I will elaborate on what most people agree, is the key thing to any Tomorrowland update... A new Peoplemover
The new peoplemover would be very "pod" like in shape, , but also designed to look like the new Mark VII monorails, this is because The peoplemover was originaly supposed to accompany the monorail in transportating citizens of the originaly planned EPCOT "progress city", here's my artwork of how I envision it.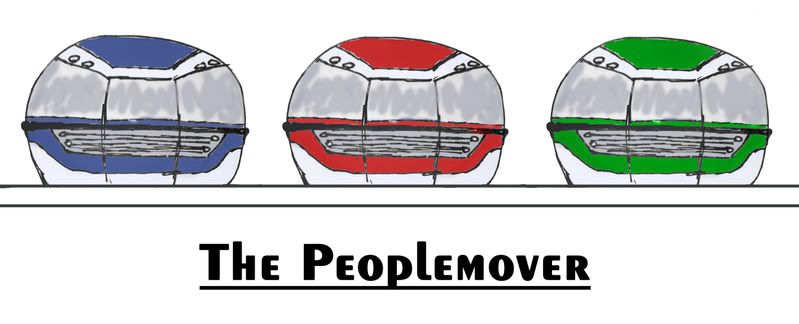 So that gives you an idea of what it'd look like
so how it fits in Tomorrowland?
The old peoplemover never developed into an actual form of transportation, so the new one will now have several different "ports", all in tomorrowland
The first "port" will be the one you all already know, the one were the rocket jets once were(and
would
be back in my "master plan"
)
The next port comes after you go through Star Tours and Space Mountian, and is called the "
The Tomorrowland Space Port Platform
" It's located on top of the HISTA showbuilding and (via a re-designed walkway/queue for SM) would conviently put you in the place to enter Space Mountian and Star Tours(the two space themed rides in TL)
The next one?(this would be the last port) I'm thinking maybe near autopia and nemo but I can't figure out a specific spot to put it.
...An Important thing...
o.k. so this "transportation" may be unnessasary and close together, but it would give the land a kinetic feel and main street also features "transportation" that dosn't specificaly help you unless you're realy lazy
Feel free to comment and add suggestions