So, I recently was given an old Nikon film SLR (Aperture Priority, not fully manual) with a few lenses. Shortly thereafter, my wife got a promotion and we celebrated the only way we know how- we went to Disneyland! I took along the camera to practice for when I upgrade to a Digital SLR.
Why so long before the update? Well, I took the film to the local drugstore and, for some reason, they only printed half the pictures. Strangely enough, several of my pictures were underexposed (I tried my hand at ride photography, but the camera just wasn't quite up to the task) but I got all of those back and didn't get several very nice shots printed. So, I had to take the negatives to a real camera shop and have them redone. Anyway, enough jibber jabber, on with the pics!
Started out on Space Mountain.
Stopped by the carousel to see Jingles' new decorations.
Ladies and gentlemen, the world famous...Back Side of Castle!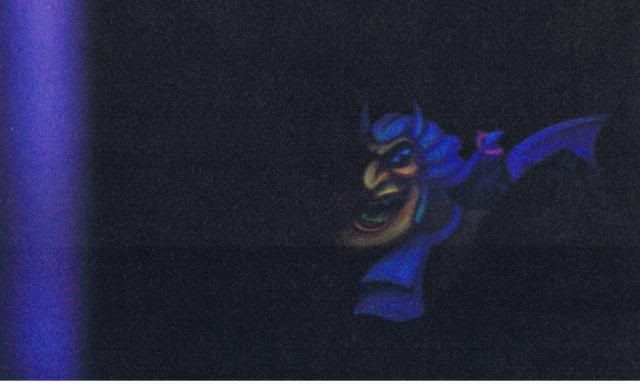 A couple of ride shots from Toad that almost turned out. I think that blue streak is a defect in the lens. I had to crop it out of a lot of picture taken at f1.8.
We stopped in Frontierland, where Big Thunder was just getting going. This is one of my favorite pictures I've ever taken.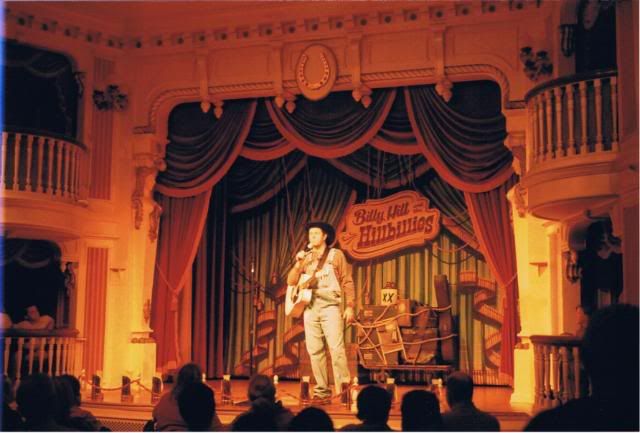 Then it was lunch time. Can you believe I'd never set foot in the Golden Horseshoe before? I think maybe it's because I'm from the South and I know too many hillbillies/rednecks to find hillbilly/redneck humor anything but grating.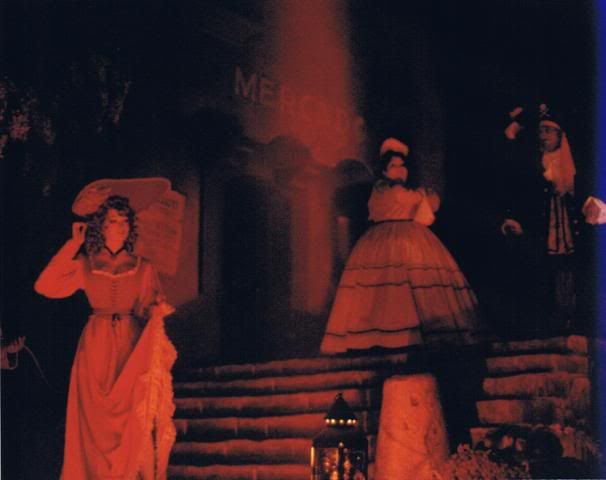 The best on-ride shot I could get on any ride (I had to crop that blue streak out).
No trip is complete without the Mansion.
Having pretty much done all of the big ticket attractions, we went over to California Adventure to wait out the crowds a bit. Food & Wine was in full swing and we were looking to celebrate!
We went to the Sparkling Bar at the Wine Country Trattoria. My wife had the chardonnay flight and I had the sparkling flight and we split a cheese sampler. It was FANTASTIC. I wish I remembered what the cheeses and their pairings were. A very nice, leisurely break in our day.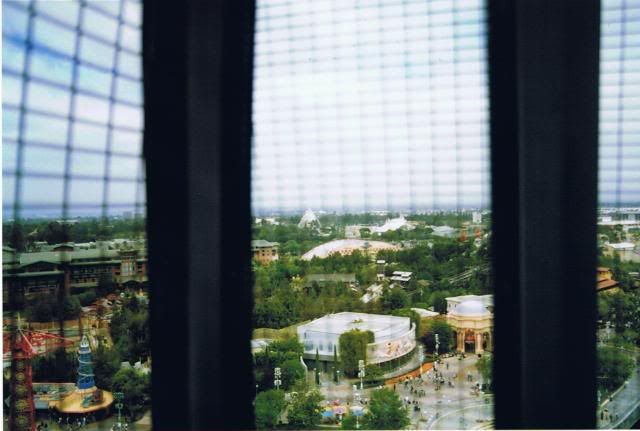 We made our first trip in the Sunwheel, opting for the stationary cars. This was about as close to Golden Dreams as we were willing to get.
Favorite thing overheard at DCA (outside of Soarin'):
SON: Dad, when can we go back to Disneyland?
DAD: We're
at
Disneyland!
SON: I mean
the real
Disneyland!
I was running low on film and since the camera didn't have a flash or light of any kind, I had to save my pictures. A little later we headed back to
the main park for the rest of the night. These last two shots I'm very proud of. I don't think they need a description:
That's all I've got! As someone who's never taken a photography class or anything of the sort, I really enjoyed having more control over my pictures. I can't wait until I can get a DSLR. Any advice or tips would be greatly appreciated. Hope you've all enjoyed it!