Godzilla will have to wait for T4, I guess.
Link for Thread 2
("Son of Long-Forgotten..."):
http://micechat.com/forums/showthrea...ion-72609.html
Link for Thread 1
("Long-Forgotten..."):
http://micechat.com/forums/showthread.php?t=56224
Link for Index to Thread 1
:
http://micechat.com/forums/showpost....1&postcount=22
Well, here we are. And post #1 has for its topic a long-forgotten Haunted Mansion effect, strangely enough.
Hats off to
RumRunner31
for throwing this one out there. She's a "Plaid" and tells me she was on a walk-through a few weeks ago, when an "A Lead" pointed out that the centerpiece in the ballroom held dead, rotten fruit, while the matching one among the AA's held fresh-looking fruit. He claimed that the effect of the fruit rotting away and then being restored had actually been implemented, but alas, it was no longer used due to lighting changes. RumRunner31 has seen the contrasting fruit displays and finds the report credible.
I've never heard of this effect. Have any of you ever seen it? It seems like a natural thing to try.
Pix, we need pix! Okay, here y'go...
GRD has blogged about that centerpiece and has a few pix: (
http://ghostrelationsdept.blogspot.c...very-size.html
)
In older photos, it looks like we've got fresh fruit out on the table, and blackened fruit with the AA's below:
(Edit to add--what this means is, there was NO effect back then: "Blackened" means "invisible")
But in this pic (from GRD's blog), notice the fresh fruit among the AA's:
Unless that one is from WDW, it looks like they've definitely monkeyed around with this centerpiece from time to time.
It's really hard to tell from photos what the state of that fruit on the table is, whether the pix are very old...
...or rather recent: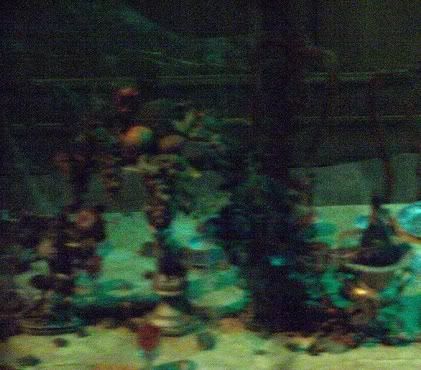 Anyway, what we've got here is chapter 39,495 in
Imagineering Never Throws Anything Away
.™ One of the changing portrait ideas they never used was a vase of flowers that rotted away before your eyes. GRD has a good pic of the concept art:
http://bp2.blogger.com/_Ic-sQEZUXMs/...0-h/phall1.jpg