The 101 Coffee Shop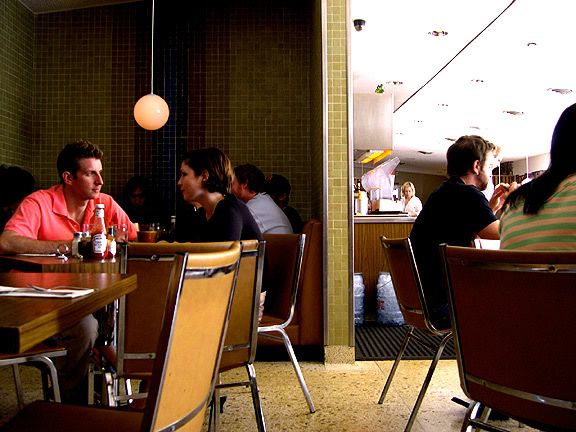 6145 Franklin Ave
Hollywood, CA
7 days a week, 7am until 2am.
(323) 467-1175
The 101 Coffee Shop is connected to a Best Western hotel and on first glance looks like your typical greasy spoon cafe.
To some degree, it kind of is, but with offerings like the Portobello Mozzerella sandwich (a huge, grilled portobello mushroom, topped with fresh mozerella, lettuce and tomato) or the charbroiled chicken sandwich (huge chicken breast, lettuce, tomato on bun with spicy mayo on the side), it isn't. The menu offers plenty of tasy, healthful options that lend itself to a more trendy Hollywood-style vibe, and also offers other normal offerings like burgers and all-day breakfast. The restaurant doesn't look like its been updated since it opened, and is filled with rich dark wood-grained Formica, and walls covered in beige and teal tiles, giving it a cool, authentic, retro feel.
On my experiences, the wait staff is hit-and-miss. The first time I went, the place was dead mid-afternoon so our waitress was great... but on subsequent visits when the place is hoppin' it seemed the wait staff was spread a little thin.
The best thing on the menu, hands-down is the Brownie Waffle Sundae. A big, Belgian waffle made of rich chocolate brownie mix, topped with a big scoop of vanilla ice cream, and covered in hot fudge. It's to die for, and worth a visit for that alone.
The menu also offers a variety of breakfast favorites, served all day, including the basic eggs and bacon and sausage - as well as chorizo and eggs.
Prices are decent in comparison to other diners I've been to... not terribly cheap, but not expensive either.
If I can recall correctly, the Portobello Mozzerella and Charbroiled Chicken sandwiches are priced around $8-10 per plate and come with a big helping of fries (half sweet potato fries and half regular fries, mixed together).
The brownie waffle sundae is somewhere in the $6-7 range.
If you go, be aware that parking is often tough when the place is packed. If you can't find a spot in the small lot next to the place, go across the street and park next to the Hollywood Tower, but be careful crossing back across the street to the cafe!