The year is 1988. The Walt Disney Company has finalized its purchase of the Walter Wrather Corporation, the entity that owned and operated the Disneyland hotel. As part of the deal, Disney also assumed management of the lease on two Long Beach, California, landmarks. In 1980, Walter Wrather signed a 40-year lease with the city of Long Beach to manage the Queen Mary, a former passenger cruise liner, and the Spruce Goose, the famous airplane build by Howard Hughes.
Disney created a subsidiary company, WCO Port Properties, to over see the lease.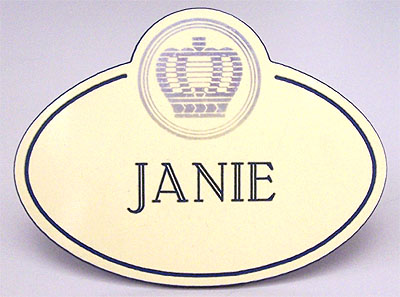 The WCO Port Properties nametag
To promote their new properties, Disney created a year-long event to promote the Queen Mary and Spruce Goose: The
Voyage to 1939
.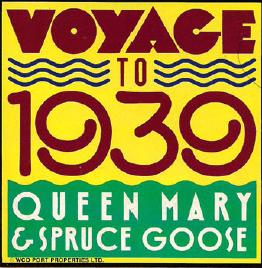 The
Voyage to 1939
celebrated the last trans-Atlantic voyage of the Queen Mary before she was to be pressed into service in World War II as a troop transport ship. Disney gathered together a nostalgic recreation of the era. Cast Members roamed the ship in period costumes, interacting with guests in the persona of 1939 passengers. Big bands played the popular music of the day, and a special club, Club 39, was established to showcase the popular nightclubs of the era.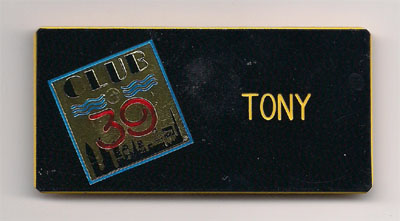 The Club 39 nametag
A car show was also held, featuring luxurious examples of the makes and models from 1939. Beautiful girls in period swimwear modeled the cars, and the cars were even auctioned off to the public. An airshow also thrilled guests, as Captain Cloud and the Royal Flying Circus performed acts of aerial artistry. A recreation of an English carnival was created close to the Queen Mary docks, complete with authentic English food and drink.
The Queen Mary herself was restored to her former glory, and its staterooms were opened to the public as a hotel. Harrod's, the famous London department store, opened its first American location on board the Queen Mary. Prince Michael of Kent, the grandson of the real Queen Mary of England(for whom the ship was named), dedicated the new store.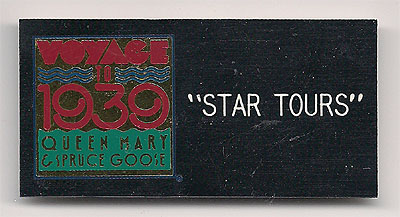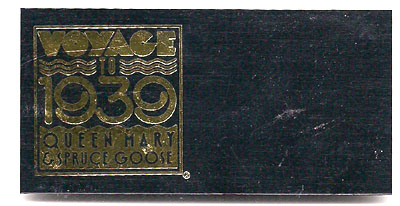 nametags worn by cast members and guests at the "Voyage to 1939"
But although the
Voyage to 1939
was an initial success for Disney, the overall lease on the Queen Mary and Spruce Goose was not. In 1993 Disney opted out of the lease with Long Beach, and the properties reverted to the city. That same year the Spruce Goose was sold to the Evergreen Aviation & Space Museum in Oregon, and was moved up the Pacific coast to a new hanger. The Queen Mary remained in her dock, but the state room hotel rooms were closed to the public for many years.
Click here
or on the link below to download a PDF of brochures, advertisements, and magazine articles about the
Voyage to 1939
. It contains many full color photos and extensive information about the whole promotion.
http://www.nametagmuseum.com/1939.pdf