My grandmother gave me a Disney figurine several years ago, because she knows how much of a Disney fan I am. Here's the little lady: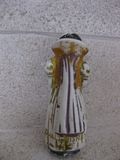 "Snow White" is stamped across the front of her skirt, and she stands about 4 inches tall. Seems to be a porcelain or ceramic figure. Is she authentic? The colors (what's left of them) are not correct, and the copyright "Walt Disney" on the back is different from the others I've seen. Usually his name is stacked, not written across.
This figurine served as a toy for a little boy with Downs syndrome in the late 40's, hence why most of the paint is missing (she was loved an awful lot!). If anyone has any information they can pass on, I would be appreciative!