Howdy Pards,
Oh...the young whippersnappers around these days ain't got no idea what things was like in the Good Ol' Days of Disneyland.
If ya told 'em you could once board a stagecoach or a covered wagon over there in Frontierland and head off into the backcountry they wouldn't believe it.
I reckon I thank my lucky stars that I was around back in them days when real Indians danced along the Rivers of America...and boy, let me tell ya, they sure had a rip-snortin' shindig over thar at the Golden Horseshoe back in those days! Yessirreebob! They surely did!
Of course, back in those days a nice lady named Slue Foot Sue ran the place. She had another name too...Betty Taylor. Boy, was she ever purty! And sing? You never heard such a wonderful singer! When she took that stage you knew you were lookin' at a mighty special lady. Yessir, mighty special.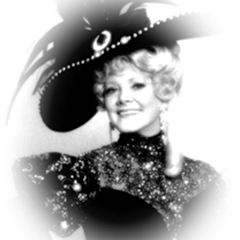 Course they always had a male singer on the show too. One of 'em was Mr. Donald Novis:
Now...there was a feller who could make ya long for Dear ol' Donegal even though you had never been there. He could make ya believe in Leprechauns too, ya know? Ahhh...what a wonderful Irish tenor Mr. Novis was...
Then, of course, there were...well..."the girls". I hardly noticed them...well...maybe I noticed them a little...
Boy oh boy...what a show it was!
Then...about half way through the show, this feller showed up: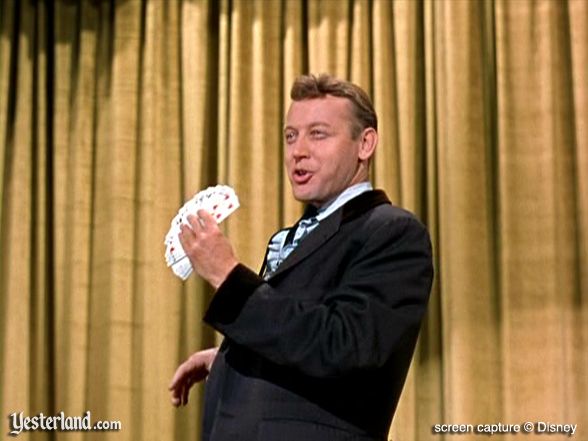 Wally Boag was his name...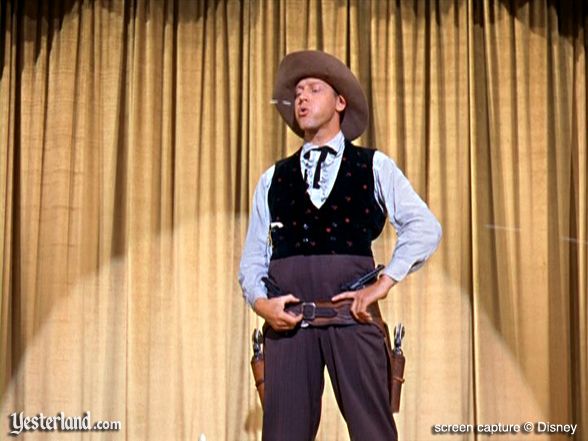 This here feller was gonna make sure your sides was achin' from laughter by the time that show was over. And mine sure were.
Yep...the whole thing was called THE GOLDEN HORSESHOE REVUE. And, if you saw the show back in those Good Ol' Days of Disneyland, you remember it...taint no doubt about that.
Now, this thing ran forever in those early years...became the longest runnin' stage show ever by the time it was over.
For the 10,000th performance Walt Disney filmed a special TV show to celebrate...and he brought in Gene Sheldon,
Ed Wynn,
and a little lady named...uh...Annette to Guest Star on the thing...
That Mouseketeer was sure growin' up mighty purty...
Anyways, if you young whippersnappers would kinda like to get an idea what it was like you can watch that 10,000th performance show in the WALT DISNEY TREASURES collection's DISNEYLAND SECRETS, STORIES, & MAGIC set. Or, you can probably find it on YouTube if ya look hard enough.
Oh...those were the days...that show had a mighty special magic to it. I'll never forget sippin' on a large quarter Pepsi right smak dab in the center of the Ol' Golden Horseshoe and watchin' some mighty wonderful people perform. What's that? You don't believe a large Pepsi was a quarter? Well...take a look at this...
Anyways...this grizzled Ol' feller is forever gonna be grateful to all those who were involved in this classic Disneyland show...thank's Slue Foot Sue...I mean Betty...
Most all these folks have moved on to Heaven now, a few are still with us...God Bless 'em all. Those of us who had the privilege to see the show...back in those Golden days of the Golden Horseshoe will never forget.
Adios for now. Talk to ya on down the trail.
Wild Ol' Dan