Boy did we ever! :thumbup:
The back story:
My DH Terry, grew up a couple miles from DL and went often from day one. His Mom was an avid scrapbooker his whole childhood. She saved everything, from birthday/Xmas cards, vacation souvenirs, and pamphlets and brochures from everywhere they visited.
My MIL passed away about 10 years ago,
we packed away all her boxes in our attic to go thru at a later date. We decided last weekend to start the big task. One box was full of scrapbooks from 1955 - 1968, one for each year. In them, are odds and ends from, DL, Knotts, Alligator farm, POP, zoos, you name it, just about every attraction around SoCal along with their histories.
Among the DL treasures, we found were:
* the large, folded DL maps, the oldest dating to 1962.
* 1958 28 page, full color, 8x10 visitor brochure includes a 1959 coming attractions insert
* a small, click camera viewer showing DL attractions
* 1962 accordian pack of postcards of DL attractions. Many of these shots are the same as the photos in the little camera.
* 1964 Mickey Mouse club card and pin
* 1964 DL Hotel mini golf scorecard
* 1962 Daniel Boone coonskin hat
* 1965 Kodak brochure showing photo opportunities around the park
* 1965 Pirate Ship restaurant placemat
* Monsanto post cards brochure showcasing Adventure through InnerSpace.
Another huge find, was their cross country road trip in 1964 to go the NY Worlds Fair when Terry was 9. Included is a 52 page newspaper supplement with all the info on the fair, many postcards of pavillions, brochures, etc. And yes, he does remember going to the fair and HATING IASW - to this day he refuses to go on it!
) He does remember loving the COP :love: and the moving car Ford exhibit which was a precursor of the People mover.
Some of the non Disney related items we found that blew us away were:
Newspaper clippings from the THE NEWS of OC (pre Register days) of World WAR II ending, Kennedy's assassination coverage, Man on the Moon from Life magazine. Just amazing to see this old stuff! :clap:
I'm going to try to scan a lot of the items of interest to share. We were was so excited to find many of these items to be in such good condition, especially since they carry so much sentimental value. Unfortunately, many of the items in the books are glued to the pages so I can't show all of them. I'll do my best to share what I can.
I'll start out with a few things here and keep adding them as I scan them.
Hope you enjoy seeing them as much as we did 'finding' them.
1964 DL Hotel mini golf scorecard cover
1964 DL Hotel mini golf scorecard inside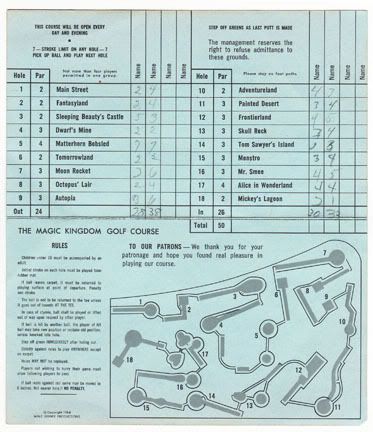 1964 DL Hotel mini golf scorecard copyright date big

1964 Mickey Mouse club card and pin - LOL, I blurred the to name to protect the innocent!
The addresss, no biggie.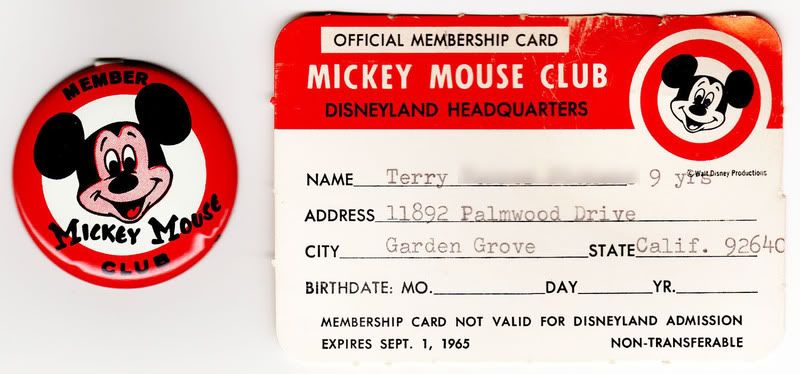 One of Esmerelda's prophecy cards from the old Arcade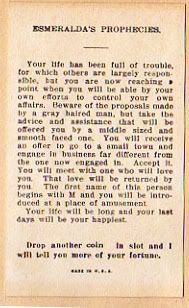 1962 Daniel Boone coonskin hat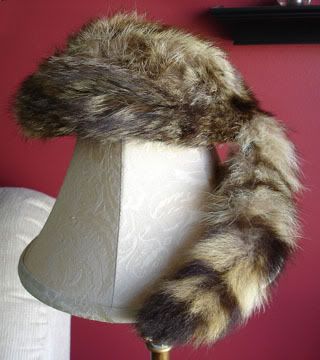 1965 Pirate Ship restaurant placemat
1965 Matterhorn & Tea cups photo post card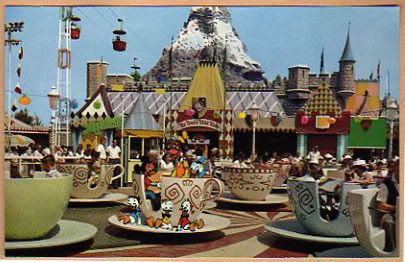 1965 Kodak brochure cover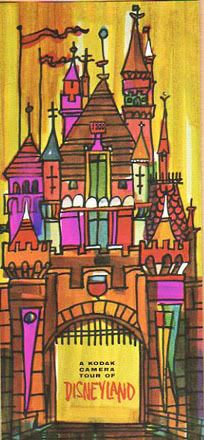 1965 Kodak brochure inside
Small, click camera viewer showing DL attractions