As far as I know, there is only one professional photo in existence showing a scene from the original Eyvind Earle/Ken Anderson designed
Sleeping Beauty Diorama
(the "walk-through"). Threads inquiring about this lost classic appear with some regularity around here.
The one picture is a View Master shot. I can't scan those, but someone I knew could, and he did it for me, so here's a big shout-out to "gordonfree" for doing this.
Here's the shot:
For interesting comparison, here's the Eyvind Earle concept art for that scene:
If you're adept at doing the "Magic Eye" crossed-eyed reading that will give you a 3-D image, here it is in two sizes.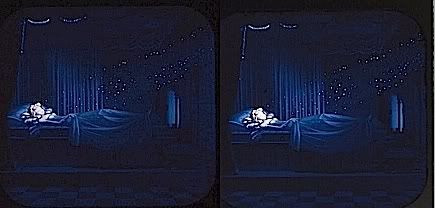 Practice with this, if you're trying to do the "Magic Eye" viewing for the first time. Let your eyes go out of focus until the two images pop together.
Ken Anderson probably used a "Pepper's Ghost" effect (reflected off a tilted sheet of glass) to get that wonderful effect of light particles floating in mid-air. The look of these painted flats is much more admired today than in the 70's, when these dioramas were replaced with an inferior "barbie-doll" version.