I put Part 2 in a new thread because the first one was just put together quickly so I could report on the TSL displays in Harbour City. This is the real meat of the trip with a decidedly different tone.
HKDL is really the most convenient Disney park for me to visit and it has a special place in my heart. I try to visit every year and this year, I wanted to make it special by staying for three days at the resort and have my fill of all things Disney.
I asked some of the MiceChatters for advice and they all recommended that I go for the HKDL Hotel, which is indeed beautiful. We had breakfast there the previous year and while the food was just okay, the ambiance more than made up for it.
Checking-in at the HKDL Hotel
We arrived on Jan. 2 which is the last day of the Christmas celebrations, so I'm not sure if there really was no tree in the lobby that year or they had already taken it down. And which meant that since it was the last day of Christmas the room prices dropped significantly from the previous night.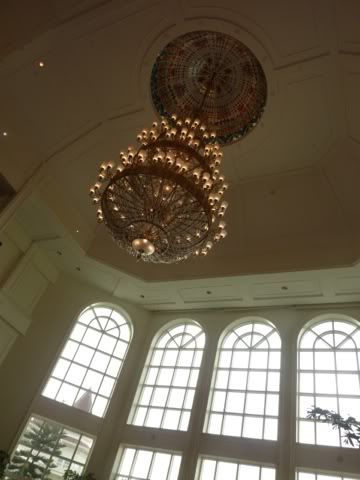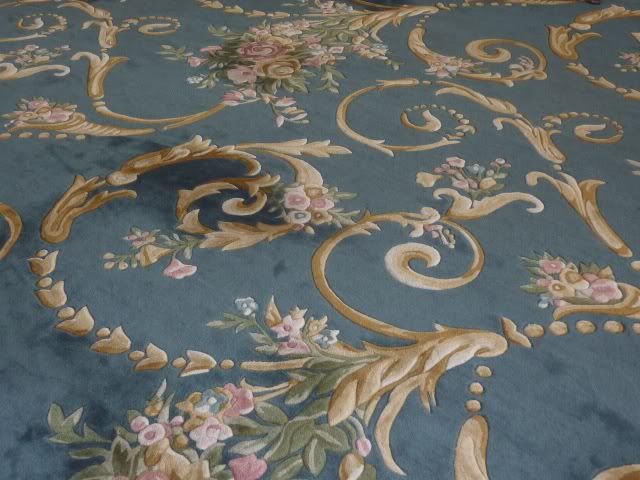 Is that a stain?
It took quite a while to check in. And I was hoping for some off season perks, but alas none were available. I wish we had just opted to buy the park tickets in the kiosks in the city and we would have gotten a TSL bag out of it. Oh well.
Checking in took a while. And it was pretty busy in the lobby that morning. We were told to come back at 3:00 PM to bring our stuff to the room, which was a bit of a bummer since that's the same time as the "Flights of Fantasy" since we had just missed its noon run.
Instead of taking the coach, we walked through the promenade from the hotel, which was much nicer than I thought.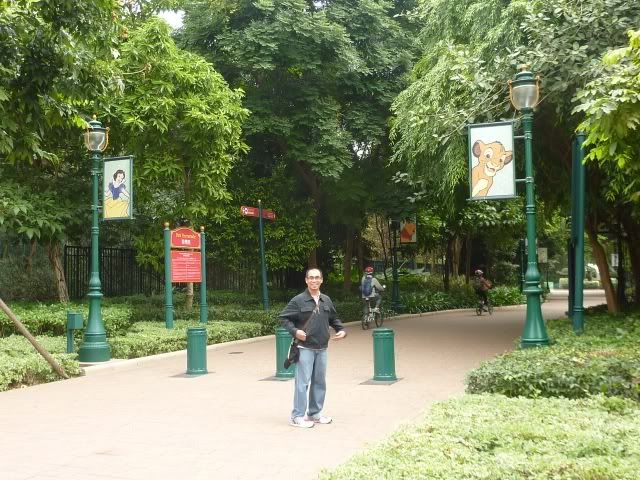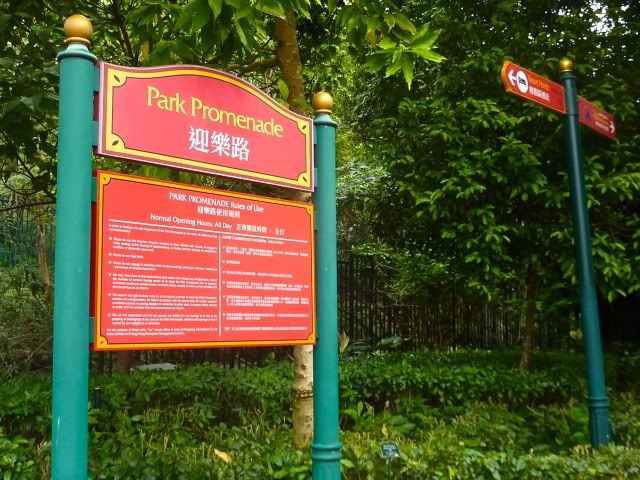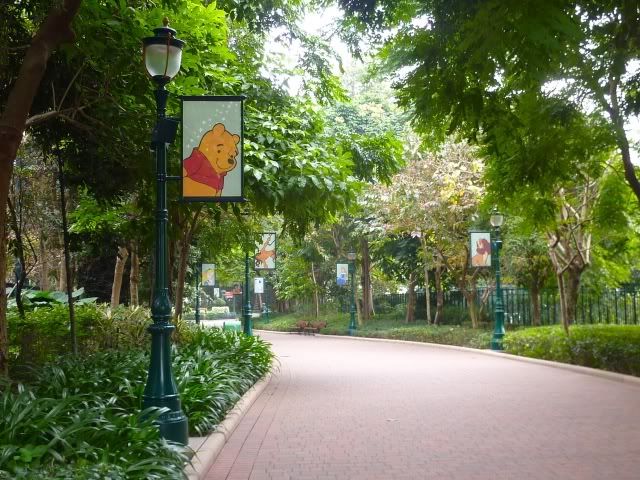 Disney music was playing. I'm not sure if this is because it's the last day of the Christmas celebrations, or they didn't play up Christmas this year, or because it was the Promenade. I dunno, but either way, I prefer hearing Part of Your World over Jingle Bells any day.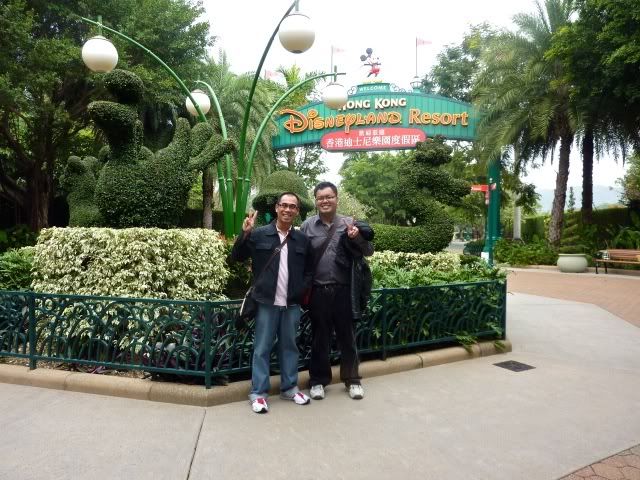 Here's the less photographed entrance to the park. It's a place to stroll for free. We saw some locals clearly just visiting the topiary.
Crabby CM #1
The "Celebration of the Lion King" is the same show as it has been in the previous years, but the dancing seemed to have less snap or flourish. It wasn't sloppy, but it certainly felt more phoned in, that clearly most of them have done this show hundreds of times. The Scar, however, was phenomenal. The best one I've seen, both in theme parks and even in the Lion King Broadway musical itself. He just relished his role and his evilness was very delicious.
We found ourselves in a bad seat to the side and it placed my camera just outside before a CM scolded me. "Sir, don't do that!"
All right, so yeah, I might have not thought it out well before, but there was something about the tone and that he said it that did not rub me the right way. Language barrier I thought, and safety is a concern, so I let it slide.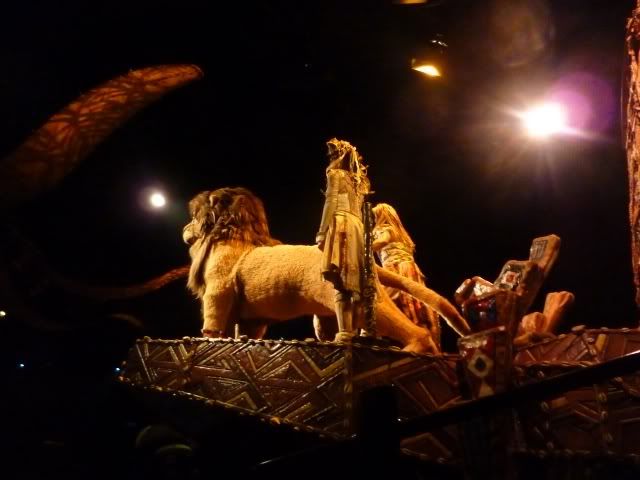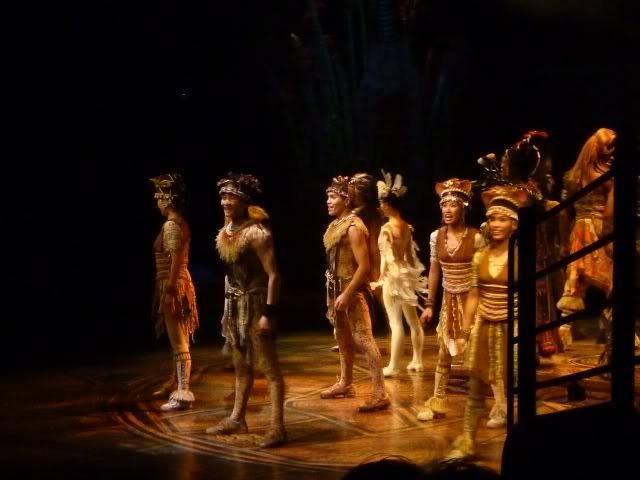 Toy Story Land
It was only natural to check out TSL after to see for ourselves how we feel about this latest addition.
They may be glorified carnival rides, but their queues were better than most of the other rides in HKDL, which much more themeing than I thought HKDL could be bothered with. I'm not sure if this is how it's done in Paris, but good job.
The queue for the Toy Soldiers Parachute Drop was a green hangar type structure, with lots of human sized toy soldier figurines with the Sarge providing safety spiel to the new recruits.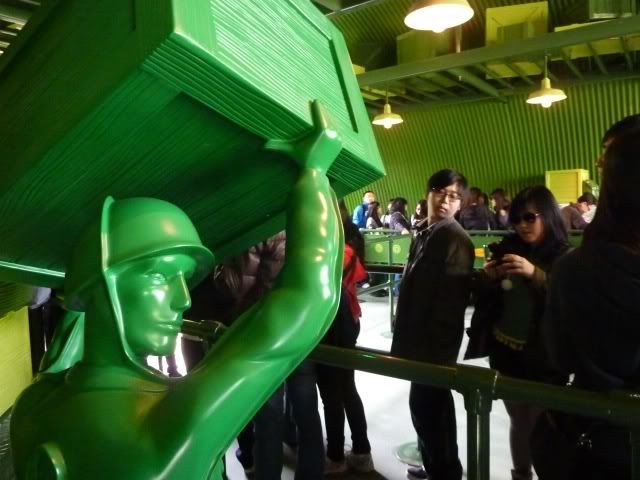 The queue that day moved quickly enough, less than half an hour. And ride gave spectacular views of the expansion, but I was told to put away my camera.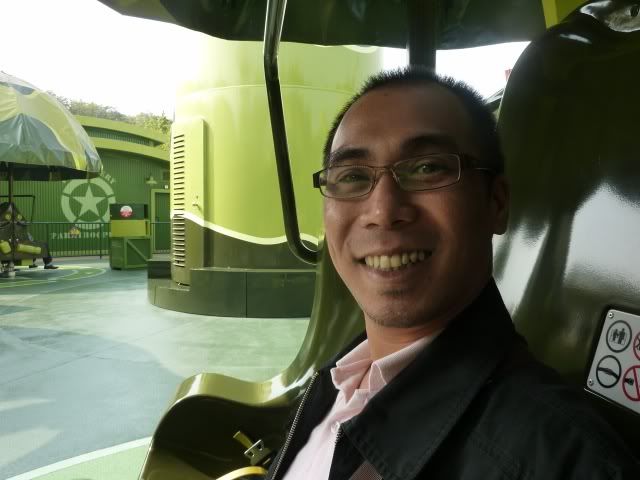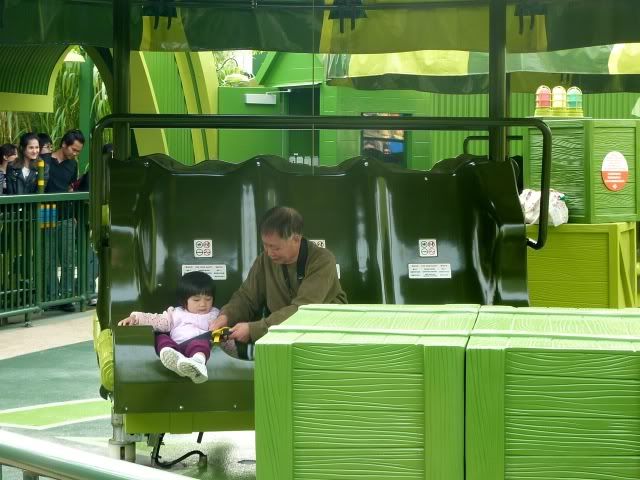 Grandpa straps little girl in.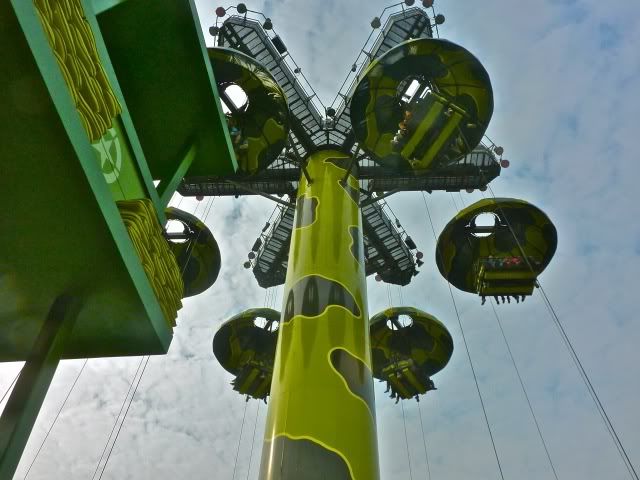 Rising to the occasion.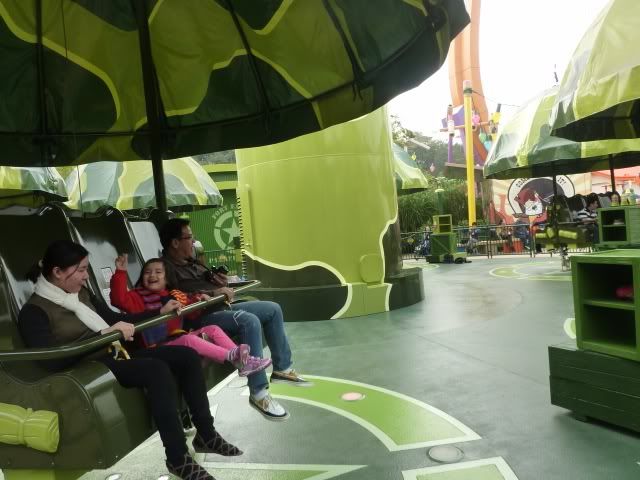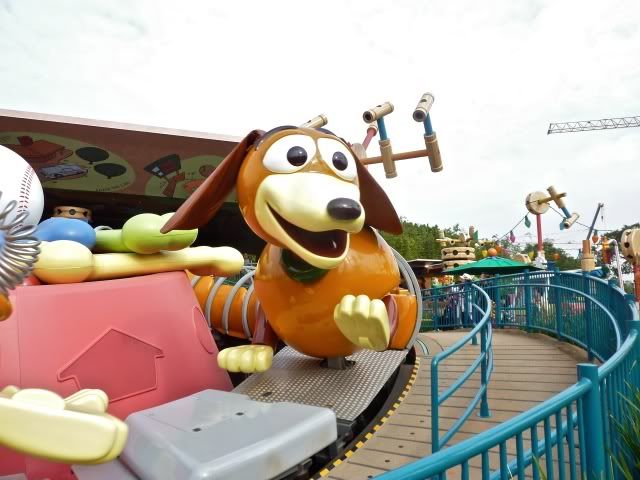 We opted out of the Slinky Dog Spin because the lines were much longer and I don't think it would be that thrilling. I love the way he putters about.
The RC Racer was next on the agenda, and the queue was even nicer. The walk around the garden on racetracks was more complete in this queue.
And of course, the CMs are called Andy's Toys. Cute.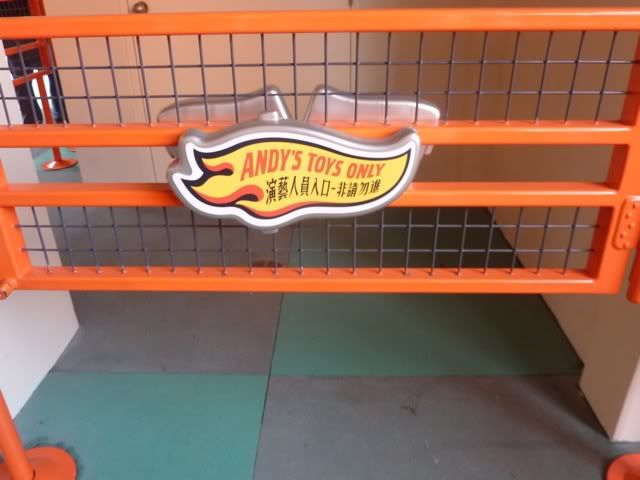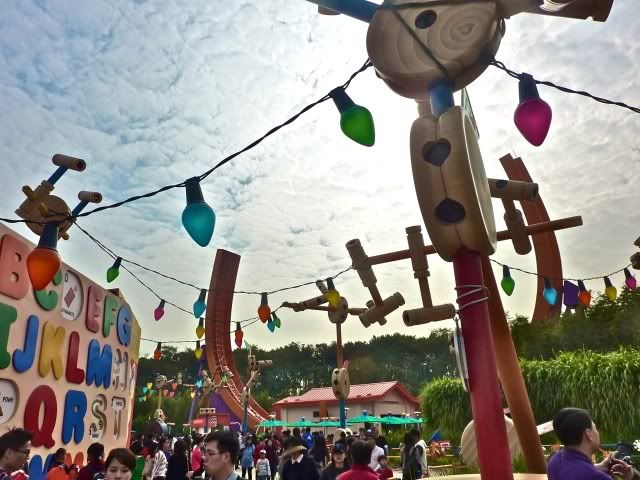 I thought the RC Racer at this point is the most thrilling ride in the park. The U shaped coaster accelerates fast enough on its second wind, and it is pretty steep at 90% for a children's ride. It's a definite stop and look at it moment for people passing by. Like Splash Mountain, but to a much lesser degree of sophistication. It's fun and it's a good addition to the park.
This is something I will definitely return to when I come back.
The RC Racer Controversy
However, the big question on all our minds is how much an eyesore is this bright orange monstrosity?
During the construction, we all worried about how big and how visible it will be. So I decided to take some pictures from Adventureland and Fantasyland to see how big the damage is.
And really, it was pretty surprising.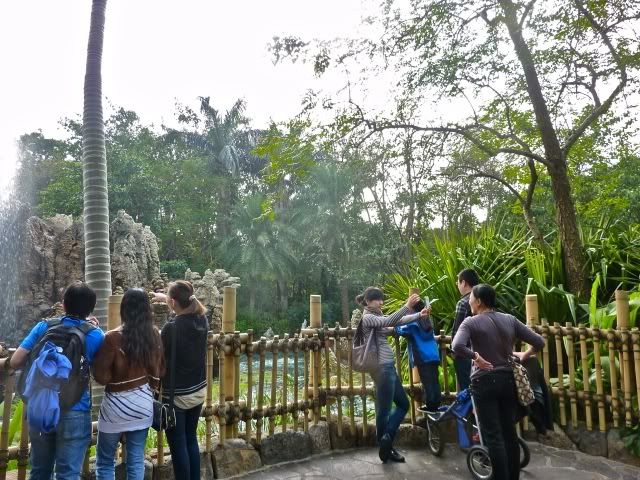 This is the view from the side of the Jungle River Cruise pointed in the general direction.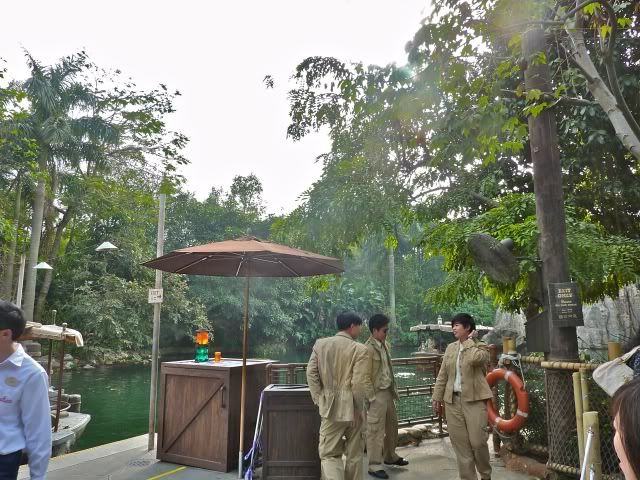 Another view this time from the docks, near the exit.
And there was no sign of RC Racer. I don't know exactly why. Maybe the bamboo grew? Or maybe the Imagineers actually thought it to begin with.
It's only visible from Fantasyland and only near the entrance of Toy Story Land. And even so, it's just this tiny orange thing shown in this picture. It's not so much different as seeing Adventureland from Fantasyland, since those three lands meet at this junction.
So where did all the hype come from?
I think it was because most of the eyesore pictures came from Tarzan's Treehouse. And indeed you could see it peeping from the tree tops there. However, most of us forget that
everything
is visible from Tarzan's Treehouse. All right, that's an exaggeration, but you can see a good number of things from up there. Apart from RC Racers, you can see Space Mountain, Sleeping Beauty's Castle, and HKDL Hotel.
So unless you look for it, you won't really see it. And personally, I felt that was a relief and restored my faith in the Imagineers that worked on HKDL.
Crabby CM #2
Lunch was at the Royal Banquet Hall in Fantasyland, and the serving of the baked penne (or was it macaroni) and baked seafood rice was ample. It was a little pricey, as expected, and a little bland, but nothing salt and pepper couldn't have fixed.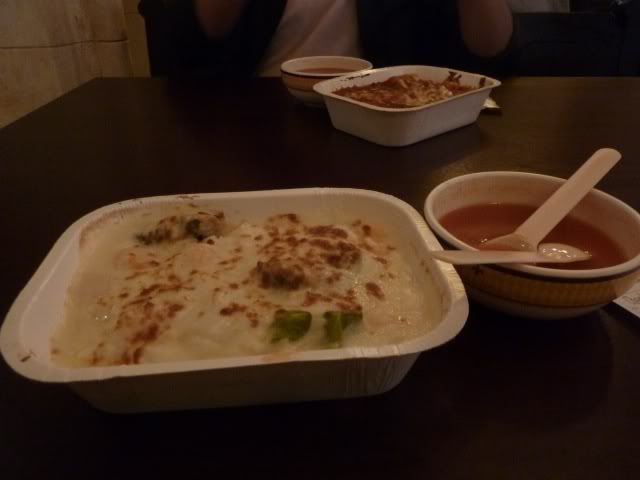 We couldn't finish our meals so we asked if we could have them as take away. Or at least a doggy bag.
The response was less than favorable. The CM said that either we finish it or they throw it away. And that it was a company policy.
Personally, I was very surprised, even upset that Disney had such a policy. Even sit down restaurants allow to take away food. It was just a doggy bag - 打包. How inconvenient is that? A paper bag and a cover. If there reason is environmental, then wouldn't wasting food be as morally offensive as using more packaging? I don't mean to open a debate, but assuming it's a reasonable company policy, I don't think CM should respond in such a way to the guests.
IASMW: Not Quite Christmas Edition


I didn't take too many pictures in IASMW, but I did take note of more Disney characters I hadn't noticed before (like Peter Pan, but I couldn't take his picture).
Christmas overlay was predominantly gone and there were no carols being sung anymore.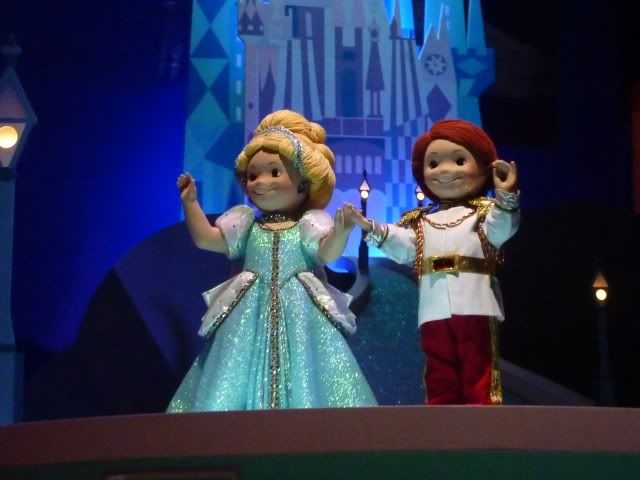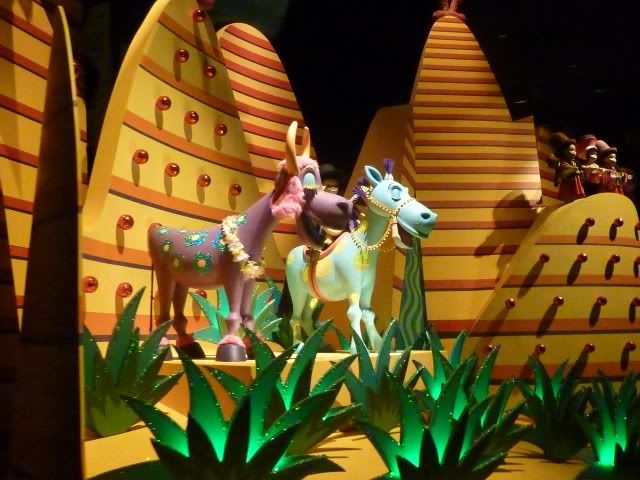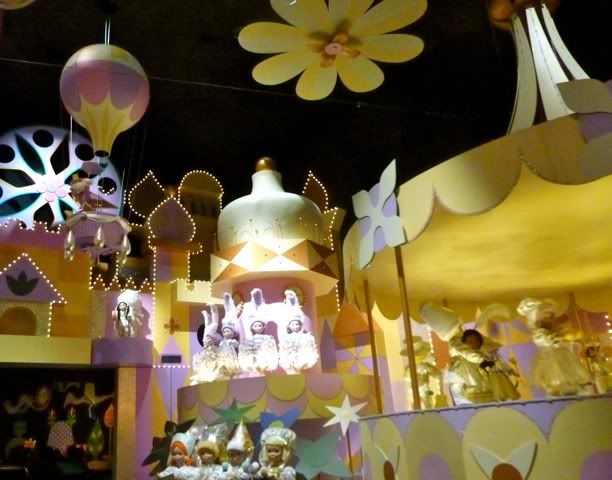 Somehow the spartan queue is my favorite. Because the smell and the carpeting reminds me of old EPCOT attractions.
The Last 5th Anniversary Flights of Fantasy Parade
I was worried we'd miss the FoF parade and that we'd waste so much time before we could bring our luggage to the room so we caught it near the Storybook Theater.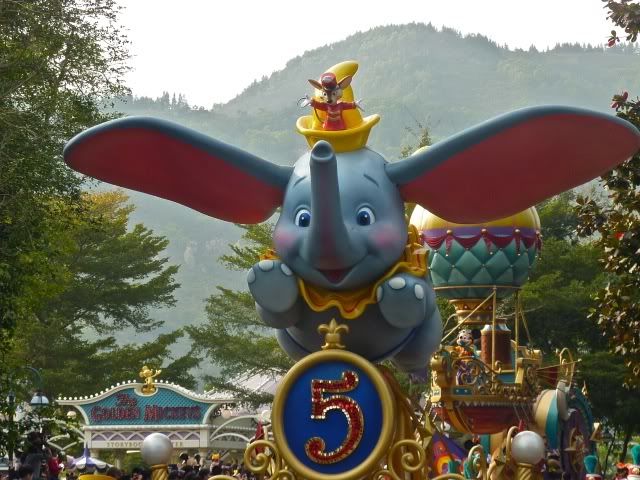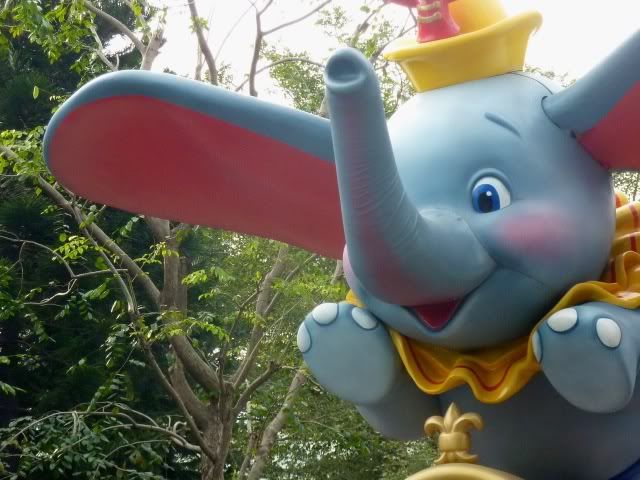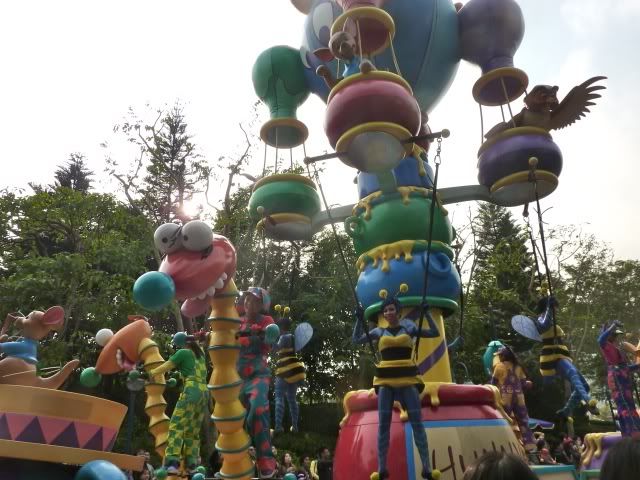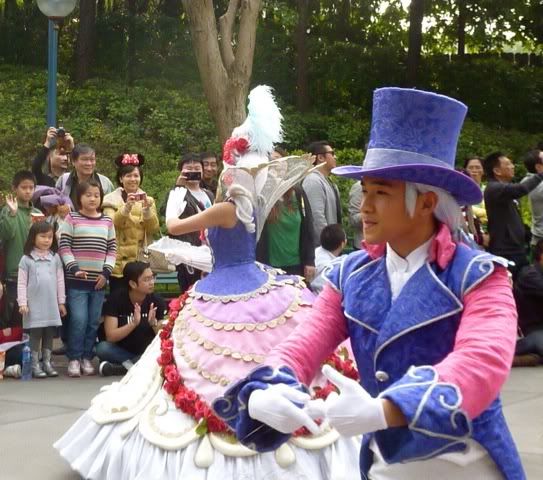 These court dancers were my favorite dancers in the parade.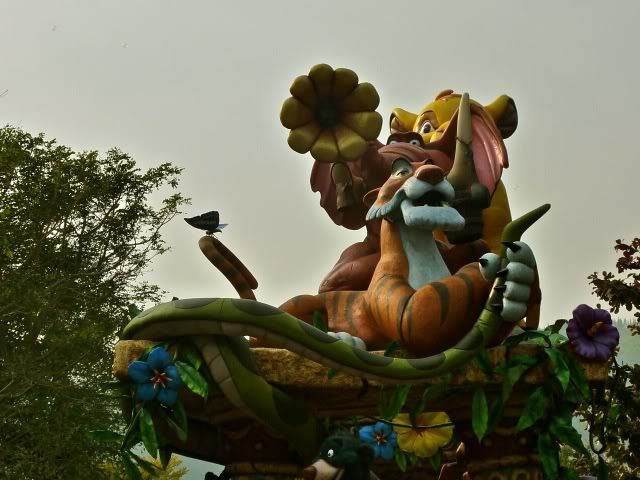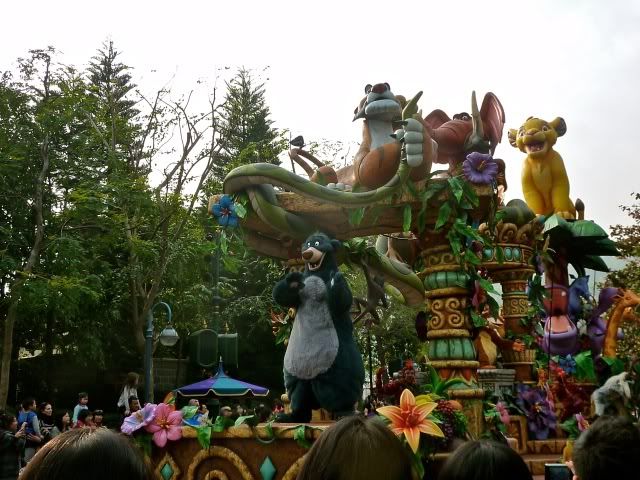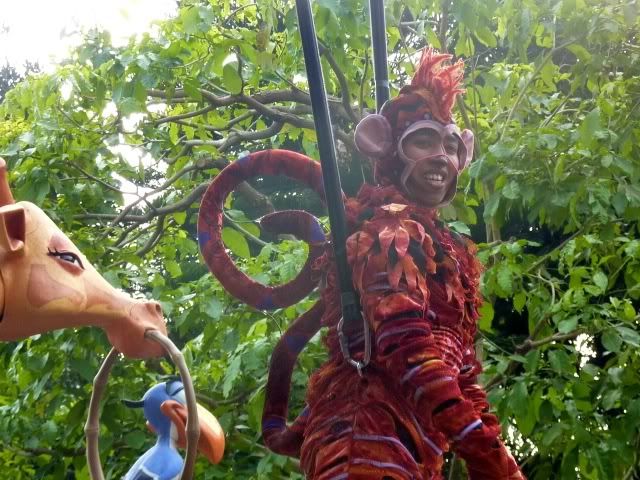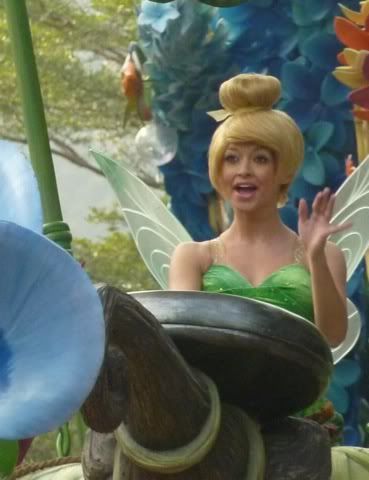 The dancers were great. Enthusiastic and friendly. Terrific parade. A lot has been said about it and I think I can't add much more to the discussion.
We took the train to Main Street to get to the hotel, but it chugged at an agonizingly slow speed. We went up to our room, which was right near the elevator, goody!
After about a half an hour of rest, we went back to the park to catch the Christmas parade or street party, or whatever it was called anyway.
SANTA MICKEY'S TOY-RIFFIC STREET PARTY
The crowd waited patiently.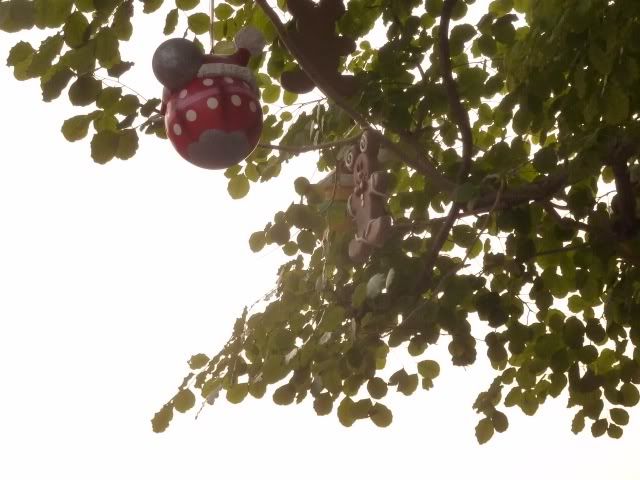 Disney ornments in the trees.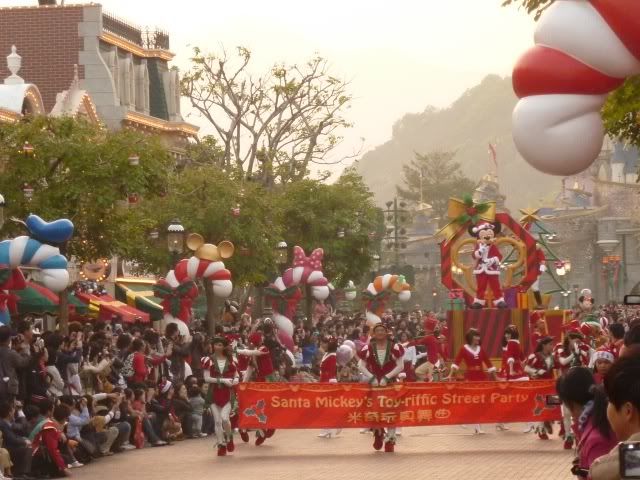 And the party begins.
The Angel Dumott Schunard dancers.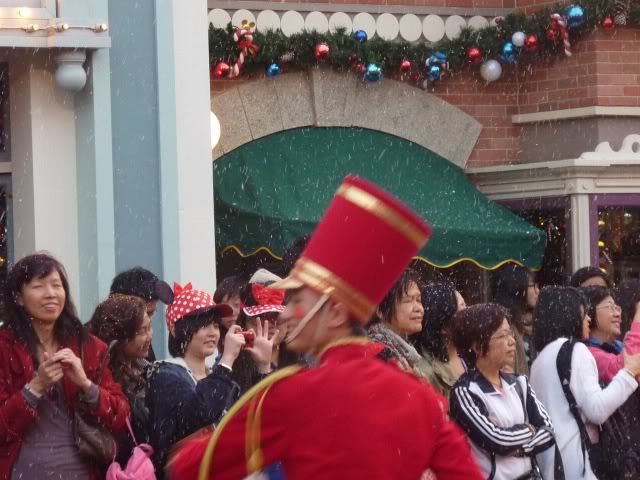 They still let it snow this year.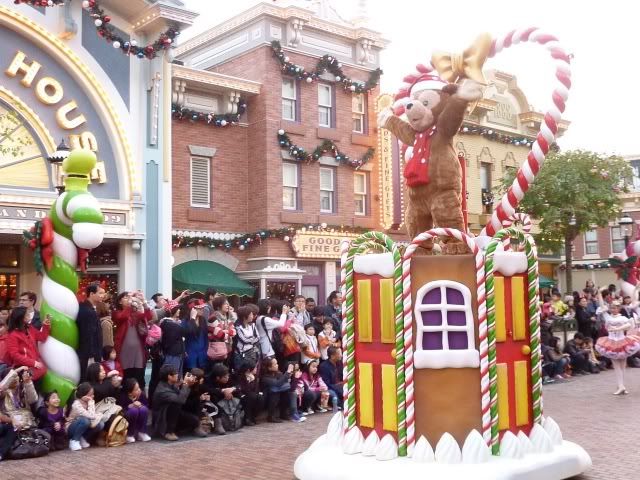 It was this biiiig!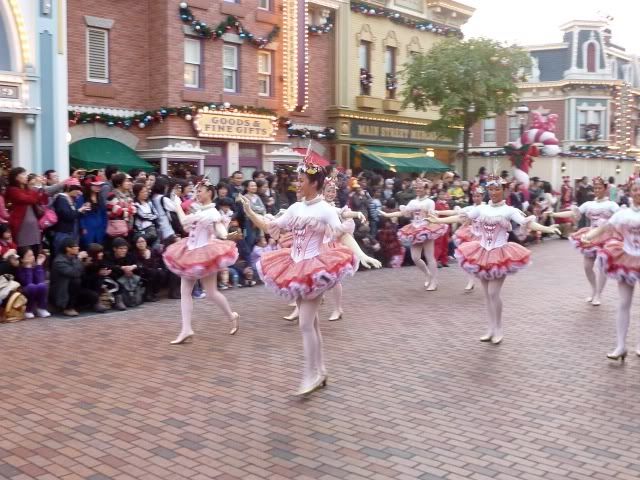 Ballerinas.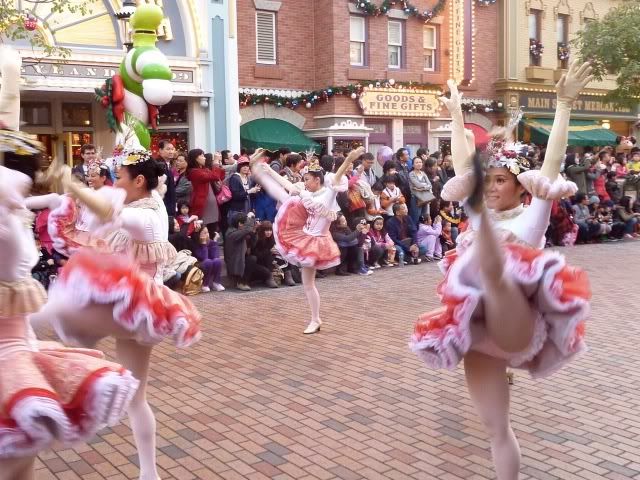 Hiyaaah!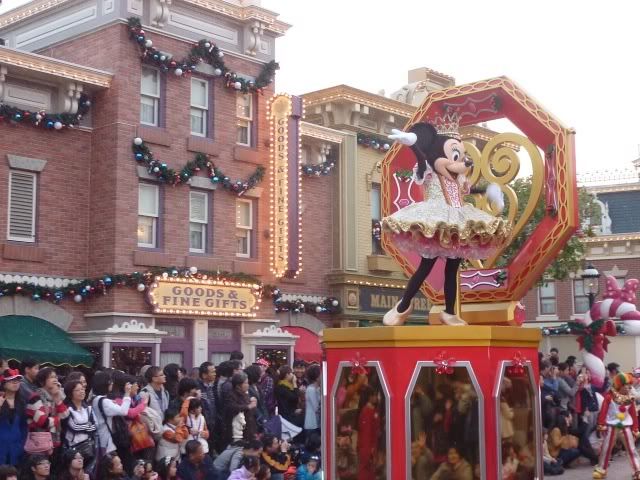 Minnie, isn't that a Chinese mirror behind you?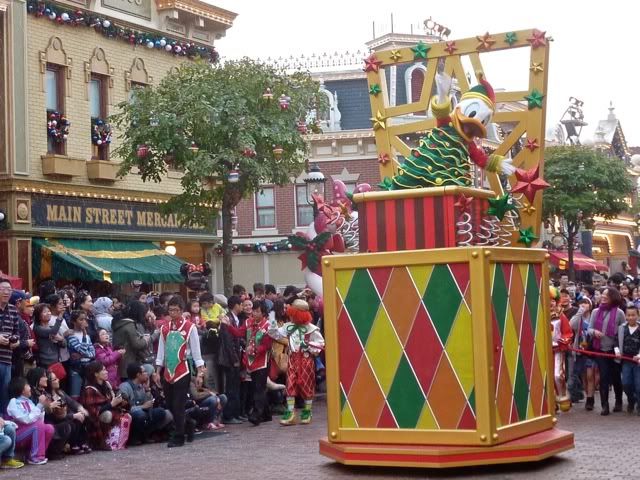 Donald, I love you even more now. And this mini-parade too. Simple, but much better imho than the Let It Snow Christmas parade.
HKDL at Night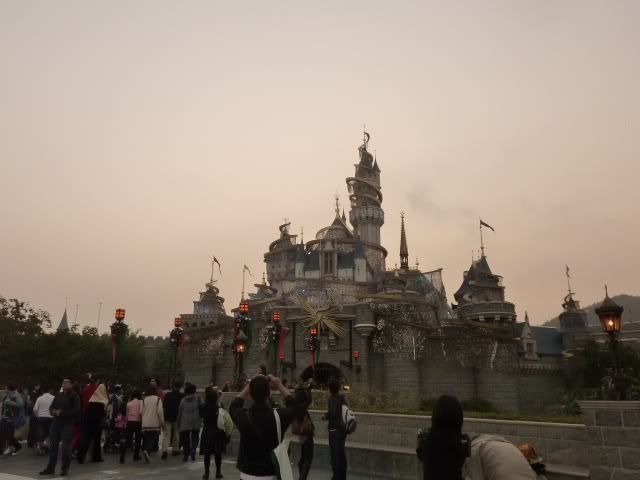 Sun is starting to set over the kingdom.
Some details on the carousel.
Space mountain queue.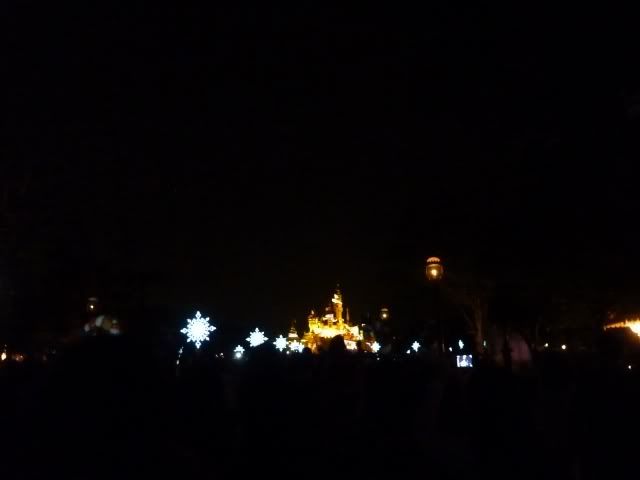 Christmas illumination was better this holidays than it was in 2010. Essentially a repeat of the 2009 one.
A late night visit to Tarzan's Treehouse rewarded us with this glorious sight.
Must what the Israelites felt when they first saw the promised land.
The Main Street Christmas tree.
The HKDL RR.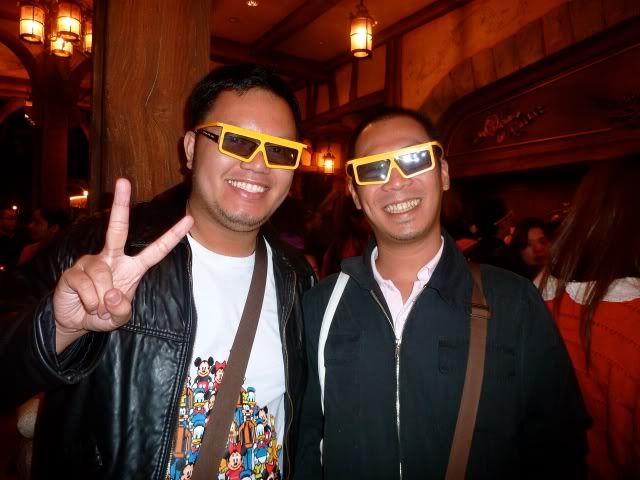 Catching a late show of Philharmagic.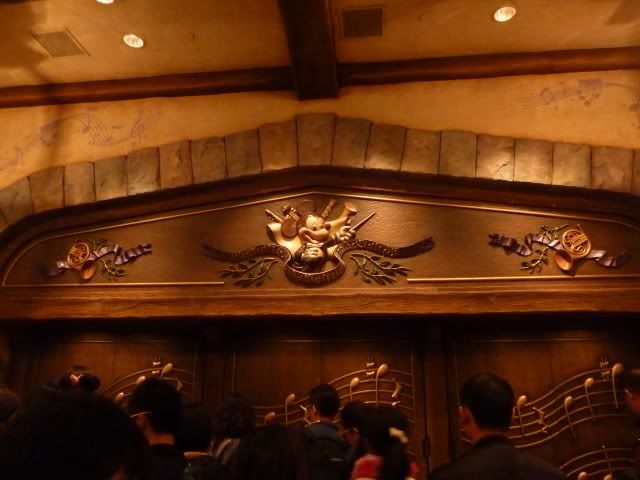 Not much of a crowd left.
Fireworks!
The crowd began assembling in front of the castle for the fireworks, and the castle looked a little too red hot for me.
Until it turned into this ghastly sickly green color which made me think that the Grinch really did steal Christmas.
But all was well once the "Disney in the Stars" began.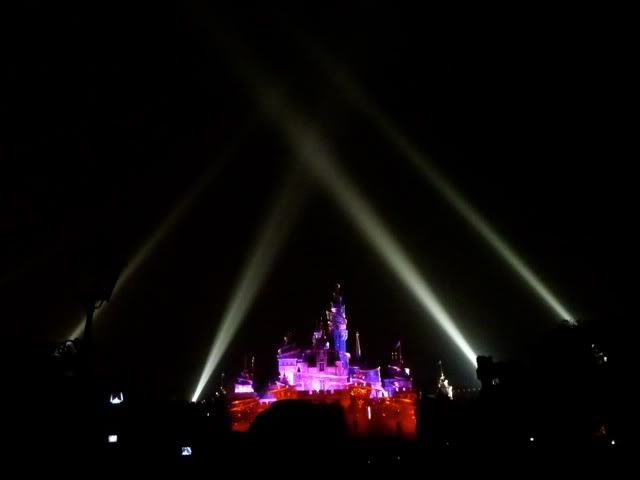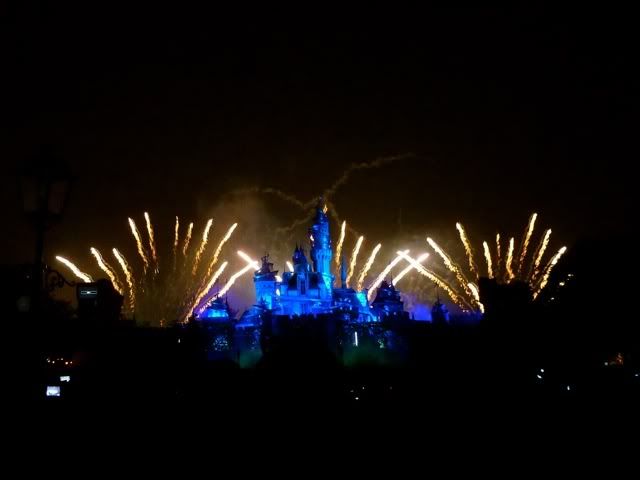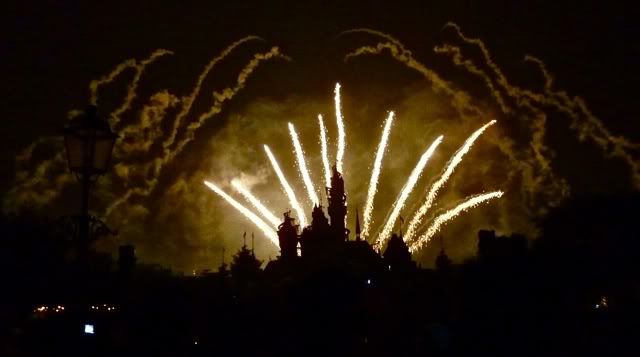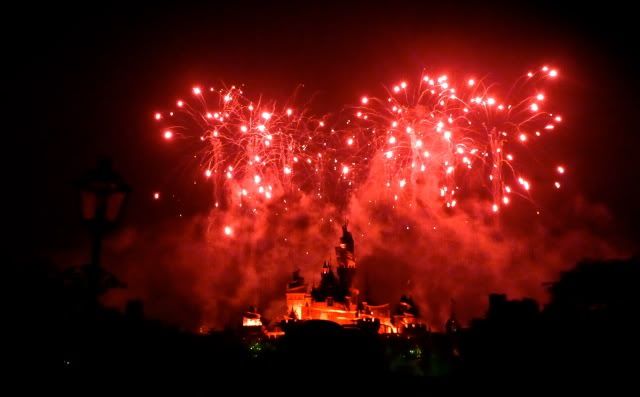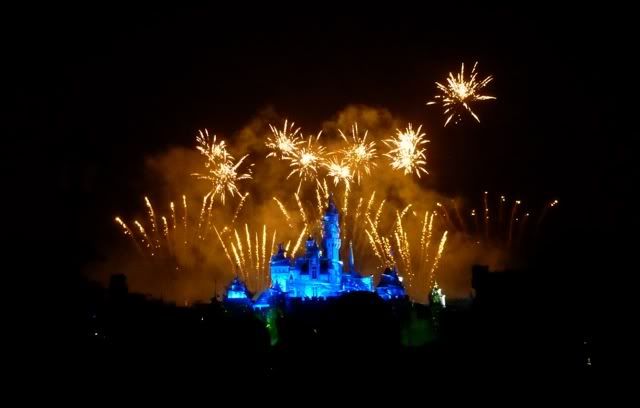 Walk Back.


HKDL is an exceptionally pretty park at night and that goes for the Promenade to the hotel.