It's surprisingly how revealing blueprints of theme parks can be. I found some very interesting things when searching for HKDL...
First, let's start with the map released for the HKDL expansion:
It clearly shows several large pads. A giant pad under Grizzly Gulch large enough to make Grizzly Gulch into a full land, or build a couple more "Port of Call" mini lands in Adventureland. Additionally, there is a nice plot of land between Autopia and Buzz large enough for Star Tours. Finally, there is a large expanse of land bove Fantasyland split down the middle by a service road. The square section above the railroad section may be limited to to the firework launch site, however that leaves a nice parcel between the road and the rest of Toy Story Playland for Midway Mania. Dismissing the rectangular portion, there's also a nice Peter Pan sized attraction to the left of the Train Station, opposite of PhilharMagic.
Perhaps the most revealing of any blueprints was one I came across last night. It appears unfinished as the lines outside the railroad tracks are more fractured. You can make out Toon Town above Fantasyland, Star Tours near the Railroad track spur. The rest is even more difficult to make out. I see Raging Spirits/Indiana Jones and the Temple of Peril and Thunder Mountain side by side beyond the tracks surrounding Adventureland. Going off the original park description, the area near the Lion King show could possibly be for It's Tough to be a Bug and a River Rapid Ride. Or, "Fort Corntsalk" and a Haunted Mansion.
It's also interesting to note that Small World is contained within the berm. Here's a link to other pictures of the same map:
Parties images | Parties photographs, parties photos
Upon further investigation, this is a full out, non colored version of the next few plans below. Kind of like an "unofficial" version of the following drafts.
Now, look closely at the grassy area under Snow White's Grotto. Just grass right?
Now look what you can see beneath the color on this Tomorrowland layout. It looks like a stadium style viewing area for Parade and show viewing, similar to the one built at Disneyland Paris.


----



Apparently, at one point there was concept art for an incredibly tiny HKDL with the park dead-ending in "it's a small world" in place of the castle, and then a Fantasyland over to the left, and a Adventureland to the right. I guess now we know what the castle looked like: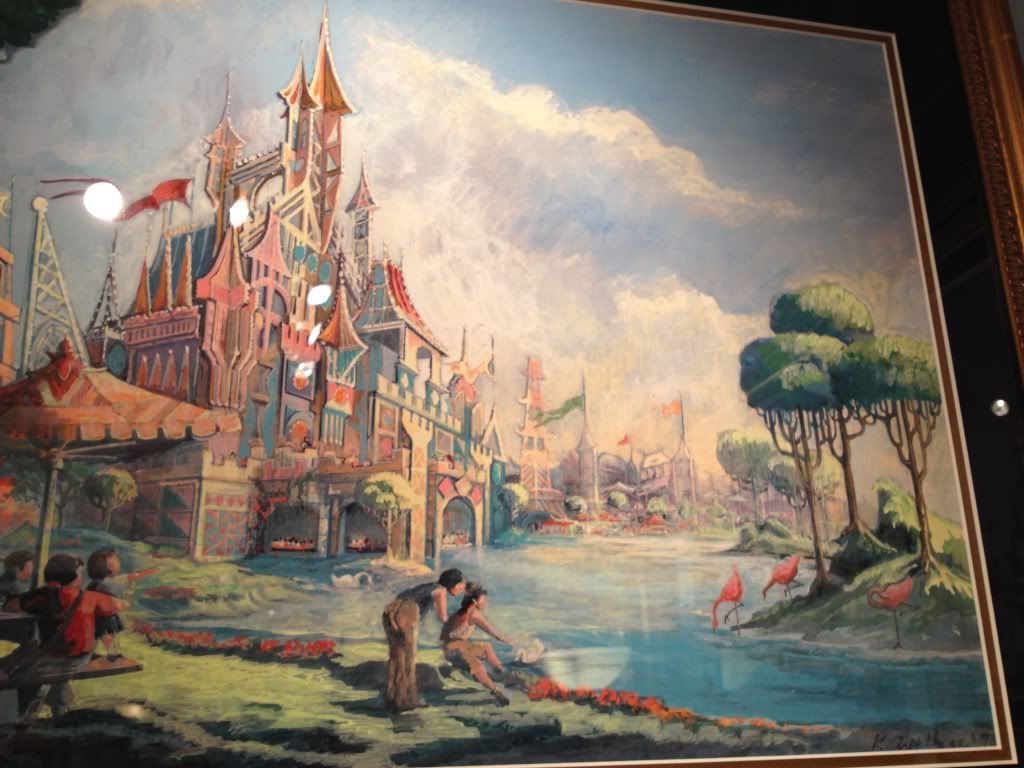 I took these pictures at the new art displayed at the Disney Gallery on Main Street. I just think this stuff is so interesting. I've never seen this concept art before, and there's not exactly alot of HKDL concept art to begin with.
And here is another piece of concept art for a squat version of the DLP castle atop some intense rock formations. Very interesting. It reminds me of something shown in the background of a concept art featured in a double page spread in the new Disney Imagineering book. It's kind of strange; the drawbridge to no where doesn't really make sense.
I hope you found that interesting.