This is probably the last trip report before all the Mystic Manor previews/reports start coming in a couple of weeks, and I must say it's a little frustrating to be going into HKDL knowing full-well that in a month's time, Mystic Manor would be opening and that just a few days prior, park admission was raised.
However, the purpose of this trip was a unique one and that I knew I'd regret it if I didn't go. My latest batch of students who graduated from high school were planning a trip to Hong Kong and some of them invited me to join them in Disneyland, I just had to say yes.
Never mind that the plane fares were already jacked up since the flight was the following week, these were the guys I worked with through thick and thin in our school drama club, and it was the perfect way to celebrate.
They were staying in HK for four days, and I had initially planned to just fly in the morning and to fly out after the park, but I realized that that would be an incredible waste of money and energy (and that particular flight itinerary was more expensive), so I decided on a short three day stay so I could meet my other friends in Hong Kong as well.
Knowing that this was a very special trip, I emailed HKDL in advance to ask if there was any way we could make our stay more special. Now in my mind, I was thinking maybe they could give us pins or parade marshals or something, but apparently that extra bit of Disney magic does not exist and they pointed me to their expensive guided tours. Nevertheless, I was adamant that the trip would be magical no matter what.
Since this is my nth trip report, I felt like I was running out of things to say or show here on MiceChat. I'm not photographer, and I'm pretty far from those guys with SLRs, but I do appreciate a good picture. I usually bring my Lumix, which takes great photos for a point and shoot, but for this trip, I settled on just taking all the pictures with my iPhone 4S and see how that would turn out.
Not bad, and in many ways more fun than fiddling with the manual controls on my Lumix.
Hong Kong was quite rainy before we arrived, and we swore that we'd go to Disney, rain or shine. And while it didn't rain when we landed on Monday, we were greeted by an overcast Tuesday morning as we crossed the gates of HKDL.
That morning, I met up with them at Sunny Bay. I had come from Tsim Sha Tsui, while they all came from their hotel in Causeway Bay. Turns out we were all on the same train, and met up as soon as the HKDL train open its doors.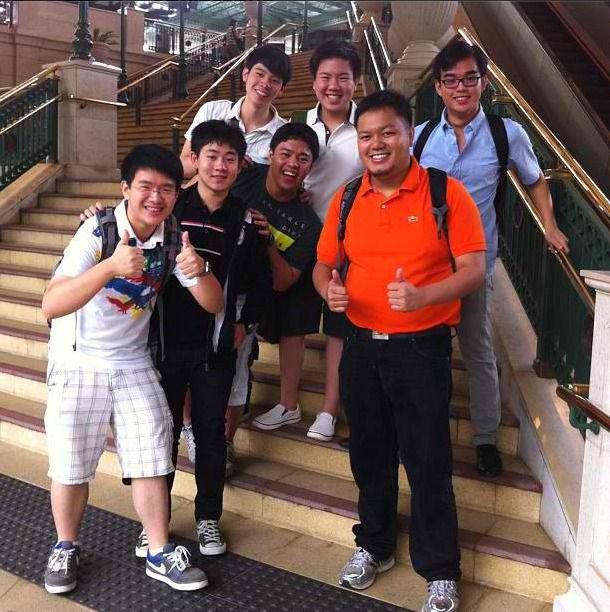 We strolled down Main Street since I was quite hungry, but I didn't really find anything I wanted to I pulled out a sandwich I made from my backpack and since we were all HKDL veterans, we made our way to Grizzly Gulch, which we felt was going to be mobbed since it was the newest part of the park.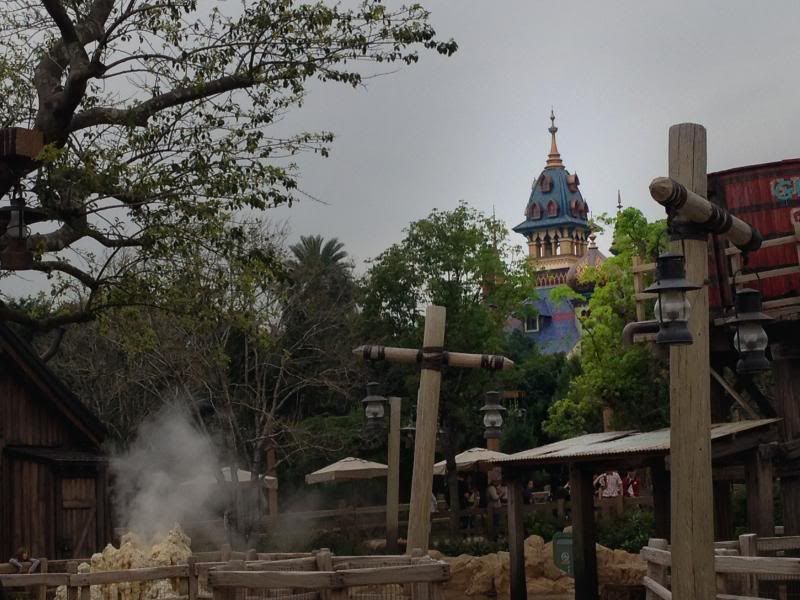 Apparently it was not. We essentially walked up to the Big Grizzly Mountain and got on the coaster.
Now this had been a moment I had been anticipating ever since it was announced in 2009. And there was no way, in my mind, it could live up to the hype. I had spent so hours over the past few years watching
michael20183
's videos on YouTube covering the progress of the expansion and in my previous trips, I'd been sitting in the last train just to catch a glimpse of the rockwork and the rails as Grizzly Gulch rose from the dirt and into its rocky, grizzly, glory.
Perhaps it was my fault, but as many MiceChatters would know, a Disney fan can't help but pour over endlessly every minute details.
One drawback, one of the boys, Christian, is afraid of roller coasters. In fact, he's never really ridden any except for the mine train in Ocean Park. This is because when his family went to Anaheim when he was a kid, his mom and younger sister rode Space Mountain and told him it was so scary that he refused to ride it and most roller coasters.
I told him that there was no way I'd be spending US$500, a considerable amount for me, to fly to Hong Kong essentially to spend one day in HKDL if he was not riding Space Mountain. After some thought, he agreed and swore that as long as I make it on the trip, he'd ride Space Mountain.
Well apparently, Big Grizzly Mountain Runaway Mine Cars was not part of the deal. Not especially after we walked into Grizzly Gulch. He started to get considerably anxious, and he remarked that he didn't think that the ride extended throughout the town. Now this is a smart guy, the top of his batch and one of the most intelligent people I have ever had the privilege of meeting. There was no way, I'd let this coaster get the best of him.
I told him how I used to be afraid of coasters, but Disneyland helped me overcome that, and that after HKDL, I was able to graduate to more extreme coasters. We also promised him that this was less extreme than Space Mountain, which, if he was going to ride as part of the deal, would be foolish if he missed out on it. He relented, but was still pretty anxious as we got into the ride.
Now at first he couldn't seem to enjoy himself and couldn't even look as Rocky the bear was scratching his bum on the first lift hill, but by the time we got past the reverse drop and we were launched out of the mine shaft, he had his arms up and screaming with the rest of us. He became a convert, I tell you.
Once we got off the ride, we were all pumped up for the rest of the day, and Christian said that the ride "invigorated him."
Now, I had often complained about Adventureland in HKDL. It was very well-themed, but as far as I'm concerned it was a one attraction land, Jungle Cruise. But once thing I noticed, but was unable to take a picture of, is that the sign post in the middle of Adventureland had an arrow pointed towards, not Grizzly Gulch, but rather Big Grizzly Mountain Runaway Mine Cars.
I'd like to think that Grizzly Gulch, is less of a mini-land, but more of an expansion of Adventureland, especially since Mystic Manor blends so well with both, Grizzly Gulch and Adventureland.
We got on the Jungle Cruise to play try to understand the skipper, but I spied something in the water as we waited for the rafts to Tarzan's Treehouse crossed our path.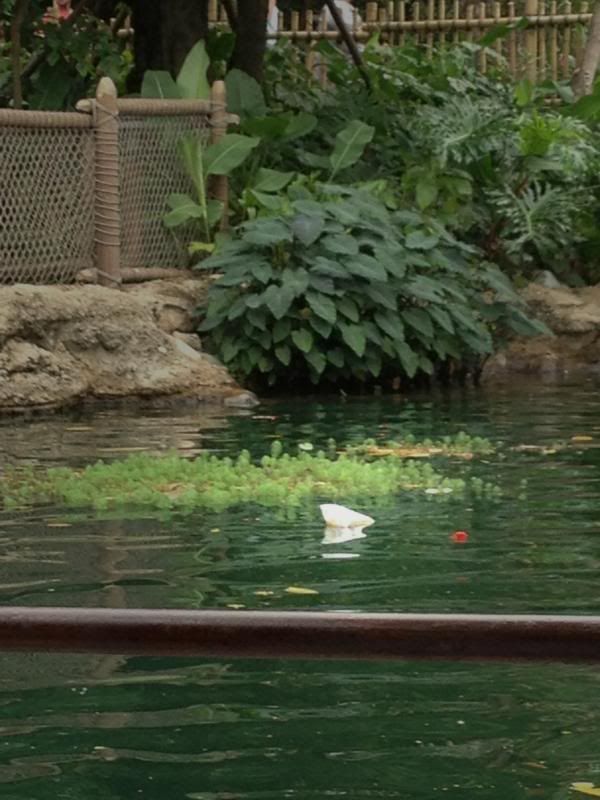 Now those in my previous trip reports, all other instances of littering that I saw were all in Adventureland. Once in the Jungle Cruise queue, an apple core in Tarzan's Treehouse, and now a decorative piece of garbage floating in the water.
I don't know if this speaks more of the guests and their relationship with the jungle, or the maintenance of the cast members in Adventureland, or it's just a coincidence that I happen to notice them when I visit.
After that, we trekked to Toy Story Land, and to the disappointment of the group (and to much relief for Christian), RC Racers was closed for refurbishment. It's still the most thrilling ride in the park, and we said that we'd make up for it by riding Space Mountain as many times as we could.
We saw a 15 minute wait for the Toy Soldiers Parachute drop, and opted for the 5 minute Single Rider line which turned out to be a 10 second wait as we were all ushered in immediately.
Christian wanted to ride two rides in particular, Slinky Dog and Autopia. We agreed to ride Slinky Dog, but in no uncertain terms were we going to line up for Autopia. Much to my embarrassment, the more "mature" ones in the group decided to intensify the experience by shrieking like little girls once the ride began, but mercifully they stopped before it became too obnoxious.
It was almost time for the first show of the Lion King so we (literally) ran back to Adventureland as it started to drizzle while we were undulating on Slinky Dog's back.
This performance was much better than the earlier ones that I caught, but certainly not as good as the last two shows that I caught early last year. Some of the cast members were still the same, but they seemed to lack energy.
It took this opportunity to try and capture the scenes from the show in the iPhone's panoramic mode to mixed results. What I do like about it is that it gives one an idea of the scope of the show, which I have grown to love, especially when you hear kids calling out the names of characters in the different languages of the region.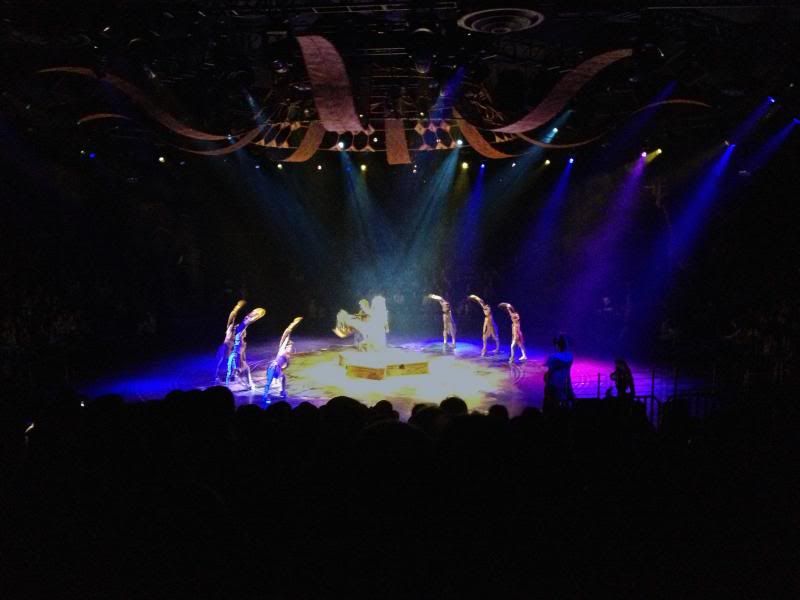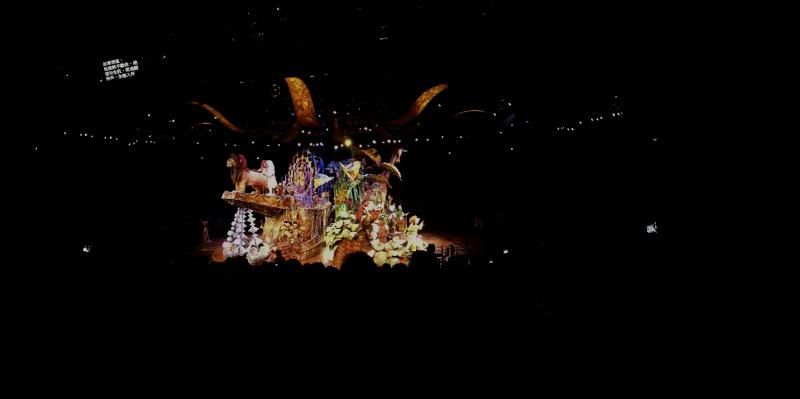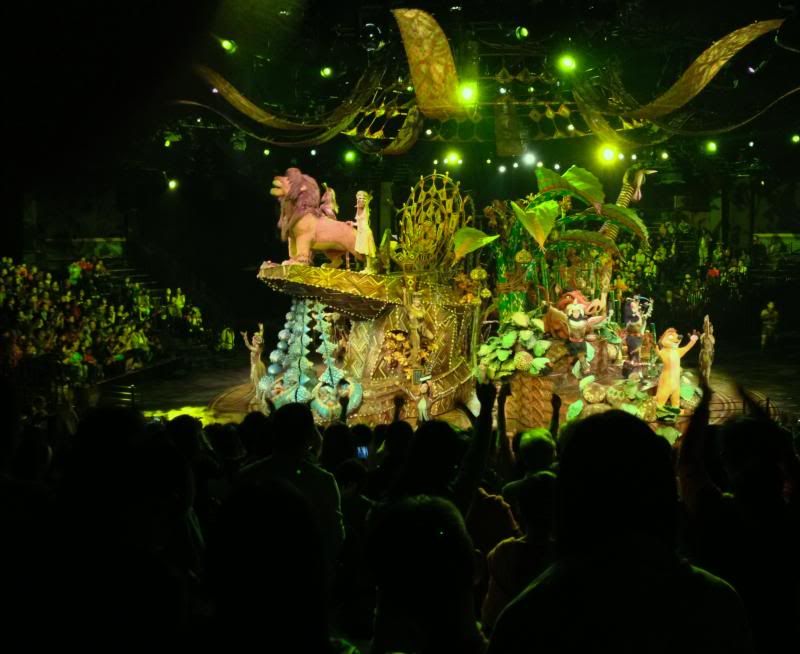 It was noon by the time we got out and we went to the Starliner Diner in Tomorrowland for lunch.
Now if you're really hungry, there are only two meals that you really want to choose from the two piece chicken and fries or the burger and fries. I remember saying the food isn't very good, and I didn't really believe it when HKDLFAN and the others would say that the burgers were good. I realize now why, I always went for the fried chicken since it seemed to be better deal.
But the chicken would always turn out to be crispy and bland and the fries would be the best thing about the meal.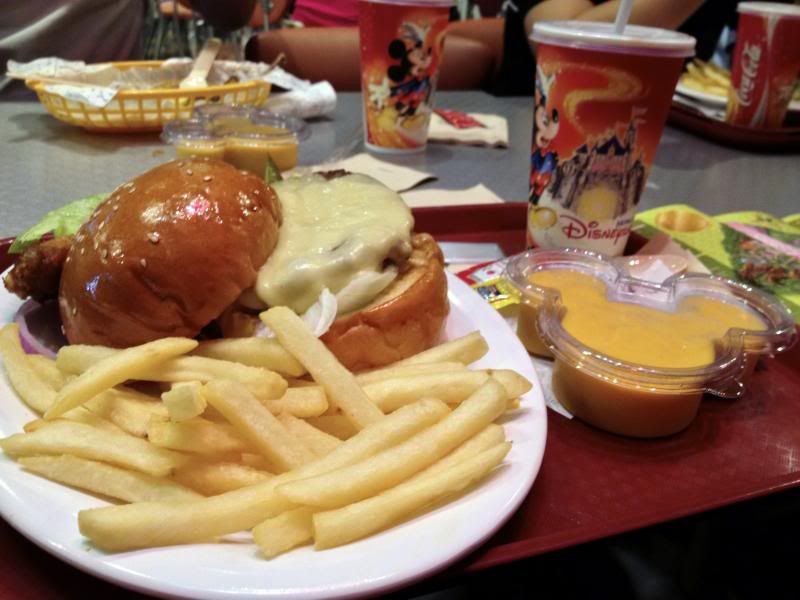 Once of the boys, Alison best sums it up when he remarked that it was not what he was expecting because it was definitely not a "theme park burger."
Now I know better.
As we were eating, we found out that because of the rain Flights of Fantasy would not be playing that day and instead the Rainy Day Express would take its place. The boys didn't mind and skipped the parade, while I ran out in the rain to snap a few pictures.
It was short. Literally you could see the entire parade in less than a minute, yet people still brought out their umbrellas and lined up the sides of Main Street to catch a glimpse of Mickey and friends in their raincoats.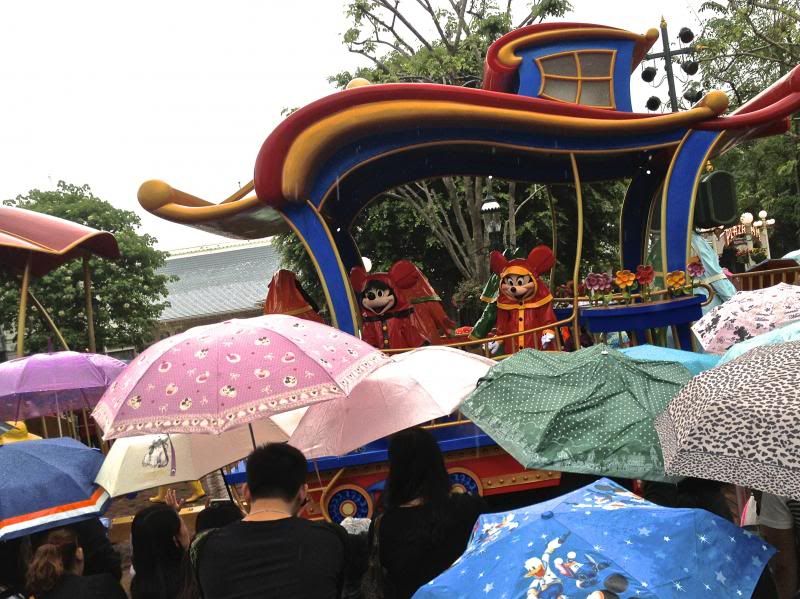 I want those red raincoats instead of the ponchos that they sell at the parks.
After lunch, it was time for Space Mountain and rain really started to pour. The group wanted to go to the single rider line, but I insisted that we go as a group since it was Christian's first time.
The trouble is that this was the longest line any of us had ever seen for HKDL's Space Mountain, it was a 30 minute wait, so before we went in, I got us some FastPasses for our next ride.
We spent the next half hour having fun at Christian's expense, telling him tall tales about how scary it was, inventing loops and drops that did not exist. Poor Christian, who didn't have time to really feel the anxiety in BGM because there was no line, had to endure an actual wait for his first ride on Space Mountain.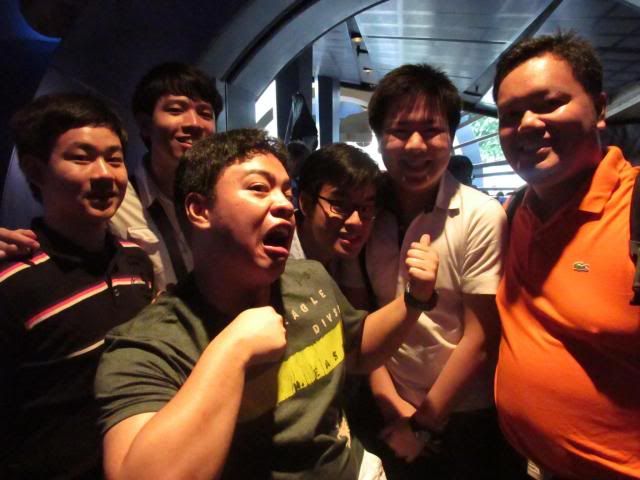 By the time we got on, his fight or flight response was in effect as up to the last minute he was looking for the chicken exit.
How his first space flight went is best expressed in his ride photo.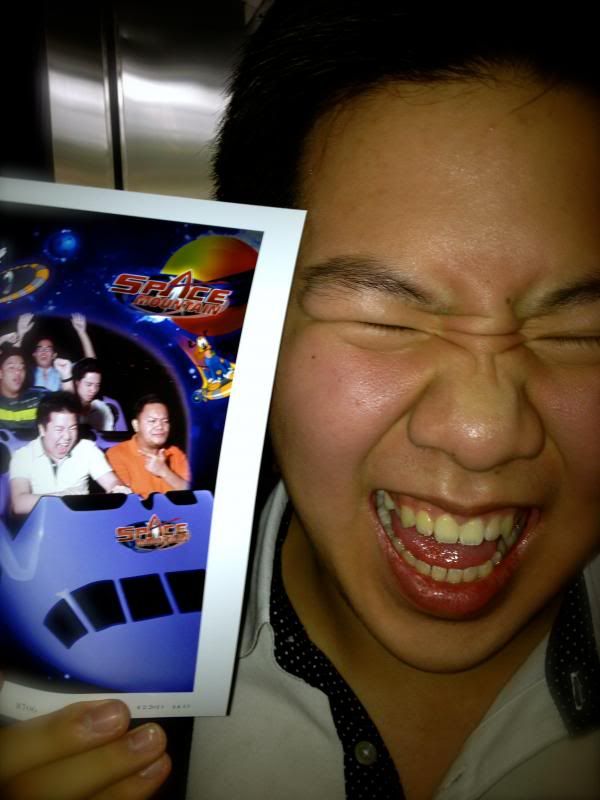 The Standby line was even longer than when we first rode, and it was a good fifteen minutes before our FastPasses could be used so we opted for the Single Rider line, which was felt like was so poorly managed that we swore that the we had to wait even longer in the Single Rider line than we did in the Standby line.
By the time we got out of Space Mountain the second time, it was almost an hour later and our FastPasses were going to expire in twenty minutes so we went for one last time, when they got this picture.
Notice the distinct difference in Christian's demeanor from sheer terror an hour before, to posing with his 3DS on his third. That good people, is progress.
We missed our second window for Stitch, so we went to Fantasyland, but the rains still wouldn't stop so we got in line for 4:00 Golden Mickeys. By the time we got through the turnstiles, they didn't let the people behind us in for the 4:00 show, and it was only 3:20. I couldn't imagine how all those people behind us would wait for 90 minutes for the Golden Mickeys.
In front of us, another "golden" show was being played.
This couple just let their baby go in the bushes in the queue. We were all shocked, I less then the others, but it was my first time to have witnessed it. The deed was done before I could snap this picture.
I took a lot of pictures at the Golden Mickeys, but they were generally poor in quality, I decided not to post them anymore. The cast has changed since, but overall the show seemed weaker. The Bebe didn't quite deliver her lines as well, and even if it was in Chinese, I could sense the lack of punch in her delivery. Her "When You Wish Upon a Star" was superb though. The Shang/Hawaiian Roller Coaster ride lead singer was better though, but I was still disappointed. This is because he's an established Filipino theater actor, Felix Rivera, who played Princeton/Rod in the Manila and Singapore productions of Avenue Q, and I've seem him perform much better in those shows. Maybe it was the fact that it was their nth show for the day, or maybe it was the weather. What I'm sure of now is that the Shang costume is probably one of the least flattering costumes in the show. They make whoever plays him look really small.
After that, we didn't want to watch another show, but it seemed that Philharmagic was really the most convenient thing to do next.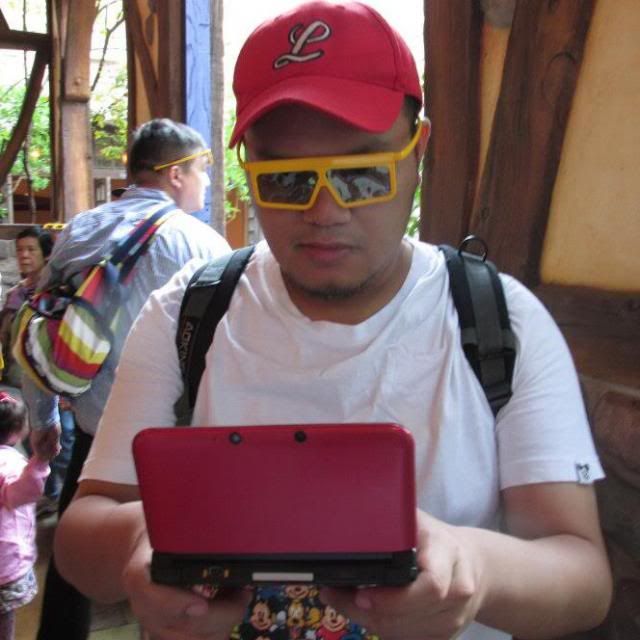 It was great as always, but as I've said before the film quality is really poor and grainy already. Even worse, and I'm not sure if I'm the only one, at the beginning, the 3D effect does not really work with a lot of ghosting. I know it's not my eyes because I'm used to 3D effects from the regular cinemas and to my 3DS and in the numerous times I've seen the show, there always seems to be a problem with the 3D effect at the beginning.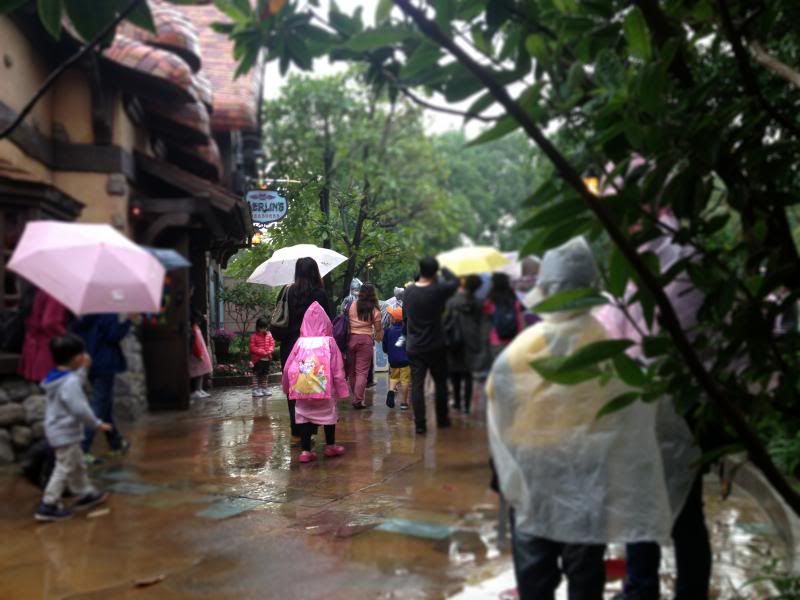 They decided that they wanted to go to the castle. Puzzled, I wondered why since it was just the draw bridge.
It turns out they expected the Sleeping Beauty walkthrough attraction, and I explained that that was only in Anaheim. I did my best to point them to other points of interest, such as the Snow White Grotto and the history behind the original in California.
As we reached the hub, those factoids didn't matter to them as something else caught their attention.
Ah yes, turkey legs. Everything is better with turkey legs.
We went down Main Street to grab some snacks and I led them to the Art of Animation, something that they all missed in their previous trips, and like everybody else, were all enthralled by the Toy Story zoetrope.
I proposed that we take the train back to Fantasyland and we got a nice leisurely rest for the rest of evening.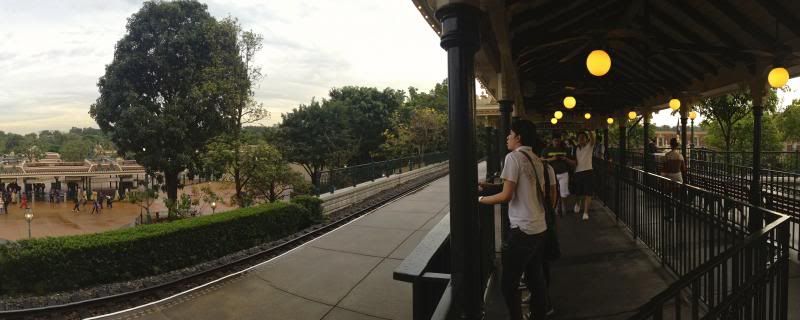 The rest of the afternoon was spent in Fantasyland, which was quite nice since the rain has stopped and we got to enjoy some of the classic rides.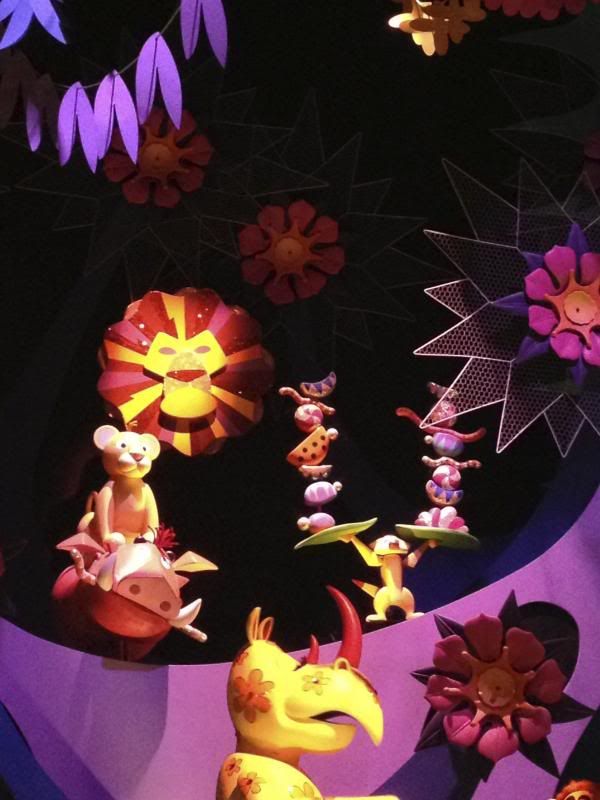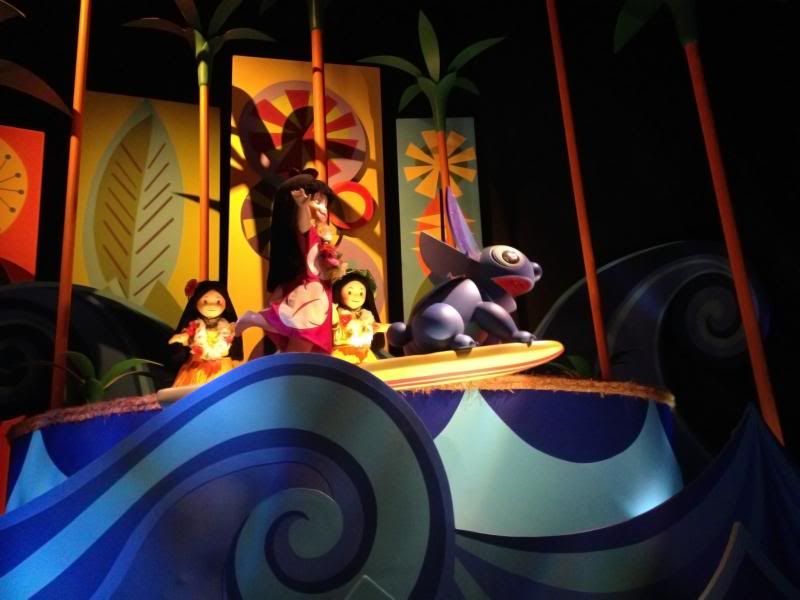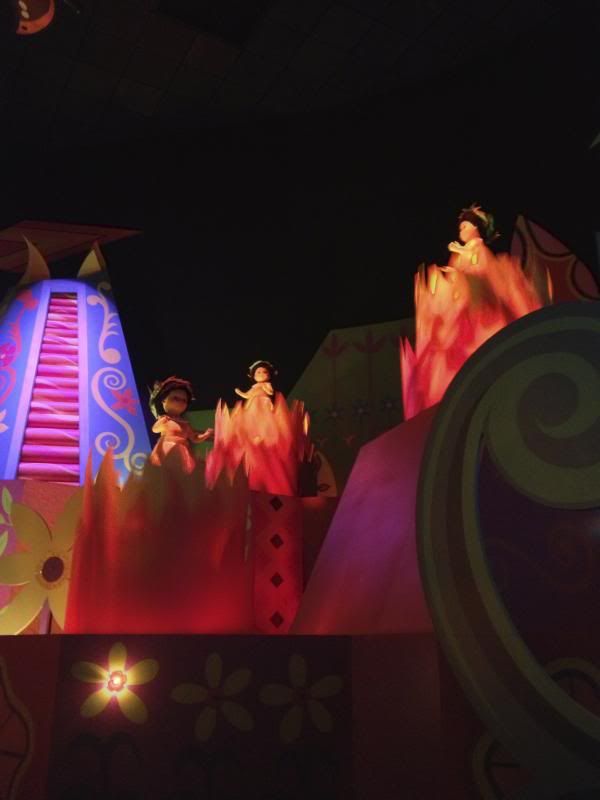 Before getting on IASW, I told him about the guy who successfully sued Disney for being stuck in IASW, and true enough we also got stuck, for about five or so minutes in front of these three dolls who seemed to be happily dancing in the rings of fire.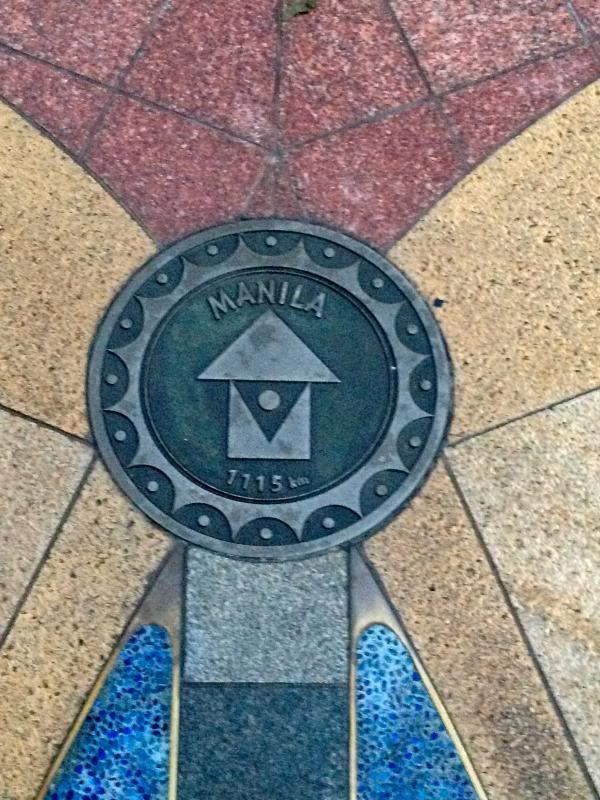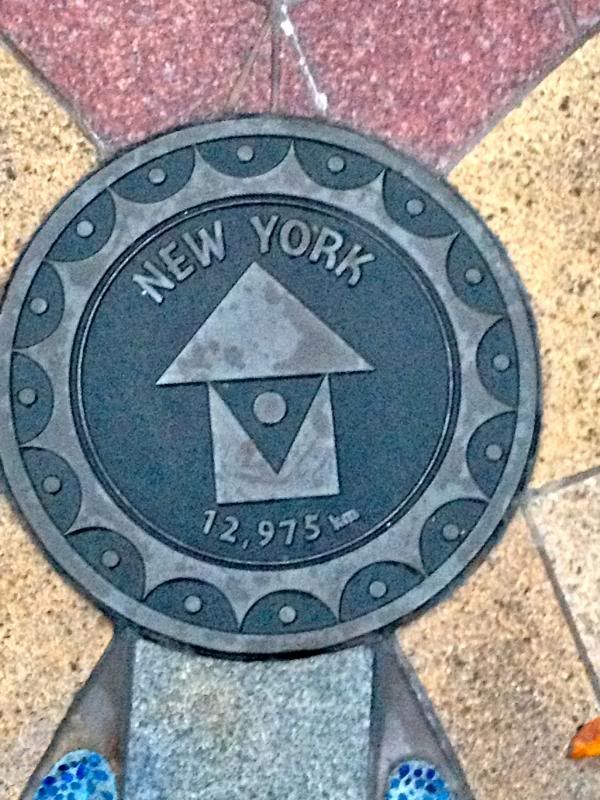 Outside, we noticed some arrows I hadn't seen before which pointed to the various major cities. Being total suckers for home, we took a picture of Manila.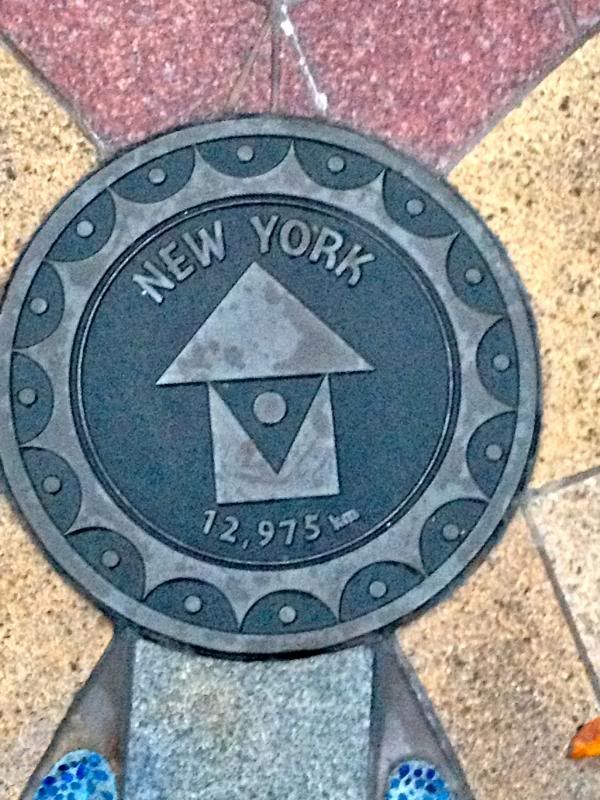 And New York, which was not quite as near.
I'm not a huge fan to teacups, but since I forced Christian to ride the coasters, and I coerced everyone to ride Slinky Dog, it was my turn to be somewhat forcibly dragged into a teacup.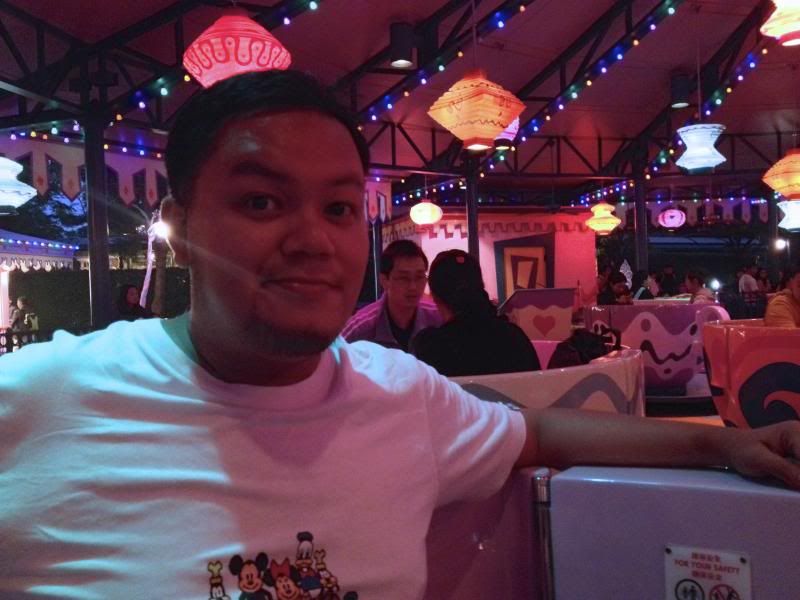 Pooh was another thing that we tried to ride earlier in the day but they ran out of FastPasses for it, which is the first time I had ever experienced happen in HKDL and for Pooh of all rides.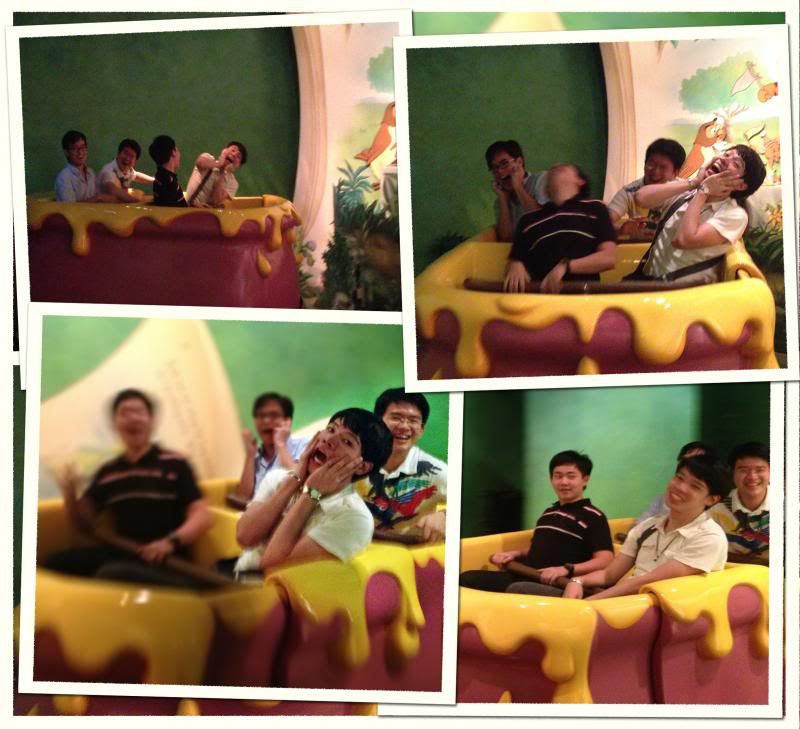 Let's just say, some of them were horrified.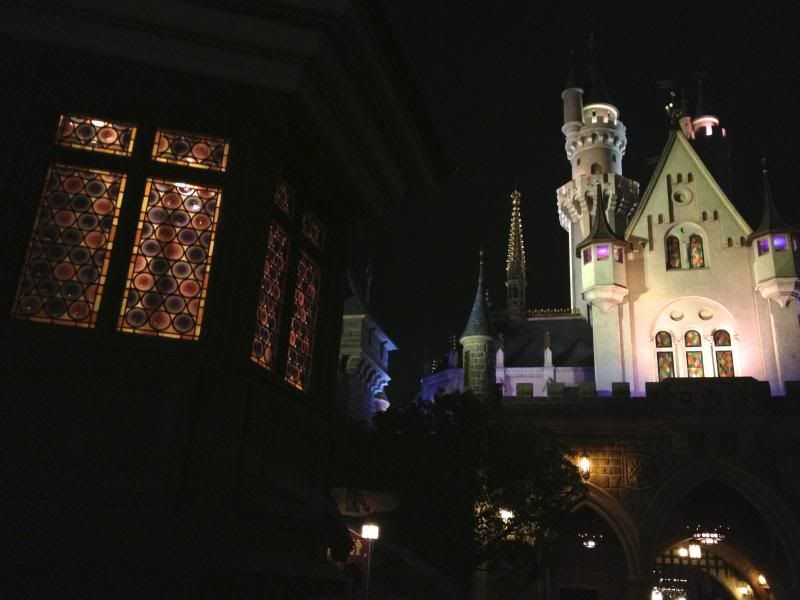 Once it became dark, we realized it was almost 8:00 PM and we hadn't gone on our second ride through Grizzly Gulch.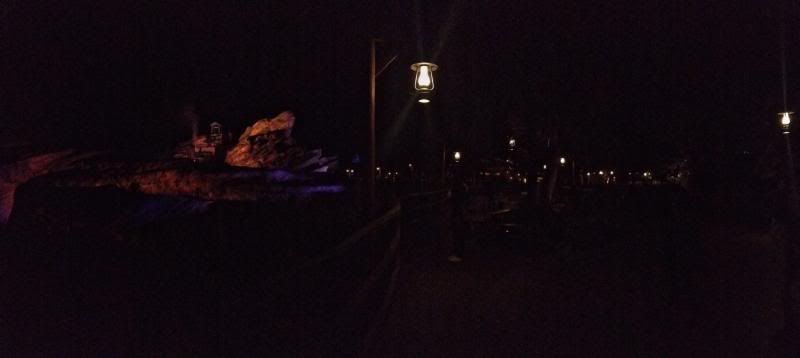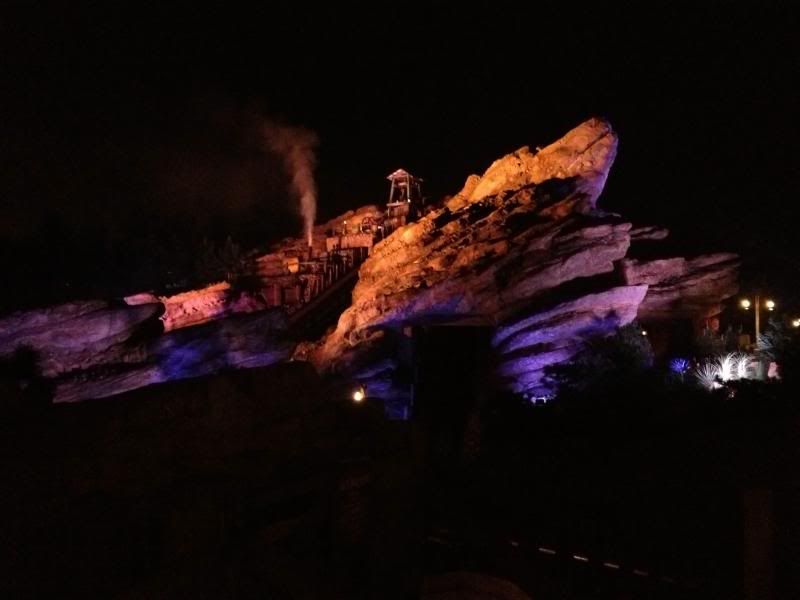 Now I hadn't said what I felt about this yet.
On my first ride through in the morning, I was a little disappointed. However, I was surprised at how fast the ride was. Even as the cars rolled out of the loading area, the speed and angle that it went down on the first turn towards that first lift hill.
It's just that I felt that the second lift hill slightly killed the momentum especially since the reverse wasn't so scary, and that the ride slowed down too much as it approached the dynamite room.
In the evening, however, I realized one thing, I was nitpicking and the experience at the front and at the back were far better than the middle. The fact that the ride felt much faster than it looked in the video was all that really mattered, and the launch out of the dynamite room was fantastic.
Ride this ride at least twice, once in the front to best appreciate the climb on the second lift hill, and another time at the back to best experience the acceleration of the launch segment.
Before we went back, I insisted on visiting Mystic Manor, which we have a bit of a history with.
Last year, as our drama club was preparing for our production of Agatha Christie's The Mousetrap, we tried to imagine what Monkswell Manor looked like. We ended up basing it on Mystic Manor. We took away some of the spires, and used that to imagine what the exterior of the manor would look like. It's a little thing, but it was such a big part of our year last year, that we couldn't help but just peek through the gates and think that maybe, just maybe, we should have postponed our trip to May instead.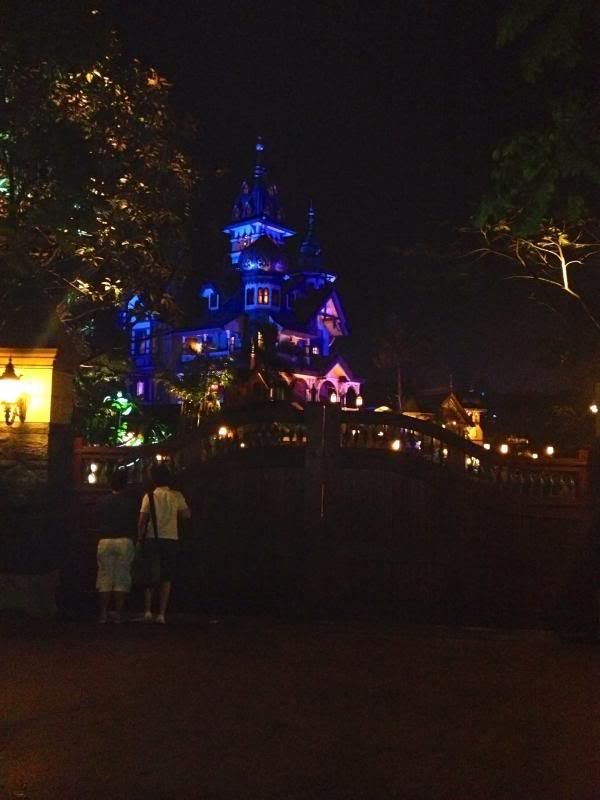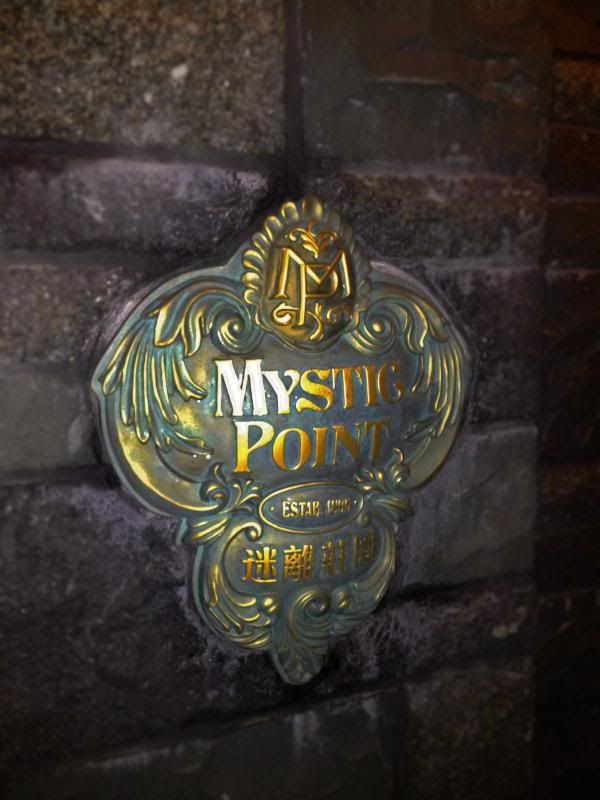 However, the day was just so magical that we wouldn't have had it any other way.

We finished the day at Buzz Lightyear's Astro Blasters in Tomorrowland, another ride we couldn't ride earlier in the day because of the long lines. Even at 8:30 PM, as many people huddled in the hub for the fireworks, there was still a considerable 10 minute wait for the ride.



Christian, in one desperate attempt, pointed at Autopia trying to convince us how fun it would be. We told him he could ride it on his own and miss the fireworks. He took one last look and we went to the hub and joined the crowd.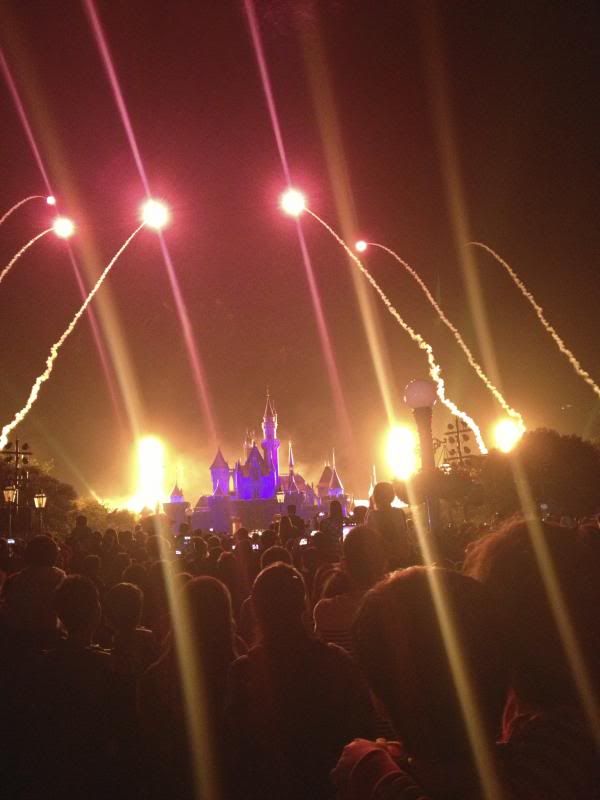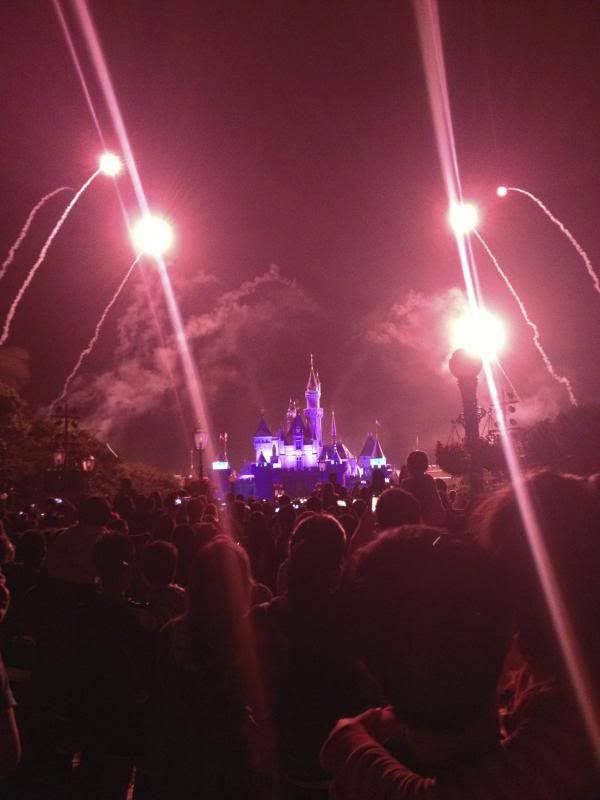 As some of the guys said, no matter where we end up in our lives, we'll always have our memories together that one magical, wet April day in Hong Kong Disneyland.