Note: A french version of the first part of this article is available HERE. Also, the picture above was not released yesterday but is a SDL first project draft layout.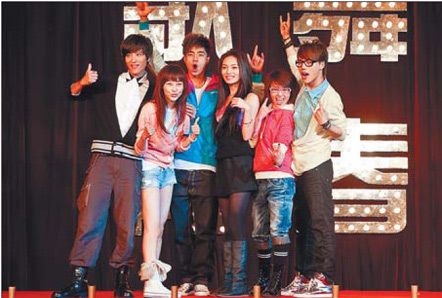 Also, from chinadaily.com: "In recognition of the notorious competitiveness of high school life in this country, Disney is going to shift the setting of the Chinese version of High School Musical to the first year of college.
Disney announced on Sunday that it would co-produce a Chinese version of the smash musical with local partners Shanghai Media Group and Huayi Brothers Media Corporation, about two weeks after the company won the government's approval to build a Shanghai Disneyland.
Titled Disney High School Musical: China, the new film has a storyline close to that of the HSM series' first installment, launched in 2006. With their friends' support, two new students overcome the odds to win a singing competition.
Disney, having co-produced two films with Chinese companies, knows the importance of localizing a story.
"In China, students in high school are so focused on academics that it wasn't realistic to portray them singing and dancing in the way that American high school students have time for," says Jason Reed, general manager of Walt Disney Studios International Production.
Also, the main love interest has become a poet, instead of the basketball star in the American films.
"Our partners think that in China you might be more attracted to the smart and thoughtful guy," Reed told China Daily via telephone interview. "He (the protagonist) is a thoughtful, intelligent and studious young man who is really defined by his skill and academics."
Music and choreography for the new film are the work of local talents, except for the hit melody, We're all in This Together, which is from the original film. It is now matched with Mandarin lyrics.
The classic values conveyed by the teen tale, allied to the story's emotional connection with Chinese audiences, have built up Disney's confidence in the new film.
"A lot of the themes in the HSM series, such as the sense of self-discovery, communal support, optimism and friendship are universal values that work in all countries," Reed says.
"Also, one of the fundamentals common to our two countries' strengths is people coming together to achieve greatness. That is a great affinity between the two cultures."
As an Emmy Award-winning film series with more than 500 million viewers globally, HSM is not new to Chinese youth. The stage show of its first installment kicked off in Shanghai this summer, before which two films of the trilogy had been aired on CCTV.
As for Disney's two previous co-productions in China, The Secret of the Magic Gourd (Baohulu De Mimi) was co-produced with China Film Group and Hong Kong Centro Digital Pictures. It was adapted from a folk tale and grossed $2.7 million at the Chinese box office in 2007 - a fair performance for a children's film.
The 2009 co-production Trail of the Panda (Xiongmao Huijia Lu), in co-operation with Chinese filmmakers Castle Hero Pictures and Ying Dong Media, was also favorably received.
The latest co-production may even feature at Shanghai's Disney park.
"My personal goal is to create a Chinese character, or a set of characters, that are so compelling and local audiences love so much that they end up in that park and parks all over the world," says Reed. "I tend to dream big."
The companies will work together on production, while Huayi Brothers will handle the film's distribution in China, and Disney outside the country.
The film is expected to be released in the summer of next year. It is being filmed in Shanghai and features six new young stars drawn from across China. Chen Shizheng, one of China's leading stage and film directors, directs it."
Text: copyright china.org.cn and chinadaily.com
Pictures: copyright Disney