At the end of 1990, Hani el Masri, WDI Imagineer worked on the creative development of a new project "Mickey Ville" which was supposed to be a new land for Tokyo Disneyland.
It was the first study for a "Toon Town", but much different than the one we know, as the architectural style was more "medieval". For a very good reason: this Mickey's Ville was supposed to be a tribute to Mickey's "medieval" cartoons, like "The Brave little tailor" or "Mickey and the Beanstalk".
Another team lead by Tony Baxter and imagineer Joe Lanzisero was working on another Toon Town concept, this time for Disneyland, Anaheim. And it seems that when the executives of Oriental Land Company heard about it, they decided to wait and see how this "other" Toon Town will look once it'll be built at Disneyland.
We know the end of the story: Toon Town opened at Anaheim, everybody loved its great "cartoon" style, and so did the Oriental Land executives who decided to build it at TDL.
This marked the end of the Mickey Ville project, but you can see the rare artwork for the Mickey Ville project here:
Disney and more: Mickey Ville , The Toon Town that never was
And other artwork that Hani did for blizzard Beach, Tokyo Disney sea and others here:
Disney and more: Discover Hani El Masri, wonderful Designer, Illustrator, and former WDI Imagineer
[IMG]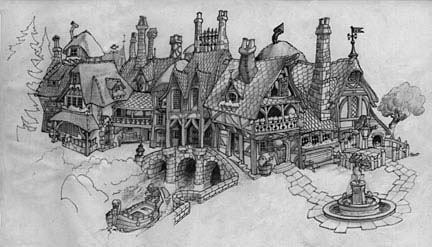 [/IMG]