Have any of you purchased the new book "Imagineering - A Behind the Dreams Look at Making More Magic Real?" I received my copy today and I heartily recommend it to any fan of imagineering. It is a sequel to a book of similar name released many years ago, and is also the most beautiful Disney book since Alain Littaye's one on Disneyland Paris some years ago.
There are tons of great artwork, including a substantial number of previously unreleased images. Among these are some great concepts for DisneySea.
For me the most interesting of these is a picture map showing an early proposed version of DisneySea, found in the upper right corner of page 52. One still enters through a Mediterranean / hotel area, which is called Portofino. In this version the American Harbour area is not the left, but to the right as we enter, and is called "Big City Waterfront". There is a different Fortress Explorations, shaped like a fanciful lighthouse. I have seen larger artwork of this "lighthouse" version in the original precursor book. Mermaid Lagoon is located where Port Discovery and the empty expansion area next to Lost River Delta is currently located. Lost River Delta and Mysterious Island (called "Vulcania") are pretty much the same as they are today. But most interesting in this most interesting map, is Glacier Bay. This is an icy port located where Arabian Coast and Mermaid Lagoon eventually came to be. It must have been a smaller version of this land that Imagineers tried to get approved for HKDL, but instead got Toy Story Playland instead. Finally in the TDS concept picture map, there is a land / building called Pacifica Discovery Center inbetween Big City and Glacier Bay areas. You can see the map in the upper right corner of the first page of the pic below, which is from Alain Littaye's Disneyandmore blog: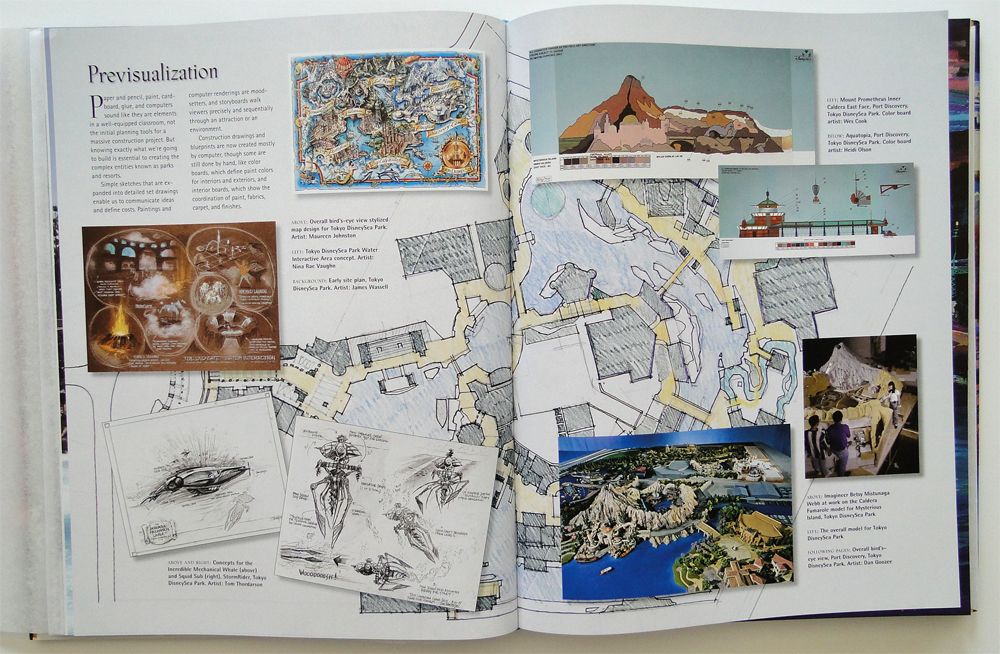 On p. 26 there is a view of how (what I call) the "lighthouse" version Fortress Explorations would look like from atop the Tower of Terror. From below the Tower of Terror, is a suspension bridge linking the "American" area to Vulcania...I think this is modeled on the Brooklyn Bridge.
On p 49 there is concept artwork of an unbuilt carnival land for DisneySea. The rides seem similar to Paradise Pier but on a somewhat smaller scale, and the whole area is nautically themed and quite well done.
On pp54 - 55 there is a great two page artwork spread showing Port Discovery, somewhat similar to they way it was eventually built, but a terrific building for Storm Rider in the shape of a giant vehicle (and switching locations with the Aquatopia building). Here is the pic from Alain Littaye's Disneyandmore blog: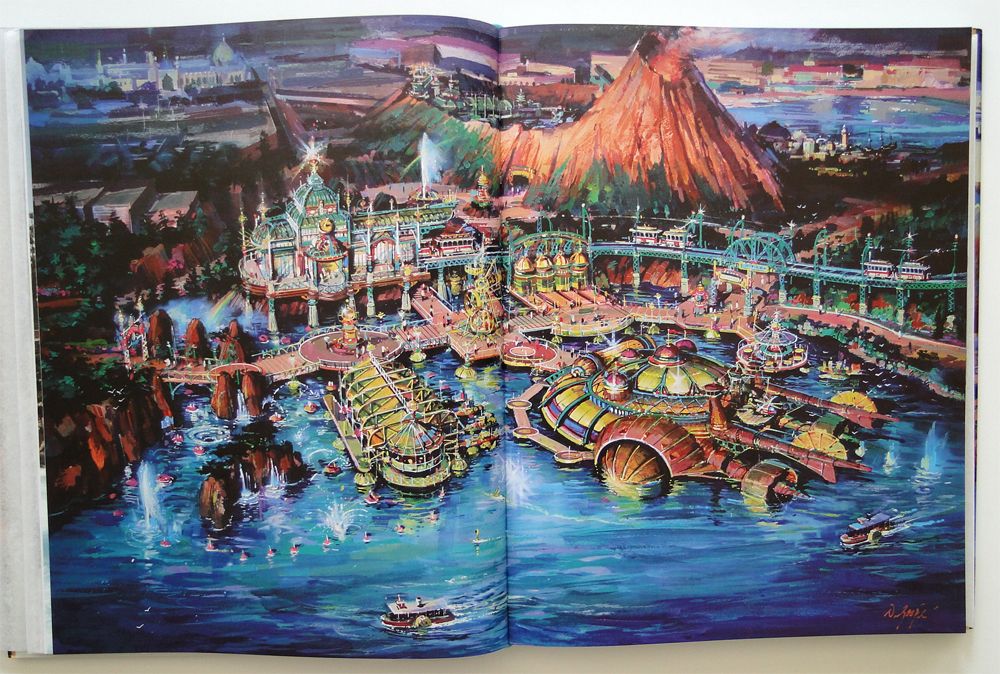 There are tons of other great artwork and pics, including many more on TDR and also an early layout for HKDL with the castle in a different location, a Pirates ride, and even a Villains section for Fantasyland. Again I highly recommend the book. The original book was great too but I think this new one is even more geared towards Disneyphiles than its Eisner era predecessor.