So around three years ago I first visisted Japan as an exchange student.
During my stay, I was able to visit Tokyo Disneyland for a day or well at least for a few hours...Nevertheless within those few hours I fell in love with the park & was sad that my time there was so short.
Since I visited with other students who really didn't have interest in Disney as much as I did, they only wanted to go on rides...and sadly enough not even the rides that were unique to Tokyo Disney.
Thus I did not get to experience attractions such as Pooh's Hunny Hunt nor the Mickey Mouse Revue, and at that time the Cinderella Castle Mystery Tour which closed sometime after...so I kind of regret that.... a lot, hahaha.
Another thing I regretted was not watching the parade...Dreams on Parade, I'm not sure if it was the Moving On version, but I believe it was the still the original 20th Anniversary version since there was a show stop with a lot of bubbles...sadly I saw this while I was in line for Big THunder Mountain at the time...so I was a dumb little boy back then....
So after watching youtube video upon youtube video, I fell in love with Dreams on Parade: Moving On! and after that I knew I had to go back someday...so eventually I heard the rumors of a new parade for the 25th anniversary and the end of Moving On! at the time I was sad because I never got to fully experience such a wonderful parade....
but after much saving and work at the Disney Store, I raised enough funds to send me to my true loves of Japan and Tokyo Disney, just in time to catch the final performance of Dreams on Parade: Moving On! on April 7, 2008.
Sorry for the long introduction......so here I go....
After a 14 hours flight from Los Angeles, I arrive at Narita Airport and after all the time it took me to get through customs and get a few bucks changed to yen for food, I had missed the final bus that could take me directly to my hotel...the Sheraton Grande Tokyo Bay...
So I ended up waiting and buying a ticket for a different bus that apparently would stop near my hotel...
To make a long story short...I end up getting lost with my suit case, until the driver of one of the Tokyo Disney Partner Hotel buses and on of the bell hops at one of the random hotels I ended up finding myself at helped me.
The driver took me directly to tokyo Disney Sea and the monorail station, he was so helpful and it was nice because I had the entire bus to myself and my oversized suitcase...
It was around 9 pm already and I was extremely jet lagggggged...and I was confused of my surroundings the resort seemed so different than my last visit and plus it was dark and then I'm dumb too...so it all kind of added up.
I took the monorail and got off at the Bay Side Station, which was only a 1.5 minute walk to my hotel. I could see the very brief firework show from there and afterwards I just decided to ride the free resort cruiser that each offical hotel has that provides rides to it's guests....
I met with a good friend by surprise and after that headed to my room and fell asleep....for some reason I woke up at 4 am and couldn't go back to sleep and luckily the Disney ticket counter inside the hotel opened at 6am...
So I bought my ticket with no wait what at all and headed to Tokyo Disneyland...
At the resort gateway station I was happy to already see decorations up for the 25th anniversary...
I love the art work...some nice little eye candy...and made me even more excited for the week to come...
Afterwards I had breakfast and explored Bon Voyage for awhile before finally heading to the park entrance I figured since it was a Monday there wouldn't be much of a crowd and there was still close to an hour and a half before the park would open...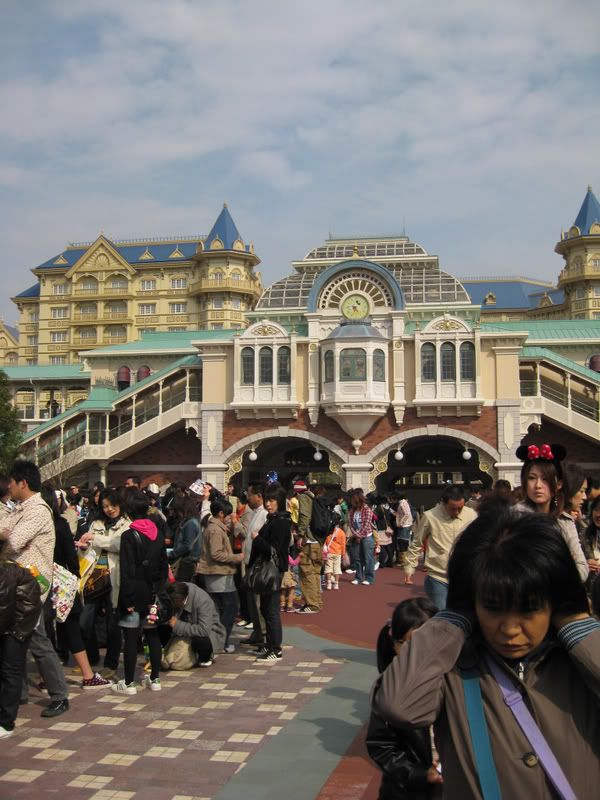 Of course I was very wrong and well this is pretty self-explanatory...
hahahaha...
Anyways I have a midterm in like 15 minutes...I'll add more after school and I still haven't even gotten to the 15th and 16th...I type to much, sorry...
Have a nice day everyone.