We held our very first Walt Disney World Gumball Rally on Saturday the 18th and it was smashing success!
The event was a challenge to see if any of the competing teams would be able to complete a set of assigned attractions in each of Disney World's four parks. In the end, we had two teams complete all of the attractions assigned in all four parks. The winner was the team which crossed the finish line first.
The race, designed by Disney author Kevin Yee, was 10 hours long.
Kevin Yee (writer of the race), Dustysage (event planner), SummerinFL (event planner and tester), and Fishbulb (event designer), were there at EPCOT bright and early to welcome the contestants for their morning registration.
Door greeter Fishbulb
Dustysage read the rules aloud as the others followed along. Each team had a different strategy but all had to deal with varied operating hours, closures, ride breakdowns, and parades to visit a set of specific attractions in each of the four WDW parks.
The figurative starting gun was fired and off the contestants were off to see the Disney World in a whole new way.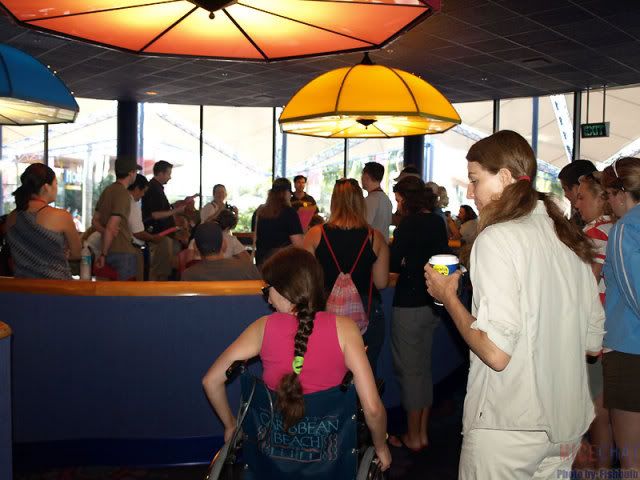 Throughout the day groups scrambled around the WDW resort completing their assigned questions.
The finish line was the Tomorrowland Noodle station and teams were instructed to turn in their pacets (finished or not) no later than 8pm.
Teams streamed in, some getting there just 30 seconds before deadline.
While the spectromagic parade went by, Kevin yee tallied the scores and when the time was right the winners were announced.
3rd place went to...
Team Kungaloosh - Laura Fulton and Andrew Lorant
2nd place went to ...
Dunder Mifflins - Melissa Howard and Christine Ochoa
1st place for the WDW 08' Gumball Rally went to . . .
THE DISNEY DIVAS!!!!! - Teresa Cory and Lisa Schneider
Everyone cheered as each new team crossed the finish line and cheered again as the winning teams were announced. We've never seen better sports. And even after running around Disney World for 10 hours, everyone reported having a wonderful time.
And even if the teams didn't take 1st, 2nd, or 3rd place, everyone came out a winner, as Kevin Yee generously gave out copies of his books to all of the players.
First Place winners The Disney Divas summed up the event when they exclaimed how much fun they had - noting, "It was so much more fun than other events we have attended where you weren't certain you had the right answer when handing your packet in. These questions were all about making sure you rode the ride. We got to see the parks in a whole new way."
Of the teams that did not place, we asked if they would play in the event again. Their responses were all an emphatic "YES!!!" When asked why they gave a variety of wonderful reasons: It is a fun way to see the parks, to use strategy to plan your day, and to play with fellow MC'ers. You don't even have to know the disney parks well to play and win this game, it's about being a smart park guest and having fun.
CONGRATULATIONS TO ALL WHO PLAYED and a hearty THANK YOU for joining the fun at WDW and for your support Mice Chat.
We'd love to hear your stories and see your pictures below.
Cheers!
-Dusty and the MiceChat Crew