One of my favorite pastimes is to browse the net for old photos of Disney parks, particularly WDW, and to reminisce on how things were and the effect of changes through the years. Here's one for starters, from an old postcard scanned by Brian Martsolf: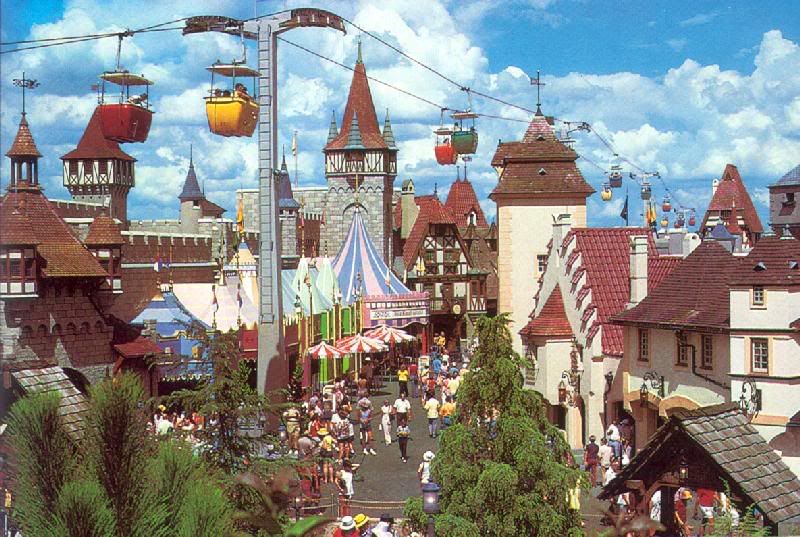 Nowadays, the MK's Fantasyland gets a lot of criticism. However, as the pic above reminds us, this Fantasyland was the first to significantly feature the "medieval village" motif, particularly in the western half of the land. This provided a template for Disneyland's Fantasyland makeover of 1983, and even today there is more architectural detail than even at TDL or HKDL. Although the "renaissance fair" motif also remained, I love the way it was integrated with "village" architecture in this half of the land. Also, while almost everyone prefers the "classic" facade of Small World, I feel that MK version's facade does work, particularly from the vantage point below. However, the same view today has a different feeling today - and not in a good way. But since the architecture remains largely the same, to what can we attribute this change? I think color scheme has a lot to do with the difference. Back in the old days the "village" sported the colors of a real European village. Today, there is what I think of as a "Barbie" color scheme - dominated by shades of pink, blue, purple, etc. in place of the creams, greys, browns of yesteryear. While the intention may have been to create a more "fairytale" atmosphere, I think the end result is somewhat toxic or sickly in appearance. Also, the bright colors of the "tents" constituting the facade have been replaced with a duller palette. In particular I miss the splashes of green which nicely complimented the golds of the finials. The pathways of Fantasyland are somewhat barren today - back in those days they punctuated by a variety of small carts, pavilions, planters, and other elements - like the umbrellas providing shade and visual interest inbetween Small World and the buildings on the opposite side of the street. The vantage point from which the picture was taken...the old Skyway chalet...today stands an empty shell. People who are unfamiliar with it, tend to approach it thinking that it is some attraction...only to find that it is glorified stroller parking. And finally the Skyway itself...though theamtically somewhat tenuous...did add both kinesis and more color that are also gone today.
I'd love to hear other people's thoughts. I will try to find other photos I like and post them here periodically. And if there are photos anyone else likes that they wouldn't mind sharing, please post them here.