I finally got to see the special preview of HalloWishes: Grim, Grinning Ghosts a Ghoulish Production tonight. It was not 100% complete as the perimeter fireworks were missing but it was still an amazing show.
I'm not the best photographer but I attempted to get the best pictures I could while still watching the show not through my camera. This show will be a part of the Mickey's Not So Scary Halloween Party that I am going to go to.. but I still wanted to experience the fireworks show as much as I could.
The show starts off with a jazzed up version of the Haunted Mansion music and different voice than the attraction to narrate. Personally I didn't mind because the voice is still a strong match in my opinion.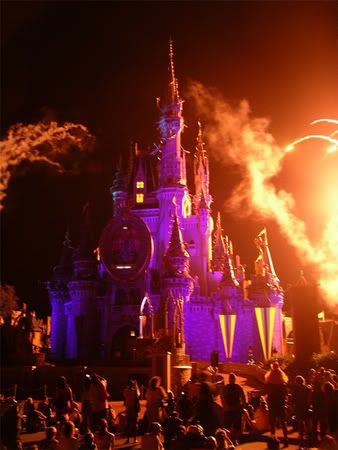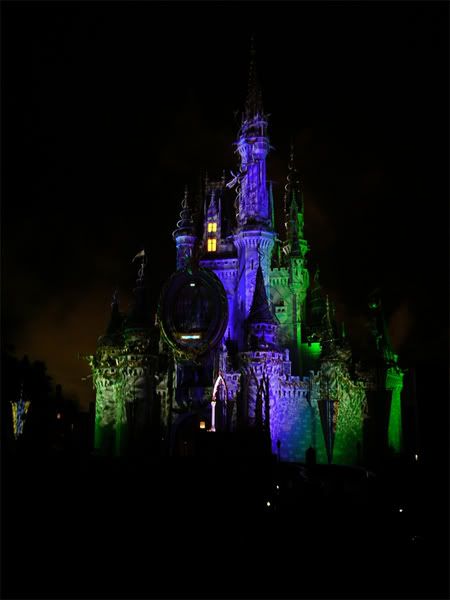 The projections of ghost-like objects floating up over the castle with this lighting... but I was not able to get a clear picture. (There were also pumpkin projections on the castle during this part.) It was quite a strong start with this music.
The narration then mention the Halloween "holiday" where it goes in to the Nightmare sequence. I'm not even a fan of the Nightmare film really and I still enjoyed this segment so I can only imagine the fanatics out there.
After this it goes into a segment where I want to say more of the children's villains come out. It starts with Ursula (with spinning sparklers coming out from the castle) and her narration into the "Poor Unfortunate Souls" song. From there the music goes to "Cruela Deville", "Never Smile At A Crocodile" (which totally surprised me because I was not expecting that of all choices), something else I forget and a fairly large Big Bad Wolf segment with Wolf projections on the castle. It was a great ending to this part and I was enjoying it so much my camera got a small break.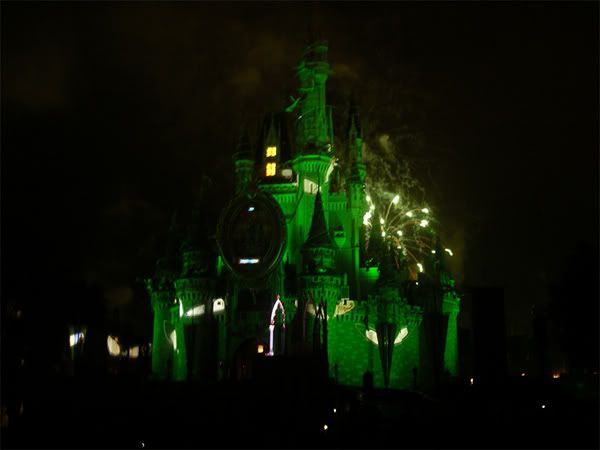 Then it was a very cheerful Oogie Boogie song segment with narration that again was enjoyable for me.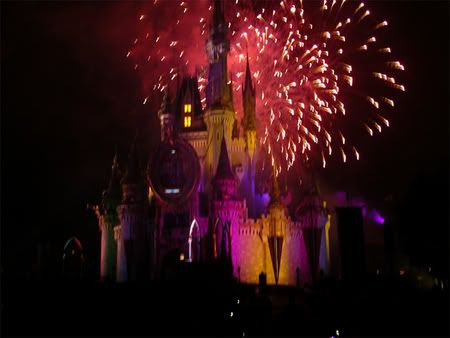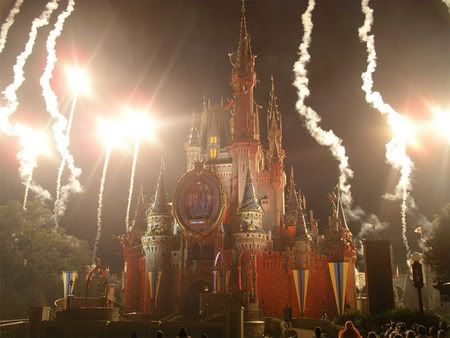 Jafar and the Queen both have little segments with their own projections on the side of the castle and small narration pieces.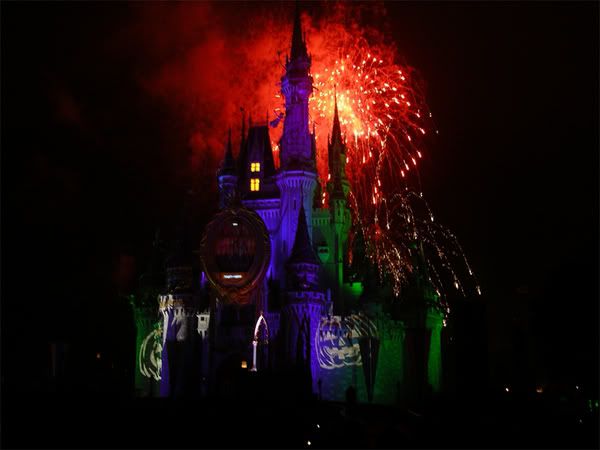 More pumpkin projections for the ending segment. The Haunted Mansion remixed music plays again with an awesome ending.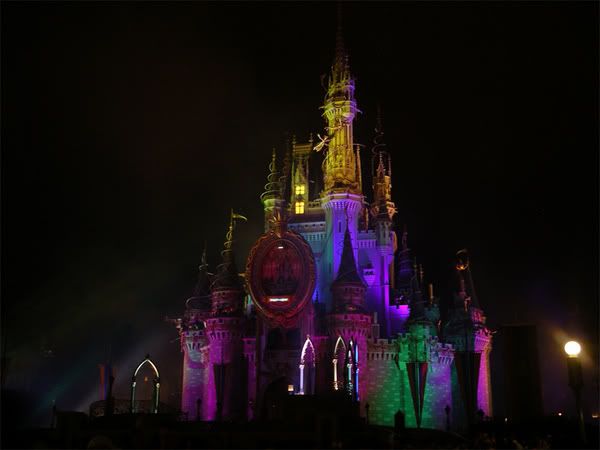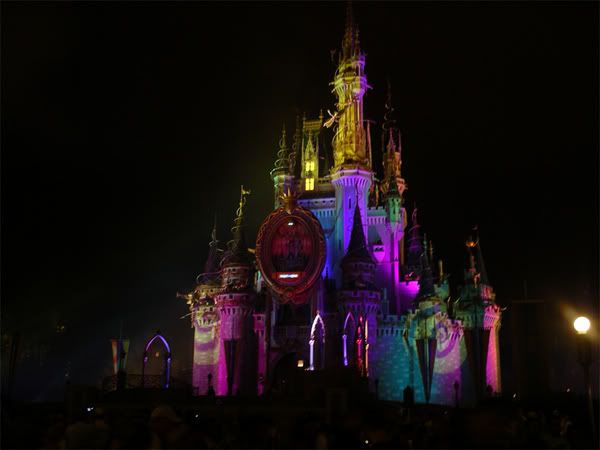 This show met and exceeded my expectations. I guess you could say it is like Wishes with the character lines linked the music the fireworks but the storyline isn't exactly the same. The only storyline is that of the Halloween holiday that some of the villains to touch on in certain points. If anything is weak in the show it could be that; however, I am being very picky on this one.
The guests next to me seemed to enjoy it as they commented afterwards that they did not know it would be that show, but they still really did enjoy it. From what I could tell no children around me got scared during the show and the guests kept clapping inbetween segments and larger fireworks.
I can't wait to see this show again. I was so surprised by each twist it took it really kept my attention and made me want to come back. I think this is exactly what Disney needs for their Halloween party-- something to grab guests to make them want to come back, besides the rest of there experiences during the event.
One other important thing to note is that around 7:15 this evening the wind picked up, leaves were blowing everywhere, and a thick grey cloud cover came in. Around 7:40 we noticed some lightening around the Tomorrowland are and what appeared as far back into Fantasyland. So until the show started six minutes late there was lightening coming up from being the castle. This almost added to the effects of the slightly spooky Halloween show's preview.
Hopefully I will get more photos, details and video when I watch it again tomorrow/today and during the Halloween party I'm going to.