Am I allowed to post a trip report seven months late
? Well, I'm going to…
I should have, I meant to, or I was going to (take your pick), post a trip report back in Ocotber or November 2008.
I misplaced a memory card during my trip, with many of my photos on it, which perhaps diminished my enthusiasm for posting a trip report. Yes, they were mostly duplicates of photos I took in 2006, but that's the best excuse I could come up with.
Speaking of photos, a couple of group shots were "borrowed" from other trip reports. I hope that's okay, and I apologize for any lack of credit to the original posters. The graphics are by Fishbulb I believe.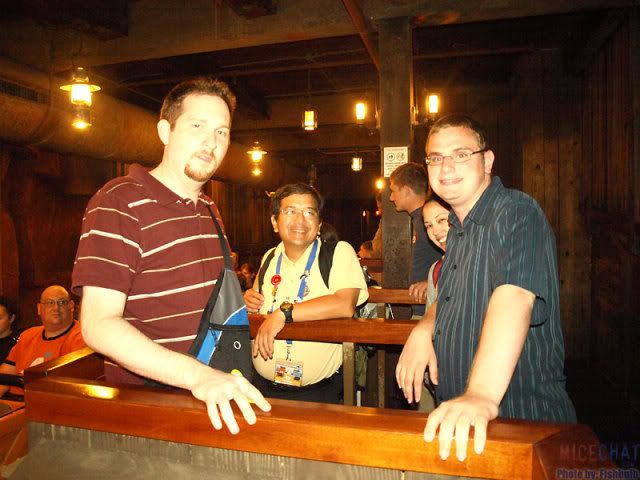 That's me on the left
Anyway, even though I'm ridiculously late, I wanted to post a trip report anyway, for the following reasons:
-I met some super nice and thoughtful people
-People put a lot of time and effort into the events, and they deserve acknowledgement
-It's nice to reflect upon, and remember the trip
Some background on me: In early 2007, my boyfriend/partner of just over six years passed away unexpectedly. I was devastated, alone, and upset for quite a while.
One of the things I did that year was go to Disneyland (Oct 2007), since that is my favourite place in the world. I needed that sort of pick-me-up. On that trip I met and hung out with various MiceChatters on two consecutive Sundays. It was really nice, travelling alone, to be able to meet some people who were immediately friendly and welcoming. It added a nice touch of human contact to an otherwise solo trip.
I mention this personal detail not out of any attempt to garner sympathy, but to point out one of the values of belonging to a group such as MiceChat. An event such as the MiceChat WDW Invasion gave me the opportunity to take a Disney vacation without worrying about being alone the whole time.
I had planned to go back to Disneyland in October 2008 for the Gay Days weekend, but when the third WDW MiceChat Invasion was announced, I decided that was the superior option. A Gumball rally, Sip 'n' Nibble, and several meets - who could resist?
I stayed at the Coronada Springs. Loved it. My previous WDW visit (October 2006) was at Pop Century, and what a difference.
It was nicer in general - I particularly liked the hammocks that were readily available along the water. The pool was nicer, the food choices were better, and the overall grounds were nicer.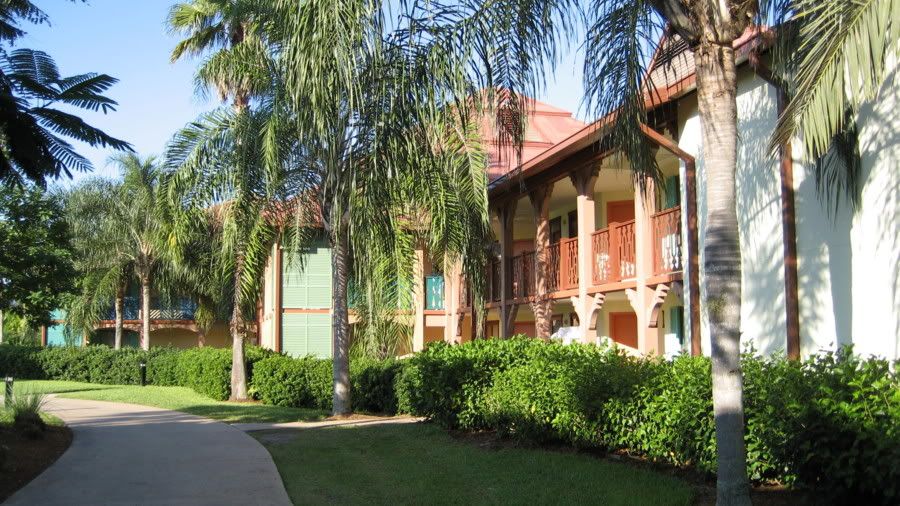 Coronada Springs
One standout was the busses. At Pop, you wait with a ton of other people in chain-link queues, for a crowded bus (and quite often, had to wait for a second bus before getting on). At Coronada, there were usually just a few people at each bus stop, and the busses were almost always sparsely populated - no standing.
I won't go into much detail about WDW in general, as I want to focus on the MiceChat aspect of the trip.
I will say that I was lucky enough to win the Dream Fastpasses at Animal Kingdom (a sign that this trip report is late, I'm talking about a prize I won and not what I was "celebrating").
I will also comment on some of the new (or "enhanced") attractions I experienced:
-Toy Story Midway Mania is excellent.
-WDW's spruced up and plussed-up Haunted Mansion is excellent.
-Monsters Inc. was fun.
-Finding Nemo is pretty good, but the Anaheim version is superior.
-Spaceship Earth's changes were fine, and freshened up a classic ride somewhat.
-The addition of characters to the Mexico ride were fine, but could they not have come up with a better way to make this ride more appealing without using the crutch of adding cartoon characters?
Nov 17th - Meet at Animal Kingdom
The first person I recognized from MiceChat was MickeyMaxx, who was super-friendly and made me feel welcome right away.
One of the best things about MiceChatters is, you're treated like an old friend from the first moment you meet someone.
Lunch at the Tusker House was good, and it was great to meet some new and old friends.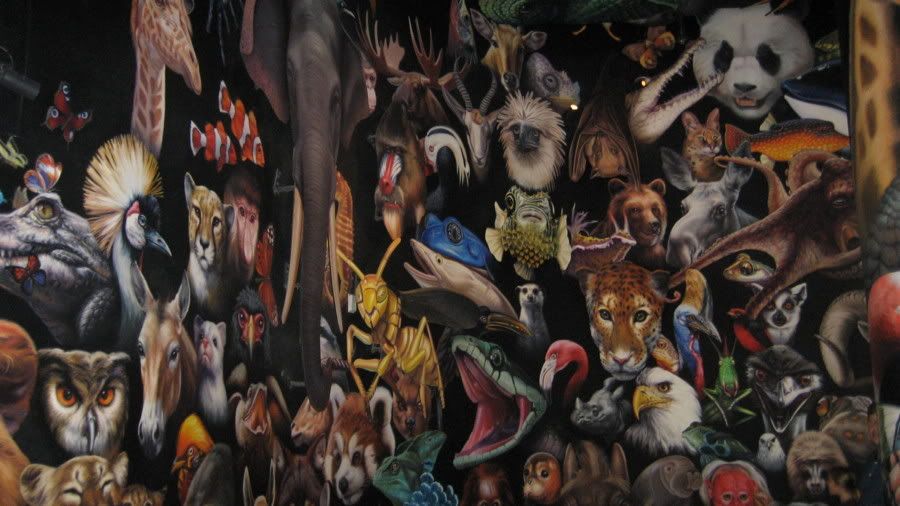 I think the only three people I had previously met in Anaheim were Dusty, Fishbulb, and Monorail Man. It was great to see them again, particularly Monorail Man who I had the pleasure of spending an entire day with in Anaheim a year ago, as part of a small group of six of us or so.
At the end of the evening, I was welcomed along to Dinner at the Animal Kingdom Lodge and was driven back to my hotel. Treated like an old friend, when the only thing you have in common is a love for Disney and you took five seconds to register on an internet discussion board. Love it.
Nov 18th - Gumball Rally

Denise "nbodyhome" Preskitt was gracious enough to be my team mate for this event.
Her insight into which transportation methods to use helped us tie for third in the event (we ended up finishing fourth after a dismal showing in the trivia tie-breaker).
The first WDW Gumball Rally was an extremely well-done event.
First off, kudos to Fishbulb for the excellent art design of the answer booklets. The lanyards and buttons were spiffy as well.
Kudos to Kevin Yee who wrote most (all?) of the questions and helped plan the event. More kudos to Kevin Yee for providing copies of some of his books at the end of the event. I now have two Kevin Yee books, both of which were free at MiceChat meets. Uh, sorry Kevin, maybe I'll actually buy one of your books one day
Unlike Anaheim's "try and do everything" Gumball Rally, the inaugural WDW version specified four attractions at each of the four theme parks.
This worked well, in that it made the event such that participants would actually need to visit all four WDW theme parks in a single day, to do well in the competition.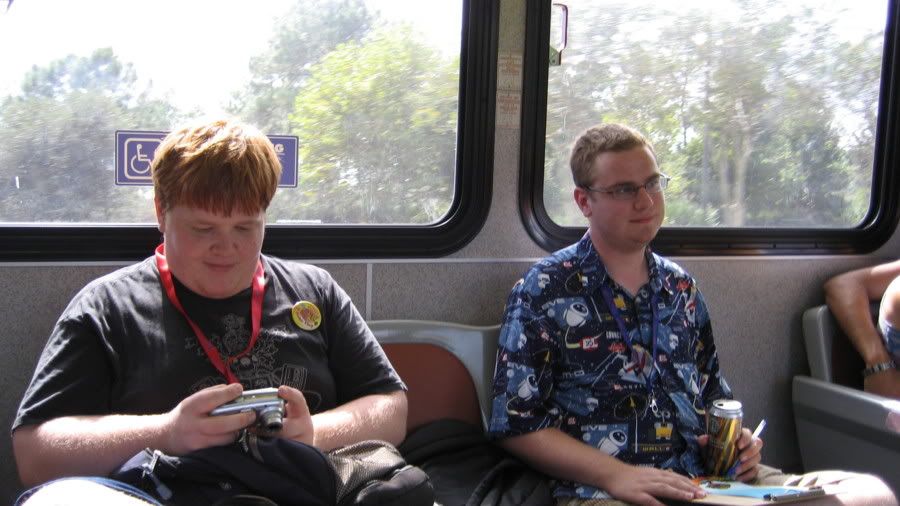 For some reason, DarthDucky and Monorail Man were not disqualified from the rally for drinking a beverage on the Disney Transportation System...
Allowing single-rider and choosing high capacity attractions made the event enjoyable. We weren't subjected to any long line-ups, which would have made the day less fun.
The key to doing well, IMO, was in the transportation choices. Our team started at Epcot, walked to the Studios, bussed directly to Animal Kingdom, then took the first bus we saw going near the Magic Kingdom (the Contemporary as it turns out, which was within a short walk of the MK).
Because the rally started at Epcot and ended at the Magic Kingdom, those locations were the obvious start and end points. The only decision in terms of which order to visit the parks was whether to hit Animal Kingdom or the Studios first.
Also, because the attractions were all high capacity, sparsely attended, or had single rider, Fastpass did not factor in the competition.
To make the event a little more challenging, I would consider making it five attractions per park, and throw in a few of the more popular attractions. Adding Splash Mountain for example, would force teams to consider heading to the Magic Kingdom earlier to secure fast passes. The downside might be teams standing in that attractions less-than-appealing stand-by line, detracting from the fun of the event.
Overall, this was an extremely well-designed and fun competition. A few tweaks might make it better, but that's just an inevitability, not a criticism.
Nov 19th - Sip 'n' Nibble

Fantastic idea, fantastic time.
Rixter provided checklist lanyards with pens, shot glasses for drink sharing, and magnets. There was no fee for these items, so many thanks to him for his generosity and effort in arranging these.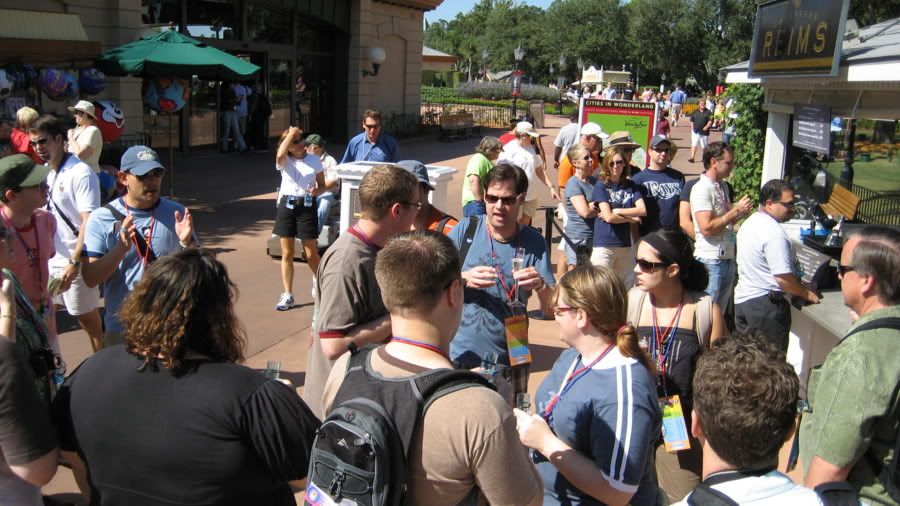 This was a simple concept that worked well. Everyone took turns purchasing food and drink, and shared what they bought. This allowed us to sample every single drink and every single food item without breaking the bank, or our belts.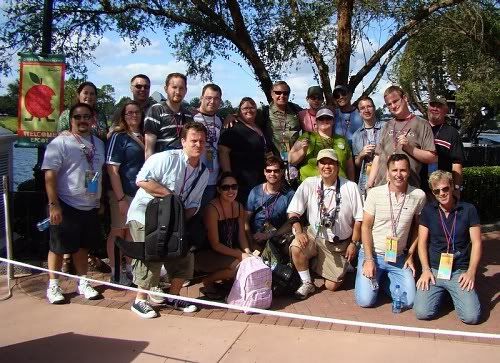 I enjoyed the Epcot food & wine festival two years earlier. This was a great chance to re-try some old favourites and try all the items I couldn't possibly have gotten to travelling as a pair.
Desert Party and Illuminations Viewing
Great food, great company, and an uncrowned unobstructed view of Illuminations. Not much else to say, but this was excellent.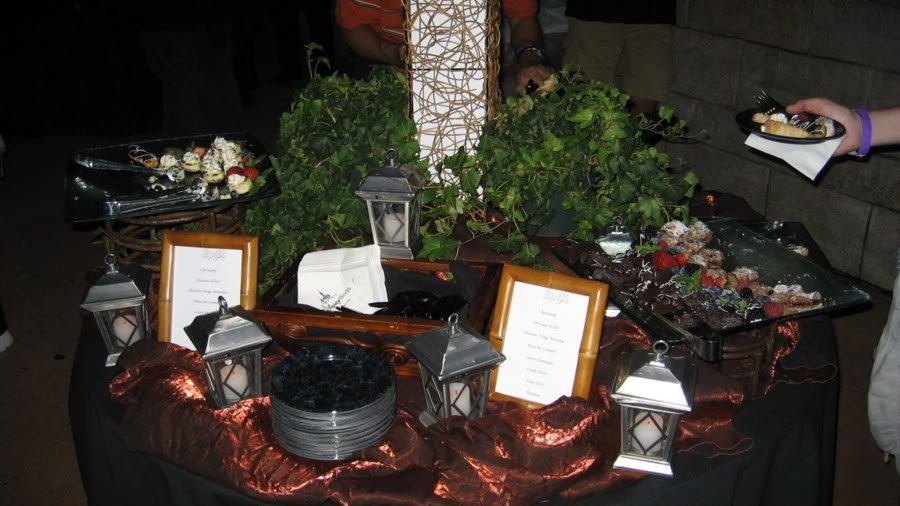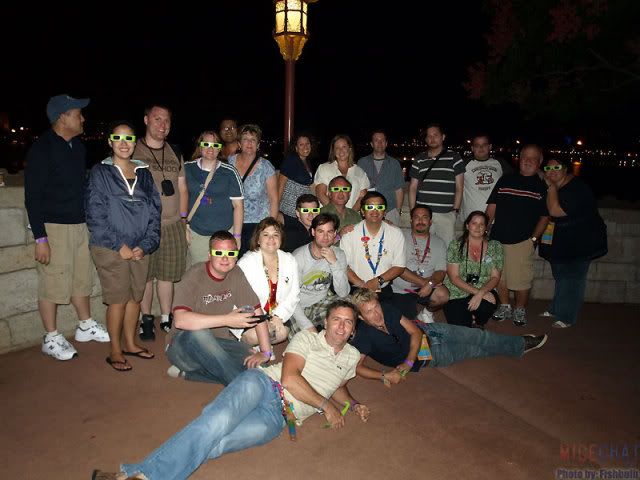 Nov 20th - Magic Kingdom evening extra magic hours meet
Preceded by dinner at the Wilderness Lodge, which I quite enjoyed. Hadn't seen that hotel before, and it was gorgeous.
One nice thing about MiceChatters is the laid-back attitude to touring the parks. We didn't rush around trying to do the most popular rides, choosing instead to savour the beloved People Mover (aka the Tomorrowland Transit Authority) and check out a deserted Swiss Family Treehouse.
Another fun evening.
Nov 21st - Hollywood Studios
The final meet, the final chance to see everyone again, and a delightful end to a wonderful vacation.
I don't recall the names of everyone I met, but I enjoyed meeting everyone, and I thank everyone who put so much time and effort into planning.
Dustysage, Monorail Man, and others have created an amazing online community, and their (any everyone else's) efforts in planning this trip are gratefully appreciated and acknowledged.
I'm sure there are others who I have forgotten to mention in this report and/or not given adequate credit to, but I appreciate their contributions all the same. 
And a few more photos to top it all off: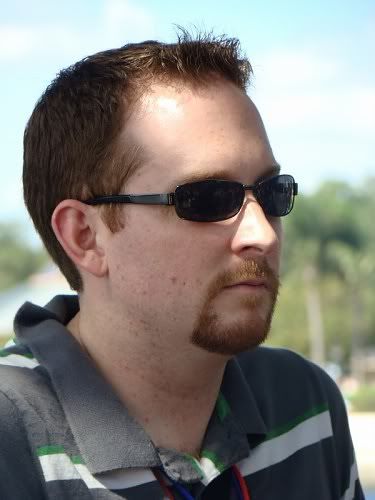 A photo someone else took of me at Epcot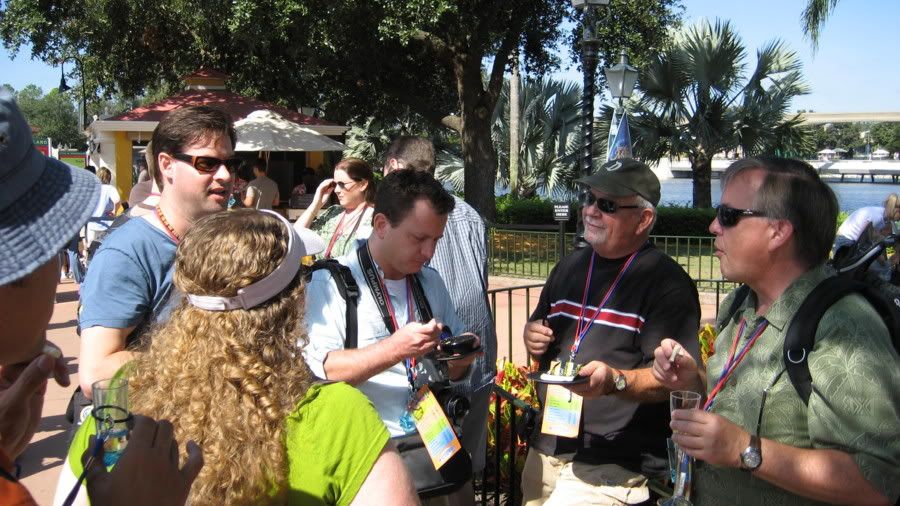 Sip 'n' Nibble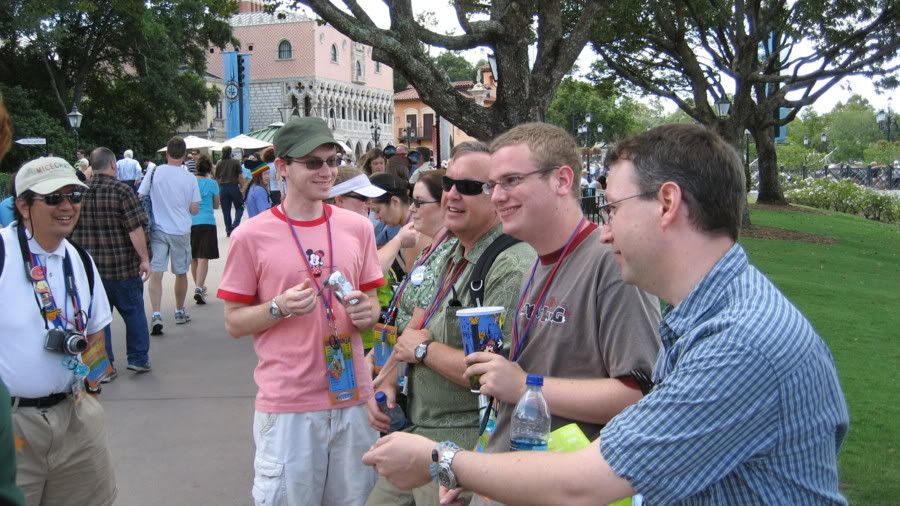 Sip 'n' Nibble
About four or so of us were lined up shamelessly ogling and photographing the boys at the France booth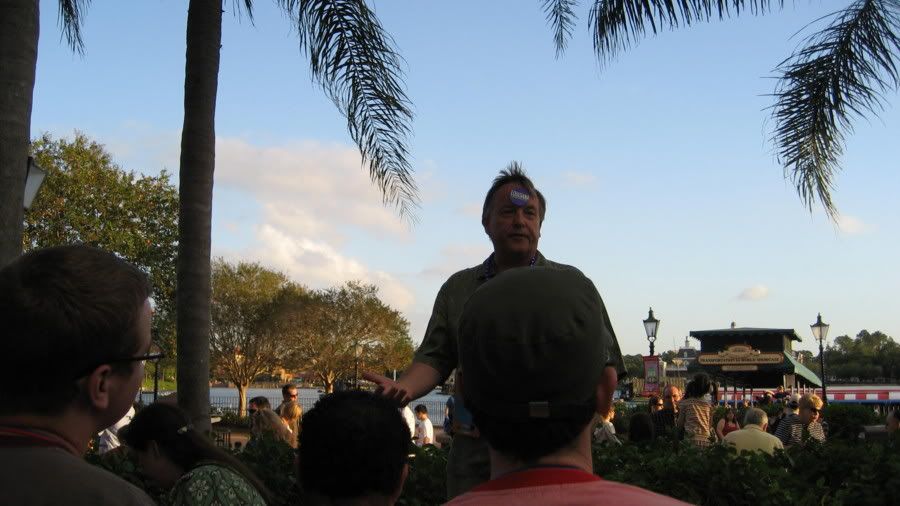 Rixter addresses his followers at the end of Sip 'n' Nibble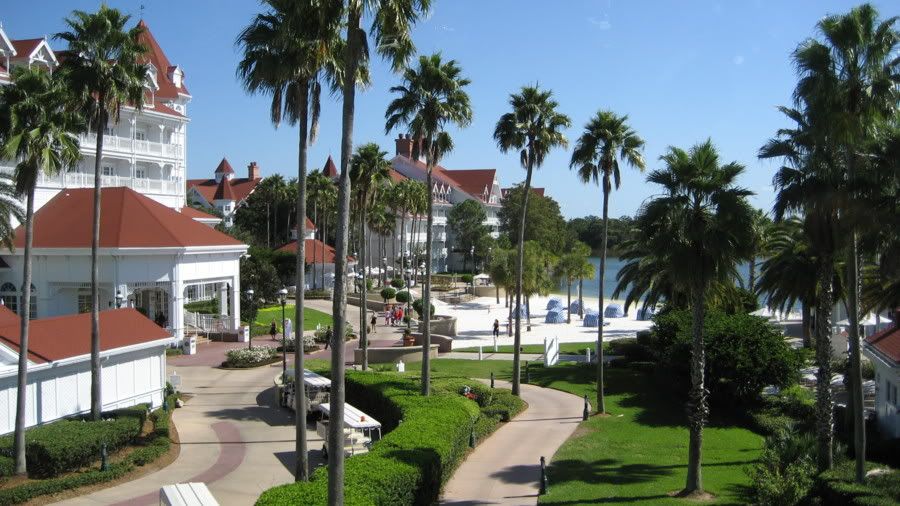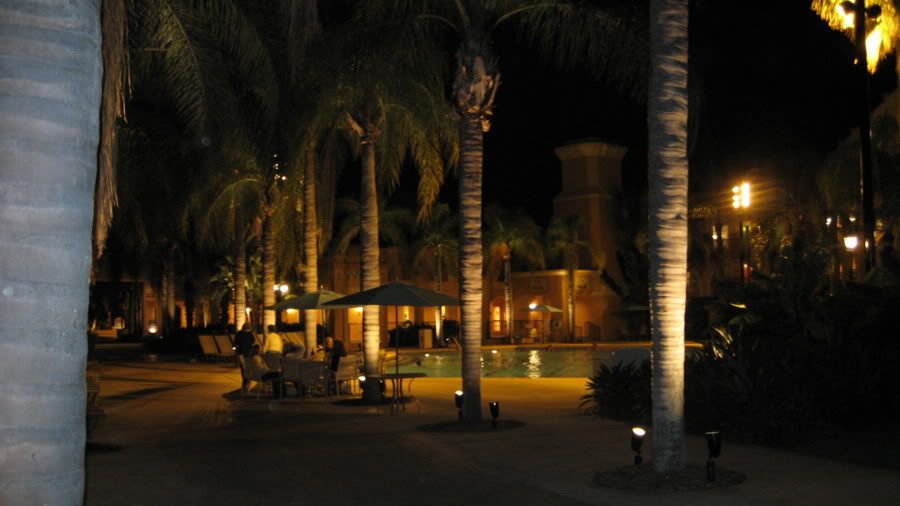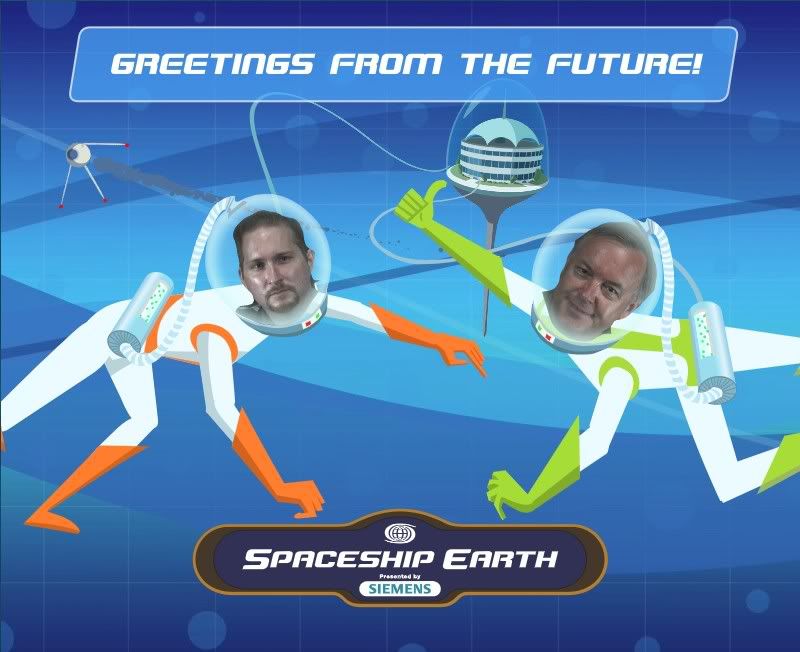 Me & Rixter on Spaceship Earth