hi everyone! I know...I've been WAY late putting up this trip report. We've been home for just over three weeks. But! I promise to include lots of pics and fun stories!

For those who don't know, my husband was deployed for six months, starting in Jan and ending in July. We decided that since WDW was offering such great deals for military, we couldn't pass up the chance to go Celebrate his return AND our ten year wedding anniversary. So, thanks to Jerren...our wonderful travel agent...we planned a great 10 night stay at WDW!

We left our house in Oklahoma on Aug. 29 and drove to my parent's house in Louisiana. We arrived there 12 hours later, and spent the night. The next day, we continued our trip to Orlando. We arrived, about 11 hours later at the All Stars Music Resort.

The lady at the front desk was SUPER nice, and gave us anniversary pins and gave me a red rose. She also gave our daughter a balloon puppy and a "I'm Celebrating" pin. She was thrilled over that, and immediately named the puppy..."blueberry". LOL

We headed to our room, after making sure a special surprise was waiting for our daughter...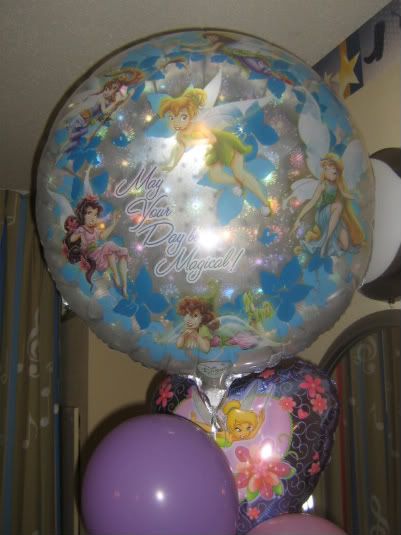 She loved the balloons, but, was more excited to get to the pool.



bed was the next stop after that, since we had a big day at SeaWorld ahead of us.

Monday..Aug. 31...

We hadn't been to SeaWorld in about 4 years, so we were happy to have a day to spend there. Our daughter was too young last time to enjoy the shows, but, this time, she was really into it.

First stop? Her absolute favorite...penguins.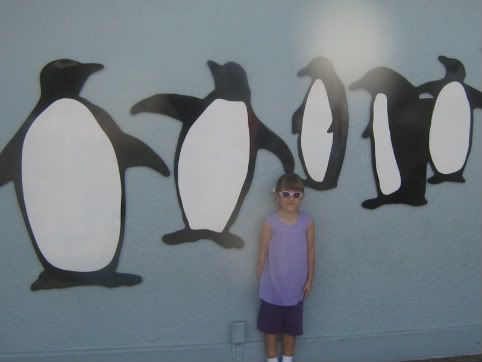 She LOVED all the penguins. We stayed in there quite a while...and ended up going back later that afternoon while Dad rode the rollercoasters.

We HAD to go check out the Clydesdales. She loves horses, and I figured she'd get a kick out of seeing these giants. A trainer happened to be out washing one...she thought it was fascinating.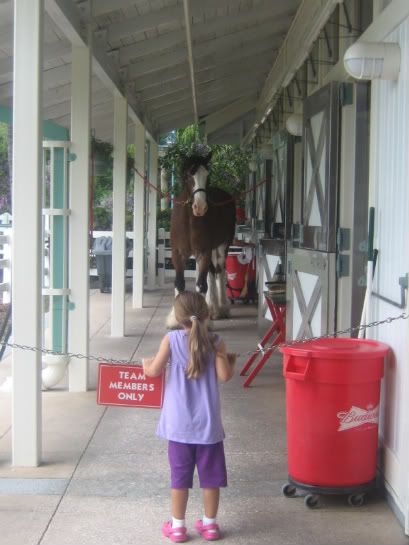 They have a new thing...where you can have your picture taken with one. Now, we had no intention of actually buying the picture. Our daughter just wanted to touch the horse. And, they invite you to pet them as long as you get your picture taken too. After petting Kelly, who was one of the smaller horses at 14 hands tall...we wandered into the stall to check out the picture. I heard the guy at the register say "we'll take another one since the horse was sticking his tongue out" but, I thought he was talking to the women behind me. Then, I saw this...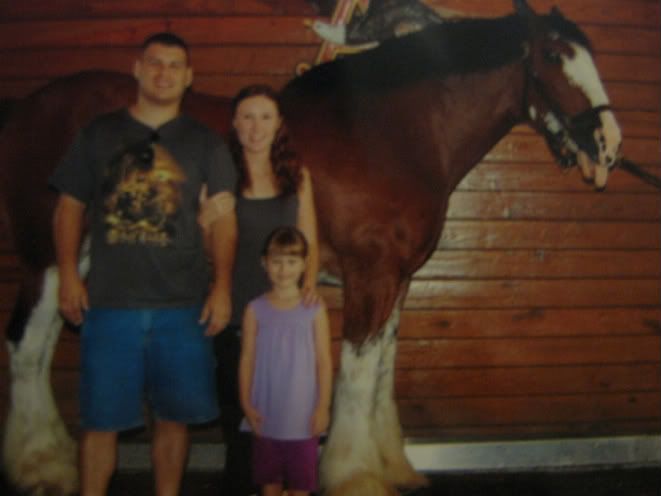 Please, excuse the crappy picture...its a picture of a picture (I don't have a scanner, no, I'm not a caveman). But, you get the general idea. Of course...now we HAD to buy the picture. Cause, how many people get a picture with a Clydesdale sticking his tongue out?

Of course, we saw the Shamu show and Clyde and Seamore. Those pictures...unfortunately are on the other camera and I don't know how to get them on the computer. So, those might be added later. Have to wait on hubby to do that.

Somehow, my family managed to talk me into the skytower. Which is a miracle in and of itself. Considering, I am terrified of heights. I enjoyed it once I was up there, though.

We had to stop and see the manatees since they are one of my most favoritest animals.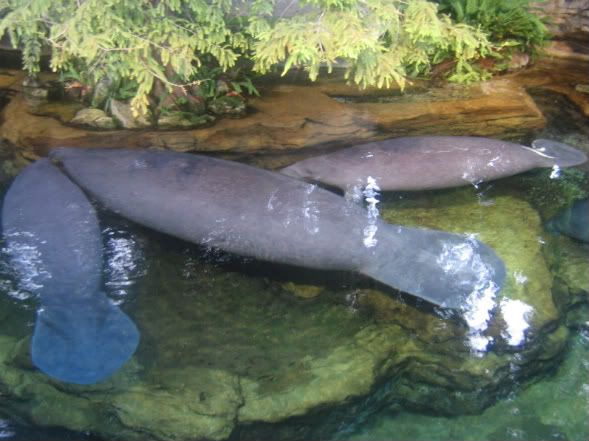 After visiting my little, um...big friends...we headed for the gate while the song "Barbara Manatee" ran through our simple minds. The second we hit the gate, it started pouring rain. We opted to not come back for the nightly show and instead grab a bite to eat. Then, off to bed early...Typhoon Lagoon was our stop for the next day!

Tuesday, Sept. 1.....
We checked out of All Stars Music and loaded the stuff in the car..off to Typhoon Lagoon!

Sorry, no pictures of the waterpark. Didn't want to take the chance of ruining a perfectly good camera.

This was our first visit to a Disney waterpark, and boy did we have a great time! No other water park I've been to measures up to this one. Disney has a great way of doing things. Makes me wanna send postcards to the water park here in town telling them to take a trip to Typhoon Lagoon and see how things are REALLY done!

The wave pool was great..although, our daughter didn't care for it at all. Every time the buzzer would sound, she'd take off running for shore..screaming like a banshee.

We stayed until closing, then left right as it started to pour again. We checked into All Stars Movies resort, grabbed a bite at the restaurant and went to bed early. Next day...Magic Kingdom...and our anniversary!