Background
My wife and I (both mid 30s) are visiting WDW for our 4th time (the first two times we were accompanied by others, but this trip will be the sequel to our 2007 honeymoon jaunt.)
We travelled at approximately the same time of year in '07 and found it to be the perfect combination of pleasant weather, low crowds and special events.
This will be our first stay at Pop Century, having stayed at ASM, Sheraton Vistana and POFQ before. We are flying direct to MCO with British Airways from Gatwick (having always flown with Virgin in the past) and have a rental car booked.
I always enjoy planning WDW trips (and the DLRP ones we've taken in between to sate our Disney thirst) and this one is no different!
We like to get up early and eat breakfast in the room (just fruit or a yogurt) and make it to the parks for rope-drop wherever possible.
We then stop for pastries for elevenses and head back to the room after lunch for a swim/nap/shower before heading back out. We also like to explore the resorts and eat at places we haven't tried before.
So here we go....
Day 1 - Tues Sept 29thKathryn - all packed and ready to go!
The Yotel was small but cleverly designed.
So after a good night's sleep we rose at 8am and checked out an hour and a half later and make our way over to the North Terminal,
go through security etc and grab a disappointing breakfast at Lloyds No1.
Then Kathryn realised that she had forgotten her sunglasses - she had a "backup" pair packed in the luggage we'd just checked, but she didn't have her fave ones in her hand luggage.
We popped into Boots so K could treat herself to some new ones.
As we're paying, she reaches into her bag to put her purse away and finds the missing shades! :blush:
Boarded the BA flight at 11am and arrived at MCO at 3.15pm local time after an uneventful flight.
We got through immigration and luggage retrieval pretty quickly and the lady at Avis was very helpful in sorting out our rental car - a Chevy Cobalt.
So far it's all gone so smoothly that I'm just waiting for something to screw it up, but so far so good!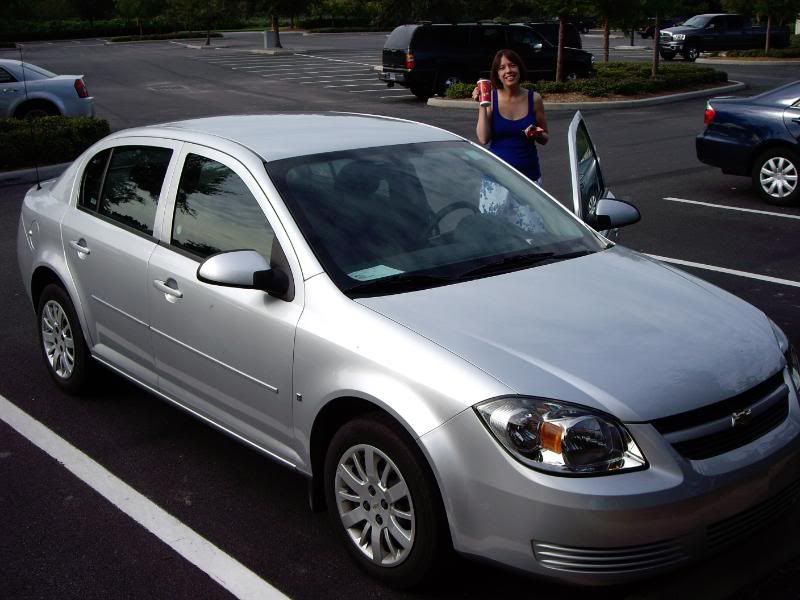 Two essentials for any Orlando holiday - a car and refillable mug.
We drove to Pop Century and were checked in by 5pm- luckily they got my fax with the room request and we are assigned a fourth floor, lake view room in the 70s section (room 6450). We took a few minutes to unpack and freshen up and then go out to explore the resort and pick up those all important refillable mugs.
Kathryn and The Big Cheese outside our building.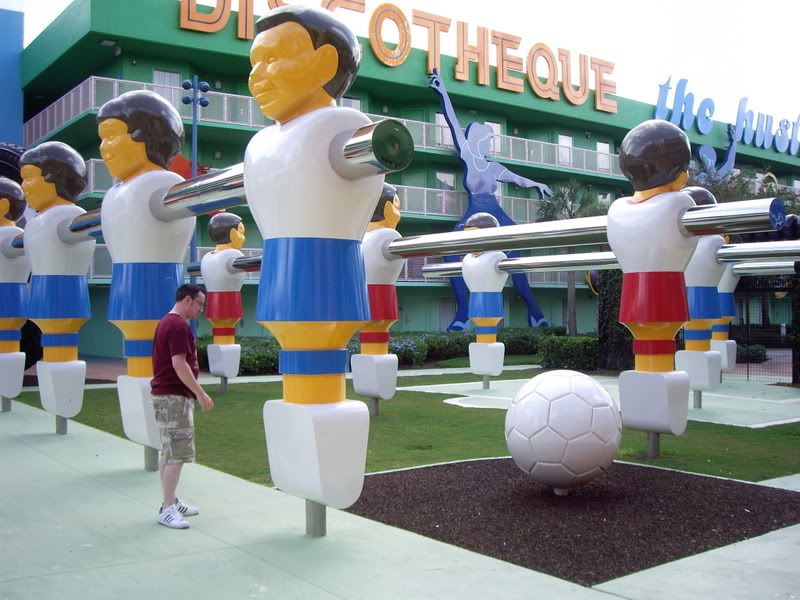 I think about attempting a kick, but decide against it.
Look! A Dreamcast! These displays in the lobby are well worth examining.
The view from our room promised a quiet stay.
Up next - off to Epcot for the evening and a sampling of the Food & Wine Fest...