The ImagiNations 2010 deadline is coming up and my group and I are plugging away at our submission in which we're imagineering and entire new land. It was originally a bluesky concept, but we're currently working it as an alternative FL expansion since it just fits so perfectly. We could use some help for reference from MCers. Even answering one question would help!
First, the photo requests. If anyone happens to have them, we would really appreciate clear photos of :
the Journey into Imagination with Figment ride vehicles
Barnstormer pics that give an idea of the overall layout and the queue, not show elements.
PhilharMagic interior building shots. Some of the queue might be needed but we're looking for good shots of the theater and the exit shop.
Now for the questions:
1. Which outline in this picture encompasses only PhilharMagic? Red, Blue or something else?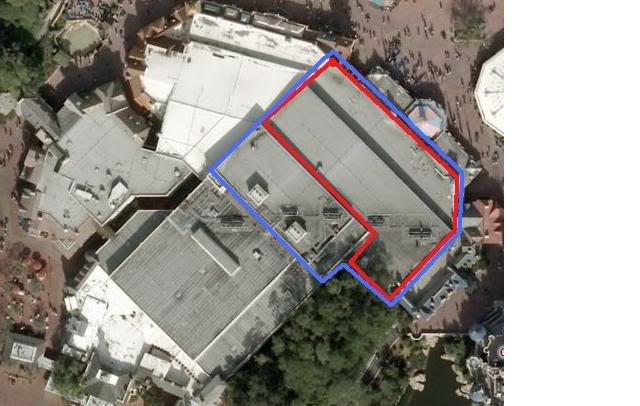 2. How much time is needed between shows for the Country Bears to get everyone out and then the new audience in? Is this timing similar for the 3-D shows?
3. Why were the Swan Boats closed? Where did they travel and how long did it take to take the trip?
Answered: The swan boats were apparently just closed down due to maintenance costs. The route started from the dock by Tomorrowland and traveled clockwise around the Hub canal. The boats would then travel into adventure land and loop around the Treehouse and return to the Hub, continuing their clockwise journey. The trip took about 17 minutes. There were no tracks to guide the boats, but there was a live spiel. Source: http://www.omniluxe.net/wyw/psb.htm
4. Is there or has there been any places in the MK with live bands and dancing like Carnation Plaza and Tomorrowland terrace at Disneyland? Was DtD supposed to take it out of the parks and put it in a more public place?
5. How much time does a guest get for typical character interactions when there's a long line? How long do lines get for popular characters like Mickey in the height of summer?
6. What's the typical wait time for the E-tickets in the MK on busy days?
7. Is there any walk-around entertainment (i.e. strolling musicians/bands, street improv) left in the MK? Is it an 'only on busy days' kind of thing?
8. Hypothetical question: If Fantasyland was expanded all the way back to the railroad tracks would fallout from the fireworks close down anything? This is a similar area to iasw in Disneyland, which sometimes does get closed due to fallout. What if there was a tall facade (not the size of the castle, but maybe the size of the DL castle 100ft or so) back there due north of Dumbo's current location? If there are closures would it be reasonable to expect Disney to reconfigure the fireworks so this grand expansion could remain open during them?
9. Would a coaster that is nearly all indoors but has a short outdoor segment be forced to close down in inclement Florida weather(i.e. a thunderstorm)?
10. Any mention of if the utilidors will be expanded with the Princessland FL expansion?

Answered: Looking closer at the blueprints, there appears to be one underground tunnel between the Cinderela/Pooh/Aurora grouping and the backstage area behind Belle's meet and greet
Anything would help. I'll post more questions here if we come up with any.
Edited to add some info to the ones with definitive answers found other than in somewhere in this thread.
Thanks guys!