Re: Walt Disney World Memory Thread
I remember the day that we went to Epcot in 2003. We left early in the morning, and had a priority seating at the Garden Grill for lunch. We figured that Sean would have had enough of Epcot for the day by the time we finished lunch. He'd probably want to swim, so we could return to the hotel, let Sean swim, and go back for Illuminations. Well you know what they say about the well laid plans of.....
Up to this point in our vcation, we had resisted the temptation to collect, and trade pins. Almost immediately upon entering the park, we ran across the pin trading sets that they were selling. We thought they were neat, and we all picked one out for ourselves, and we were instantly pin collectors. We soon caught on to the trading aspect as well.
Sean had so much fun collecting and trading pins, and when we ran across the Kidcot spots, he wanted to do that as well. He never once asked when we were going back to the hotel. To this day, it is my favorite day ever spent at Epcot. I had a super great time. We ended up having to buy ourselves something warm to wear as we sat near France and watched Illuminations. We enjoyed our lunch at Garden Grill, our new hobby of pin collecting, and finished every Kidcot station at Epcot.
These are the scrapbook pages from my 8 x 8 scrapbook of that 2003 vacation.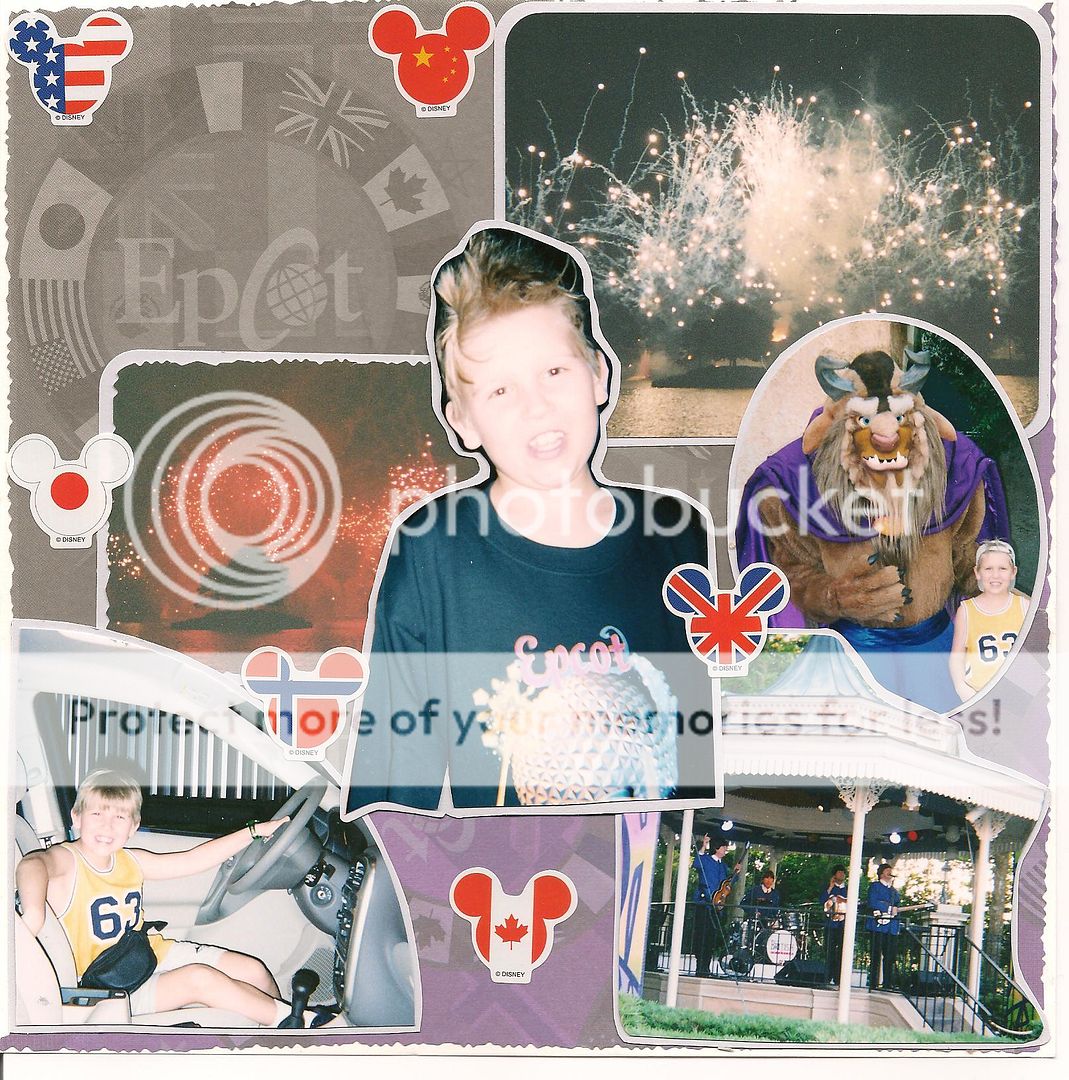 Have you ever seen the Living Statue? I believe she was in Italy. It was so funny. She stands behind an unexpecting guest, and she does funny things to you. She kept knocking off my hat. I am so glad we got a photo of that. She snatched someone else's cell phone. One minute she's moving, and the next she is a statue. Very funny!