DISCLAIMER:
This post is in no way meant to bash, badger or spoil any magic of the Walt Disney World Resort. It is, however, intended to display some big issues with It's A Small World. I have taken these photos
many times but always hesitate to publically show them so as not to
ruin anyone's fond memories of the attraction. However, as the attraction is now closed for refurb, I feel now is the only appropriate
time to display them.
It's long been said that WDW's version of IASW is far sub-standard to those of other Disney Parks around the globe. For those of us that visit WDW (particularly those who visit often) we see the very slow decay of what is supposed to be an E-ticket attraction. However, for those of you who live elsewhere, I feel you are missing out on just what all the complaining is about. So for your viewing
enjoyment

...
First, let's start in the queue. Can't be too bad, right?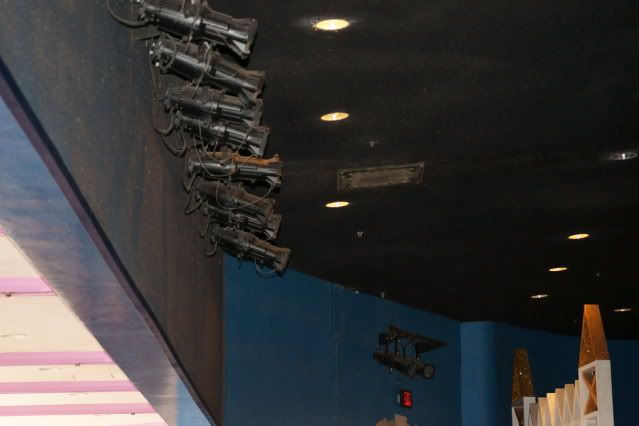 Someone name the last time these lights were on and functioning...
"Okay, no big deal, it's a couple of lights."
This lovely piece (or lack thereof) is located just below the exit/handicap entrance.
Now on-board, we enter under the "happiest cruise that ever sailed" sign
and the first thing we see is this BEAUTIFUL wire!
I can't remember a time when this was ever actually used for something... can you?
Entering into the rainforest we see the silly monkeys hangin' around...
Unfortunately, they hang one tail length too low- thus resulting in
a rotting tail:
Hey a gang of hula dancers just up ahead!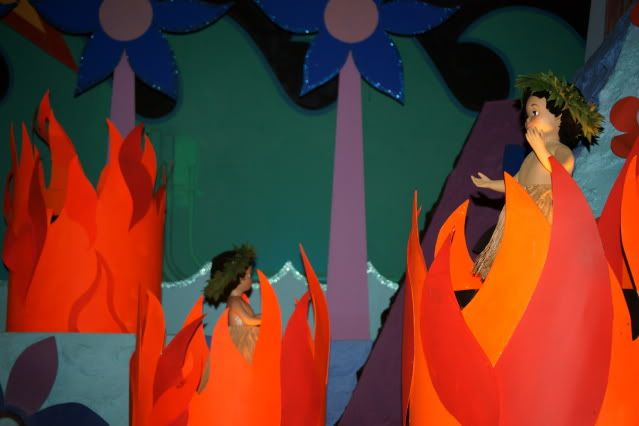 Wait, aren't they missing a friend in that cauldron of fire? (YUP!)
And now for probably the most absurd effect... ever. Rain!
I'm not saying we need some million dollar effect here, but could we at least
straighten and tidy up what's there?
Now for the grand finale!
Are we missing another hula dancer?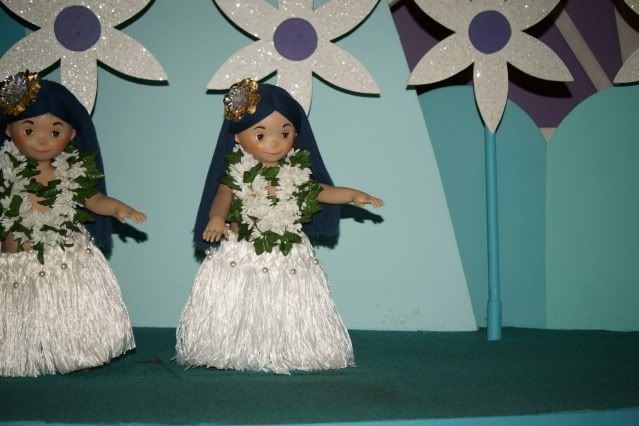 Take a look to the right of the hula dancer... there's another pad there for
another friend!
I guess it's possible these guys were just turned off...
however that doesn't mean that the lower one should be missing an eye.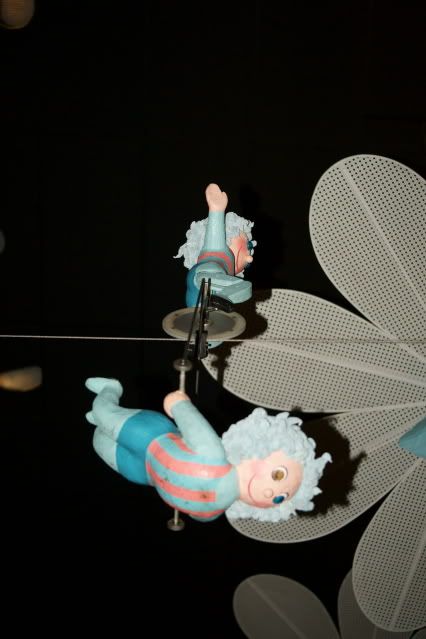 Popeye the acrobat!
Finally back to where we loaded... almost. Gotta go under that
exit ramp first!
Apparently the Maid Brigade didn't quite make it here...
Please note: these photos do not take into account the amount of lights that are out on the ride- I'm not talking like little bulbs in the finale, I'm talking about main lights pointed on the characters. Many areas of the ride are nearly dark due to this.
_________________________________________
These photos were taken on Saturday. Florida's It's A Small World closed on Sunday for rehab. I'm not saying I expect Disney to bring it up to par with the other parks, however, I will say this: Disney, do it right. If something is broken, don't just remove it. This is a beautiful attraction that could be so much better if it were treated like the E-ticket it is. Tender loving care... the hardest thing for me to see out of all these pictures is the last one. That is literally just dust and grime that could be removed with a simple cloth.
Please don't let our FL version remain the laughing-stock of IASWs around the globe.