After hearing about the Disney World Special Event for Star Tours, Monorail Man and myself decided it would be worth a short weekend trip to attend this little event. Not to mention catch up on a couple of the new/updated/continuing progress happening at the parks. Before the trip, we figured that we would enjoy our afternoon over at Epcot before having to make our way over to Hollywood Studios for Special Event in the evening. However, when we got up that morning, and deciding that we didn't want to have lunch over at Via Napoli, we decided to head on over to Animal Kingdom first, and start our day there.
After arriving through the gates, we made a beeline to the back of Africa to catch a ride on the Kilamanjaro Safaris, less than 10 minutes at 10:45 AM. Little did we know that this would be a theme throughout the day.
Black Rhino
Pelican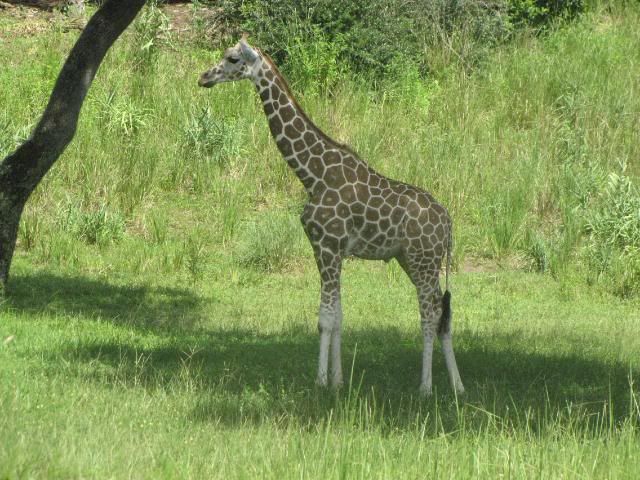 Baby Giraffe
Baby Elephant
Exiting the Safaris, we took a stroll along the back of the park over to Asia, to hopefully catch a glimpse of the Yeti over on Expedition Everest. Standby was 15 minutes at this point. So we took our chances to brave the Tea Train.
The yeti still is hardly visible, they should just turn off the strobe and light it normally at least.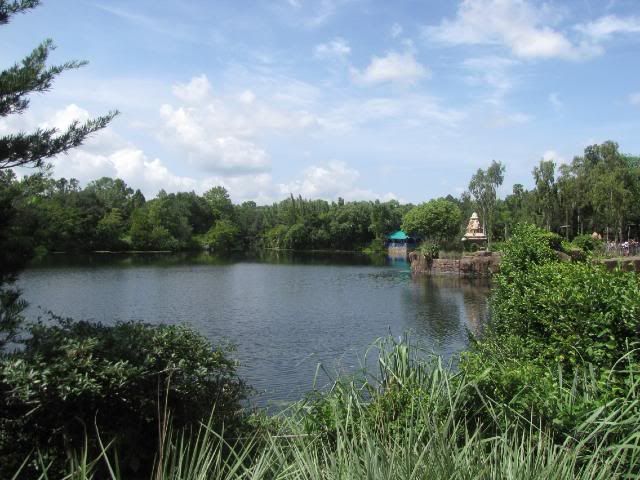 View from Asia across the park
We then proceeded over to Dinoland U.S.A and catch a ride on Indiana Jones, err I mean Dinosaur. Less than 10 minutes for standby. Time to find our Dino. (Sorry no pics of the Time Rover adventure).
Getting hungry, we decided to leave the park and head on over to Animal Kingdom Lodge and check out their "newest" restaurant Sanaa for lunch. Again, sorry no pics, camera got left in the car. But the food is quite enjoyable, if you enjoy Indian food.
After enjoying a relaxing lunch, we headed on over to EPCOT to check out some of the changes going on. Walking through the front gates around 3 PM, we found Spaceship Earth to be a walk-on. It's always such a fun little ride to enjoy. So after our time travel trip to the past, and our future, we wandered over to the Imagination Institute to check in with Figment. Again, it was a walk-on.
Exiting off of Journey into Imagination, Captain EO was just about to start another show. Even after multiple viewings, and I do mean multiple, of Captain EO at the Disneyland Resort, we couldn't resist checking out how it was implemented out on this coast. And not to spoil anything, the effects are slightly different here and were quite the nice surprise (take a hint DLR).
Entrance
"Themed" holding area
Leaving the Imagination Pavilion, a stroll around the World Showcase seemed to be in order, if at the very least to check out the new Italy pavilion area, and see the progress at the Mexico Pavilion. It was such beautiful weather, couldn't help but take a few shots of World Showcase from across the lagoon.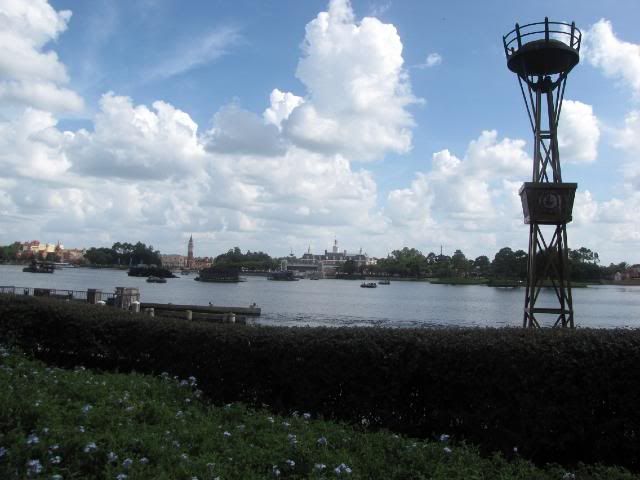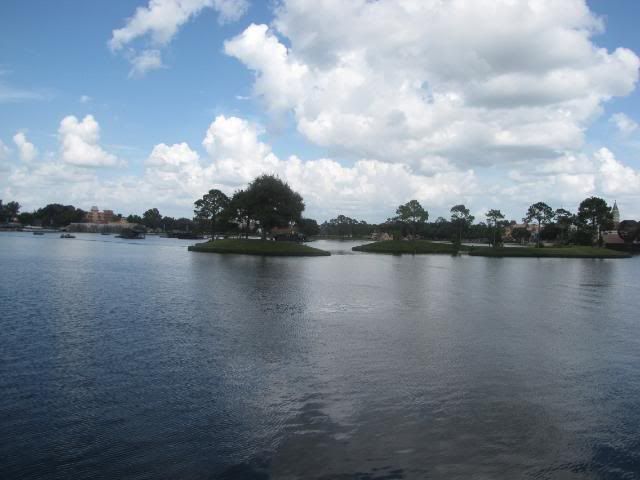 Once arrived in Italy, the new addition helps add depth this former "shallow" pavilion.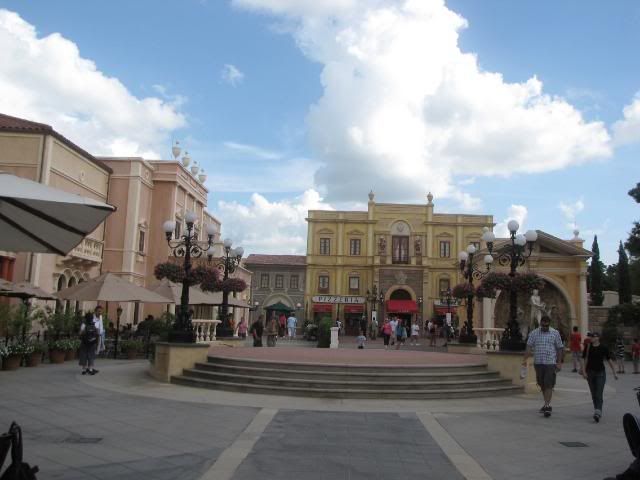 Via Napoli was running an hour wait at around 4:30 PM, so remember get there early if you want to eat there this month.
Over at the Mexico Pavilion, they had a mariachi band playing near the entrance to the Gran Fiesta Tour
Progress on the new restaurant, the detailing is looking good on the building.
Now just shortly after 5 PM, and not having to be over to Hollywood Studios until 8 PM, we figured we might as well check out Magic Kingdom, since it was just a short monorail hop away. And besides, how can you come to Disney World and not ride a monorail at least once on the trip?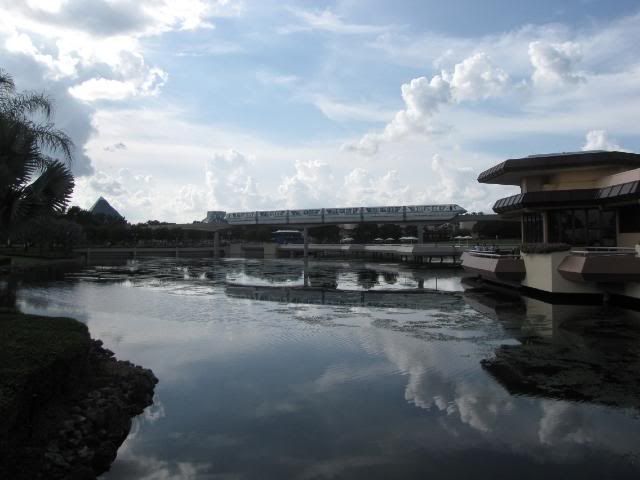 The view into Future World
Well the monorail idea turned into a mono-fail. Had no problems getting to the TTC, but getting out of there was another issue. The Express Monorail had broken down before we arrived, and they had a limited number of monorails running on the Resort line. And the Ferryboat waiting area was full of guests waiting to get across the Lagoon. It took us an hour from when we left Epcot to get to the front gates of Magic Kingdom.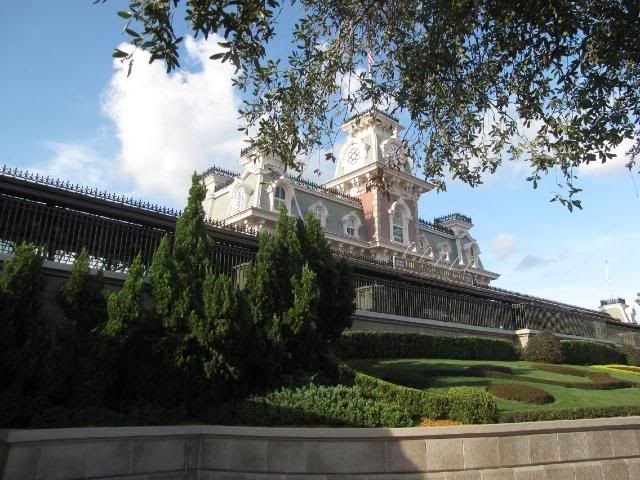 Welcome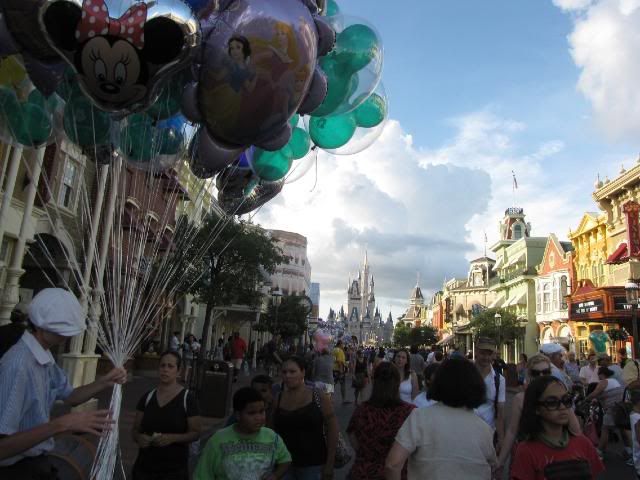 Such a giant castle, compared to Disneyland's
Walking past the castle, we made the right into Tomorrowland to head on over the newly renamed Peoplemover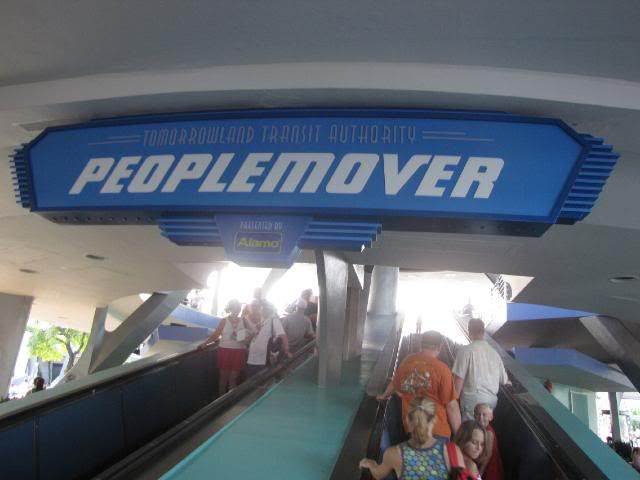 New Sign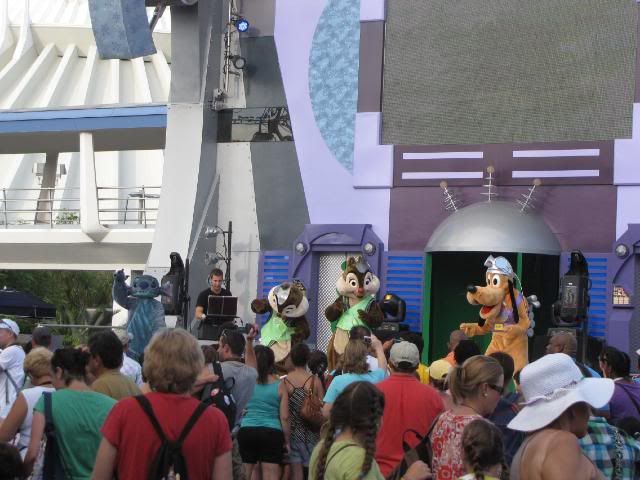 Club 626 sure entertains the crowds
Ready to take a peek at some Fantasyland Forest Construction? I know I was.
Construction Corridor (I'm having DCA flashbacks)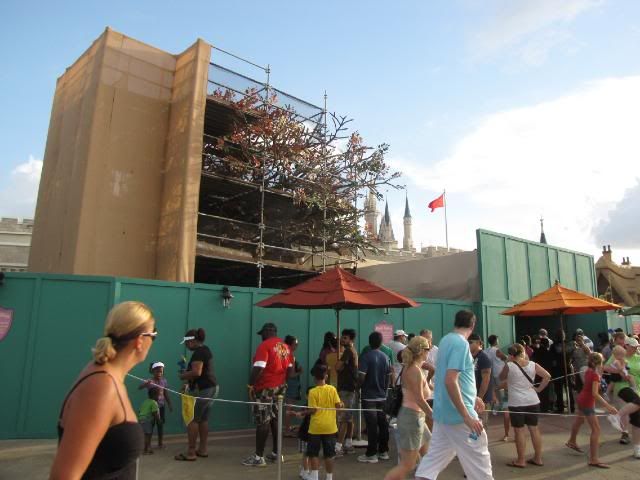 The Winnie The Pooh Tree is still under work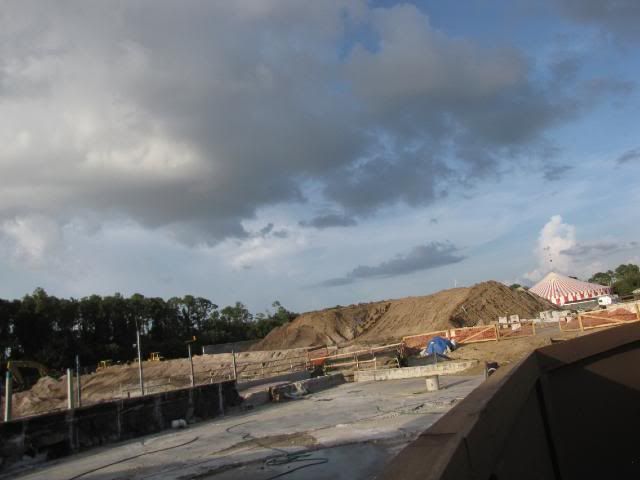 Where Little Mermaid will be going, the tent in the back is ToonTown Fair
The back area is where I believe Beast's Castle is going to go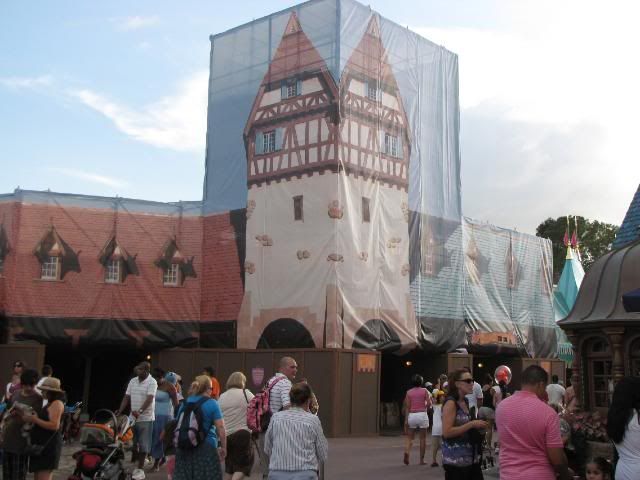 The area between Philharmagic! and Peter Pan is receiving a facelift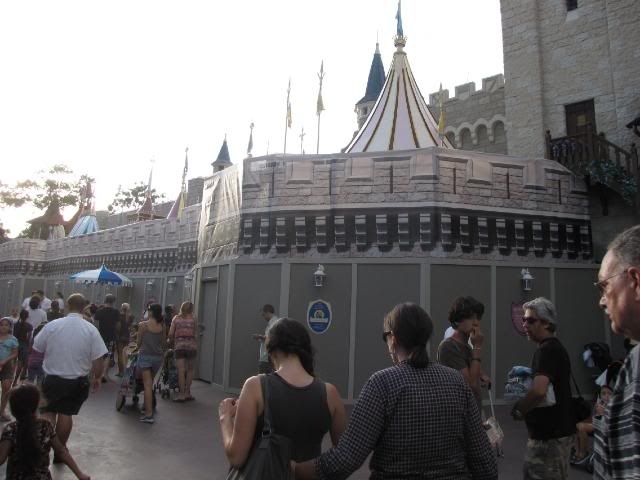 It's a Small World is down and receiving it's plussing, no word yet about the removal of fiberglass buildup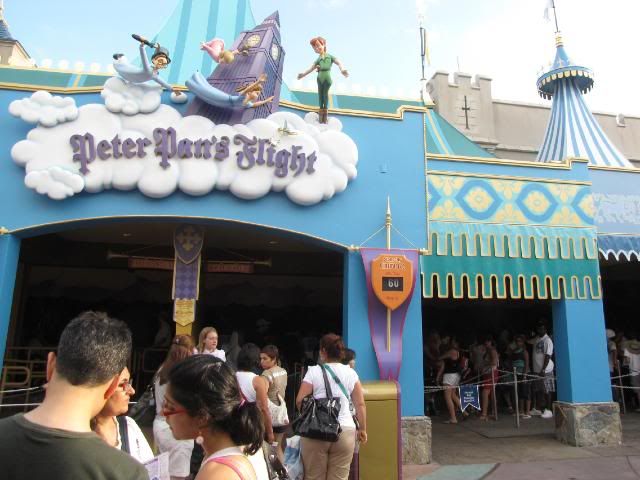 New Peter Pan Sign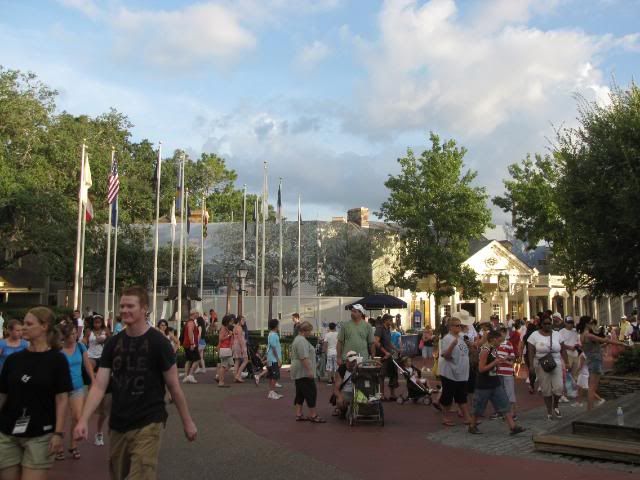 Liberty Square. Liberty Tree Tavern is under tarps as well
While in Fantasyland and Liberty Square, we had the afternoon rain "shower." It sure tried to rain, but only managed to squeeze out a few drops, which did nothing to help the humidity. But on the plus side, a rainbow did manage to form, though it sure seemed like it was more staged. Where was the end of the rainbow?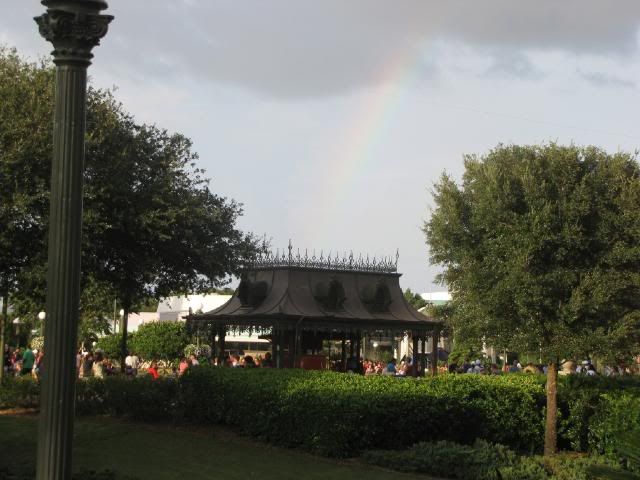 Not a pot a gold, but a bucket of golden popcorn
On a side note to that survey taker who stopped us as we were leaving, I promise those answers we gave you were completely accurate, even if it seemed to come across as just making up the answers.
It was now just after 7, so we decided to go head back to the car and head on over to Hollywood Studios. No monorail problems this time, YAY!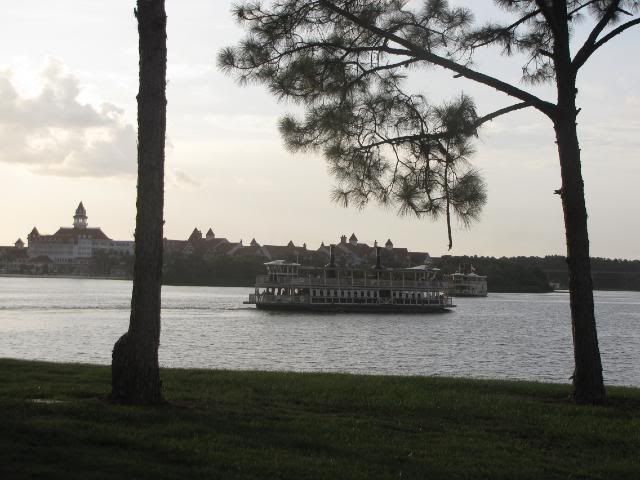 One last look across Seven Seas Lagoon
So just after 8 pm, we make our way into Hollywood Studios, and the reason for the trip, a private party for the giant Star Wars convention "Star Wars Celebration V."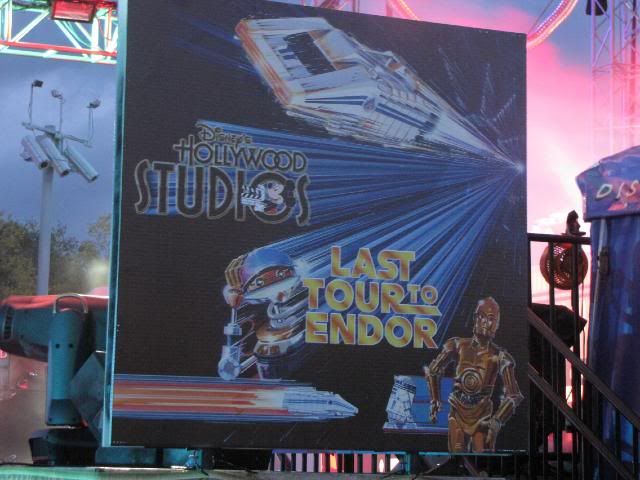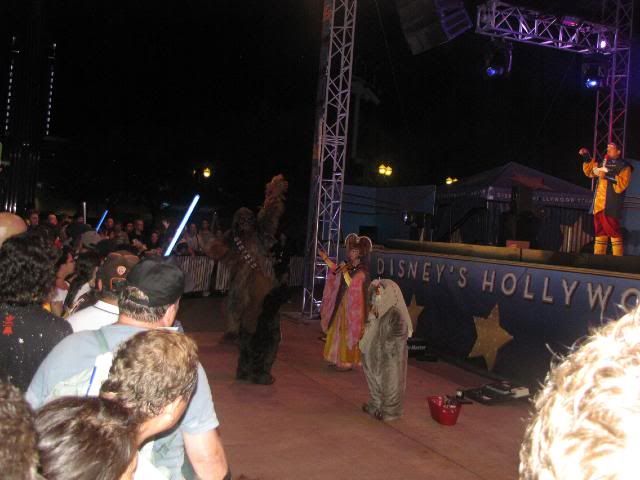 Chewbacca and Ewok with Oopla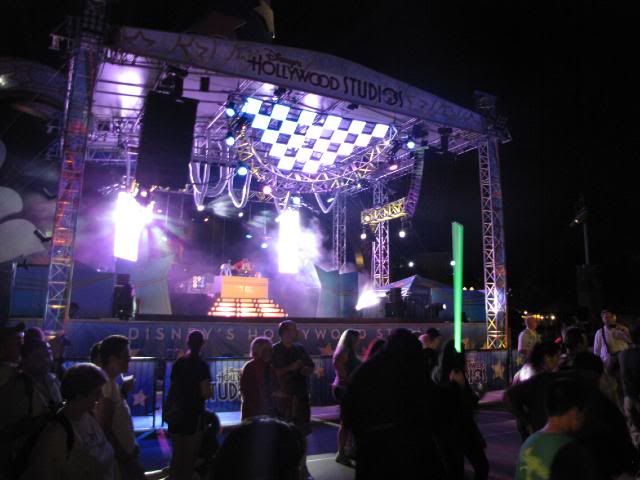 Bespin Dance Stage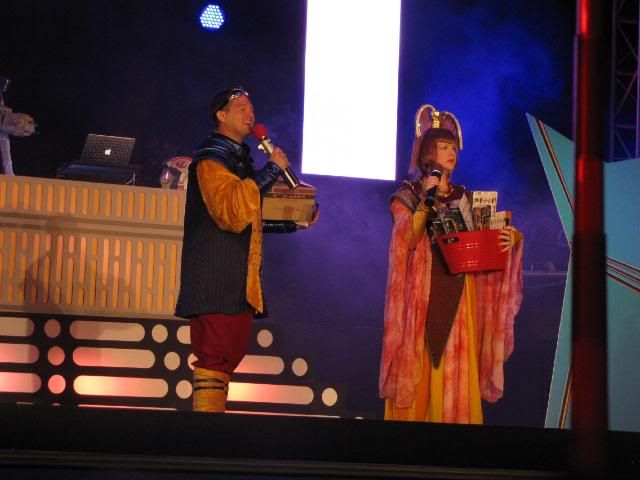 Snig and Oopla giving out Star Wars toys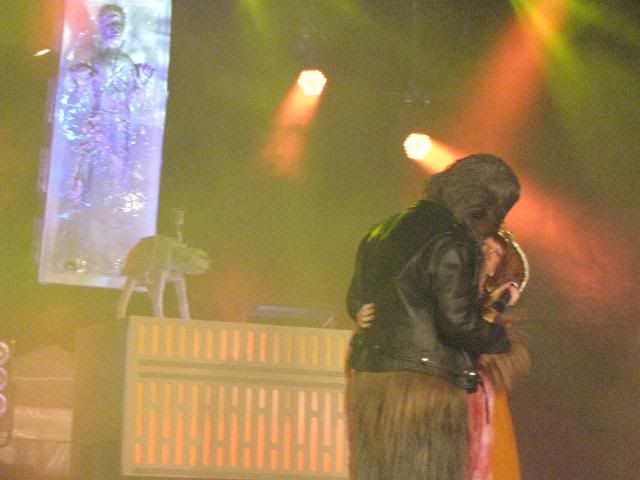 More Chewbacca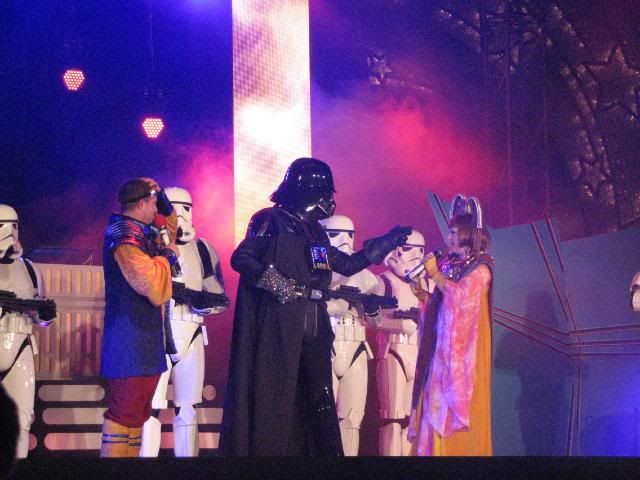 Darth Vader with Snig and Oopla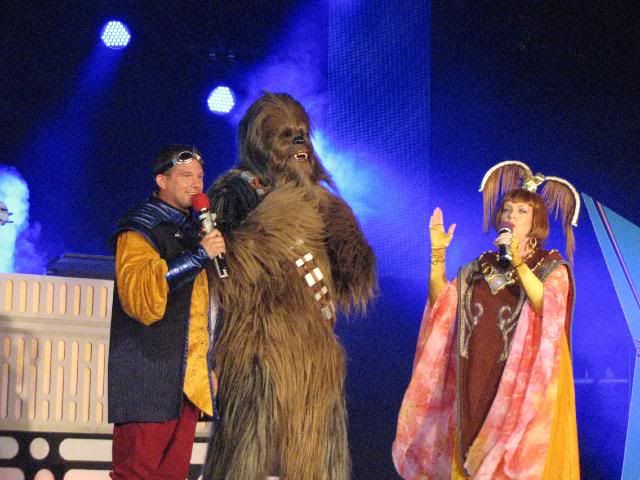 Chewbacca didn't win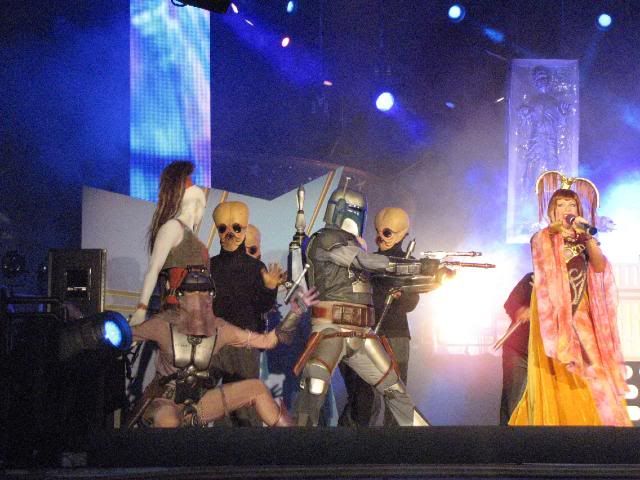 Bounty Hunters take the stage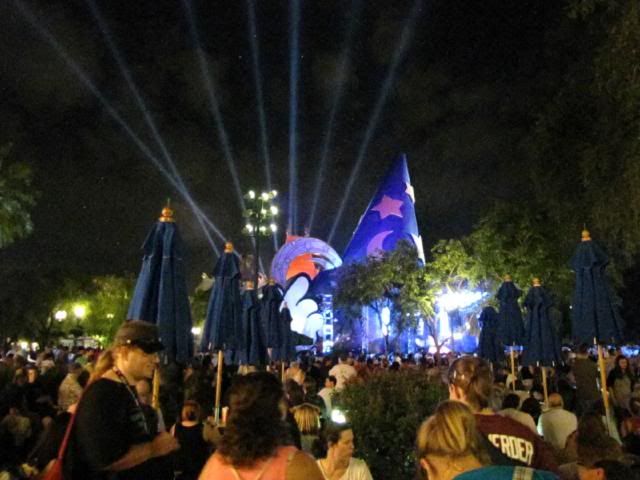 Just before fireworks
To see more photos of this event, check out the August 21st edition of the Weekend Update.
http://micechat.com/forums/blogs/wee...y-friends.html