Well, the past year has been interesting. I split with my ex of 5 years and moved twice. Then about 6 months ago I met a fantastic man and was promoted at work and things started to look up.
Sad part was my Prince Charming didn't understand my Donald Duck collection, nor my obsession with all things Disney. He didn't understand why my living room was decorated with Toy Story Aliens, why I had to go see Toy Story 3 the DAY it came out and why I had almost every biography on Walt Disney. How could I make him understand??
So….I took him on his FIRST trip to Disney World!!! (I was in major need of a vacation anyway!)
Warning: Not all of the pictures are the best quality as some were taken on our cell phones.
Day 1 – Friday September 24, 2010
My Dad drops us off at the Cincinnati airport at 6:45am for our 9:15am flight. I'm going on about an hour sleep and I DON'T fly well (I have bad allergies and every time I fly I wind up with a sinus infection plus I just don't trust being that far up in the air), but he likes to fly and I was trying to make this a trip for both of us. There is no one at the airport and I'm a nervous wreck. We make it through security and head over to our concourse to grab breakfast.
Perfect shirt for me- too bad it was on a baby shirt =(
Mmmm…Cinabon!
Flight says we will be right on time! Liars!
I spend about an hour in the Borders store trying to decide whether or not to buy the Hidden Mickey book. I decide not to (turns out to be a BIG mistake later on). We board the plane on time, get seated and buckled in, I take my anxiety medicine and we wait. And wait. And wait.
The pilot finally comes on the speakers and says "Well, um, yeah. We are waiting on them to reboot our system as they are detecting a problem with the throttle control." Get me off the plane NOW!
F
inally, we back away from the gate (with much applause from the passengers) only to stop again and wait some more. We waited so long they pulled back to the gate and were going to let people unboard (I think this is a new rule? I've been stuck on the runway for hours before and never been allowed to unboard). After about a 2 hour wait we finally were up in the air and on our way to my laughing place!
View from the plane
We land in Orlando around 1pm, 2 hours behind schedule. With our original plans to rent a car and go to a restaurant about 40 minutes away now scrapped we make our way thru MCO looking for the Magical Express
Prince Charming wait VERY impressed with MCO (I've been thru there before)
My first Duckie picture of the trip!
Found our line for the Magical Express!
Yeay! It's Disney Time!
Of course I'm bouncing in my seat like a little kid when we get on the bus. And then this guy comes on the screen:
I KNEW there was a Scrooge costume! Now I just have to figure out when he's in the parks!
Theme banner at the resort
This was my first time at a moderate resort; usually I stay at one of the All Stars. But Disney was offering the Free Dining Plan and I wanted to check out a moderate so I went with that. Caribbean is GORGEOUS! And huge! We get off the bus and get in line at the Customs house to check in. I had done online check-in (not really sure it speeds up the process?) and she was going over our folder, hands me our cards and my birthday button and finds out it's Prince Charming's first visit at age 29 and hands him a first visit button! And we're off to the room! And of course it's raining (it's Orlando, what do you expect?).
Our room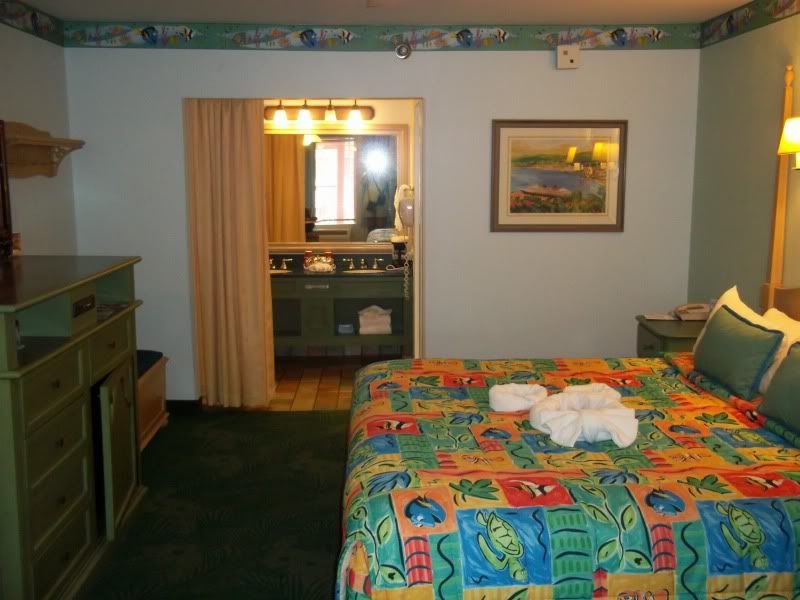 We got a Finding Nemo room (the look on my face is more of a running joke between us and our friends we went on a previous trip with)
View from our door (We were in "Aruba")
We check out our room and walk over to Port Royale to get a snack as our reservations for California Grill aren't until 9pm, check out the gift shop and find the best way to get to the Contemporary. Prince Charming was impressed with the giant cookies we got as snacks
We get back to the room to check on our luggage (I had never used the Magical Express before and was very nervous about lost luggage) and decide its naptime (I'd only had an hour of sleep the night before). A CM knocks on the door just as I was about to fall asleep and gives me a picture of Mickey for my birthday with a photopass card! Wohoo!! So nice!
After our nap we cleaned up and headed on over to California Grill via the buses. I've never been there before and Prince Charming is a foodie and wine person. I LOVE THIS PLACE! I got him the add-on wine plan with the Dining Plan and he loved it (I'd recommend it if you like wine). Our waitress was hysterical and the view was beautiful (the castle lit up at night). I was taking pictures of the bar area before we were seated and a CM came up to me and said "You can't take pictures of the bar…" and I looked at him wondering why, and he kept going "…without some Mickey stickers!" and handed me a bunch of stickers. I was cracking up!
Disney is fantastic with food allergies! I'm allergic to shellfish and ginger and they wouldn't even bring bread to the table until a chef came to talk to us. This is the one place I truly feel safe having a meal.
Prince Charming got the sushi appetizer
I got the flatbread with pesto and tomatoes
We both got the filet with mashed potatoes and brocolini for our meals
I got the lemon cheesecake (phenomenal!)
He got the chocolate cake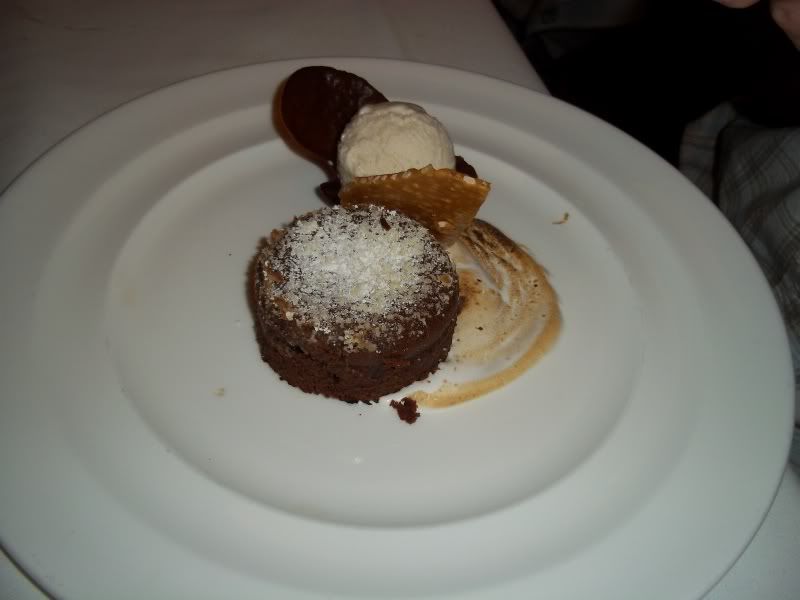 On our way back we were the only people on the bus to Downtown Disney where we had to switch over for the bus for our resort. The driver was talking with us and took us straight to our resort instead of us having to switch over! Again, I was blown away with how nice everyone is here! It's almost midnight when we get back so we head to our room to crash for the night
Up next: Day two at Hollywood Studios!