The Walt Disney World Studios
Logo:

Theme Song:
YouTube - Hooray for Hollywood - Version 2
Park Mascots:
http://2.bp.blogspot.com/_9DbWcozSA5...ent+Dragon.png
http://www.mouseinfo.com/gallery/fil...isney-bear.jpg
Overview:
The Walt Disney World Studios celebrates the fascinating world of Hollywood with thrilling attractions, and exciting shows inspired by movies, television, theater, and music.
Stroll along the "main street" of Tinseltown, learn the magic behind spectacular stunts, be the star of your favorite television show, and take a journey through outer space.
Map: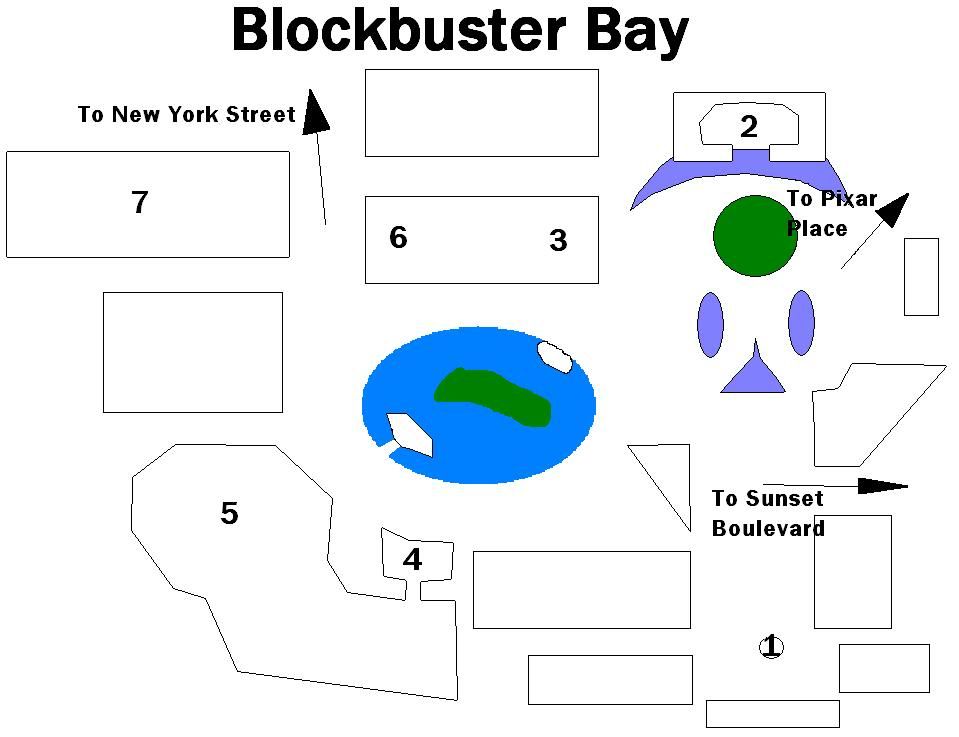 Attractions:
The Crossroads of the World- Here, you can find Guest Relations, guidemaps, film, and camera equipment.
The Great Movie Ride- Board your "moviemobile" for a trip through the movies inside Grauman's Chinese Theatre.
Superstar Television- You may be the co-star in memorable scenes from Home Improvement, Gunsmoke, Cheers, Hawaii Five-O, and other TV hits.
Indiana Jones & the Lost Treasure of Atlantis- Journey back to 1935, discover ominous ruins deep in the dense jungles of India's Lost River Delta, board a rugged troop transport, and enter the legendary Underwater Kingdom of Atlantis in search of unimaginable rewards, but be wary of the terrible wrath of an ancient god named Poseidon! Don't worry, with famous archaeologist Indiana Jones on your side, what could possibly go wrong?
The Indiana Jones Epic Stunt Show!- ___.
Magic Journeys- Visit a world of magic and wonder at this spectacular 3D motion picture.
Star Tours II: Pod Racers- Experience the ultimate thrill adventure from the creative forces of Disney and George Lucas.
Shopping:
The Crossroads of the World
Oscar's Classic Car Souvenirs
Sid Cahuenga's One of a Kind Shop
The Celebrity 5 & 10
The Cover Story
The Darkroom
Edith & Adrian's Head-to-Toe
Keystone Clothiers
LA Prop Cinema Storage
Mickey's of Hollywood
Pluto's Toy Palace
The Hollywood Pin Shop
Sweet Success
Store Wars
Golden Age Souvenirs
The Indiana Jones Adventure Outpost
Dining:
Details:
The Sorcerer's Hat
will be removed, making
The Earful Tower
the icon of The Walt Disney World Studios. The
Alien
scene in The Great Movie Ride will be replace by
Star Wars: The Return of the Jedi
. Programs in
Superstar Television
include
Friends
,
Hawaii Five-O
,
Home Improvement
,
Cheers
,
Gunsmoke
,
Walt Disney's Wonderful World of Color
, and
The Super Bowl
.
Indiana Jones & the Lost Treasure of Atlantis
will use EMV technology.
Star Tours II: Pod Racers
will be an alternate plot to the upcoming
Star Tours: The Adventure Continues
.