Kungaloosh Adventurers,
I know it has been a while since I've posted here, and I'm also aware that the Save The Adventureres Club thread has been closed for some time, but I have a proposition for the next step in the ever popular fight to return Adventure to Walt Disney World! As we know, a few days ago Disney has announced what they believe the public wants out of Pleasure Island, Hyperion Wharf. I'm not going to get into the details, for I'm providing the link to the Official Disney Parks Blog where you may read the announcement at your leasure. However, the most interesting thing is that about 95% of the first 283 comments about Hyperion Wharf mention the Adventurers Club by name, either lamenting its loss, demanding its return or wondering where it fits into the new plans. So Adventurers, we are not alone in wanting Adventure returned to Downtown Disney, and here is our new outlet to let Disney know it! Please flood this Blog's comment board on what we, the public, truely want, our Adventurers Club's immediate return, and not what my latest propoganda poster depicts. . .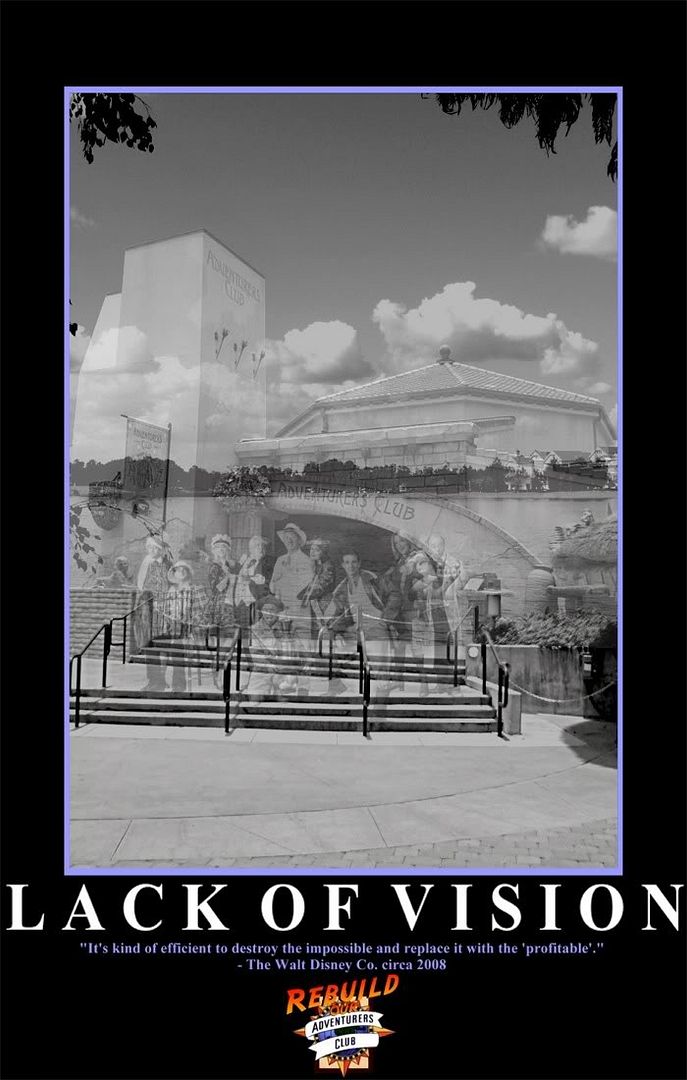 Disney should not be able to turn blind eye to their own Official Blog, and, if your post doesn't make it by the moderator, then please try again, just a little toned down. As long as the majority of comments deal with the Adventurers Club our point should be getting across. Here's to hoping for another Hoopla in 5189 Hill St.!
Kungaloosh!
http://disneyparks.disney.go.com/blog/2010/11/first-look-waterfront-district-hyperion-wharf-among-plans-for-downtown-disney
Some days you eat the mouse.
Some days the mouse eats you.
But never give into the mouse without a fight!