Join us as we track the most up to date information available regarding the WDW Fantasyland Expansion. It will include information from the beginning of the project through its construction. As new information becomes available, we will update this first post. Please join in the discussion and add your own information and photos.


Updated January 18, 2011 - Disney is about to announce some changes to the New Fantasyland project. As first reported here, the Cinderella and Sleeping Beauty meet and greets will be replaced with a Seven Dwarfs Mine ride. The current Snow White's Scary Adventures darkride will become a princess meet and greet. Goofy's Barnstormer will be given a circus theme as will Mickey's ToonTown. Photos and information below has been updated with the newest information. The Beauty and the Beast restaurant, Little Mermaid ride, and dual Dumbo's will remain as previously scheduled.


Initial project blueprint from March of 2010


Initial plans called for a major new attraction, four major meet and greet areas, a new restaurant, and significant rethemeing of some existing attractions and public areas.

In this plan, backstage areas, former 20,000 Leagues Under The Sea areas, and Mickey's Toon Town would be claimed for Fantasyland expansion.


As originally planned, the Fantasyland expansion would be the largest expansion in the park's 40-year history and would almost double the size of the existing Fantasyland.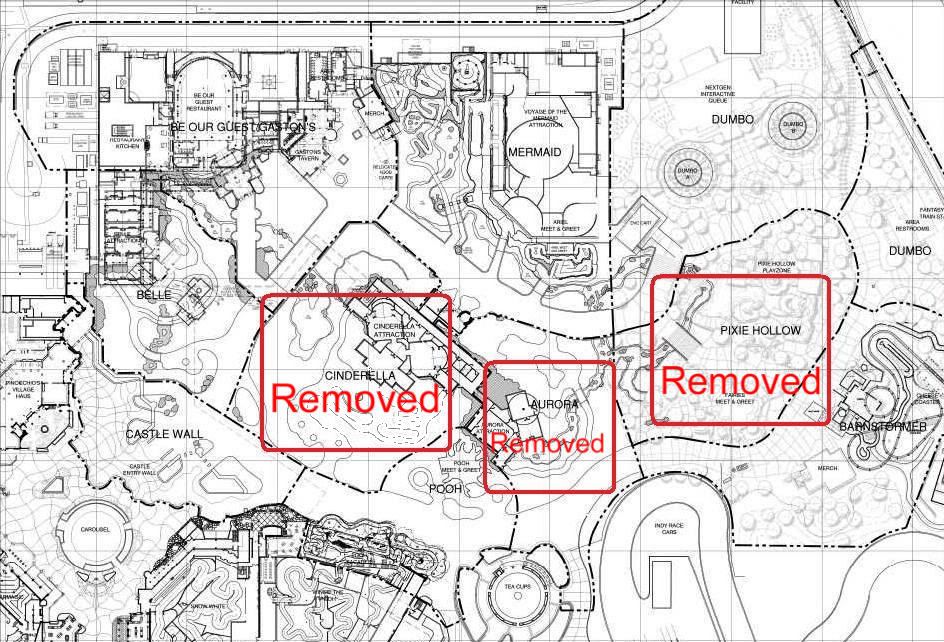 Areas in

red

have been removed from the plans above

After much public outcry that the expensive Fantasyland expansion project contained too many meet and greets and little girl attractions, plans were revised to remove Cinderella, Aurora and Pixie Hollow meet and greets. This freed up plenty of room for a Seven Dwarfs Mine ride and an expansion of Dumbo's Circus land. The revised plan is a much more balanced approach than the initial girl-centric draft announced at the D23 Expo in 2008.

New Fantasyland Rides:
Little Mermaid - On schedule as planned - This ride is a clone of the attraction first planned for Disney California Adventure. Though it will have a significantly different exterior. The California version is inspired by the Palace of Fine Arts in San Francisco. The Florida version is based upon Prince Eric's palace.

Guests will board clam shell omni-mover vehicles and begin their musical journey under the sea. This attraction will contain densely themed show scenes and have complex audioanimatronics of a sophistication never before used in a Fantasyland attraction. Even Ariel's hair is said to be animatronic, simulating underwater movement.


The Disneyland and Magic Kingdom versions of the ride look very different on the outside but will be identical on the inside. The Disney Parks Blog has posted a video of their progress on the Disneyland version, including show scenes, props, animatronics and more.

Here are a few screen captures from the video that will allow you to take in the details.
Here is a shot from the beginning of the ride as the track enters a sunken galleon.
WDI artwork of this scene depicts what riders will see before going under the sea.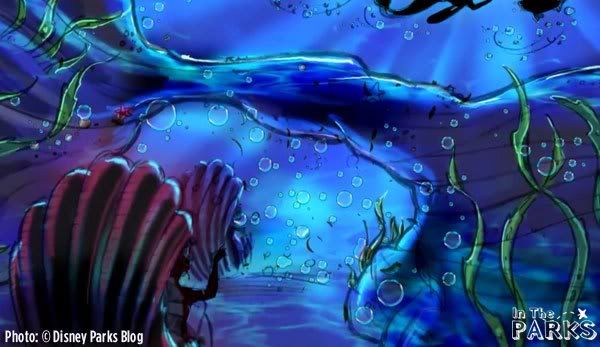 This piece of art depicts the dry for wet effect developed by WDI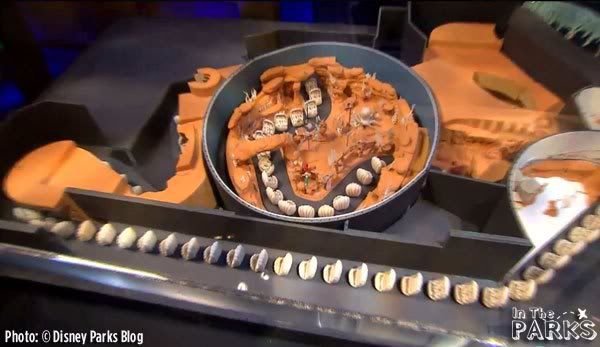 An overview of the ride model.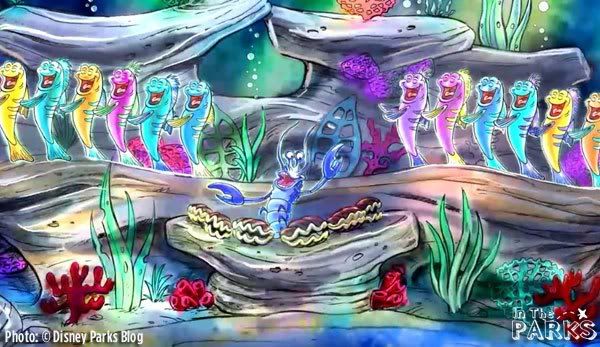 A look at the major "Under the Sea" scene.
Seven Dwarfs Mine Ride - Announced 2/18/2011

Long rumored to replace the highly criticized princess meet and greet cottages, the Seven Dwarfs Mine ride will use a new technology which allows the cars on each train to sway to the curves of the track. The track will feature indoor show scenes as well as outdoor terrain section.


The layout takes up a large portion of the center of the new Fantasyland expansion. The ride will feature music from the classic film Snow White and will have animatronic characters.
Dumbo Expansion - On schedule as planned

Dumbo's Circus will add a 2nd spinner to double the capacity of the attraction. The new Dumbo complex will be revolutionary, not in the addition of a second spinner, but in the use of a virtual queue and interactive entertainment options prior to riding the attraction. In fact, the ride may become secondary to the entertainment offered while you are waiting for it.



Guests will become part of Dumbo's circus environment with clowns, performances, games, and other interactive elements. It is rumored that guests will be given a virtual place in line and then allowed to play games and experience interactive entertainment options. When it comes their time to ride, they'll be placed in a short queue for Dumbo.

The former ToonTown tents and area will be completely rethemed as a StoryBook Circus land.


Great Goofini Coaster - Confirmed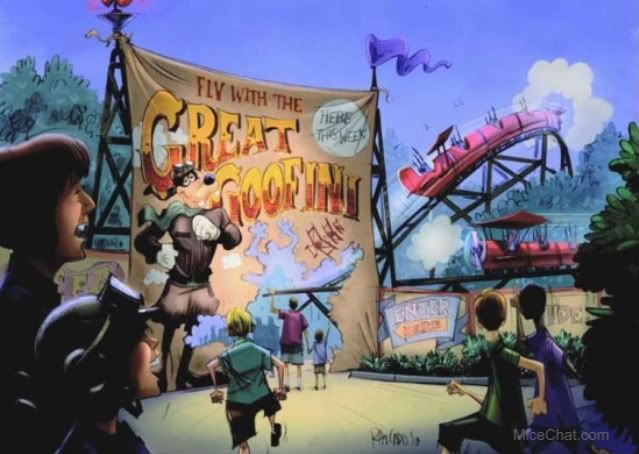 Current attraction, Goofy's Barnstormers, will be given a circus theme and renamed "The Great Goofini". The attraction will be part of an expanded Dumbo's circus themed land which is taking over the former ToonTown.
Initial Meet and Greets Announced:
This model is an overview of the initial project. While many of the meet and greets in this image have been removed from the initial plan, the level of detail, including castle walls and increased green area and foliage can be seen. Belle's cottage can be seen in the upper left of this image with Dumbo in the lower right.
Princess Fairytale Hall - Confirmed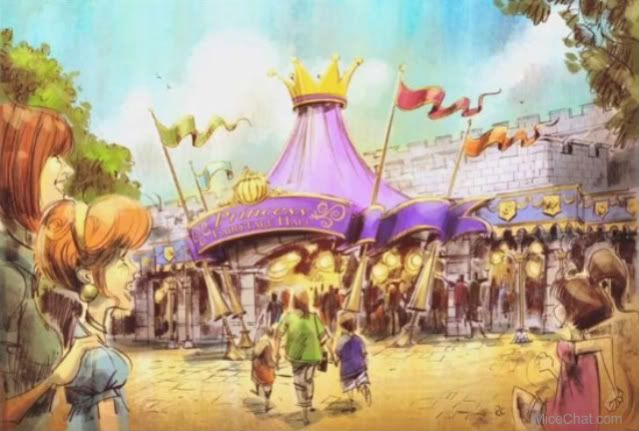 The current Snow White's Scary Adventures attraction will give way to a princess meet and greet area. However, Snow White and the Dwarfs will take up residence in a brand new attraction (see above).
Belle - Unknown status - Guests will take a magical journey from Belle's cottage to the Beast's castle to meet Belle.
Attraction would have had little girls helping Cinderella's prepare for the royal ball.
Aurora/Sleeping Beauty - Canceled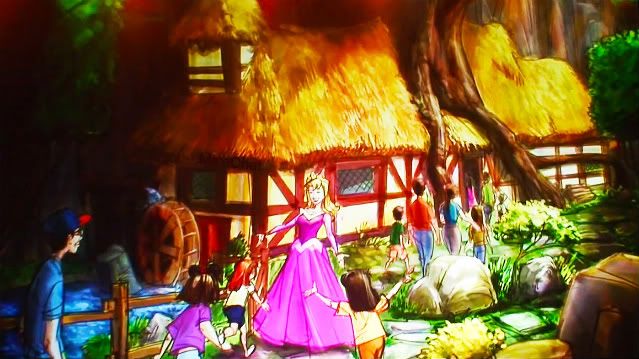 Guests would have helped Aurora celebrate her birthday.
This large meet and greet themed to Tinkerbelle and her Pixie friends has been scrapped but Tinkerbell and Company may take up more temporary residence at Epcot and Disney Hollywood Studios.
Initial Restaurants Announced:
Be Our Guest/Gaston's Tavern - Still in the plans - The restaurant complex will contain three unique dining rooms inspired by the Disney animated classic, Beauty and the Beast. The centerpiece of the restaurant will be the Ballroom where Belle and Beast danced together for the first time. Although a single building, it will appear as two separate entities from the outside. You'll take one path to enter the Be Our Guest restaurant which is under the Beast's castle and another path to reach Gaston's Tavern.

In the News
New Popcorn Cart has been spotted in Fantasyland with a much richer eye to detail and theme. This is a very good sign for things to come.
Winnie the Pooh's new queue has opened with lots of interactive elements. If this is a hint at the larger interactive elements coming to Dumbo, folks should be very excited. Here's a video from Disney followed by one from our friend Jeff Lange

ToonTown Tents to stay - [Rumor] - The tents in ToonTown may stay as part of an expanded Circus area. The former Goofy's Barnstormer kiddie coaster would also receive a circus theme.
Mickey's ToonTown to close February 11th to make way for Fantasyland expansion project. [Confirmed] - Disney Blog:


That doesn't mean we've forgotten about some of your favorite characters. Mickey Mouse, Minnie Mouse and the Disney princesses will move to Town Square in the location currently known as Town Square Exposition Hall in spring 2011. Until that location is ready, they will continue to greet guests throughout Magic Kingdom. Meanwhile, Tinker Bell will relocate to Disney's Hollywood Studios and her other fairy friends will appear later in the spring at Epcot. The Walt Disney World Railroad will stay open, but the Toontown station will remain closed during construction.
Please post your news, rumors, photos and information about the New Fantasyland and we'll do our best to keep this first post updated.