Let's take a closer look at WDW's New Fantasyland artwork, which reveals interesting details on upcoming attractions: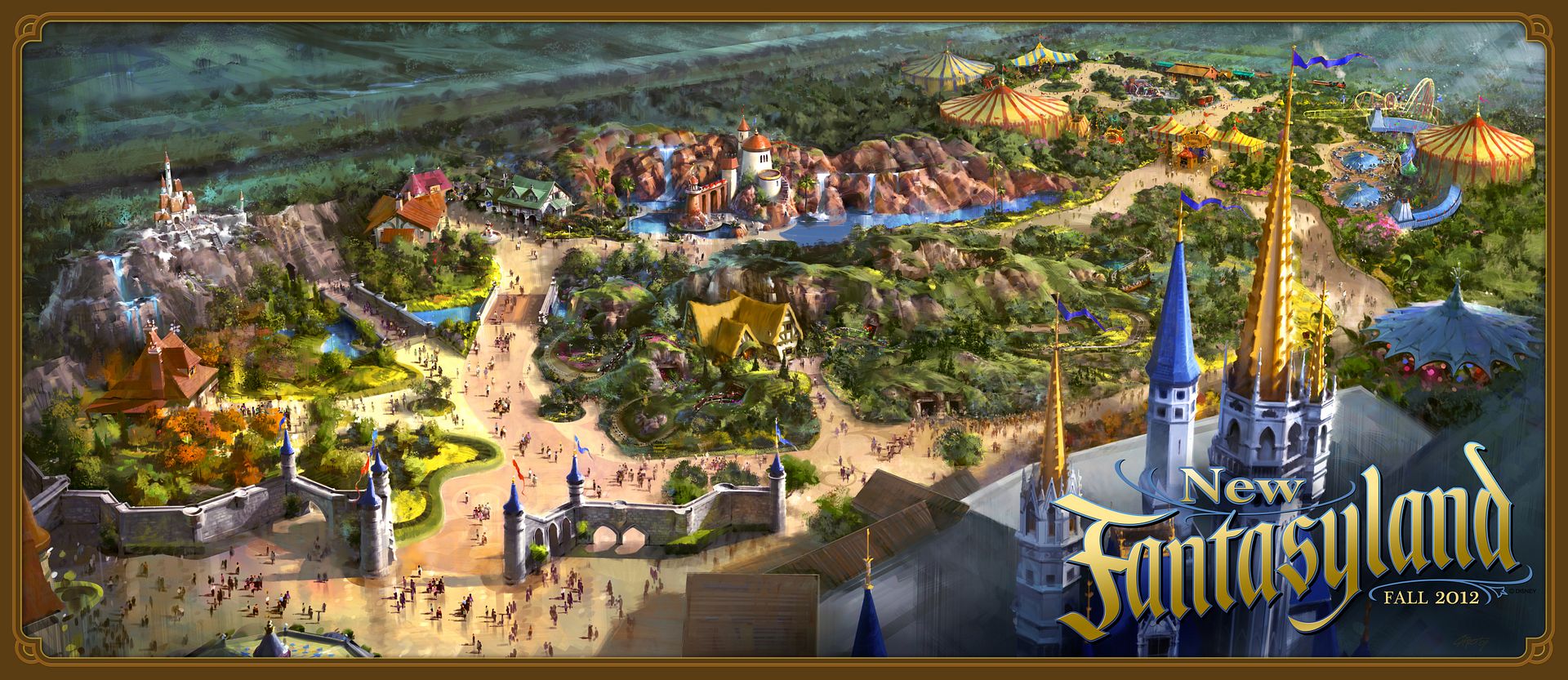 Here is the new artwork for WDW's New Fantasyland in high-res. Actually, i had to reduce a bit the size of the file as the weight of the one released by WDW was 35 Mb and too "heavy" to be uploaded on Photobucket. Even reduced it's still in high-res and this great artwork by Greg Pro should please most of you.
We must also thank WDW for releasing this file in hyper-resolution as it gives the possibility to "zoom" inside the artwork...and to discover interesting unnoticed details at first sight about the new upcoming attractions.
Of course, the zooming helps us to see the details of some decor elements like Belle's Village...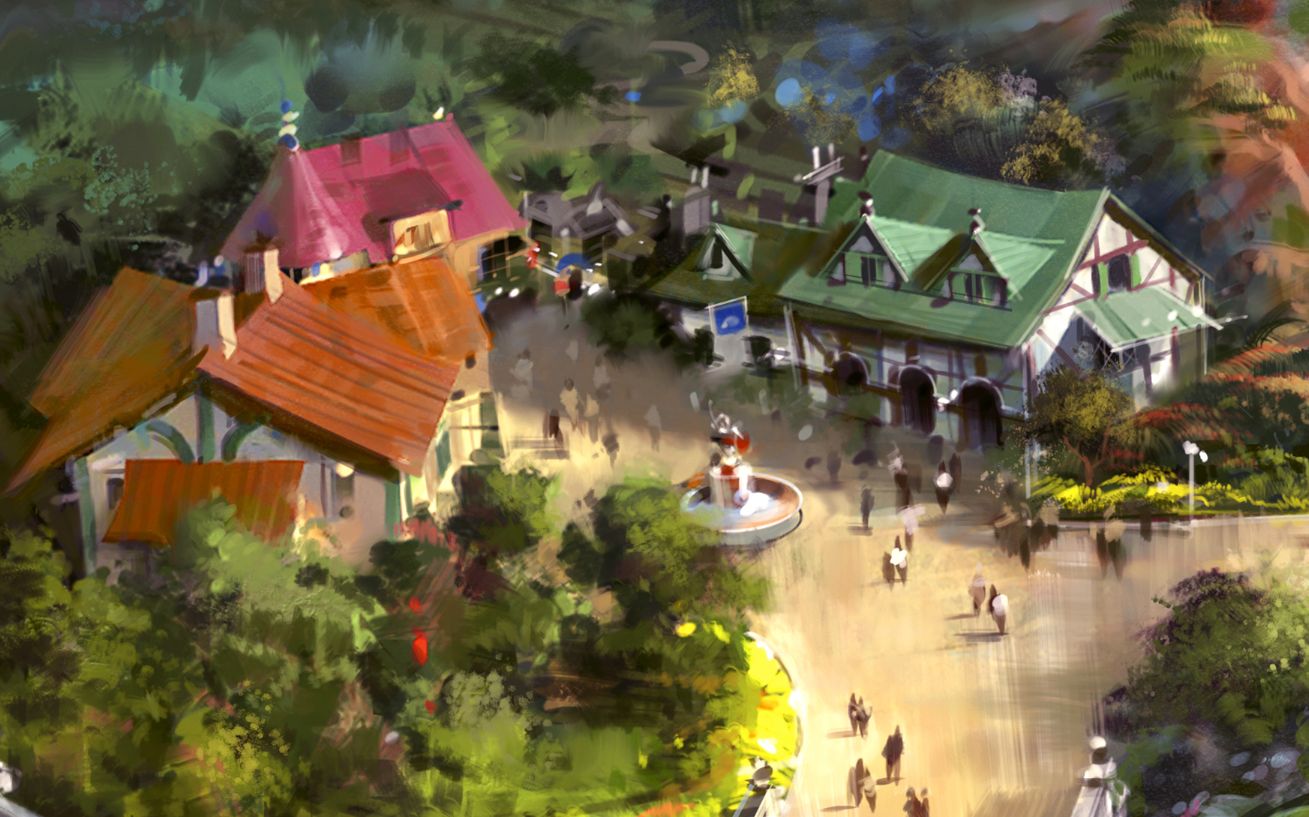 ...and Gaston's fountain that you can also see in this other rendering...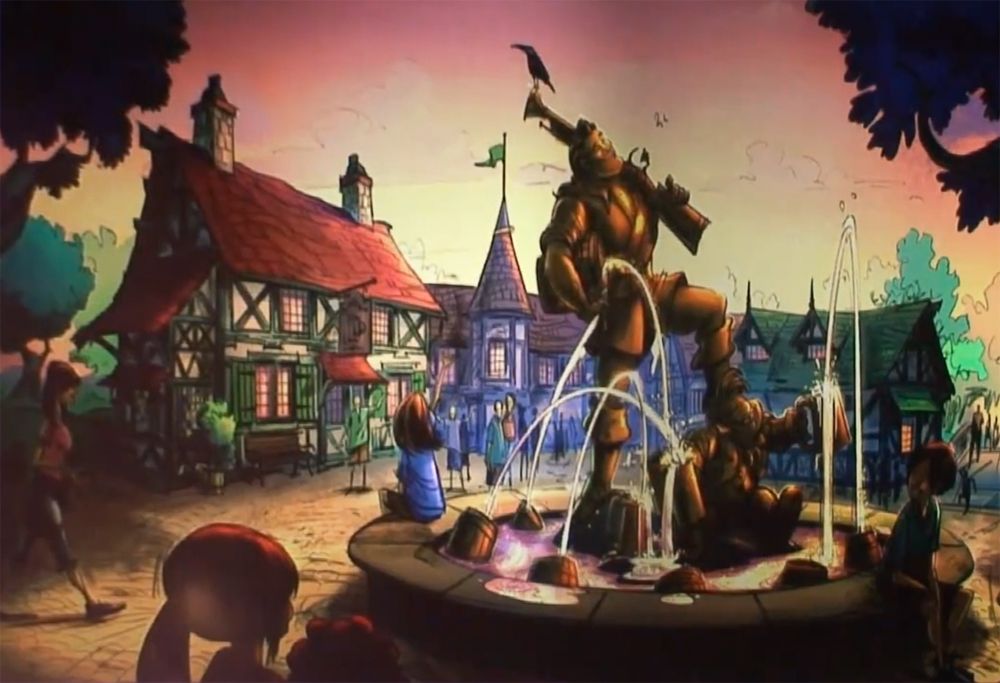 ...but also to discover that Beast Castle - and the rocks around it - is designed to look partly covered by (fake) snow!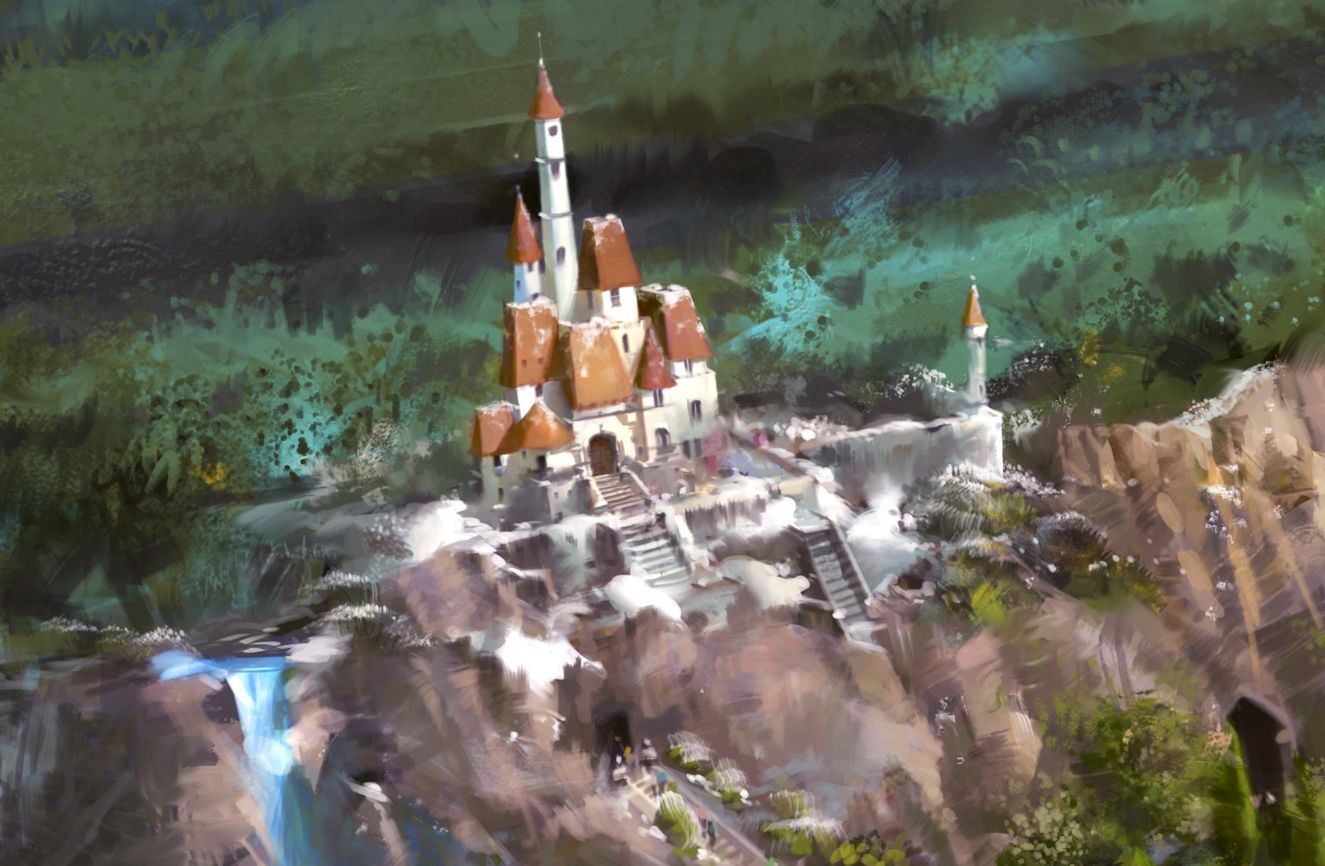 A zoom on the Circus/Dumbo area provide a closer look on the Circus land entrance...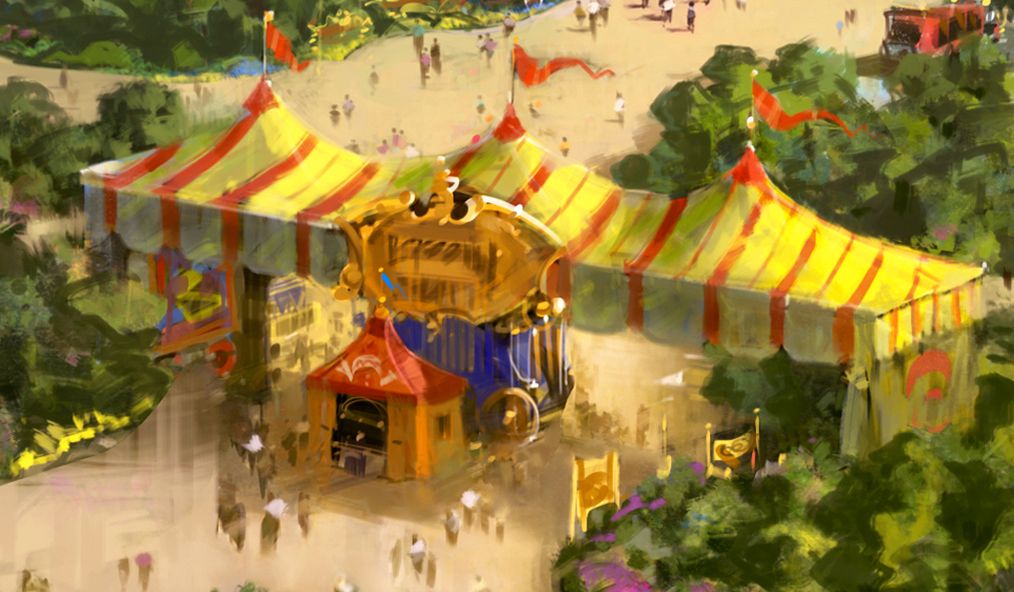 ...and show how close the two Dumbo carousels will be...although guests will be able to walk between them to enter the circus tent.
...but also reveal something interesting, i.e the Circus themed "splash" zone where young children will get wet.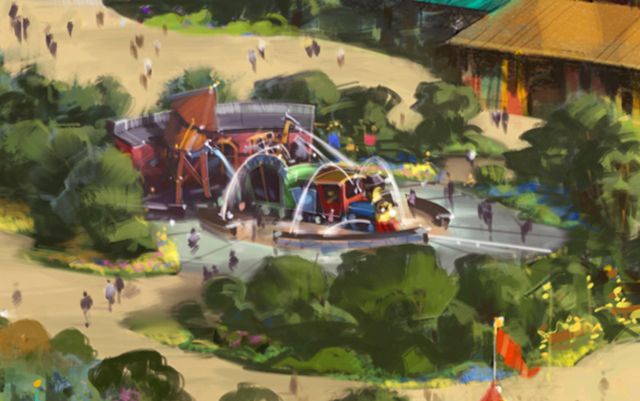 Even more interesting are the details of the seven dwarfs mine coaster. If you look closely to the rendering, not only you'll see better the dwarfs cottage but also you can have a better idea of the coaster train design which will look like elongated seven dwarfs mine wagons.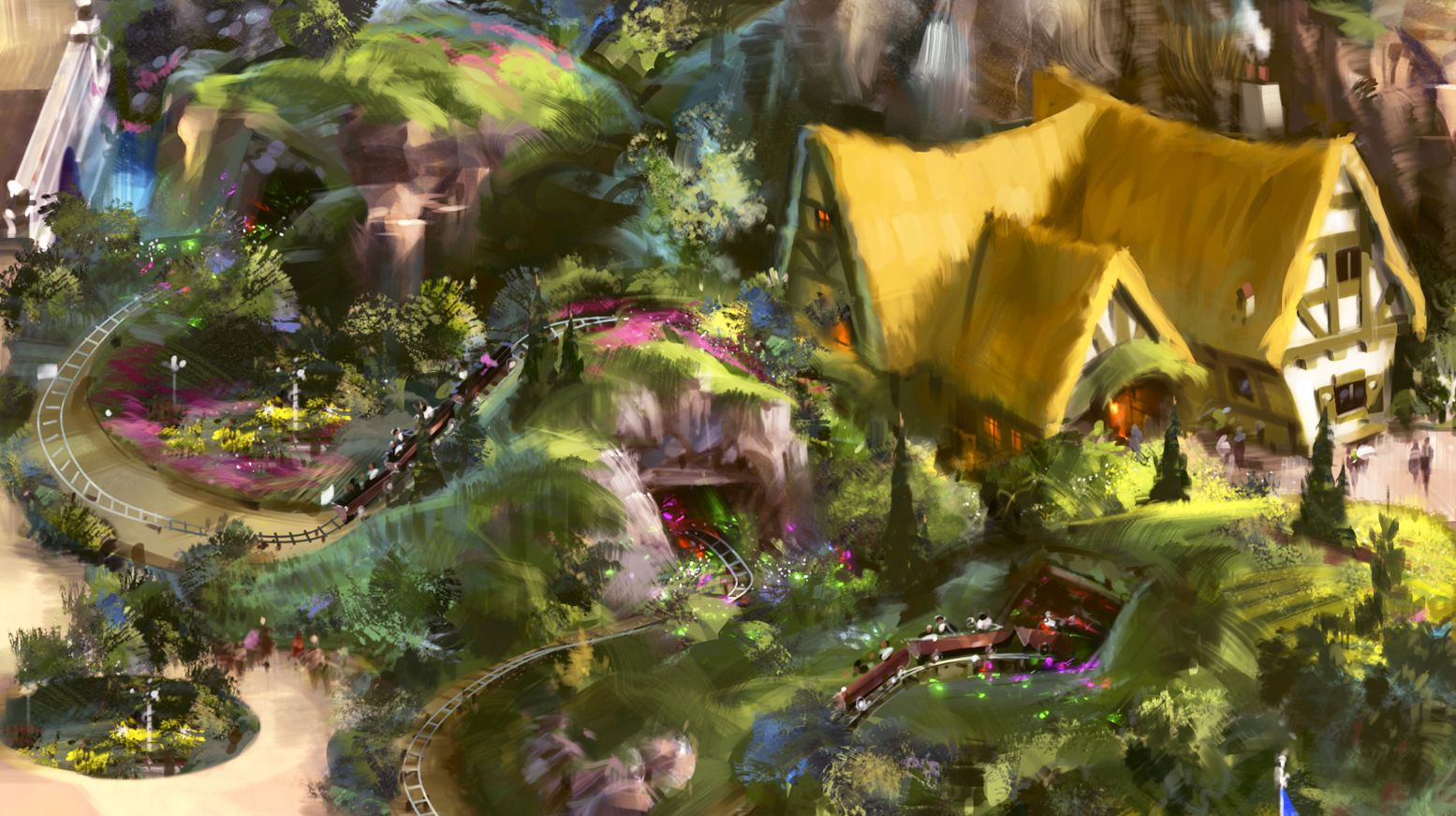 And more zooming on the same part of the artwork reveal the shining multicolored diamonds that guests will see in the mine.
In the WDW press release from last week, we could read that "The journey will be accompanied by music from the classic Disney film and animated figures of Snow White and the Dwarfs..." Are you wondering where the location for these animated figures will be? Well, the most interesting detail of this seven dwarfs mine coaster gives partly the answer with this outside scene with the seven dwarfs "coming back home", standing on a big tree trunk. The coaster train will go of course under the trunk and there is no doubt that the seven dwarfs figures will be partly animated in this scene...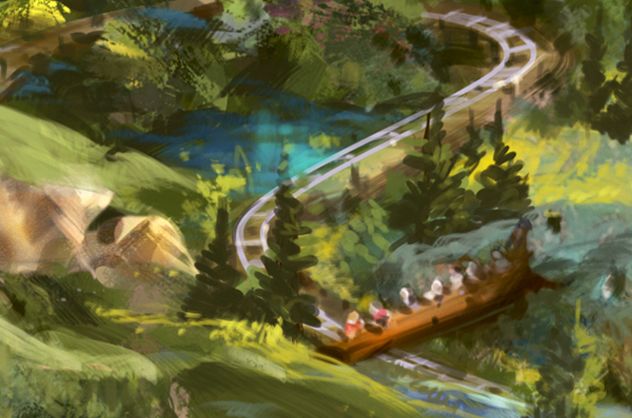 ...paying tribute to Snow White's memorable sequence.
But the ride might include another scene with animated seven dwarfs as we can see in this new rendering below
posted on Miceage tuesday in Kevin Yee's article
and showing a scene with the dwarfs, this time inside the mine.
A closer look at WDW's New Fantasyland artwork reveal interesting details on upcoming attractions
Your thoughts?
All pictures: copyright Disney