I'm relatively new to MiceChat, and I'm more active on the HKDL side of things, but I do lurk in these waters every so often.
I'm from Manila, so HK is my turf, and I live vicariously through your Trip Reports and whatever news you guys have.
I've been wanting to share something with everyone, but my last trip to DL was in 2004, I doubted that would be of much interest to most. However, recent discussions on Figment and Dreamfinder prompted me to dig out our pictures from my first visit to WDW.
Now the pictures are very touristy, and the fashions are very subdued Eighties. I was four years old back then, and I didn't really remember much so this is less of a reliable trip report but more of the way I saw it - a kid's first taste of America.
1986 was a big year for me. The Challenger disaster remains to be the first bit of international news that I remember from my childhood. In February, my paternal grandfather died and I gained my first concept of mortality. The following week the People Power Revolution ousted the Marcoses, Imelda's shoes became part of world history.
Maybe just as important, was the fact that my dad was given a scholarship by the US Embassy for a seminar in Chicago or Washington.
I wasn't terribly excited because I didn't understand the concept of the world as whole at the point. I thought the US was a hop, a skip, and a jump away.
Our first stop was in Taipei, and I have no memory of what that place looked like. I guess I slept through most of the flight. The next stop over was Narita, which was in this place called Pinocchio, Japan. Later after our trip, I told my parents that I swore I saw Pinocchio's face painted on the side of the airport in Japan.
Once we got to the US, I forgot if it was Detroit or Chicago airport, my parents asked me if I wanted to buy anything while we were waiting for our flight to Orlando. I picked out orange Tic-Tacs. To this day, I still try to buy some wherever in the world I am.
Orlando was a no-brainer for us. My aunt lived in Orlando, and my cousins, being locals, are well-versed in WDW. Initially, I was disappointed that we weren't going to Disneyland, but when they explained that WDW was newer, bigger, and I better, I was back to being excited.
The only thing that disappointed me is that I wouldn't see "Jaws" since they didn't have Universal Studios in FL at that point.
We went to MK on June 15, 1986, and it was, I don't really remember. I spent a lot of time on my dad's shoulders because I was too tired to walk. I loved Dumbo, the carousel, Peter Pan, and the Skyway, but the highlight for my trip were the water fountains. I made a lot of requests to stop for water and the subsequent visits to the little boys' room.
THE PHOTOS
MAGIC KINGDOM
As you can probably see, the pictures themselves are nothing to write home about, mostly of my parents, aunt, cousins, and me. But what makes these fascinating are the bits of clippings that my mom took the time out to cut and paste onto the photo album.
My mom loved postcards. She never mailed them though. I always wondered why bother getting postcards that other people will have and they're mostly pictures of things you can take on their own, but now I can see they're still beautiful 25 years later. And they serve as a wonderful snapshot of the what WDW was like back them. Oh yeah, I've always loved that sticker of Donald. And the ticket! I think those older tickets are much classier than the newer ones.
As a four year old, we spent most of our time in Fantasyland. It was my mom's dream to ride the tea cups. I spent many hours leafing through my grandparents' album of their trip to LA and their pictures of Universal Studios and DL and Sleeping Beauty's Castle, but Cinderella's Castle never disappointed (except for that pink birthday cake castle). It took a while for my eyes to adjust in Peter Pan, but flying over London and seeing Wendy on the plank were forever etched in my memory.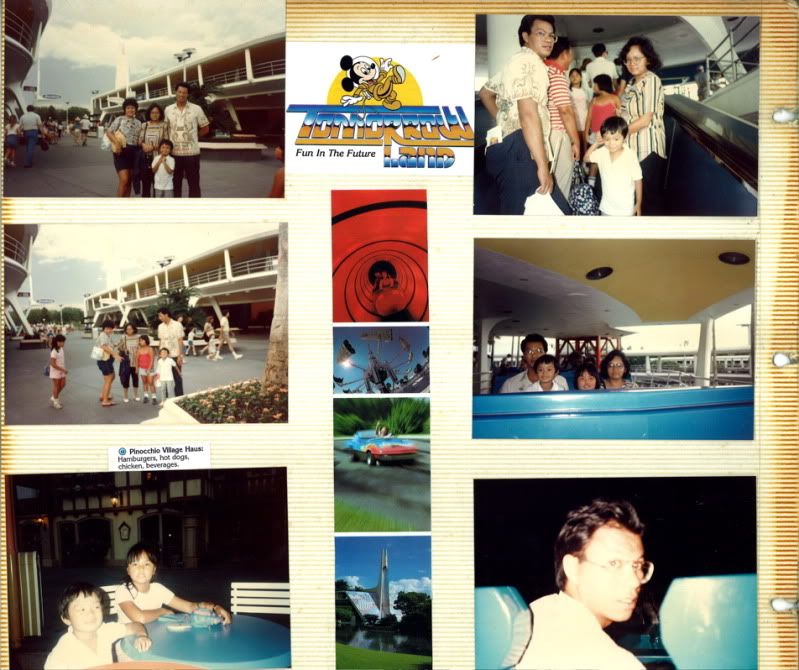 We took the Skyway to Tomorrowland, and that's where I saw my first glimpse of Space Mountain. My cousins told me what was inside, but what they said frightened me. A roller coaster indoors? I couldn't even ride the regular ones. The PeopleMover was fun because it was nice and slow. That and Autopia provided the perfect speed for me back then.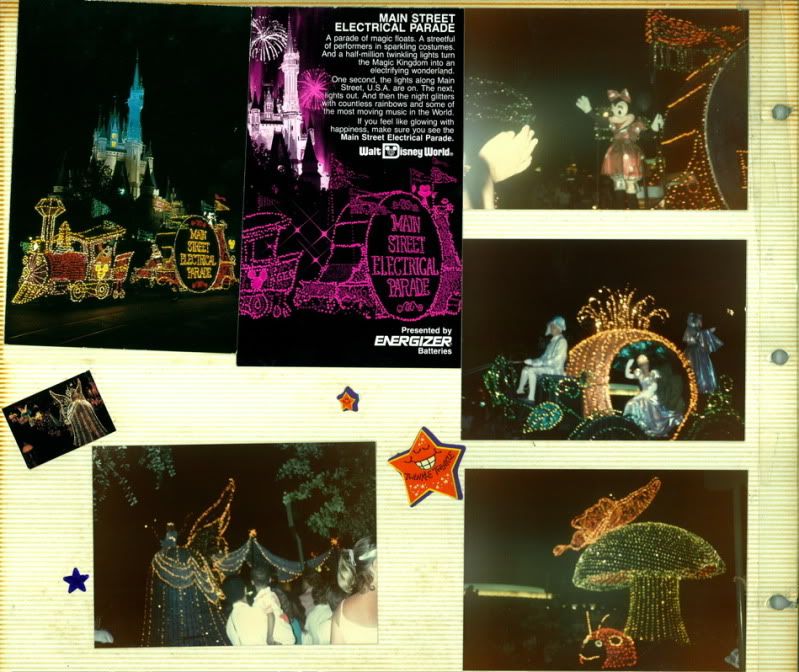 The MSEP was a moment of magic for me. I had never seen a parade on this magnitude, but more importantly, I think a magical moment is when something you never thought was possible just suddenly becomes real (recent ones for me non-Disney related were playing the Wii and the 3DS for the first time).
When Tinkerbell flew past by and lit the castle, chrysanthemums and willows dotted the night sky. I was only used to roman candles and sparklers, and to a less fond degree, firecrackers, such fireworks were another thing I had not seen before. Less than a month later, I looked forward to the 4th of July fireworks. I was disappointed that it wasn't up to Disney quality. I think that was the birth of the Disney geek in me.
EPCOT
I honestly did not know what to expect from EPCOT. Especially since I was disappointed that we weren't going back to the Magic Kingdom. However, when I saw Spaceship Earth, the budding nerd in me was suddenly curious about what this place had in store.
Apparently, it had dinosaurs, dolphins (like Seaworld!), and dragons. And of course Mickey, Minnie, and Chip 'n' Dale. They were fine, but I didn't really know what to do with them since I didn't get to go near them in the MK. Thus started a lifetime of awkward posing for pictures.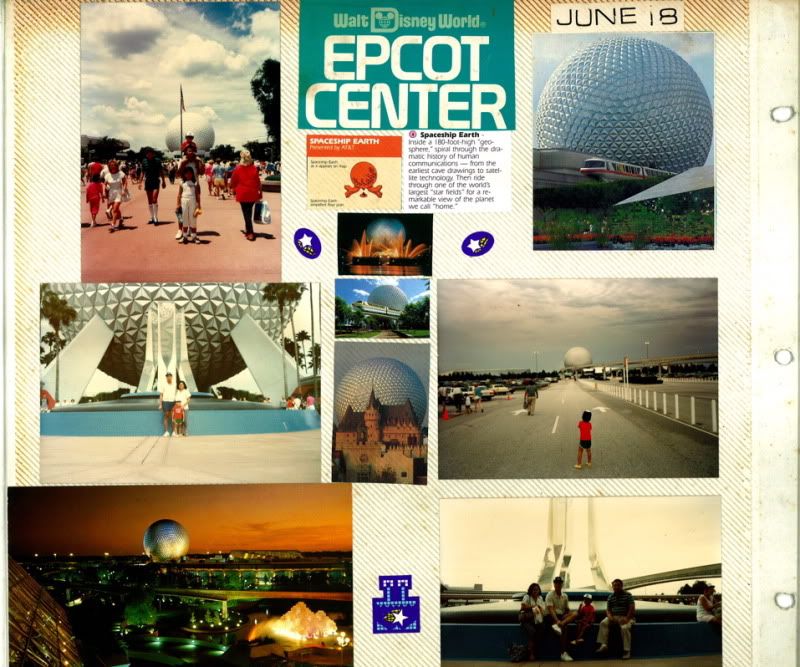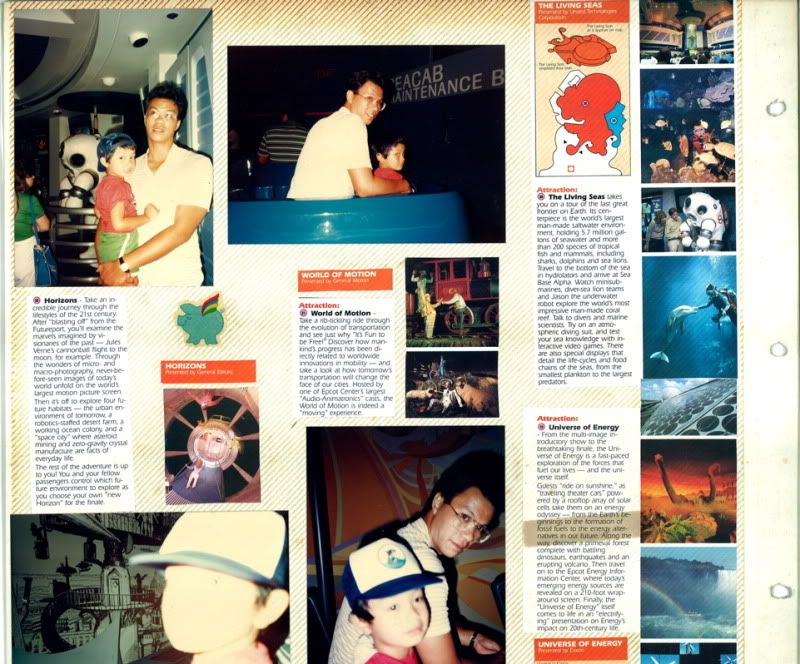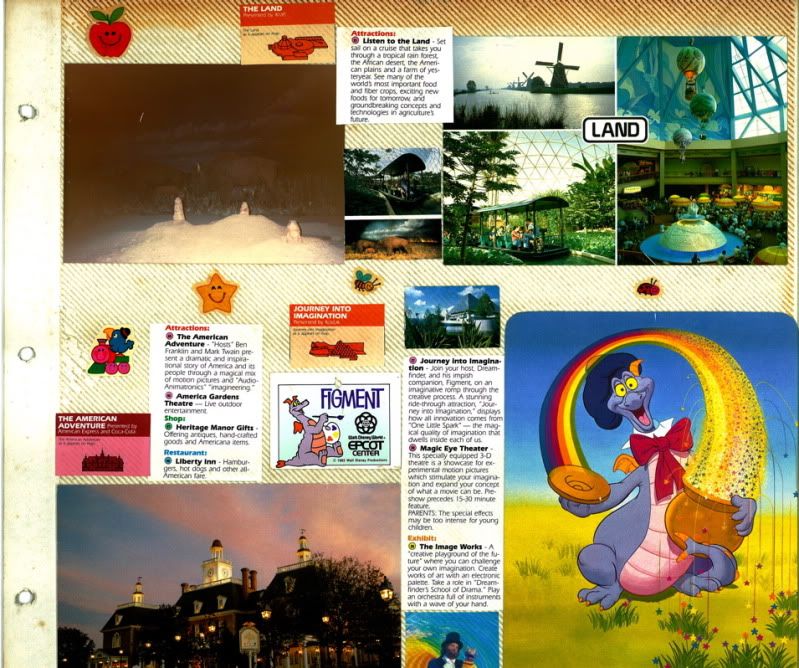 I enjoyed EPCOT much more than MK. Surprising for a 4 year old, but maybe it was the saurpods towering over me as the theater seats moved in the Universe of Energy or what I tricked my memory into thinking as Captain EO, but was actually the Magic Eye Theater, or the trip underwater (beat that Seaworld) to the Living Seas.
However what stuck with me the most was the Journey into Imagination. Dreamfinder and Figment. I thought Figment was real because the little dragon Dreamfinder carried arround looked exactly like the one on the ride!
I remember my cousin volunteering for what looked like a futuristic Simon Says in a pretend escape or something via video. Maybe someone can tell me if I remembered it correctly.
I spend a lot of time on those painting programs where you "dip" the electronic paintbrush onto the palette of colors and touched the monitor to color the black and white images of EPCOT buildings. I remember asking my parents what it was, them not knowing what to say said it was a printer. I said I wanted one. Imagine my disappointment when we bought our first printer a few months later. It was a dot matrix. That was the first time I realized that adults could lie.
We went around Florida the weeks after that, and even went to New Jersey and to New York, up the WTC and climbed up the top of the Statue of Liberty (elevators weren't working that day). And surprisingly, back to EPCOT. Because my mom found out that Donny Osmond was singing there that day (and Howie Mandel as well, I think). She got their autograph. I wasn't sure if was happy to be back when I didn't get to do anything I wanted that night.
It would be another 8 years before I got back and I spend those 8 years growing up and hating myself for missing all the other great rides. I prepared myself by buying the Birnbaum's Official Guide to WDW and reading it for years for my next visits. The next of which involved leaving my dad and my 5 year old brother in Mickey's Starland while I lined up for the rides that I wanted.
Whew. That was quite a trip down memory lane. Please do correct me if I recalled things incorrectly.