This report is going to be a little different. Rather than my normal, incredibly verbose style (which I'm sure very few people read or want to read, anyway), I'm going to post a CliffNotes version, of sorts, of the trip report here.
I will, as always, post the full report on my personal website.
However, it's simply too much work to copy it all here, plus I'm sure all of the photos are taxing on Micechat's servers.
---------- Post added 10-14-2011 at 06:49 AM ----------
Even though we take multiple trips per year, this trip was a long time coming. The anticipation it it actually began 4 years ago, way back in 2007, when Epcot (or EPCOT Center, more appropriately) celebrated its 25th anniversary.
In retrospect, I'd like to say we were on the fence about attending that event. However, that's probably more wishful thinking than anything else. We had just visited Walt Disney World for the second time together that August, and we were just starting to really sink our teeth into the Disney community. I had been reading WDWMagic.com daily, had just started listening to WDW Today and WDW Radio, and my Figment collection was just starting to get out of hand. Neither of us had ever taken more than one trip in a year (that streak would soon end, when we took our November 2007 "Engagement" trip). Heck, the only camera I even owned at that time was a $100 point and shoot. Ahh, the good ole days. Still, even though it was an unlikely proposition, I remember desperately wanting to go, to be part of something special in the fan community, even if Disney wouldn't be doing much.
Then, shortly after that date, I read of other fans discussing
Walt Disney World's 40th anniversary
, and what might happen for it. I instantly latched onto that, as something to anticipate, rather than be disappointed by our absence from Epcot's 25th. Here and there, I would engage in other discussions of what "might happen" for the 40th, always excited to read these discussions, even if they were vague potentialities that really had no chance of ever happening. Honestly, I didn't expect a whole lot, it was more the idea of being there for the day, rather than the substance of the day itself.
In a flash, October 1, 2011 was quickly approaching. This became very apparent in May 2011 when we attended Destination D at Walt Disney World, which arguably was the event for the most fervent Walt Disney World fans to celebrate 40 years of the Vacation Kingdom of the World. Once that passed, and the rest of the summer went with it, and we began counting down the days in September, the exciting anniversary was even more prominent in our minds.
Finally, on September 28th, we left for Walt Disney World. As the trend has been since entering the "real world" workforce, we left after work one afternoon.
Before we got through security, though, we had the obligatory stop at McDonald's. As I had learned a couple of days before, McDonald's would be starting its Monopoly promotion the day we flew out. Talk about great timing!
If you've read our other trip reports, you've probably read numerous times that I love Disney's Magical Express. Not because I think it's more convenient than a rental car or other shuttle service (it's not), but because it's the perfect preface to a Disney vacation. One of my favorite aspects of the ride is the video they play.
We exited the bus at Caribbean Beach Resort and headed for the Custom House to check-in. Along the way we met up with our friend, Nick. When we got to check-in we experienced another victory: no line! It was shaping up to be a great night. I requested a room in Jamaica, which was full, but luckily, Aruba was open. Based upon my research, this was the optimum location without paying an additional preferred room fee. We're both awesome at walking, but more importantly, cheap, so we weren't about to pay this nightly fee for a room a little closer to Old Port Royale.
As we were leaving the Custom House, as some of you may have read on
my Twitter account
, I noticed one of my photos of Spaceship Earth being displayed on the video "tip board" that provides operational hours and other information. Even though there are probably millions of Spaceship Earth photos out there, I know my own photos like parents who like their kids know their own kids. I instantly recognized it as mine, and was a little perturbed. No one had contacted me about using this photo, and Disney aggressively protects its own intellectual property. I wasn't perturbed-enough to stop and try to "do anything" about it, but I felt it worth noting here anyway. I'm sure it was a manager who put together the tip board and didn't realize he or she couldn't use random photos off the internet without permission, but it strikes me as an interesting double standard, nonetheless. I can't deny that it was neat seeing my photo on 'display' at Disney, but I wish it weren't under those circumstances!
Nick had driven his car to meet us at Caribbean Beach Resort, and our room was a bit of a hike from the Custom House, so I broke one of my rules while at Walt Disney World: I rode in a car. This rule, unfortunately, would be broken a few other times over the course of the trip. After a quick stop in our room so we could drop off our carry-on bags and Sarah could change clothes, we were off to Epcot...in Nick's car.
Once we got through the bag check and turnstiles, I raced ahead of Nick and Sarah. Spaceship Earth is to me what Cinderella Castle is to Sarah, and Nick and Sarah were having a "real world" discussion. When I first walk under Spaceship Earth, I want to be totally in the moment. I want the entrance area loop to envelop my ears, and I want the great lighting to mesmerize me. I think part of the reason Spaceship Earth is so impressive to me when I see it in person is because I spend so much time looking at photos of it. No matter how many photos I take of it, I've never managed to capture the true grandeur and amazing scale of Spaceship Earth. Because of this, each time I walk under it for the first time during a trip, it amazes me how large it is in comparison to what I've become "used to" from looking at photos. Over the course of the trip, I become "used to" the large size of Spaceship Earth, but that's wiped away again during the void (and photo-viewing) time between trips.
After I had my moment with Spaceship Earth, they caught up with me, and we headed over to the rest room. Now, I hadn't used the rest room since we left Indianapolis, which was many hours ago, but we were standing right under Spaceship Earth with its beautiful nighttime lighting, so instead of doing the responsible thing, I set up my tripod and snapped a few shots while waiting for the others. Honestly, at that point, I was so "hungry" to take some photos that I probably would've wet myself rather than miss out on the opportunity to photograph Spaceship Earth. I guess I'm just that dedicated to photography. Or crazy.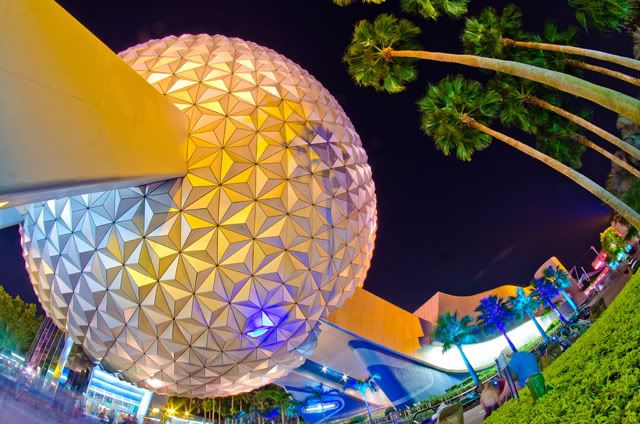 Somehow, it was determined that we'd do Test Track first. I think I was screwing around with the camera when this decision was made, and I just sort of blindly followed Sarah and Nick. Now, don't get me wrong, I have nothing against Test Track, but I feel you should start each trip out with a truly special attraction. in Epcot, the attractions that qualify for this are: Soarin, Spaceship Earth, Livin' with the Land, Ellen's Energy Adventure (yes, you read correctly), American Adventure, and Maelstrom. While Test Track holds the crown as the second most popular Epcot attraction, it's low on my list. We should have done Spaceship Earth first.
For all my complaints, Test Track at night is pretty exhilarating. Plus, the wait wasn't long at all, so I can't really complain. After Test Track, we went to the second most "special" attraction in Epcot. That is, if you're playing really fast and loose with the term special, or going for duplicity of meaning. Yes, I'm talking about Journey into Imagination with Figment, which is about as depressing of a way as any for me to start out a trip.
The attraction was fun, but only because it gave me the chance to see an old friend, even if in a bastardized form, and also because I decided to photograph it with my fisheye lens, which produced some unique images.
On the plus side, there was a multi-color lighting package in the second story ImageWorks turned on that I've never seen in person. It was really cool! After the attraction, I stopped to take a few photos there, which was surprisingly difficult given angles, lenses I was using, and what I wanted to accomplish. While I was taking the photos, Sarah and Nick headed over to the Electric Umbrella, to grab a quick meal.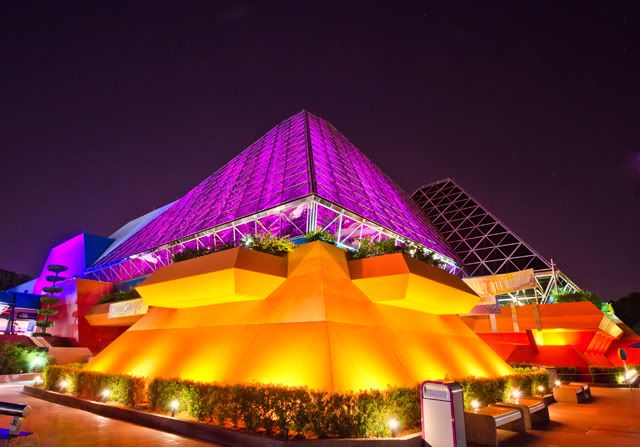 I met them there right as they received their food, and just in time to snap a couple photos of Sarah's salad. Besides the cool lighting, I've never really been all that impressed with the Electric Umbrella. I'm not really sure why, but it strikes me as a little dated and not in the best condition. The food is okay, and we'd probably eat there more if it were in Disney's Hollywood Studios. In Epcot, though, there are much better options.
After Spaceship Earth, it was getting late, so we headed to World Showcase to start taking some photos.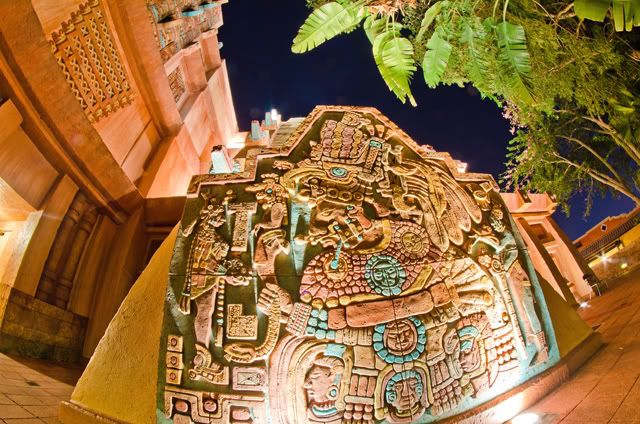 We started in Mexico, heading to the out of the way corners of the exterior to avoid other Guests. As I've mentioned before, the harsh lighting on the exterior of the Mexico pavilion makes it one of the most difficult (if not the most difficult) structures to photograph in all of Walt Disney World. Really, it's deceptively difficult!
We continued onward, making stops in Norway and China along the way. Norway might be my favorite country in the World Showcase--I think Maelstrom has the script that will make it go down as a cult classic when it's eventually replaced--but it's incredibly difficult to photograph at night. It's poorly lit, and nothing really stands out. The lighting improves at Christmas, but it's still quite the task. China, on the other hand, is great for photography. We spent far more time there, in fact.
It had been a while since I had last photographed Germany, and an idea struck me. Unfortunately, like most of my ideas, I didn't really vet it that well, and started "doing" before I had completely thought it through. The photos below of me looking like a dofus on the fountain are the result. Even worse, I was unable to get the photo I wanted because I couldn't see through the viewfinder, nor could I see the LCD screen. It's a cool-enough idea, so I think I'll try again sometime.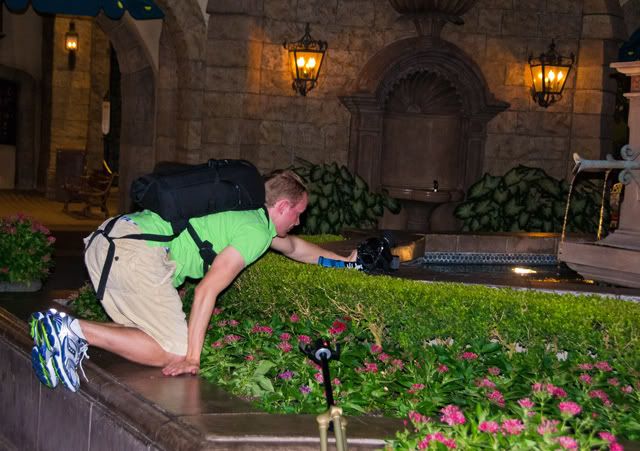 After a few photos, we headed back towards Future World, taking more photos along the way. We stopped to take a few more photos in Future World before heading out. We had a bus to ourselves back to Caribbean Beach Resort, and our driver took us right to Aruba.
At this point, it was "only" 1:35 am, and it was the first night of our trip! I had slept for about an hour and a half on the airplane, and for a good amount of time the previous night, so I still had plenty of energy (mind you, I normally go to bed at around 10 pm; how I have this much energy at Walt Disney World is beyond me). I escorted Sarah to our room, dropped off a couple pieces of camera gear and headed out to test a couple shots I had in mind.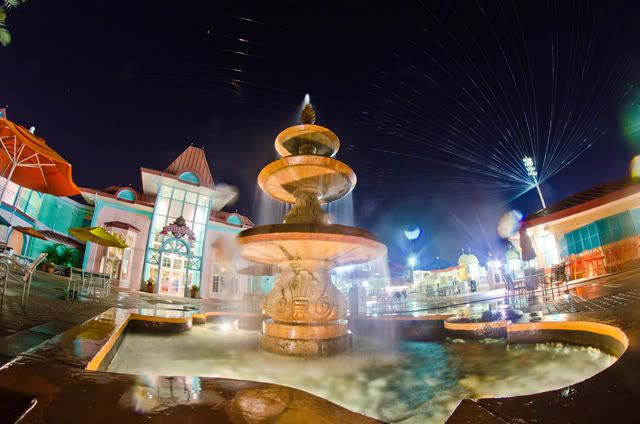 Unfortunately, I got all the way over to Port Royale, set up my camera, and then realized I had dropped off one of the lenses I needed for my big experiment: star trails. I decided to make due with what I had, and after I had taken a few 90 second exposures, a security guard approached me.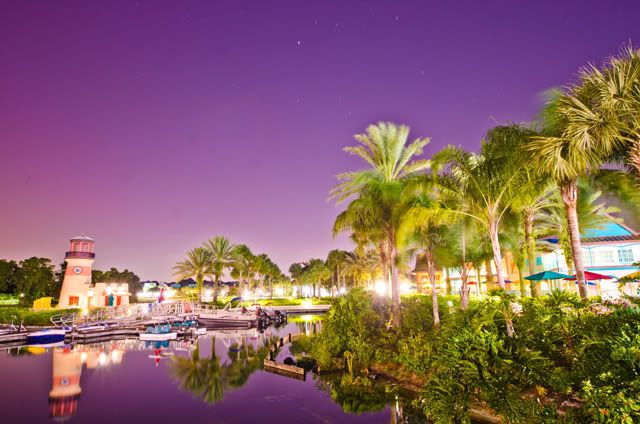 He was nice and genuinely interested in what I was doing. I showed him my star trails photos, and he seemed impressed. I showed him some other photos on my LCD, and we started talking about photography. He was a really nice guy. When we were done talking, I realized it was well after 2 am, so I decided to head back to the room and go to bed. I finally got to bed at 2:45.
And that's a wrap on the first day!