Was just at Disneyland September 23rd through the 29th and had a fantastic time. Really should do a trip report. But today I went to Magic Kingdom for the first time since that Disneyland visit. First thing I notice was the spruced up parking toll plaza.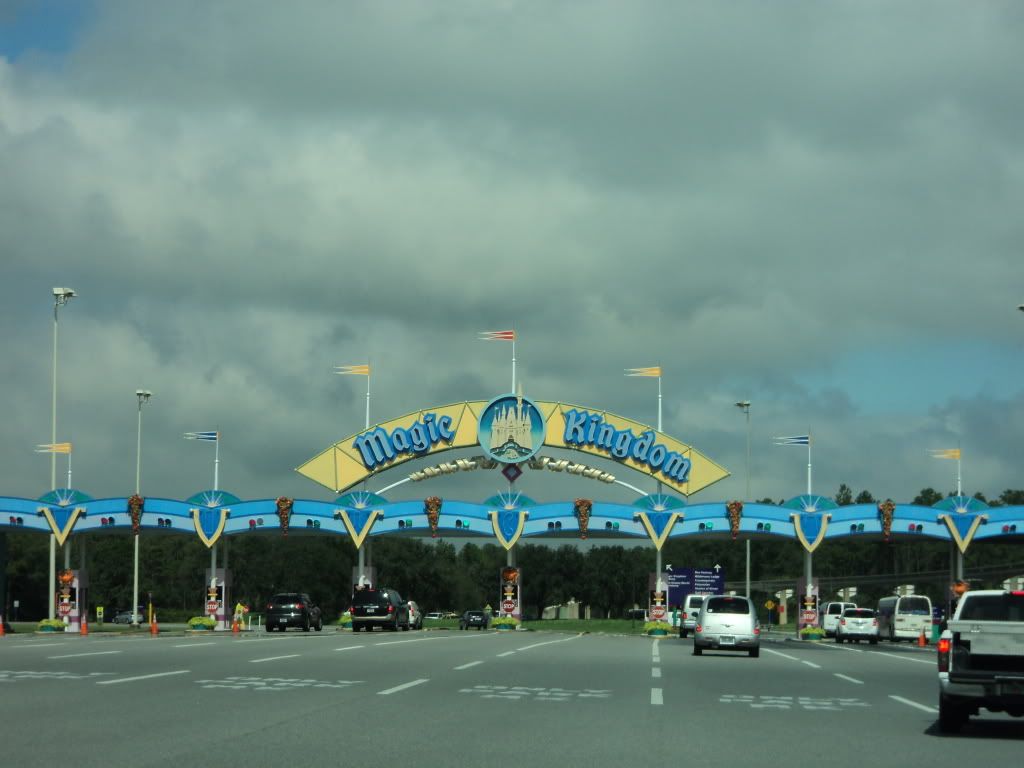 Walking into the MK I stop for just a brief moment to see if the scratch is still there. It is. I now kind of hope it remains. It seams to have become a silent tribute.
Curiosity resolved and respect giving.... moving on to the Halloween decorations.
First my favorite repeatable moment at the MK, the arrival of a train, in this case lead by the engine "Roy O. Disney" into Main Street USA's station.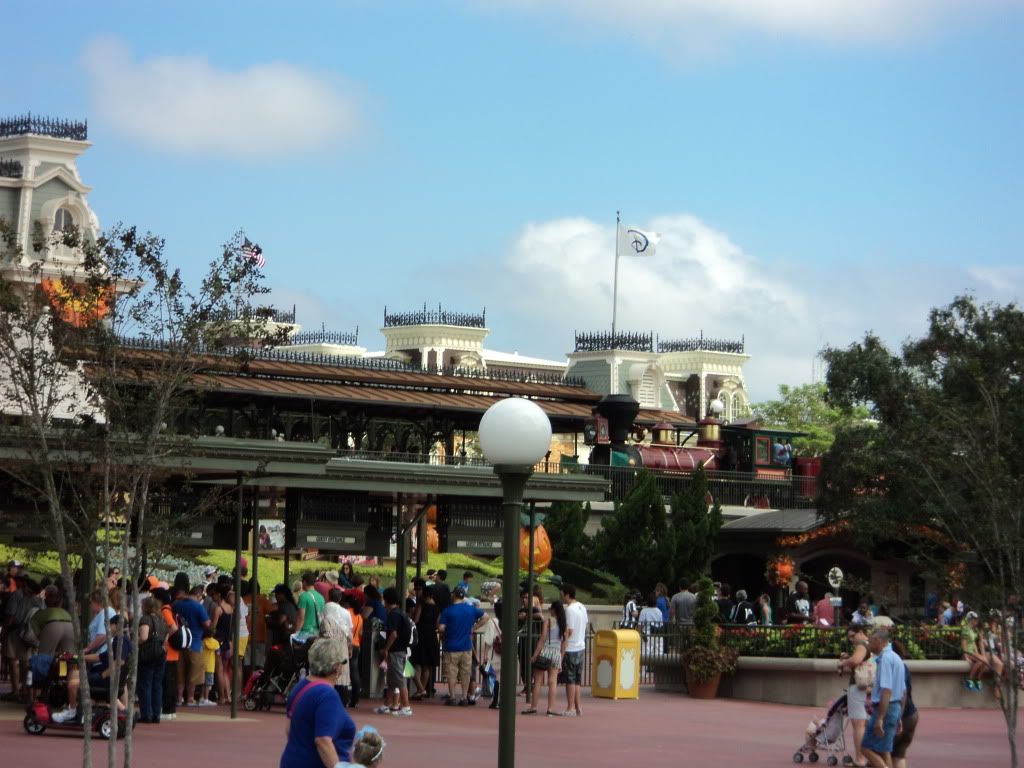 wooooo woooooo, clang clang, clang clang,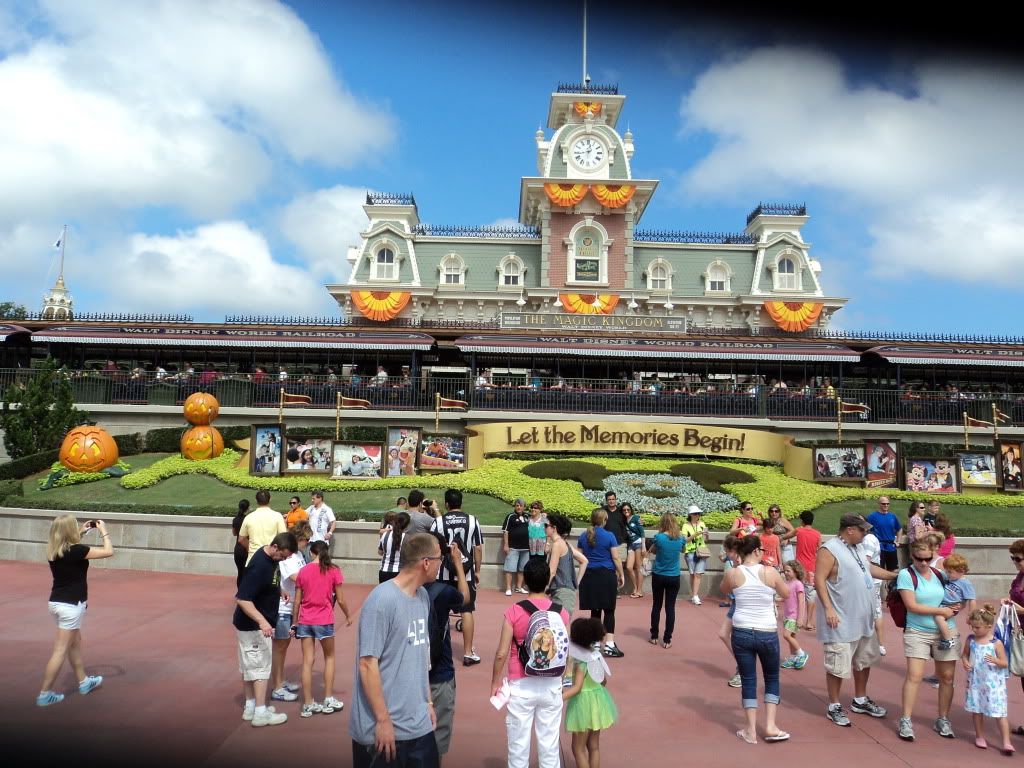 I like the pumpkins. Low key, maybe too low key, but cute still.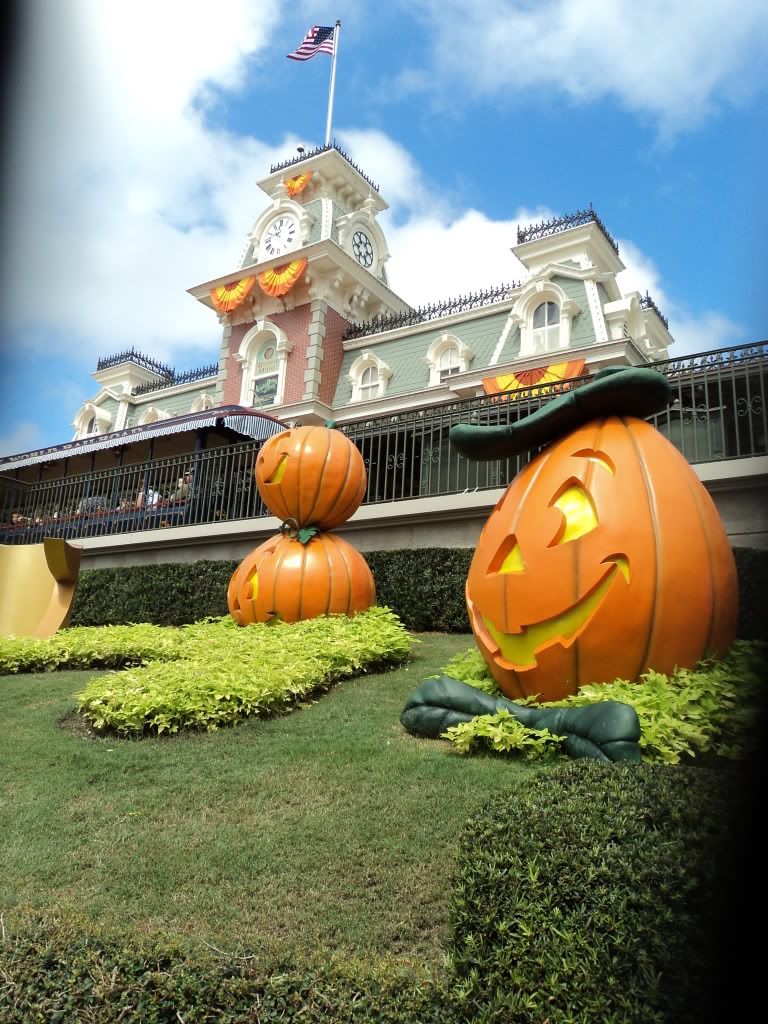 Some Pumkinzens of Main Street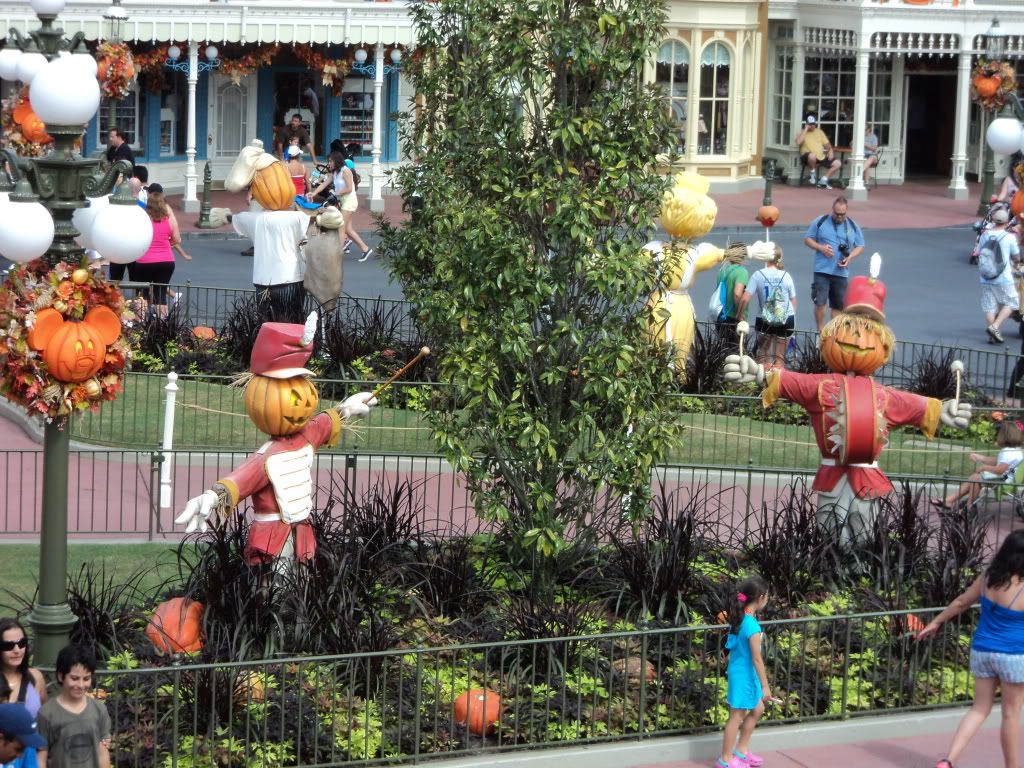 Some more....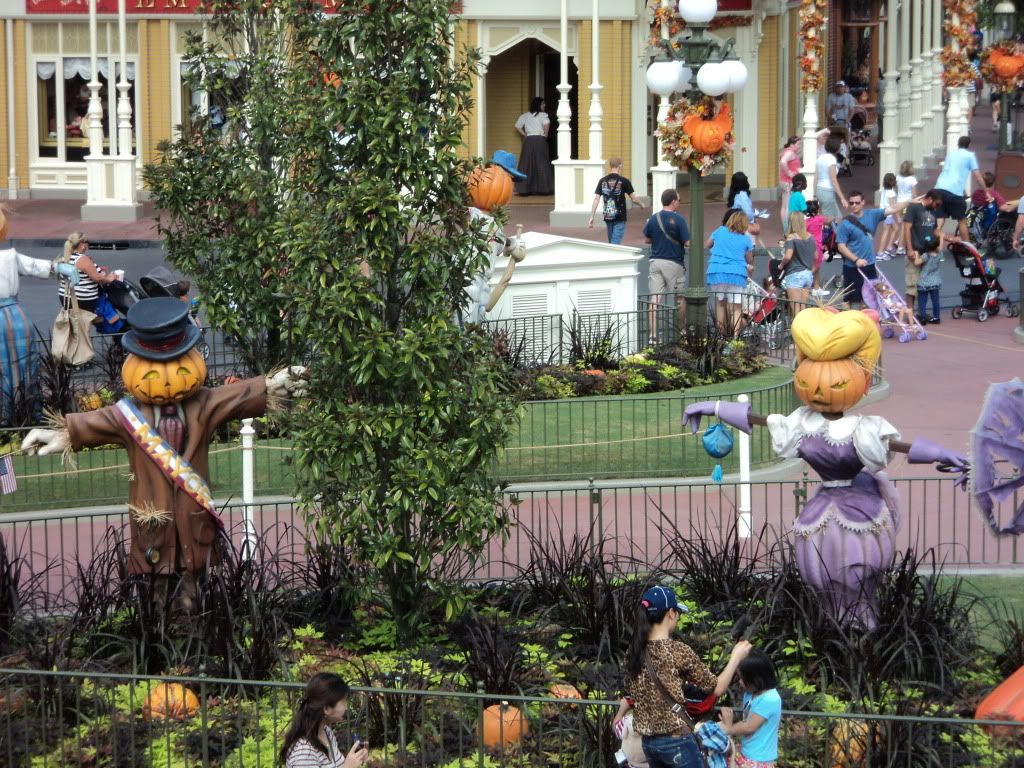 It was kind of busy. Mainstreet Station actually had a line to get on the trains. It was about 20 minutes long.
One more shot of the glorious trains of the WDW RR. Here is the Arrival of the "Walter E. Disney". I didn't make on this one due to the line......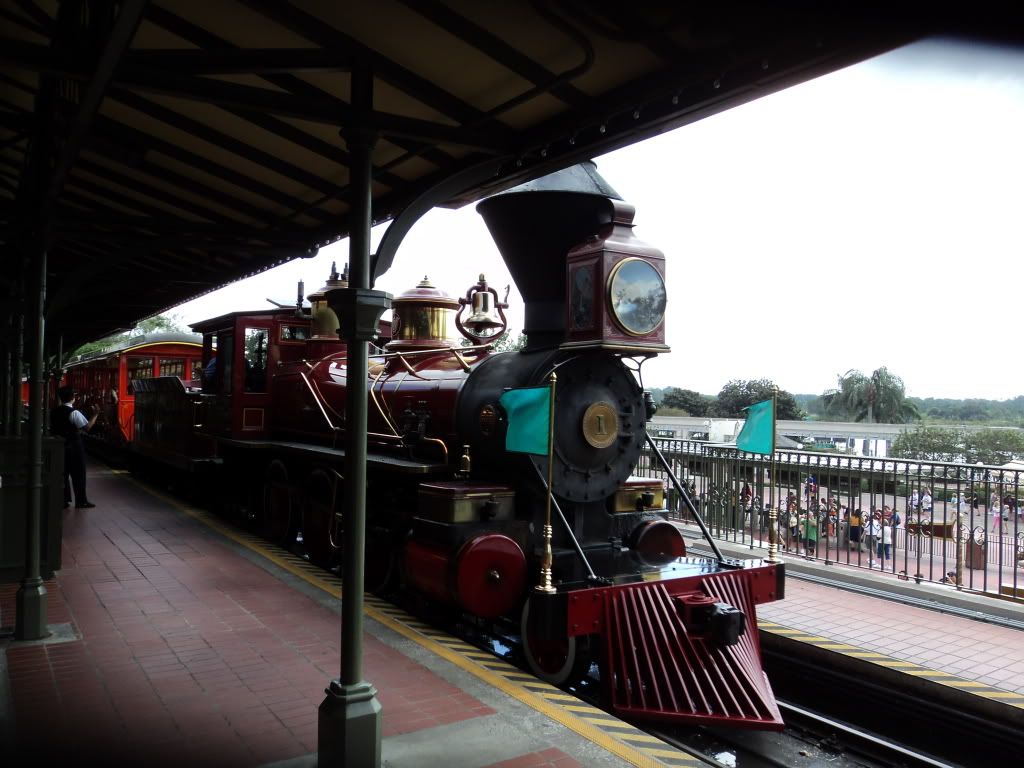 I ended up being pulled by Roy through the back woods of the MK on the way to the now fully opened Storybook Circus. The below picture is the arrival at Storybook Circus Station.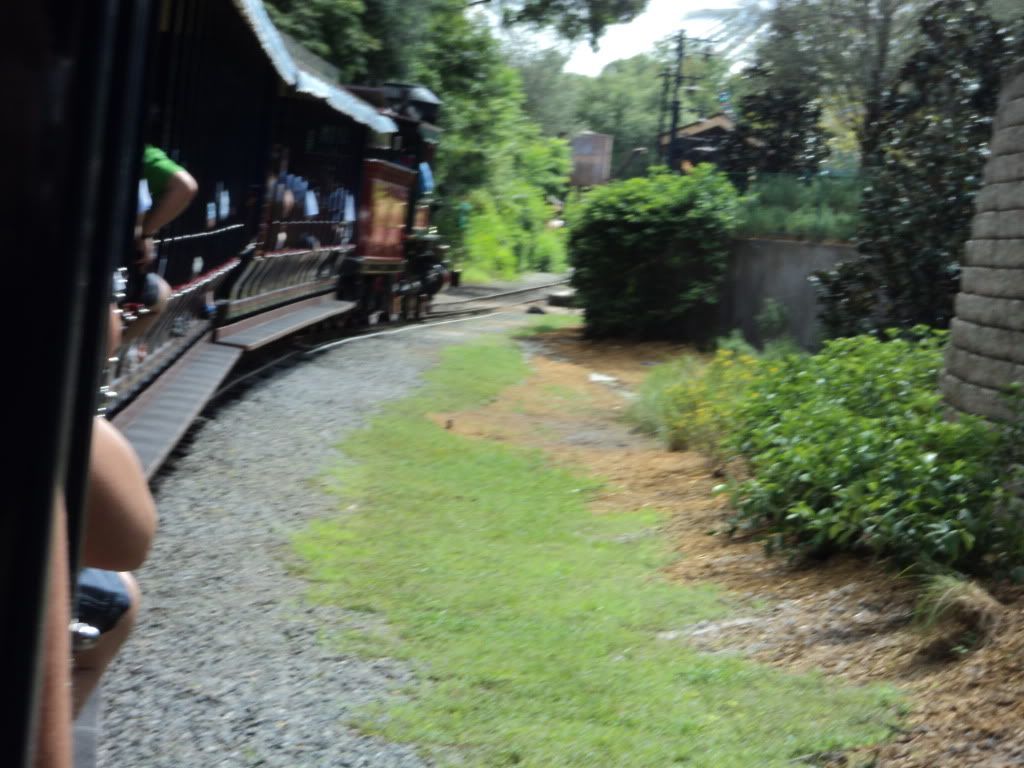 Welcome to StoryBook Circus!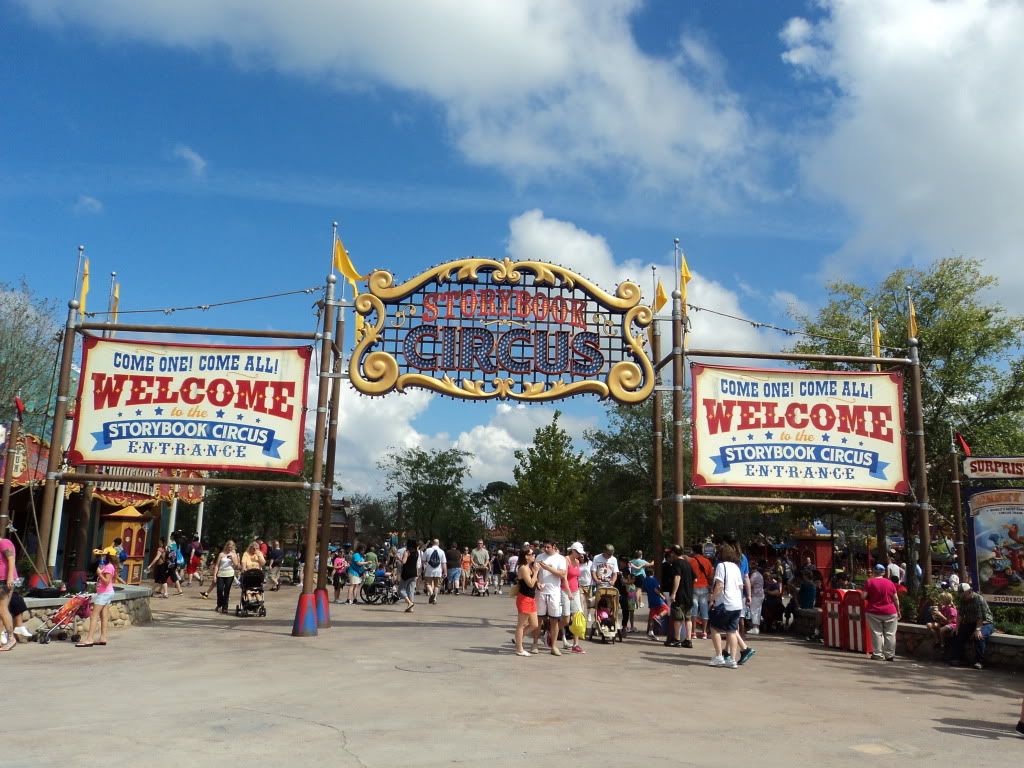 The new star of the circus is Dumbo and so everything is shiny and new in regard to Dumbo. Notice how crisp the attraction is, even the marquee for the attraction is clean and new. Yes. Timothy is from the former Dumbo.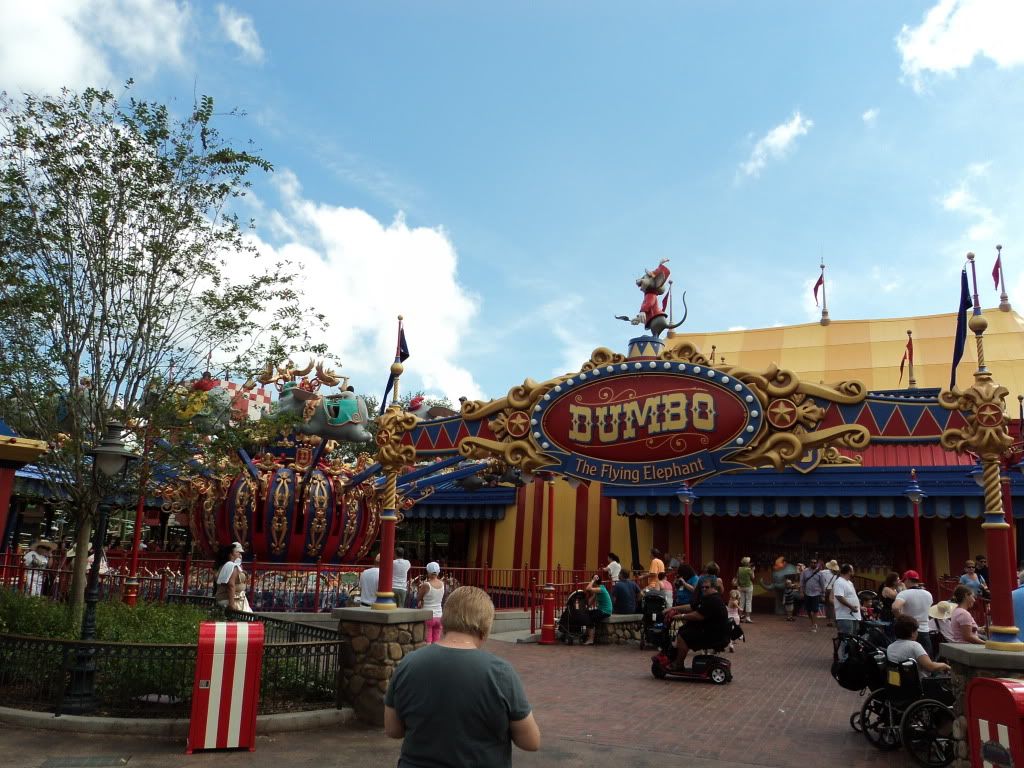 But this circus has been around and the rest of it is aged a bit. Welcome to Big Top Souvenirs.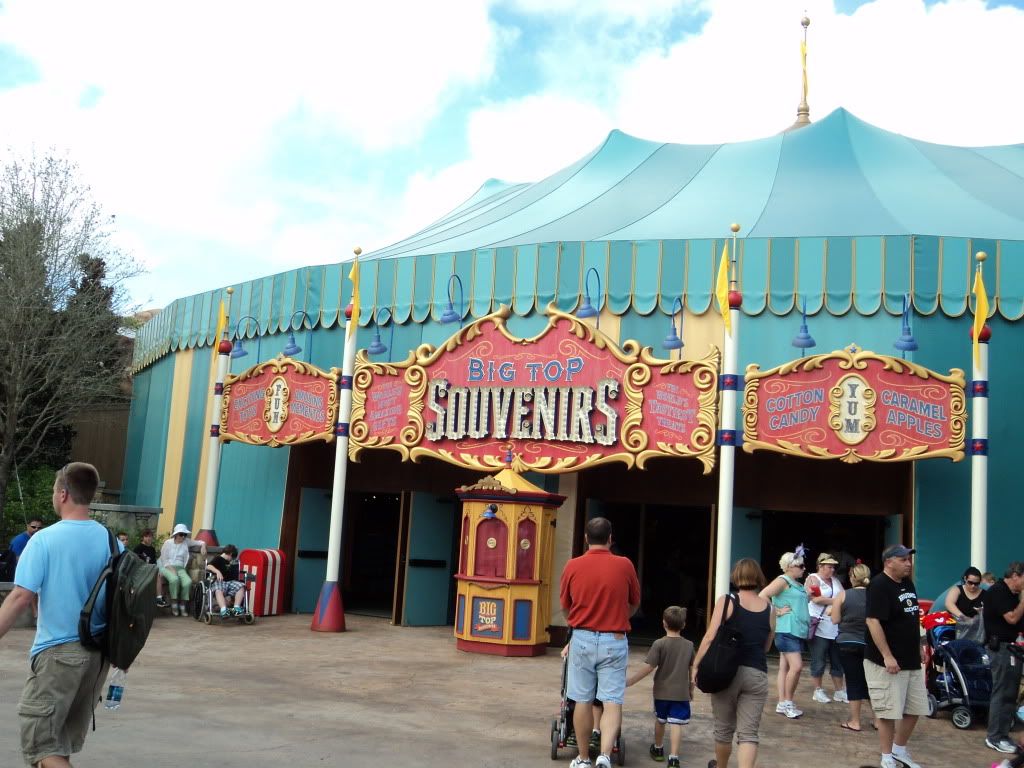 And the neat thing about Storybook Circus is it adheres to my Disneyland rule of when outside, look down for details. Here you will find wagon wheel tracks, animal prints, and even peanut shells. And when inside, look up....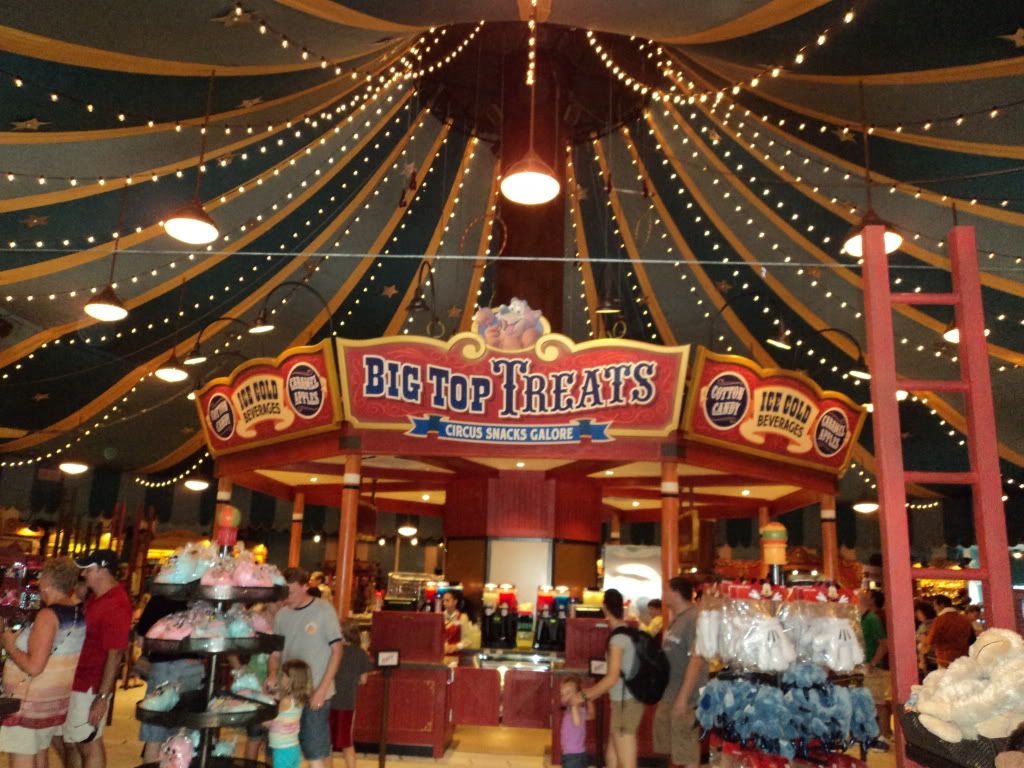 One critique I would observe.... While enjoying the Jolly Holliday Bakery at Disneyland's Mainstreet, I notice they kept the coffee makers semi hidden with cabinetry that hide the bulky top halves of those machines. There was no attempt to do so for the slushy machines that dispense Goofy's Glaciers. But the Big Top is a joy to be in. It offers a lot of what Main Street USA has in its shops in a new and fun way. Big Top Treats for example is pretty much a copy of the offerings found at the Main Street Confectionery. It is twice the size with two lines, one on each half of the middle, each offering the same choices. Want your hat with your name on it.... Big Top can help you with that too. Its Main Street's offerings in a fun new atmosphere.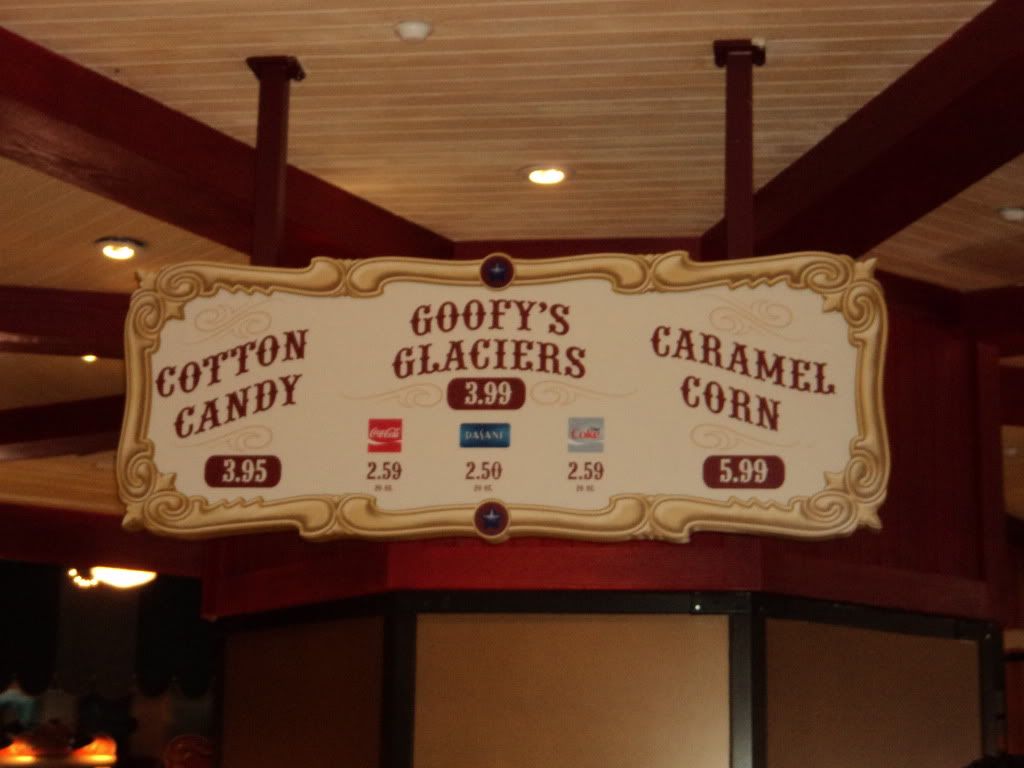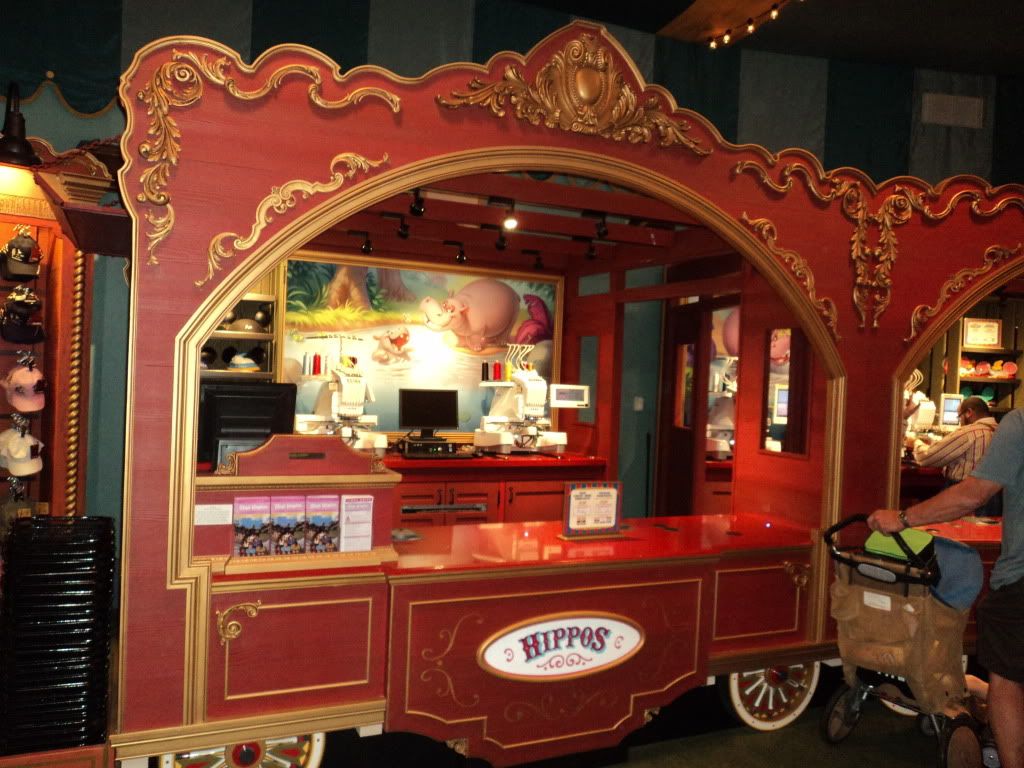 The hippos handle the embroidery of the hats. No Penguins below, I assume they stepped out so the circus could have a cool spot for the sodas.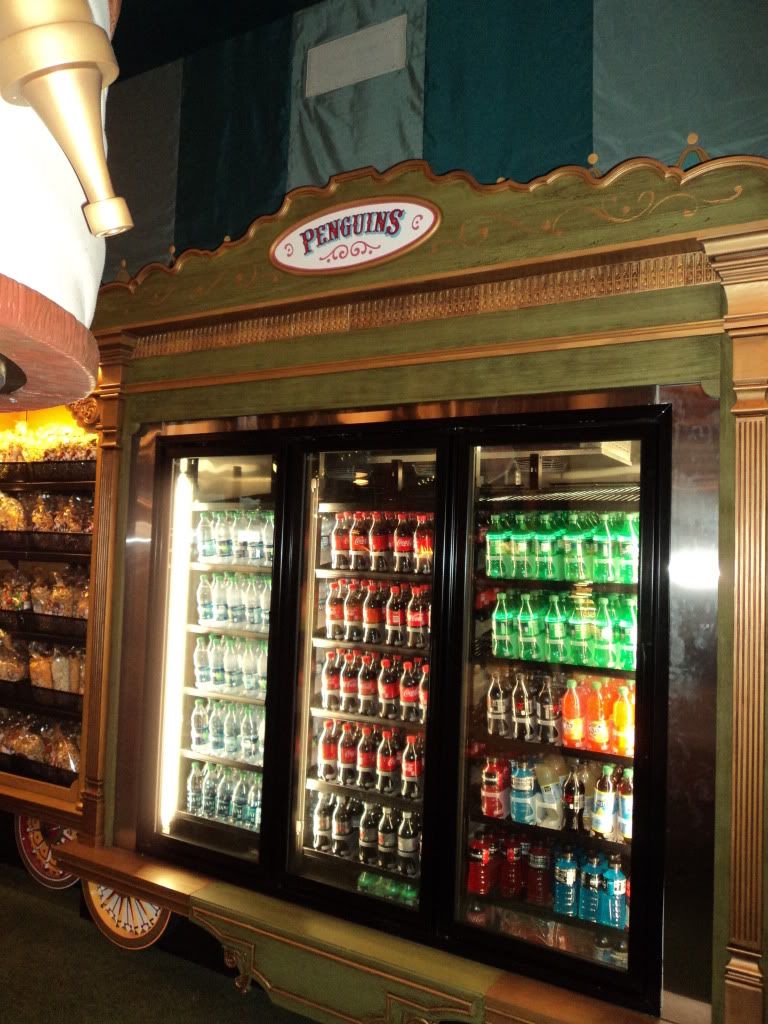 This is all carpet.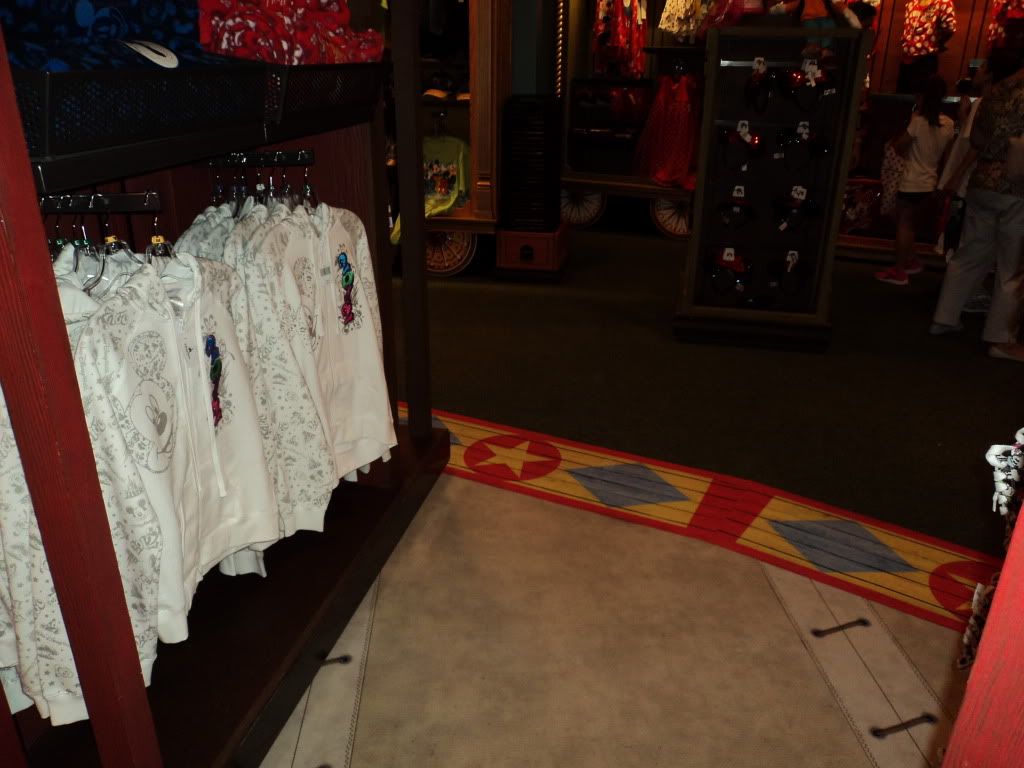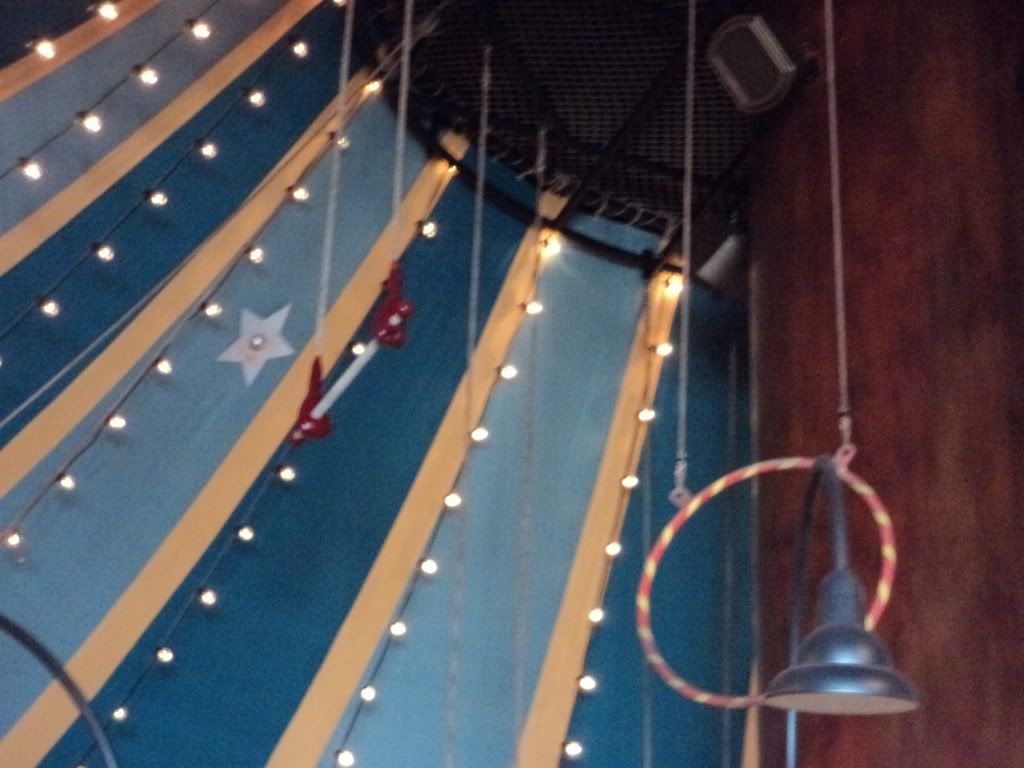 Just outside Big Top, is Pete's Silly Side show. Between the two is a charming little outdoor area that is sort of a mini food court. There is a hot dog cart, and another cart offering Churro's and Pretzels. They have the circus wagon look and blend in nicely. I wish I had taken more pics of this area.... There is a shade tree surrounded by little tables and if you want more shade the fast pass tent near by has plenty of room and some additional seating for taking a break from the sun and for your feet.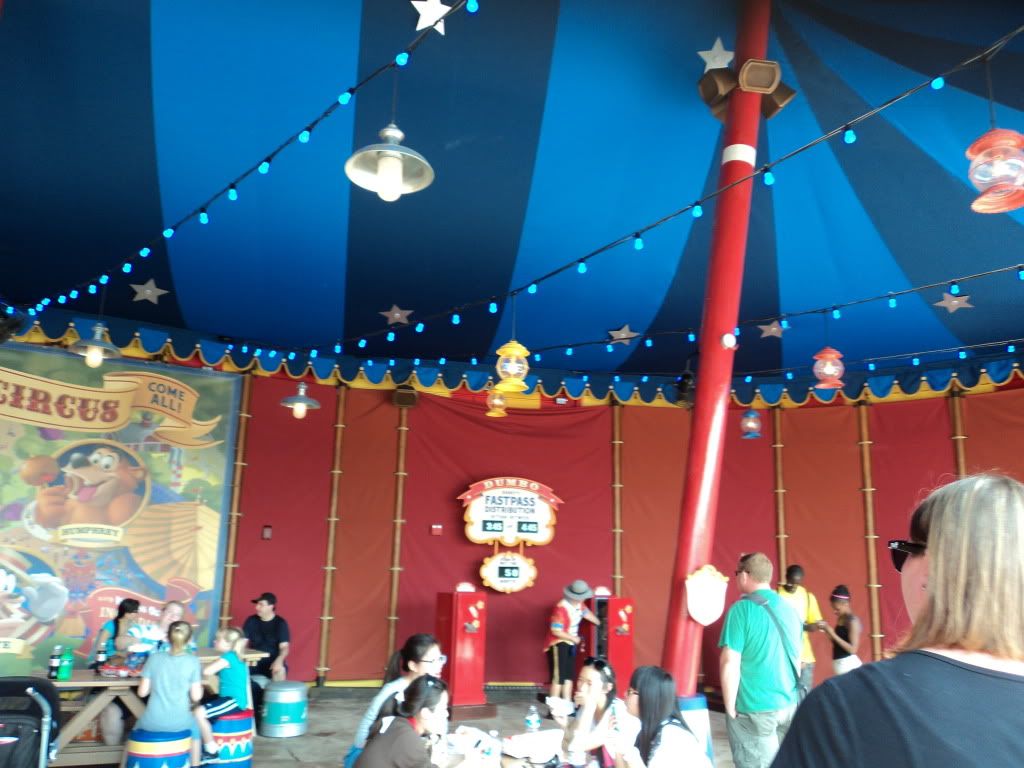 The fast past tent has this great canvas...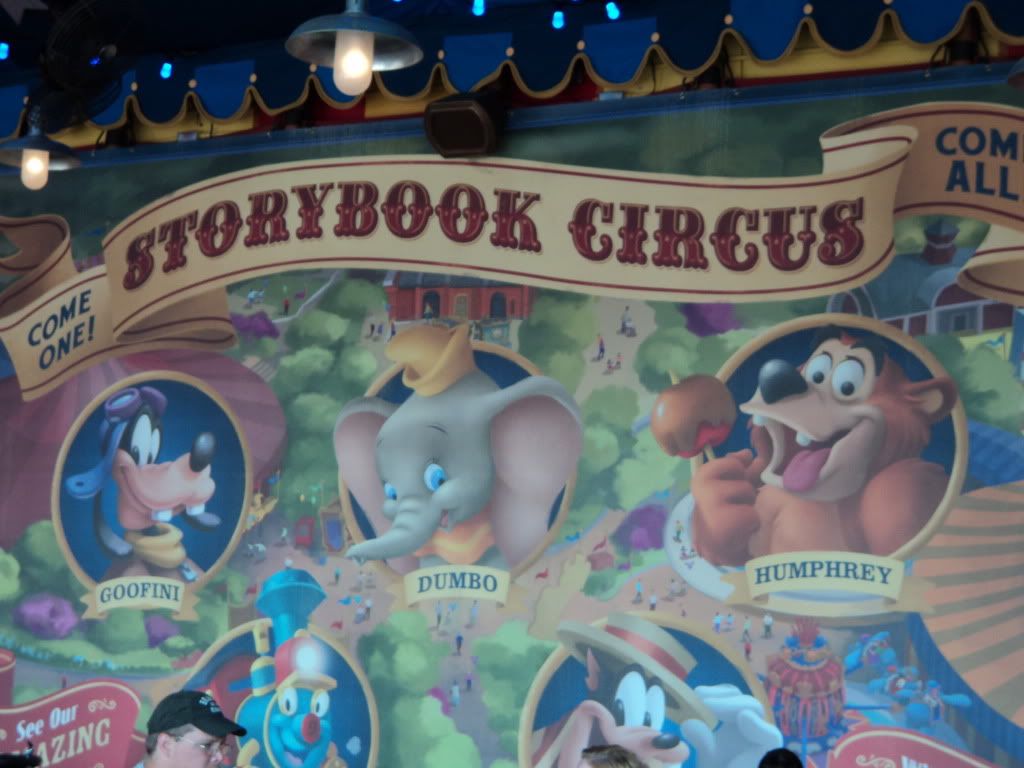 Notice the aging? Its great! Also, I assume this is the Calliope from Disneyland Paris, but it didn't do anything. I have never been to DLP but I read somewhere a calliope was removed from Main Street at DLP, to be brought here. Pete kept talking and I waited about 15 minutes to see if it would ever play a song but it did not
Is its role purely visual?
Anyway, first thing you do when you enter is get eaten
, in true circus style.
And then you have a choice of meeting Goofy & Donald, or Minnie & Daisy. They are out in the open so you can watch other families interact with the characters while you wait in line. The Minnie and Daisy side seemed busier.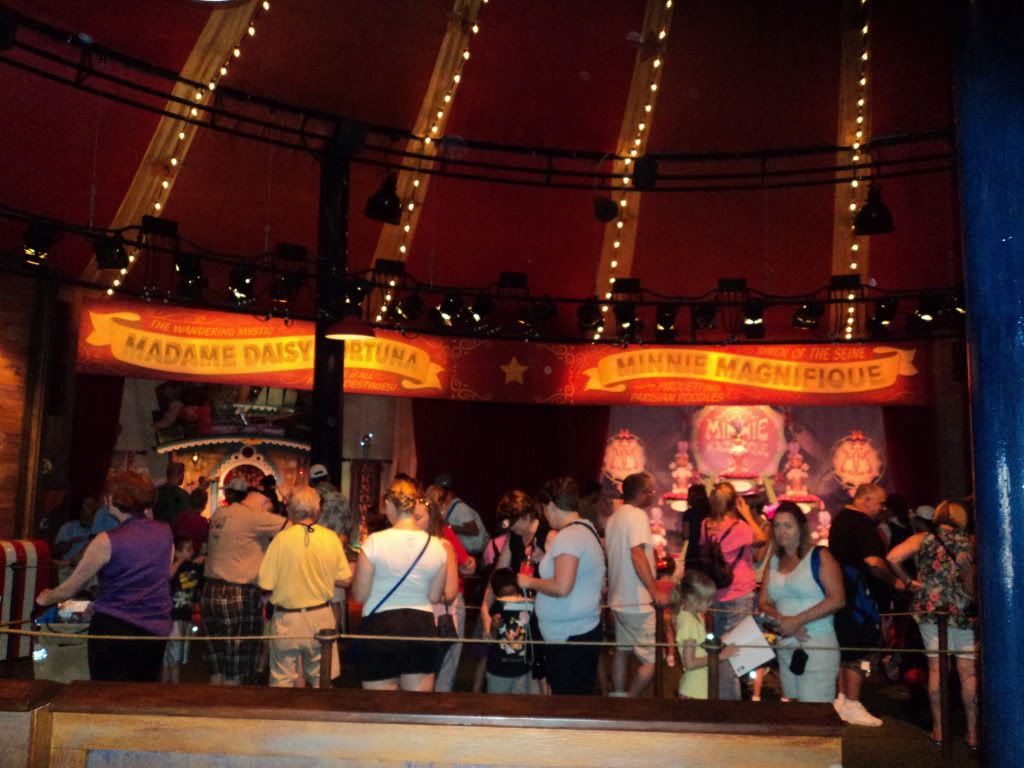 a close up of some of the aging. I think its neat that only Dumbo is pristine and new.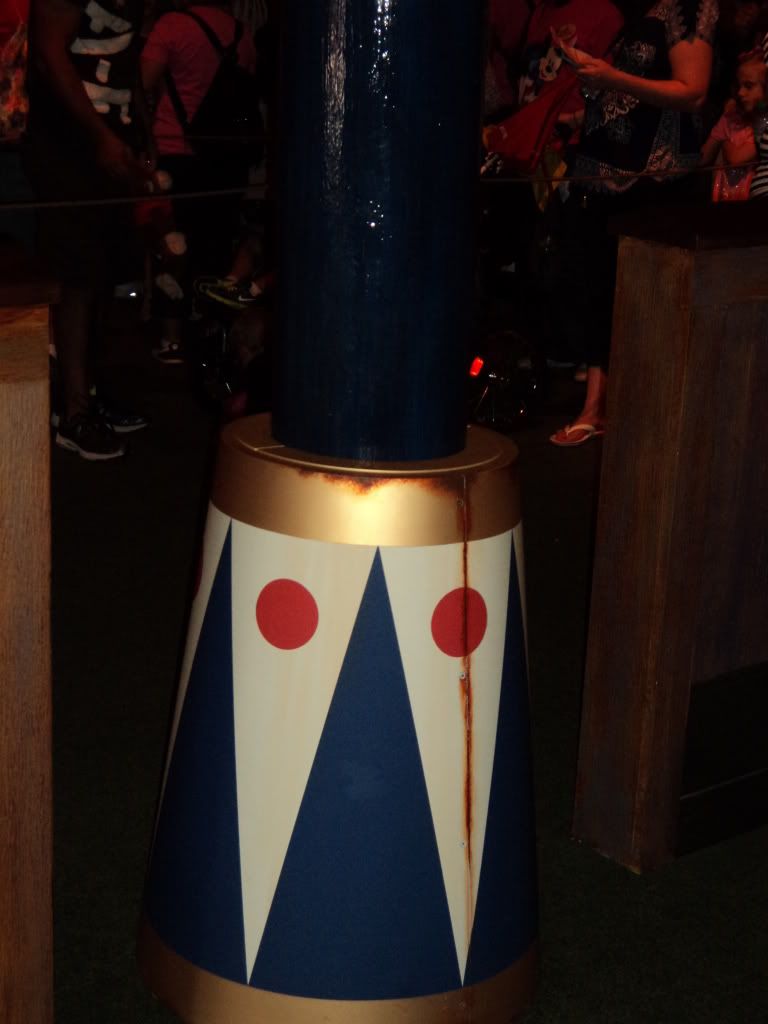 The Casey Jr. Soak Station is a hit with the kids.
This poor monkey, high above the crowd, has somehow managed to be injured.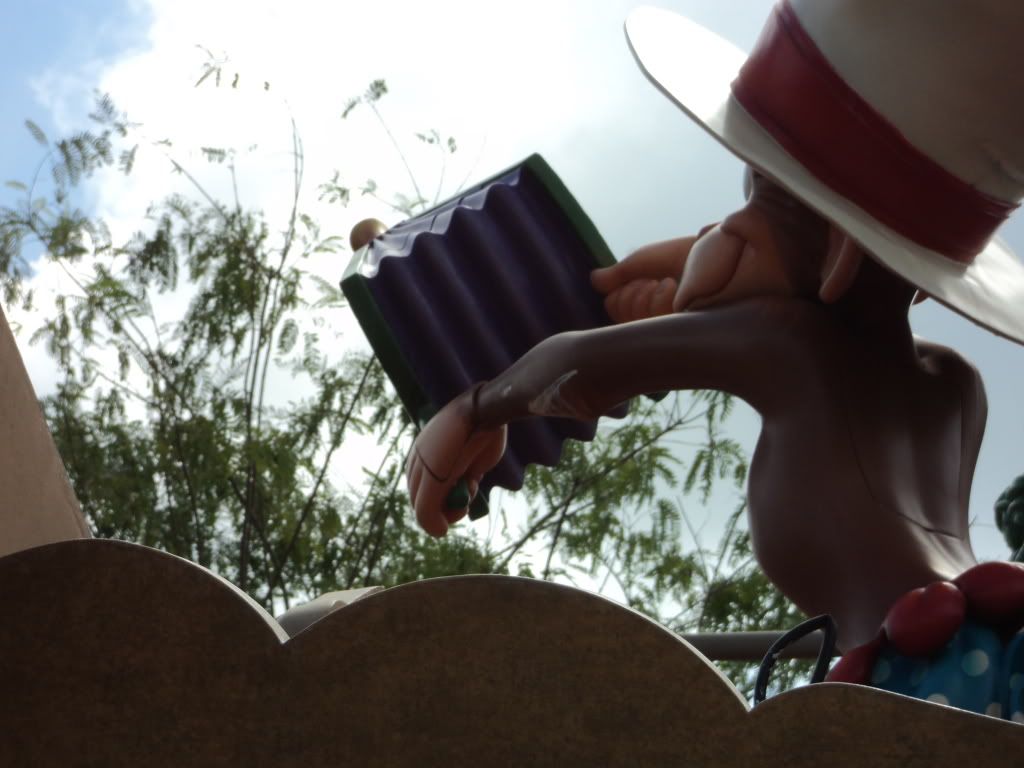 And a view of Beast's Castle from Storybook Circus.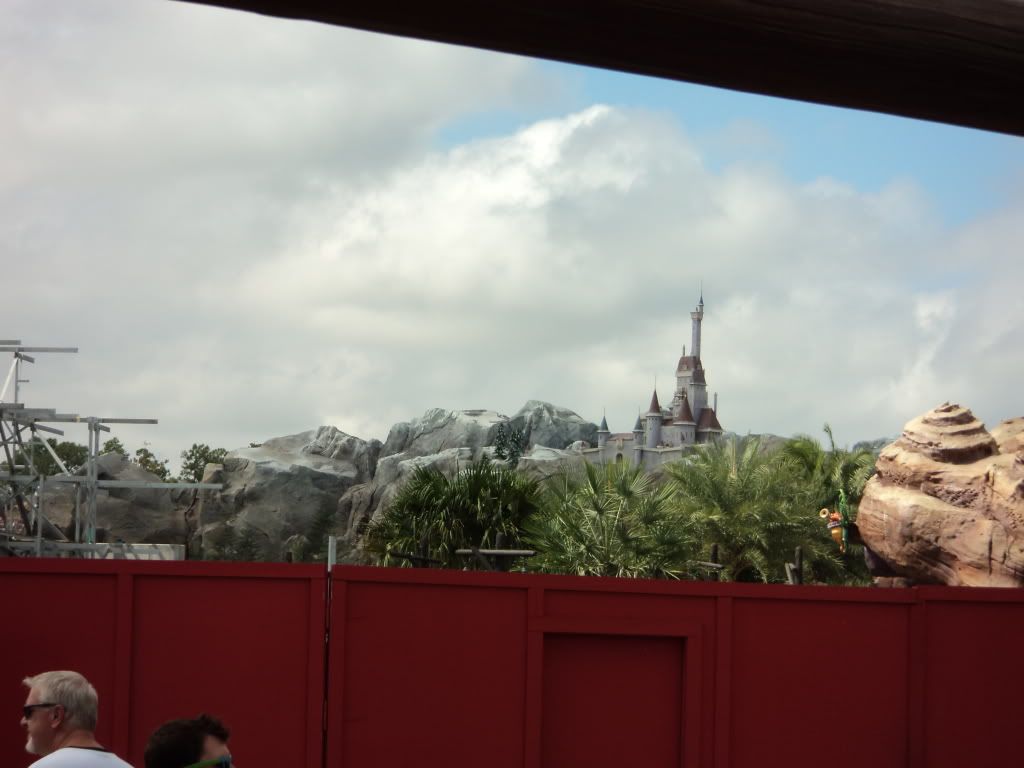 So as I walked through Fantasyland I notice the cast standing in front of some well place bushes. I have seen this before and I have heard they have been doing "tests" so I walked up and asked. Sure enough, she said I could experience Belle's Cottage. I expected construction walls to guide me there from just behind those bushes, but to my surprise I got some breath taking views of new Fantasyland that I just did not anticipate. in case you are wondering, picture taking WAS allowed. So now STOP NOW if you don't want to see.....
S
P
O
I
L
E
R
P
I
C
T
U
R
E
S
C
O
M
I
N
G
***********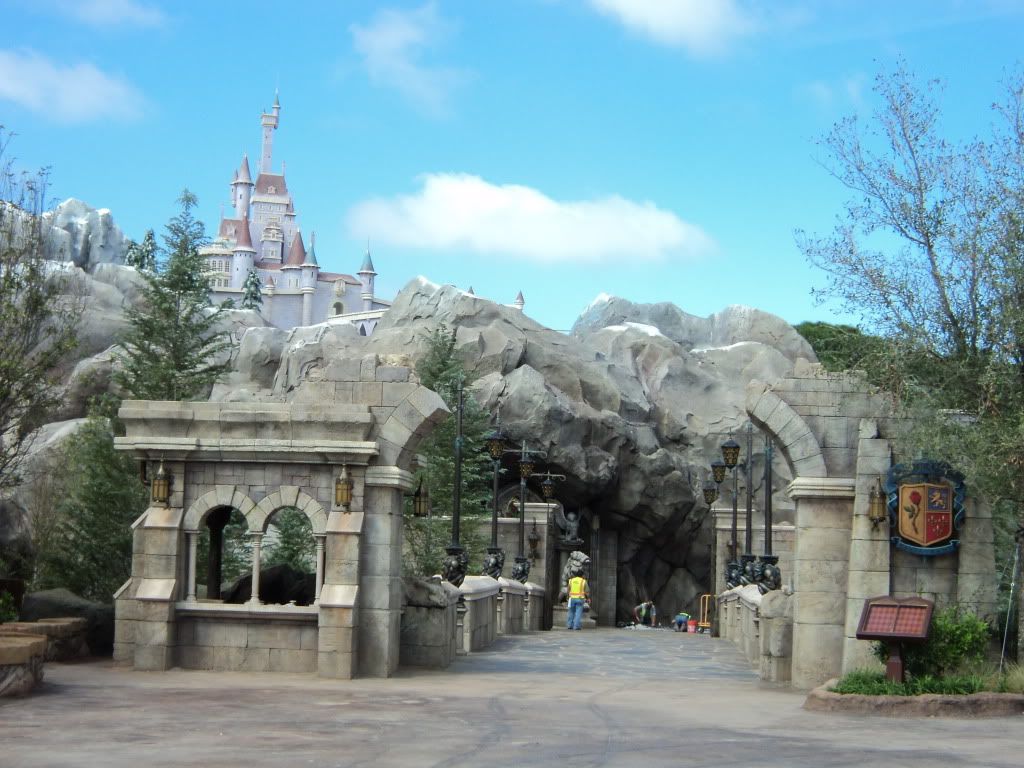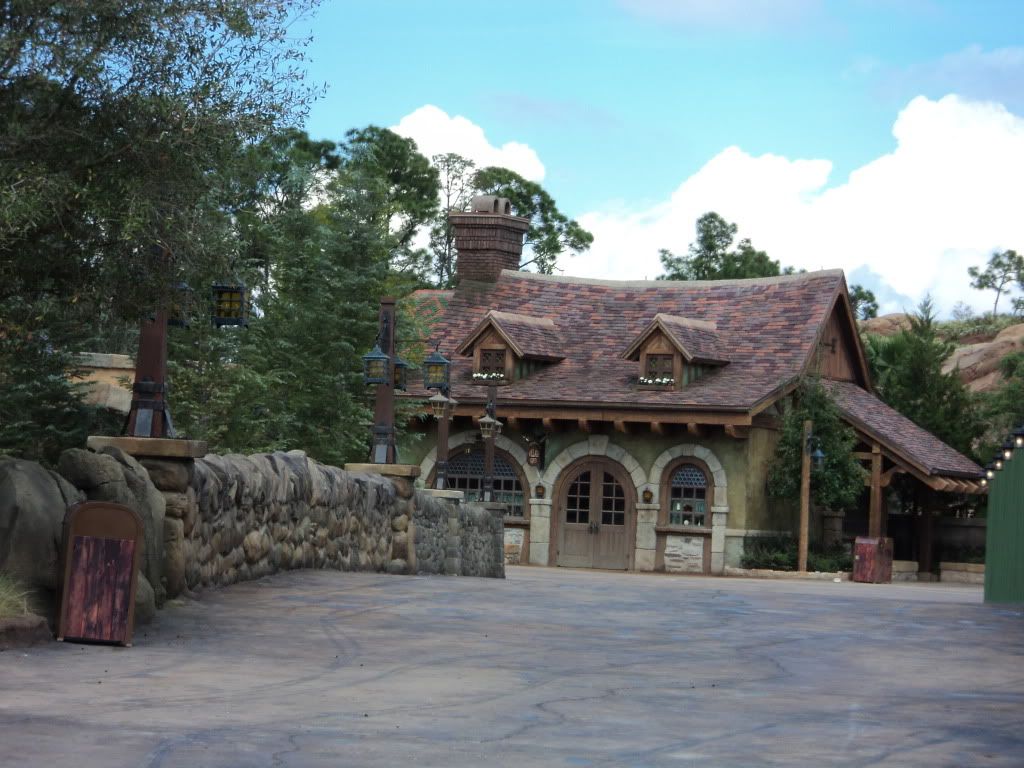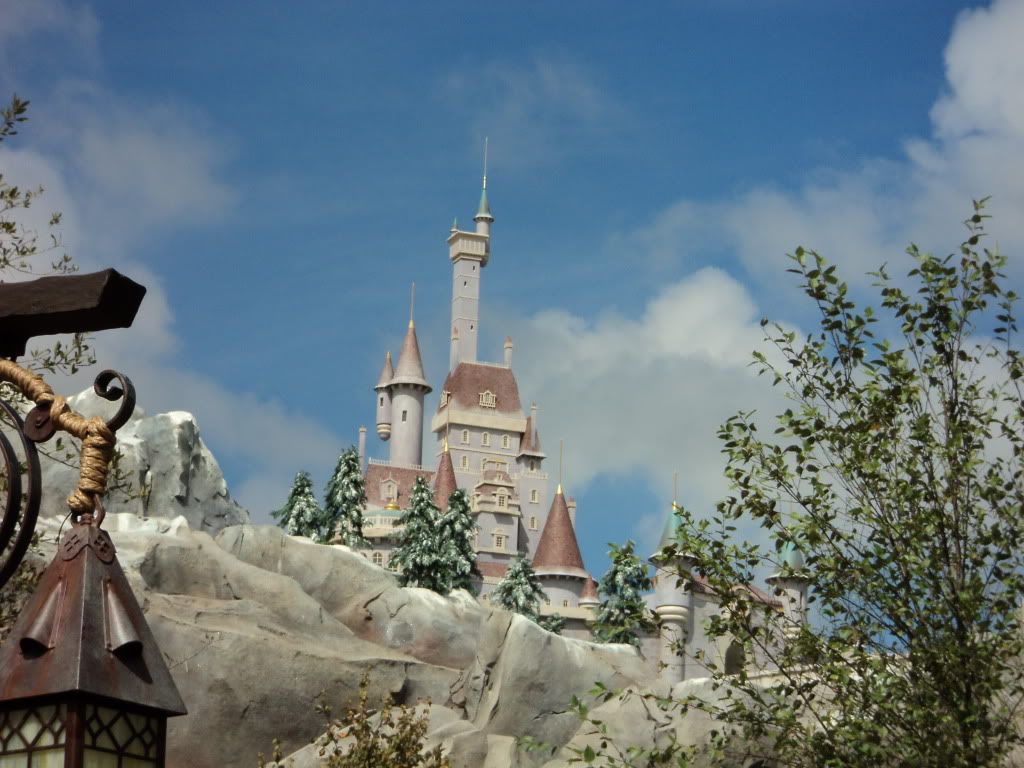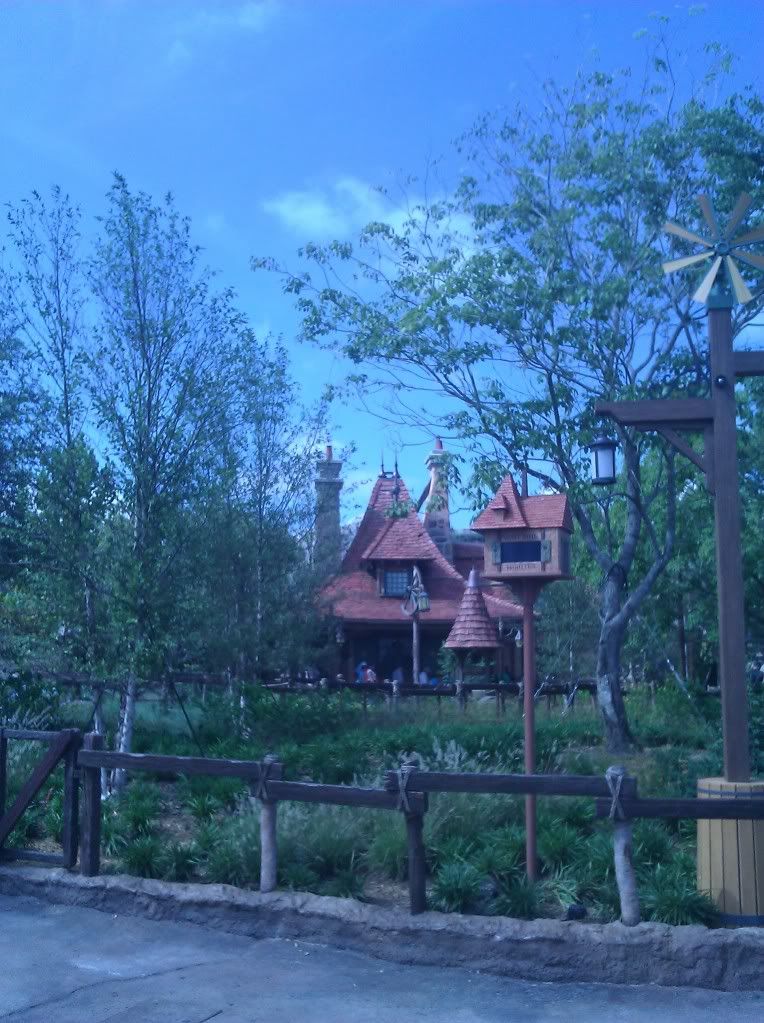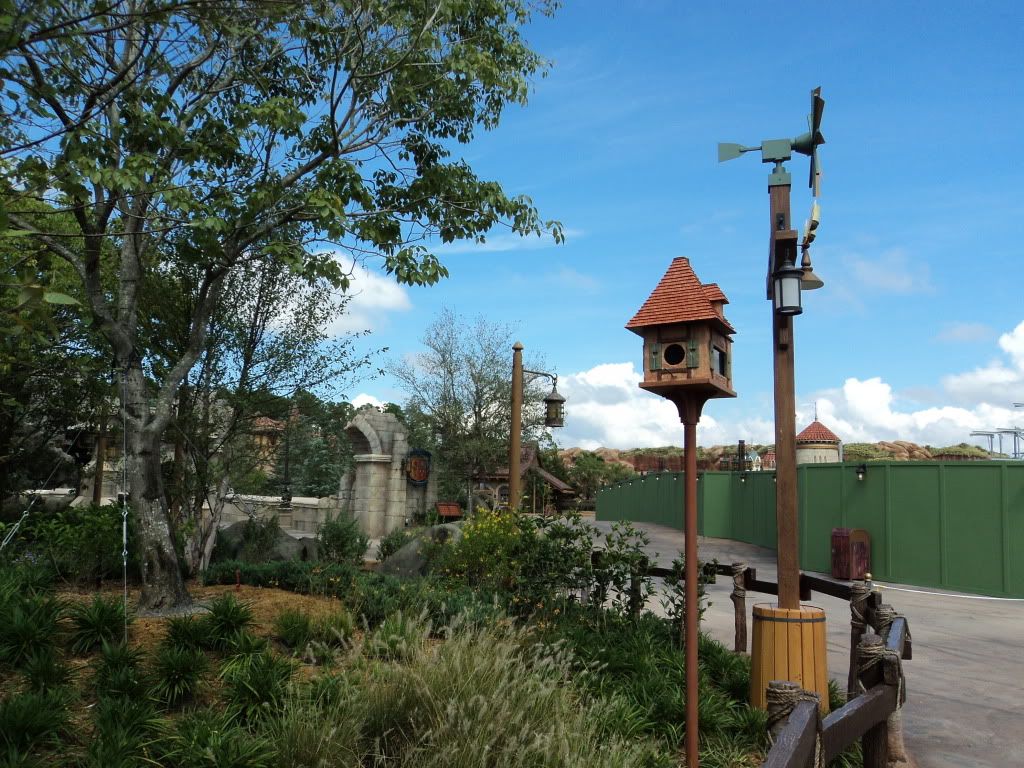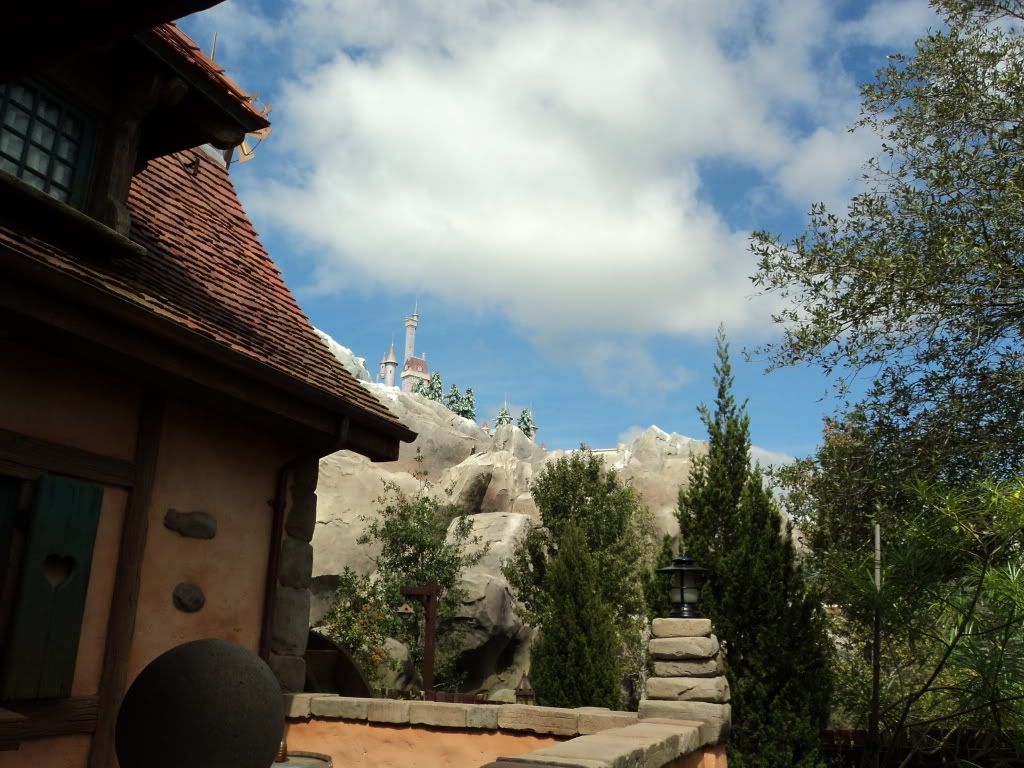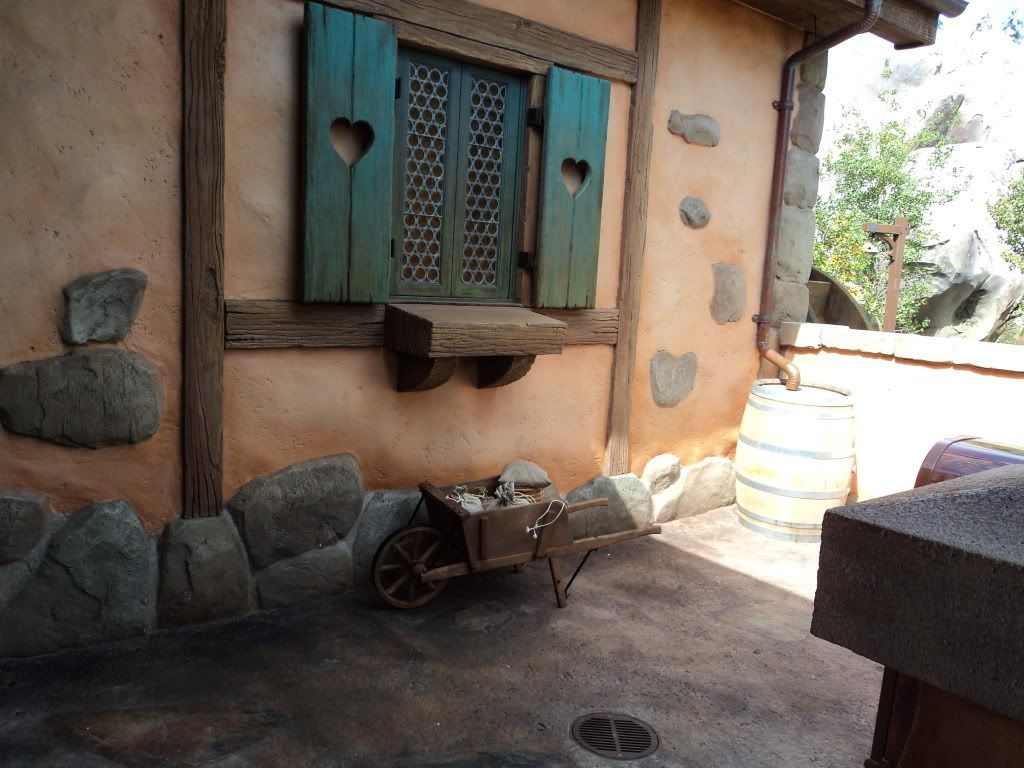 Lets go inside.....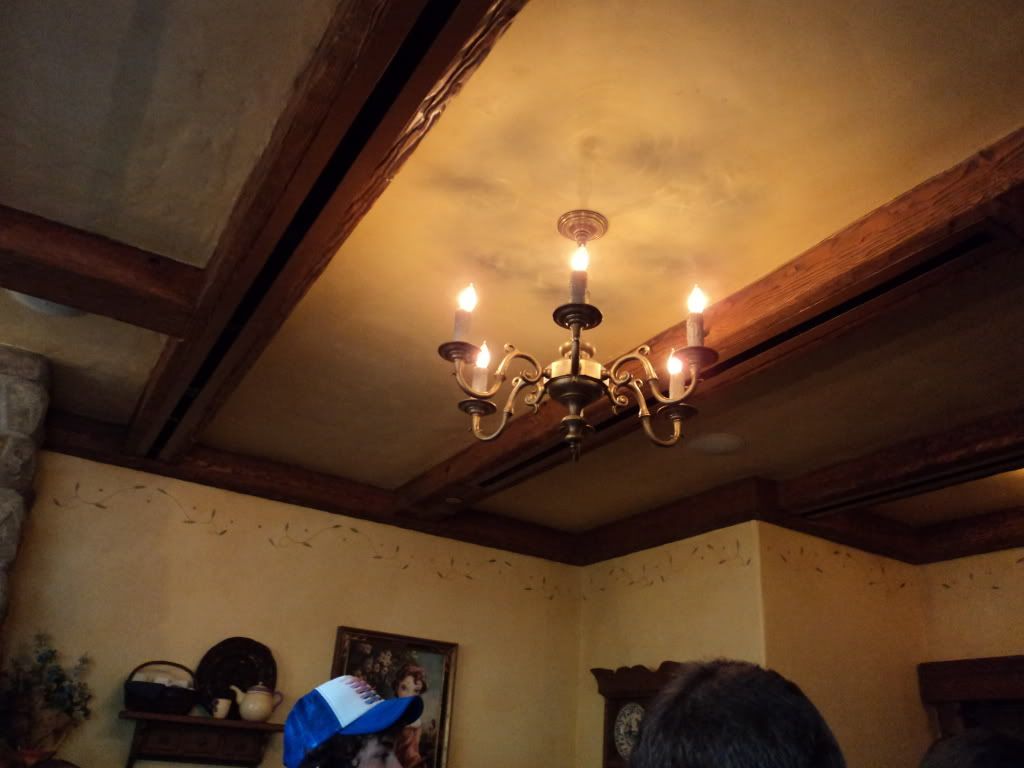 I had to wonder... is this Belle with her mom?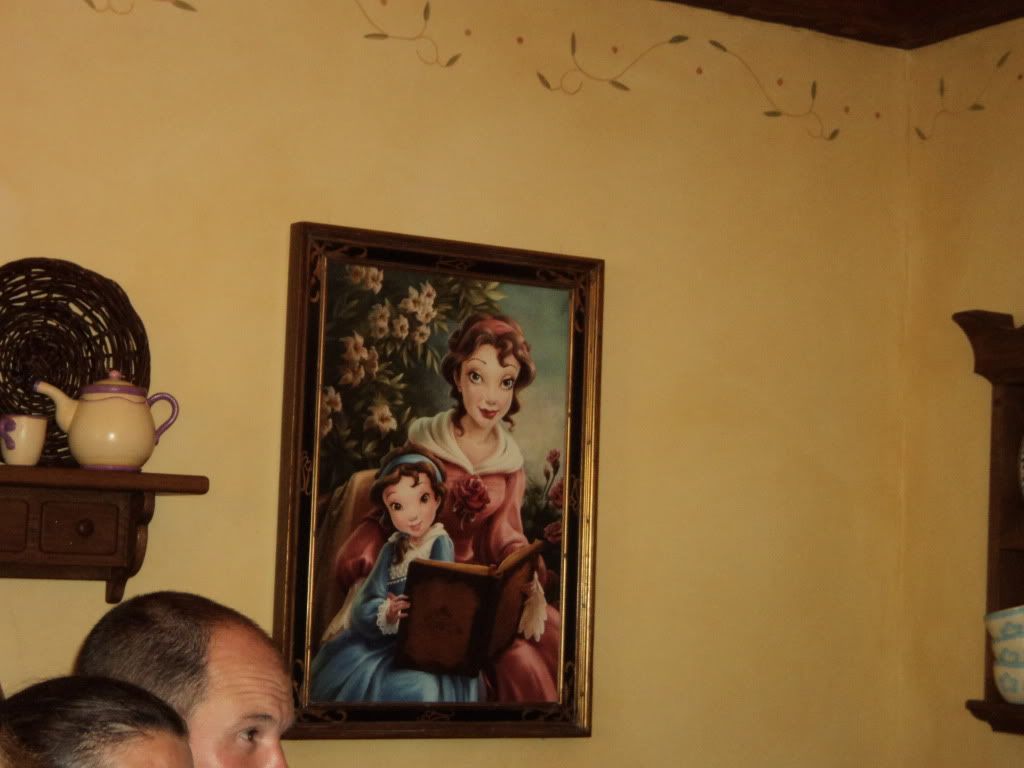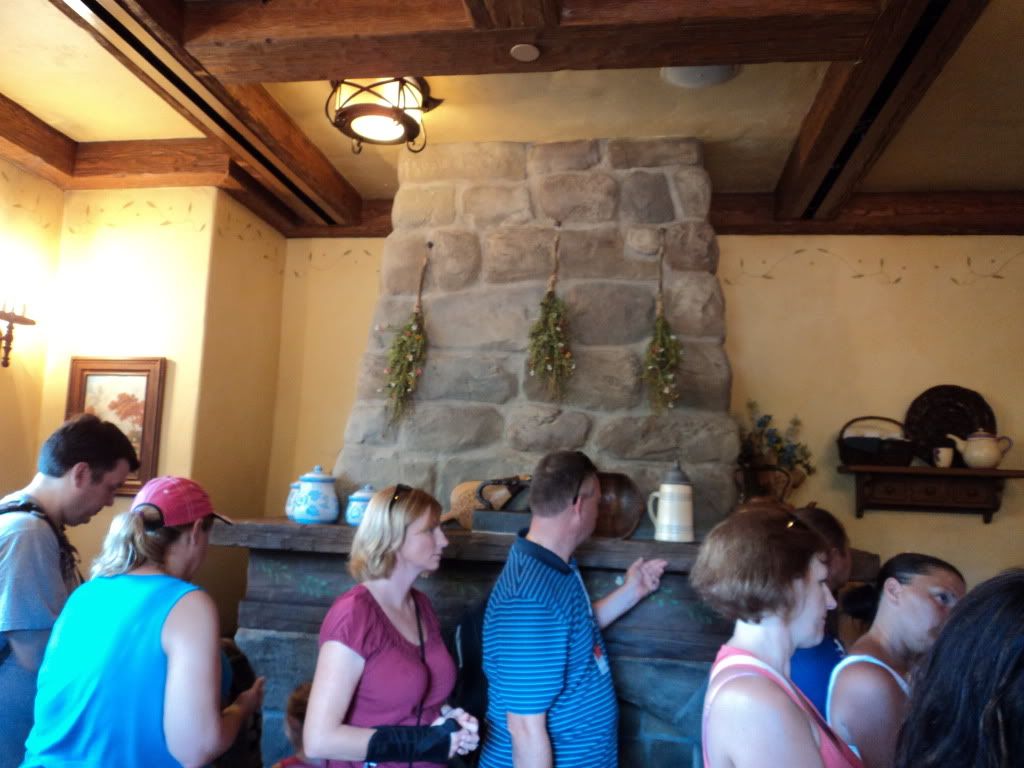 You have some time to soak in this room.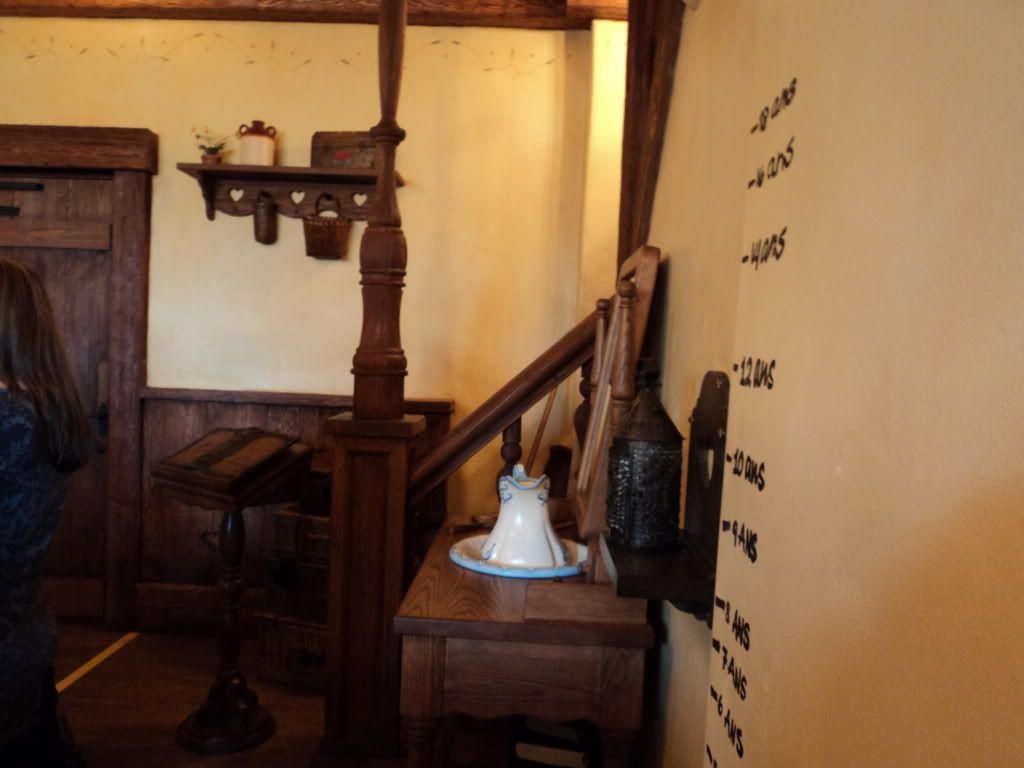 And then you go into the workshop, where there is a magic Mirror that transforms into a portal into Beast's castle. Pictures do not do it justice.... at least I think. I was so mesmerized that after I took one pic of ceiling in this room and totally forgot I had a camera as I got wrapped up on the moment. Sorry.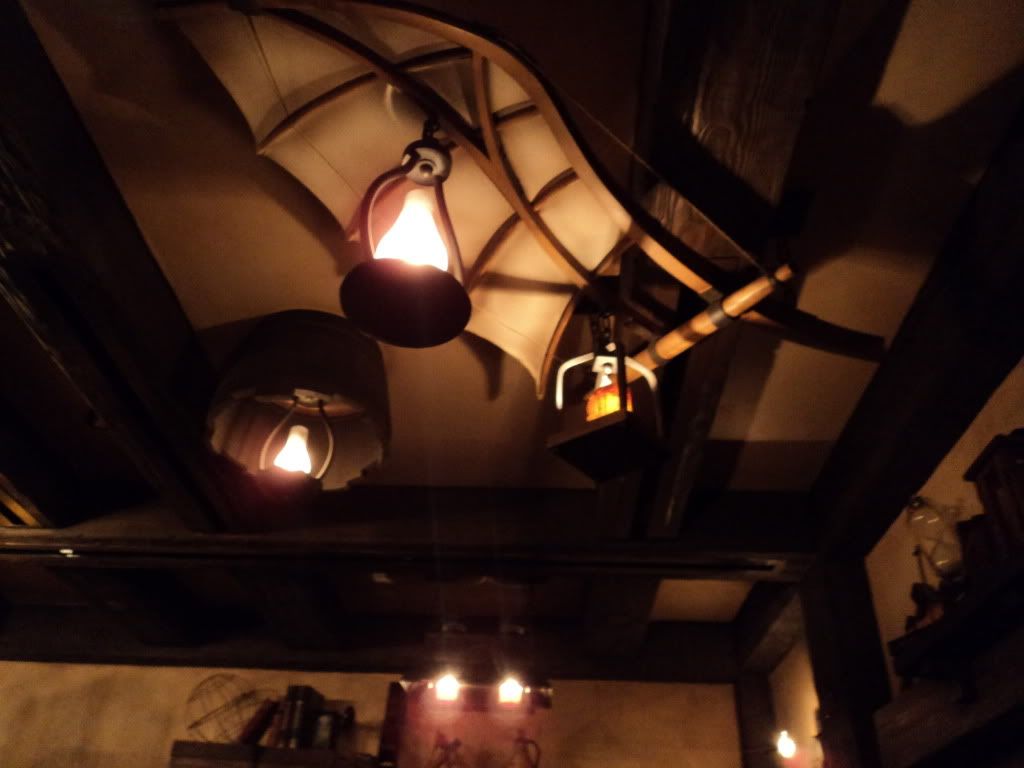 So then into the castle. again one criticism. Once entering the portal, if you look up you will see some stage lighting. The ceiling is not well done.
But the room with Ms. Cupboard (does she have name?) is complete. Also Belle's Library room, the ceiling is LOADED with stage lighting. If you look up the castle illusion is lost and it looks like your on set. But that said, Ms. Cupboard face.... WOW. she is impressive and so is Lumiere. We prepare to learn how Belle and the Beast met and then became best friends. An oddity that they say "became best friends" instead of " they Fell in love".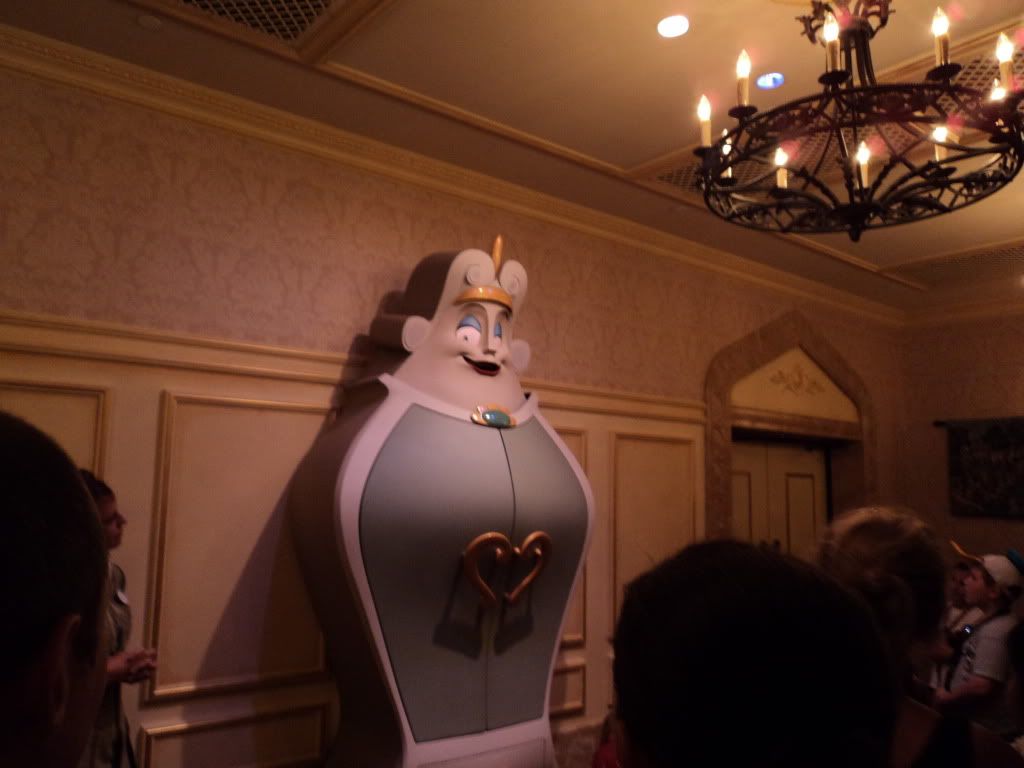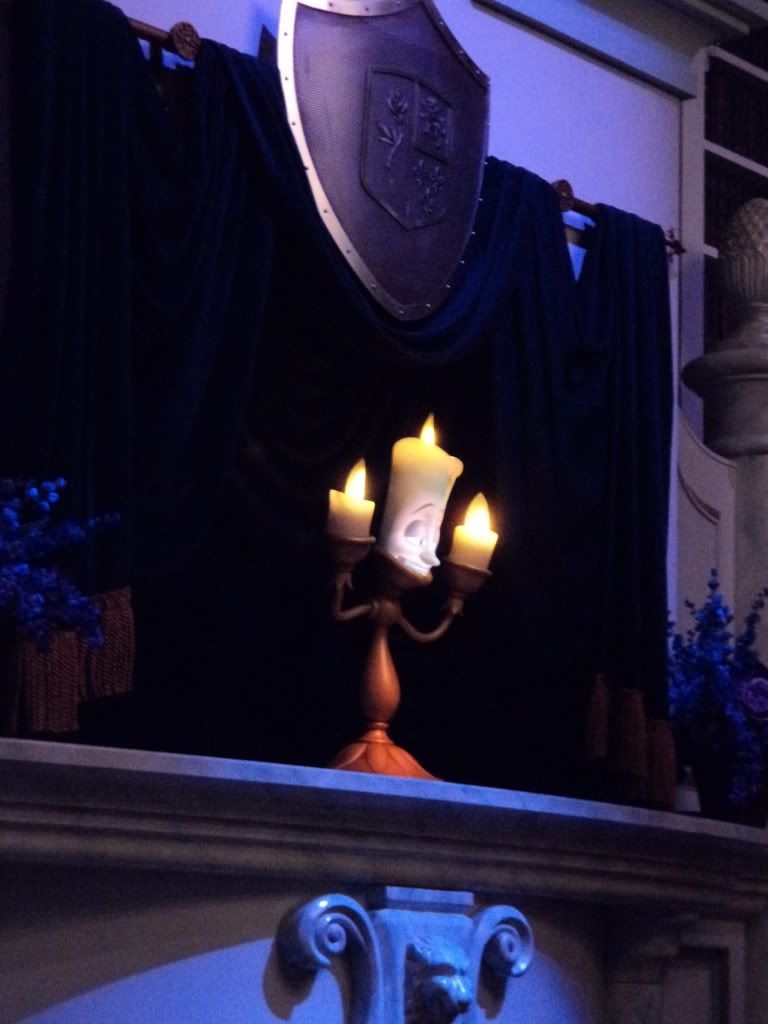 FYI... his face is not nearly as white in person. Just in pictures, but in person he is pretty yellow. And yes, again pictuers were surprisenly allowed so long as flash was not used.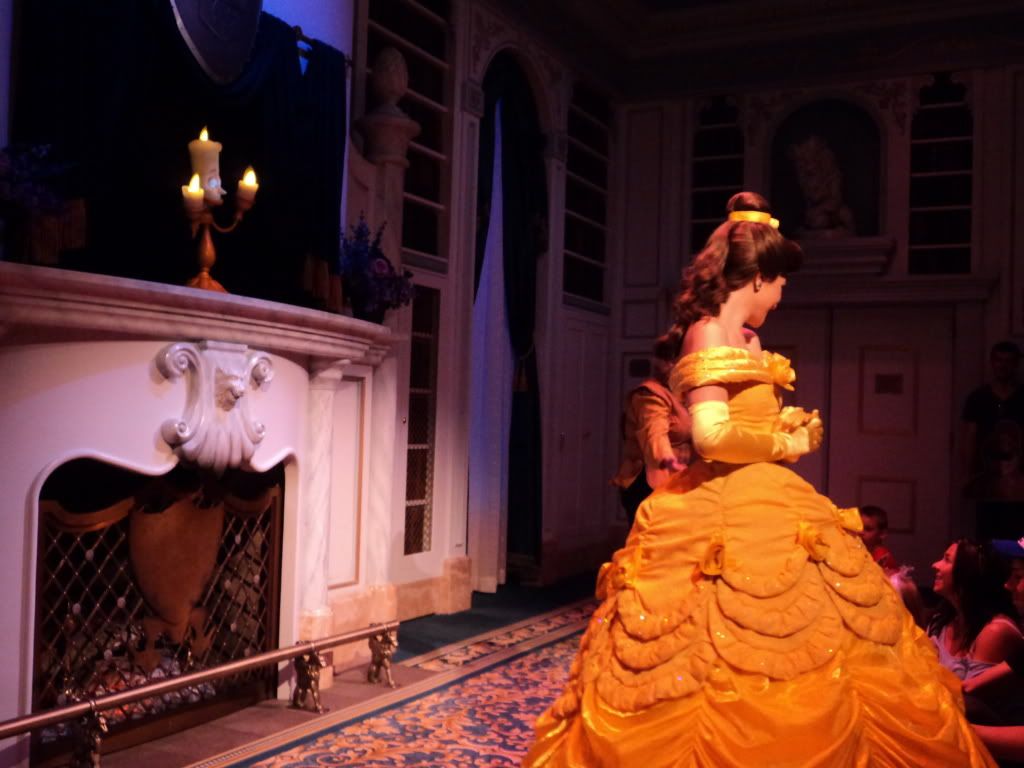 Belle was looking right at me just before I snapped this last picture....I swear! lol. Oh well, just because they said you could take pictures, doesn't mean Belle wants to be in one. It was a great experience. I bet these were the type of meet and greets they had originally planned for, that the fans said were "just meet and greets". Its really not. To use a word I have coined, Its a "transmersive" experience into the character's world. After experiencing Belle's Cottage, I kind of wonder what Sleeping Beauty's and Cinderella's were going to be like before they got axed in favor of the coaster.
Regardless, at the exit of this experience there were these neat cloth tapestries. I leave you with a simple picture of one of those tapestries. I had no idea what to think of it, and the picture turned out more blurry then I would have liked.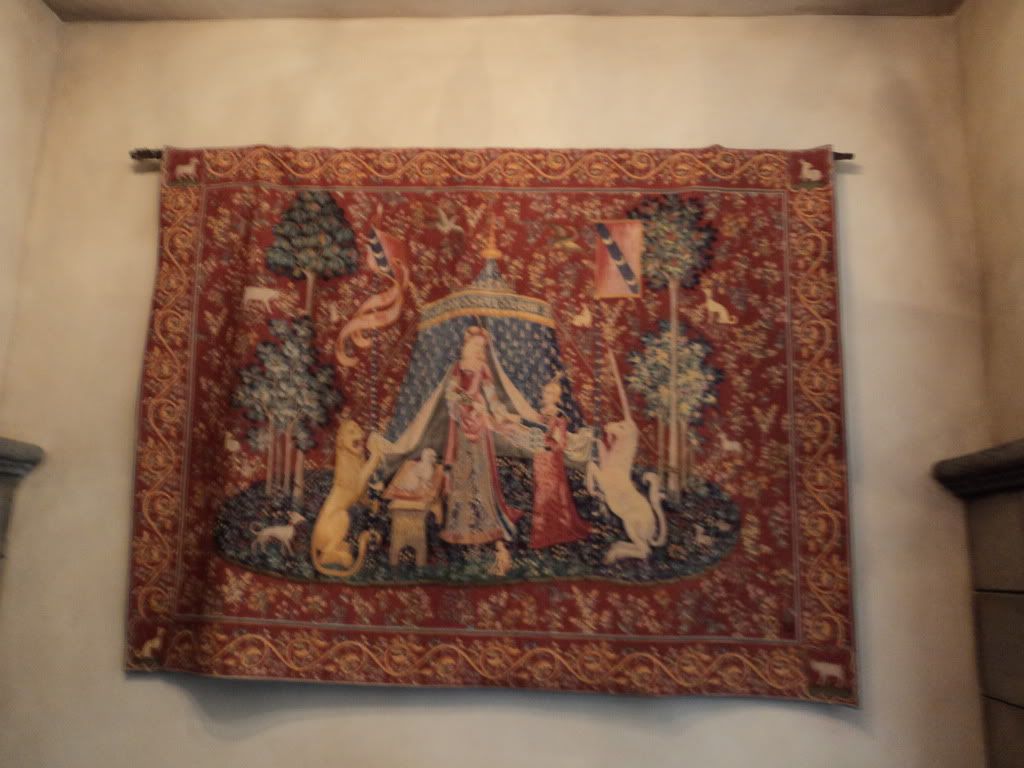 Looking foward to the opening of the land. Unfortunately it won't feel complete due to the massive construction of the mine coaster. Too bad they couldn't find a way to have it completed, at least visually on the outside, with the opening of the land. Still, should be fun. Enjoy this last pic in the report, a shot of the lift hill for the mine coaster.