Hello fellow Micechatters!
I've noticed a little bit of commotion on twitter lately that I wanted to comment on. I live in Virginia currently. Specifically, I live in southern Virginia.....about 30 minutes from Bush Gardens Williamsburg.....Or "Busch Gardens Europe" as the park is officially called. This park has always had a vague similarity to EPCOT (at least world showcase), in that it takes you through various countries. That general similarity in theme, however, is pretty much where the comparisons ended......until recently (within the last 5 years or so.) It is during this time that Busch Gardens has made some interesting changes that have lead some on twitter to refer to this park as the EPCOT of the north. I'm not happy with this. don't get me wrong, I like Busch Gardens, but.......
I can certainly see why the comparison is being made. Apart from the same "around the world" idea that both parks share, Busch Gardens has now added even more parallel's. A new ride in which you soar above the world (sound familiar?), and the interestingly named "illuminights" night time spectacular are being complimented next year with Busch Gardens own food and wine festival! so is this park worthey of the EPCOT of the north moniker......to answer that question, we need a quick tour........
you enter Busch garden through England......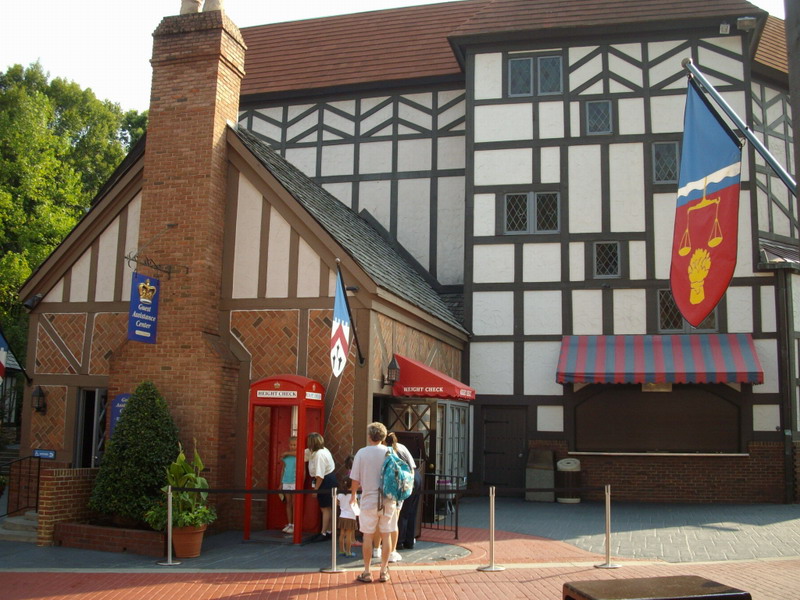 Not a bed entrance, and honestly quite pretty in person.....here is Epcot's
I hardly think there is a comparison here. I like the entrance to Busch Gardens a lot, it has a very quant and festive feel to it.....but it is hardly world showcase quality. Next up in you trip around Busch garden's Europe is Ireland.
This is a lovely land, and it benefits greatly from the very lush surroundings of southern Virginia that bush gardens is built around. It has a very "leprechauns and magic" feel to it, much more fantasy than realism. It's beautiful and fun. Now, obviously, EPCOT has no ireland to make a direct comparison to, so we will let this one stand for itself.
Next up in our slow walk counterclockwise is the "land" known as jack Hanna's world reserve. This land has no theme. Not "it's themed badly" or "it has minimal theme", but "this land has no theme." it's kinda just a pretty wooded area with animals.......so, moving on....it's time for france!
nice....., very "france" feeling....well, except for this...
smack dab in the middle of France is the griffon. It is visible from pretty much anywhere in France and....well, I have no Idea what this has to do with France the country. Now Busch Gardens has coasters like this just about everywhere you look, I have no problem with this. At the end of the day Busch gardens is a coaster park. that's the primary purpose for it's existence. The theme surrounding the coasters is simply a nice setting for the main attraction. I applaud this, and any theming effort that they make in a coaster park. This however is where we see the real difference between EPCOT and Busch Garden. In EPCOT, the theme and emersiveness of world showcase IS the attraction, everything else is second. O.K., next up....
New France?....
O.K., so this land is basically colonial Canada, but that doesn't fit into the "Busch Gardens Europe" theme, so.....New France! because this land represents the french settlements in canada, i think it's only fair...........
yeah, soooo.........
next in Busch Gardens you have a mini-land of the alps that consists of the roller coaster Alpengiest. I guess this ride serves as an introduction to Germany (since the alps run through Germany). the ride is lightly themed with bits of snow here and there. Next is Germany......
Germany in Busch Gardens has some very nice stuff, including the festhaus, with is just stunning inside. It is also surrounded by generic carnival games and rides such as a "scrambler" style ride. here is Epcot's direct comparison.
Now, Ive shown you some nice pictures of Busch gardens's Germany. So far the land even seems to hold up well to EPCOT! But like all of the countries in this Virginia park, the themed buildings are just dressing for the rides. In this case, theese nicely themed buildings are surrounded by decidedly generic rides and carnival games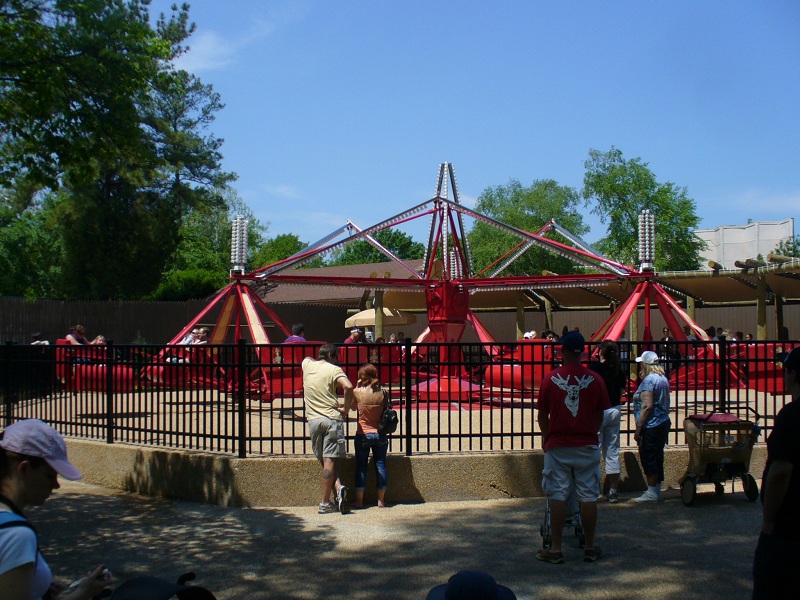 Busch Gardens germany has a castle too. It's the show building for the Curse of DarkCastle:
Nice, but unfortunately the themeing stops right around the side leaving a plain grey show building only slightly obscrured by tree's.
next on our trip around the busch gardens globe is Italy.
Once again, however, there is this.........
This is Appalo's Charriot in the "festival" section of Italy. Thankfully, the connection between the coaster and the land is a little more clear here than in france.
And now for comparison: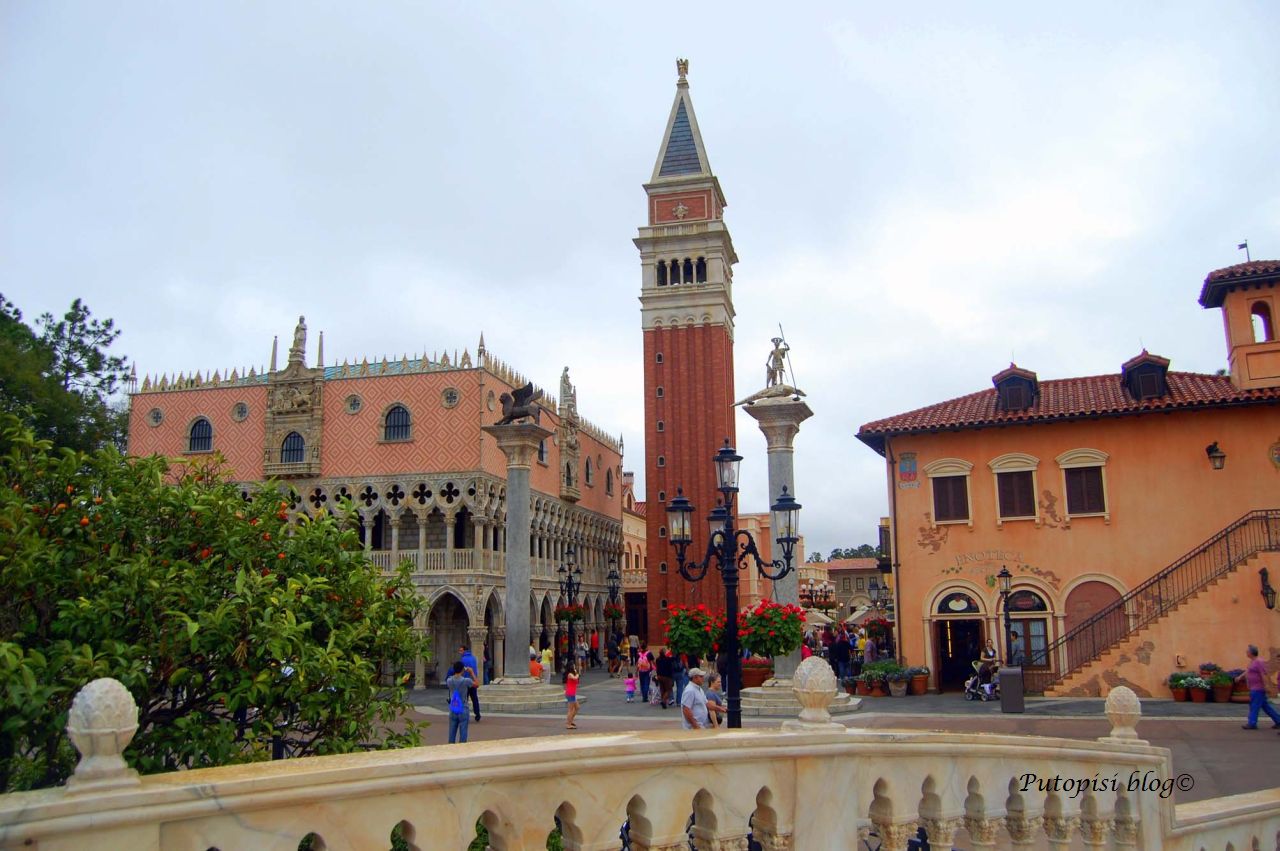 Italy's big themed ride in Busch gardens is Escape from pompeii
Once again, Nice......from the front. the Back is a generic warehouse. granted this warehouse is in a wooded area, but it is still very visable. The last two area's of Busch gardens are sesame Street Forest of Fun and Scotland. Forest of Fun is a huge dissapointment for me from a theming perspective: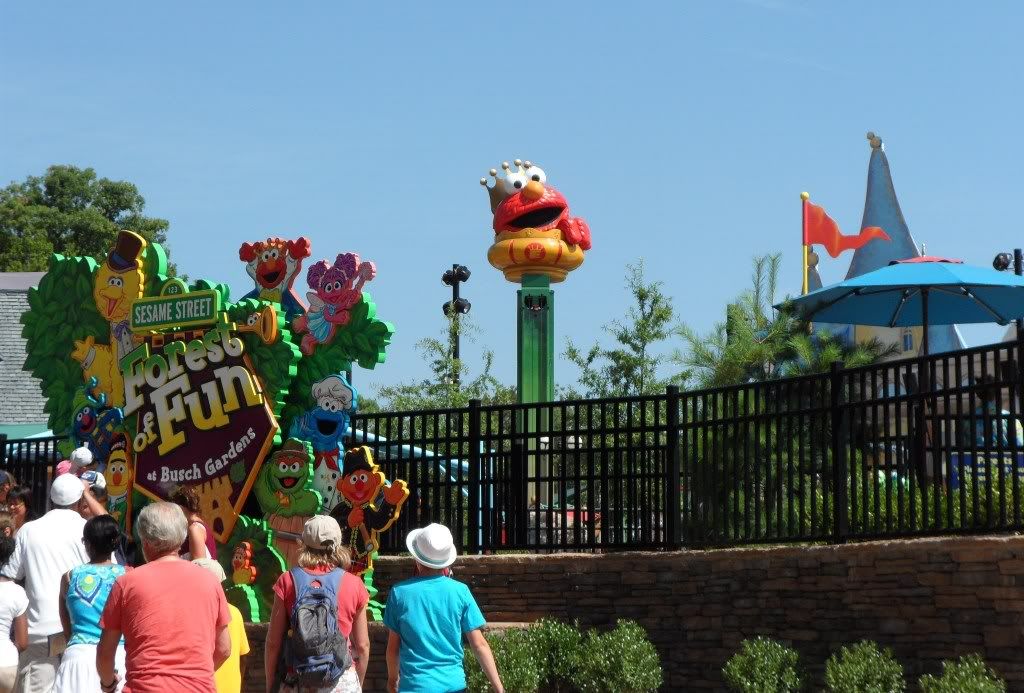 This kiddy land is nothing more than painted plywood. this actually saddens me. Sesame Street is a classic we all grew up on. it is a world rich with material....it deserves better than this.
Unfortunately I could not find any pictures of Scotland other than it's roller coaster the Loch Ness Monster
(disclosure: none of these are my photos, my thanks to the real photographers)