In a recent cleaning binge, I came across some old Walt Disney World booklets, pamphlets, tickets, and all around stuff my mother saved from my family's two trips to WDW (First one in March of 1980, second one December/January 1989/90).
I've been scanning in some of the more brittle items (like the 1979 and 1980 guide books), and I was wondering if anyone else here would be interested in joining me down memory lane with these pics. For instance: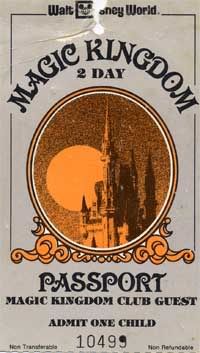 Yup, my folks didn't go for the tickets. And did they ever splurge. Anyone remember what the Canada->US Exchange rate was at the time?
Interesting story behind this: Our passes were purchased as part of an employee discount program at my Dad's employer, Algoma Steel (Sault Ste. Marie, Ontario). At the time, Algoma Steel was owned by The Canadian Pacific Corporation, who also was one of the original sponsors of the Canadian Pavilion at EPCOT Center.
Let me know if you want to see more. There's plenty where that came from (my Mom was a pack-rat).