Hi everybody!!
So i've been home for two days already and haven't done the mandatory trip report. But here it is. In all it's golden glory! (Insert choir of angels here.)
First things first, and most importantly, on June 1st, I proposed to my long-time girlfriend Jen at the Rose and Crown during Illuminations. It was great! Big thanks to GWBeachJr for all the help and getting us the best table. After the fireworks, the crew of the Rose and Crown gathered around us, sang a song, gave us a certificate signed by all, and gave us champagne. Okay, the champagne part was awkward. Neither of us drink. I think we were supposed to cling our classes together and do the whole lock arms and drink thing. But i just stared at my glass, smelled it, cringed, took a sip, and cringed again. That was the end of the champagne. Sorry if we dissapointed anyone at the Rose and Crown
Then George came by and gave us some pretty awesome presents. After which, Will (our amazing server guy) took our picture. See, here we are!
Everything went by really fast and that's going to be a hard night to remember everything about.
Okay now for the brief rest of the trip report. We stayed at the Pop Century for a week (may 31 thru June 6) Seeing as how we had a week, we had a routine of coming back to the room during the hot afternoons and napping, and pretty much taking our time at the parks. I can't remember what parks we went to on which days, so from here on out the trip report will be a little sketchy.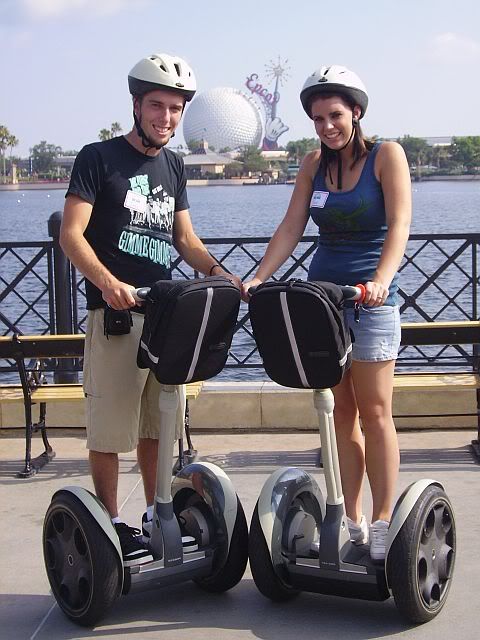 We went around the world on a segway! Seriously, this was one of the funnest things ever. I highly recommend it.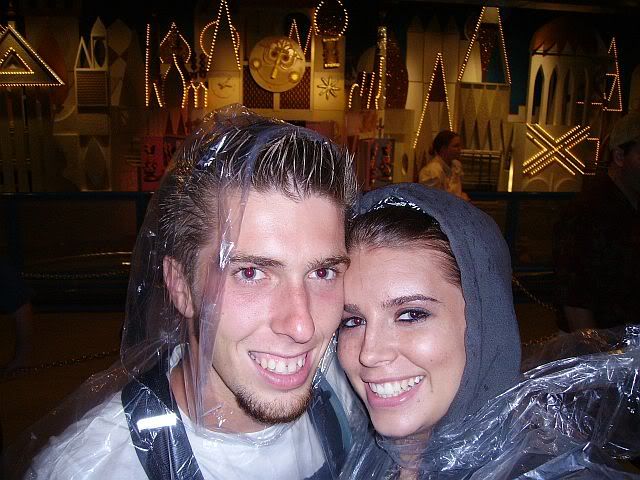 We tried to watch Wishes, but it was raining really hard and didn't really care to stand in teh rain. Plus, I look stupid in a poncho. Also, after we both saw Remember at Disneyland last year, we were willing to skip Wishes. Oo! Look at the Small World in the back ground!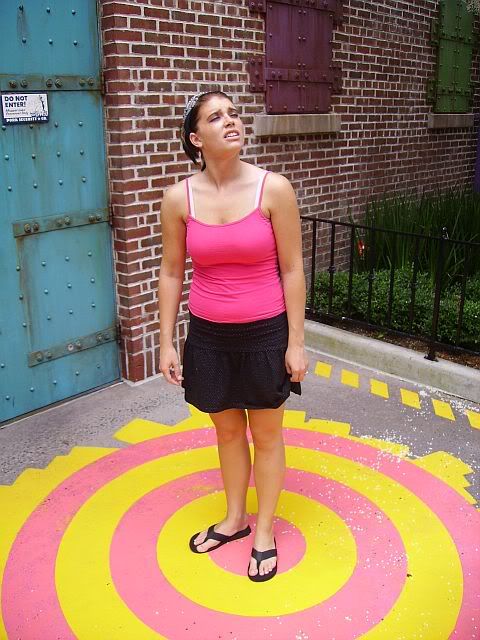 This just has bad news written all over. May I just say thet Muppet Vision rocks?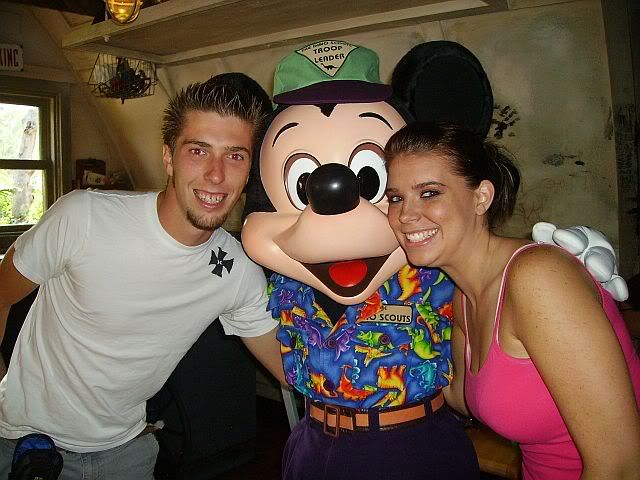 We did the Breakfastosaurus (that is NOT a real word, people!) at Animal Kingdom. Mainly did it for the food, which was delicious, but the characters were fun too. (We were the only ones in there without kids.)
I just liked this picture of Mexico.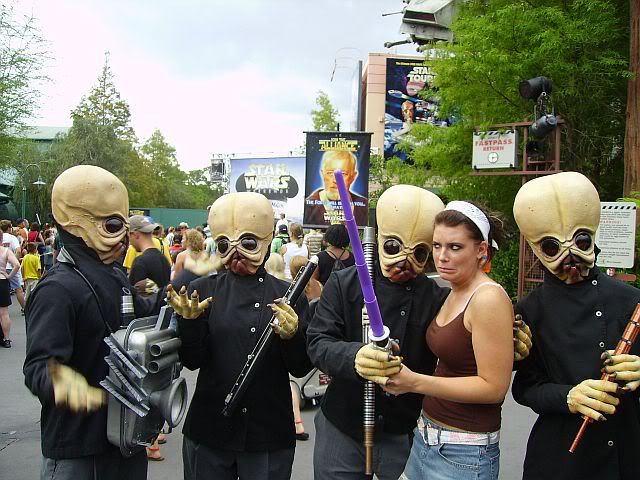 Ahhh! Star Wars weekends! Absolute nerd-fest! It was great. It's also great to have a girlfriend..er... fiancee who loves Star Wars too! Even though she tried to kill the Cantina Band...
The flower and garden festival was just as beautiful as ever. I particularly liked the Toro display... okay that's just funny because I work on a golf course and use stuff like this every day. It made me laugh.
I found the hidden Nautilus! I was so proud of myself! Of course, I walked, actually I crawled throgh the front door of Pooh's house (uninvited. bwahahaha!) And then found out once I was inside that there was a much larger door to go through. Who designs these things??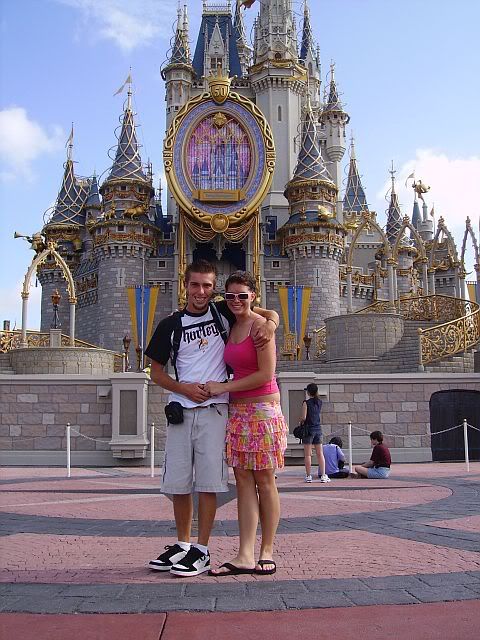 There we are in front of the castle! How romantic
Oh, and no one ever told me it was Gay Days at the Magic Kingdom on Saturday, and the color to wear was red. I ended up wearing my red Incredibles shirt. Talk about awkward... I don't know of the guys were looking at me to check me out, or confused as to why I was hanging on to a girl. Either way it made me laugh. And i know Bush is an idiot, but they really didn't have to boo and hiss him in the Hall of Presidents. That just ruins the show for the rest of us.
Apparently this rhino-anamatronic's batteries died right in the middle of the road, so we had to wait for a while for someone to come replace them. I took this picture when he finally got out of the way and we squeezed past him. Jen obviously has never been that close to a rhino.
And to wrap things up, here's something we've all seen.
This ride just rocked in every way. The yeti is amazing. The ride is really fun. We loved every minute of it. Every time we rode it.
Oh, a few otehr tidbits. We saw PUSH at Rafiki's Planet Watch. He's so funny! The new Mission SPace isn't so bad, but nothing compared to the original. (We had to ride both) I don't care what anyone says, but Disney World's Fantasmic is better than Disneyland's (my opinion) And the Sci-Fi Dine in is a great place to eat. And... i think that's about it.
Again, Huge thanks to George and Will & the crew at the Rose and Crown